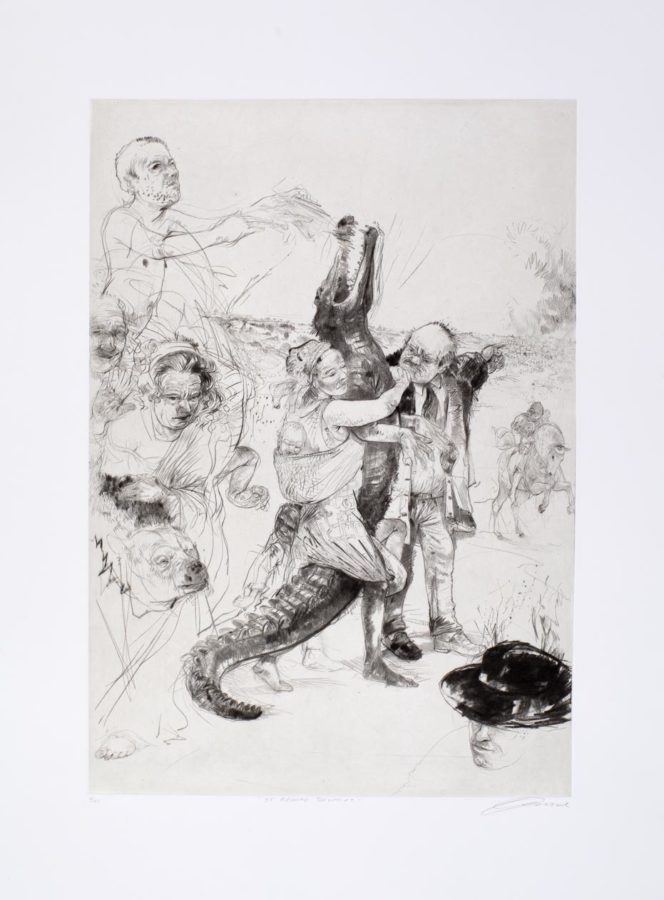 Diane Victor and the David Krut Workshop (DKW) first collaborated in early 2008 on three large etchings and in 2009 Victor originated and editioned a series of drypoints at DKW called Birth of a Nation.
These works were exhibited at David Krut Projects, New York, as well as a selection featuring at her show at Grinnell College, Iowa in early 2011.
Victor was the subject of TAXI-013 (2008) from the David Krut Publishing TAXI Art Book series. This publication was followed in January 2012 by Burning the Candle at Both Ends, published to co-incide with Victor's two-part exhibition Ashes to Ashes and Smoke to Dust which was held in collaboration by David Krut Projects and the University of Johannesburg Art Gallery. Selected work from this show was later exhibited at David Krut Projects, Johannesburg.
Victor has completed two residencies in the United States with David Krut Projects, New York. During the first residency in 2011 Victor created a series of watercolour monotypes in collaboration with master printer Phil Sanders.
She returned to America in 2012 and during this time DKW facilitated the collaboration between Victor and the Robert Blackburn Printmaking Studio. During this period Victor created the works Let Sleeping Crocs Lie, The Grand Magician, The Sower, Jonny and the Bunny Boy, One Night, and Ash which were first exhibited by David Krut Projects at the 2012 Johannesburg Art Fair, and were later editioned by Jillian Ross and Mlungisi Kongisa from DKW.