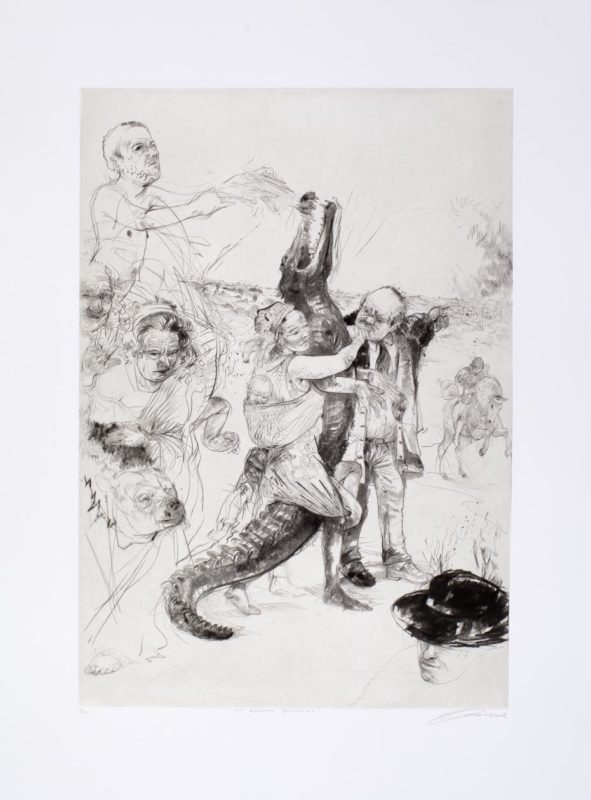 Diane Victor
Diane Victor and the David Krut Workshop (DKW) first collaborated in early 2008 on three large etchings and in 2009 Victor originated and editioned a series of drypoints at DKW called Birth of a Nation. These works were exhibited at David Krut Projects New York as well as a selection featuring at her show at Grinnell College, Iowa, in early 2011.
Victor was the subject of TAXI-013 (2008) from the David Krut Publishing TAXI Art Book series. This publication was followed in January 2012 by Burning the Candle at Both Ends, published to coincide with Victor's two-part exhibition Ashes to Ashes and Smoke to Dust which was held in collaboration by DKP and the University of Johannesburg Art Gallery. Selected work from this show was later exhibited at DKP Johannesburg.
Victor has completed two residencies in the United States with DKP New York. During the first residency in 2011, Victor created a series of watercolour monotypes in collaboration with master printer Phil Sanders.
She returned to America in 2012 and during this time DKW facilitated the collaboration between Victor and the Robert Blackburn Printmaking Studio (led by Phil Sanders). During this period Victor created the works Let Sleeping Crocs Lie, The Grand Magician, The Sower, Jonny and the Bunny Boy, One Night, and Ash which were first exhibited by DKP at the 2012 Johannesburg Art Fair, and were later editioned by Jillian Ross and Mlungisi Kongisa from DKW.
In 2014, she had another exhibition with DKP Cape Town titled The Needle and the Damage Done. Three years later she deepened her standings in New York with another exhibition at the DKP gallery named Showing Truth to Power.
At the moment, DK Publishing is working on another book about the acclaimed artist who is continuing to collaborate with Master Printer Jillian Ross and her team at DKW.
Biography
Diane Victor was born in Witbank, South Africa, in 1964. She received her BA Fine Arts Degree from the University of the Witwatersrand in Johannesburg with a major in Printmaking. In addition to graduating with distinction and winning various awards, Victor also became the youngest recipient of the prestigious Volkskas Atelier Award in 1988. The Volkskas Award granted Victor a ten-month stay at the Cité International des Artes in Paris, allowing her time to work collaboratively with other experienced printmakers and to observe and reflect on a society very different from her own.
Since 1990, Victor has been a part-time lecturer, teaching drawing and printmaking, at various South African institutions including the University of Pretoria, Wits Technikon, Pretoria Technikon, Open Window Academy, Vaal Triangle Technikon, the University of the Witwatersrand, Rhodes University and the University of Johannesburg.
The tension generated by Diane Victor's impressive body of drawings and prints arises not simply from her biting social commentary and the sometimes macabre nature of her images and narratives, but from interplay between the tough and the fragile, between the hard edges of her visual narratives and the delicate mark-making and fragility of her preferred media.