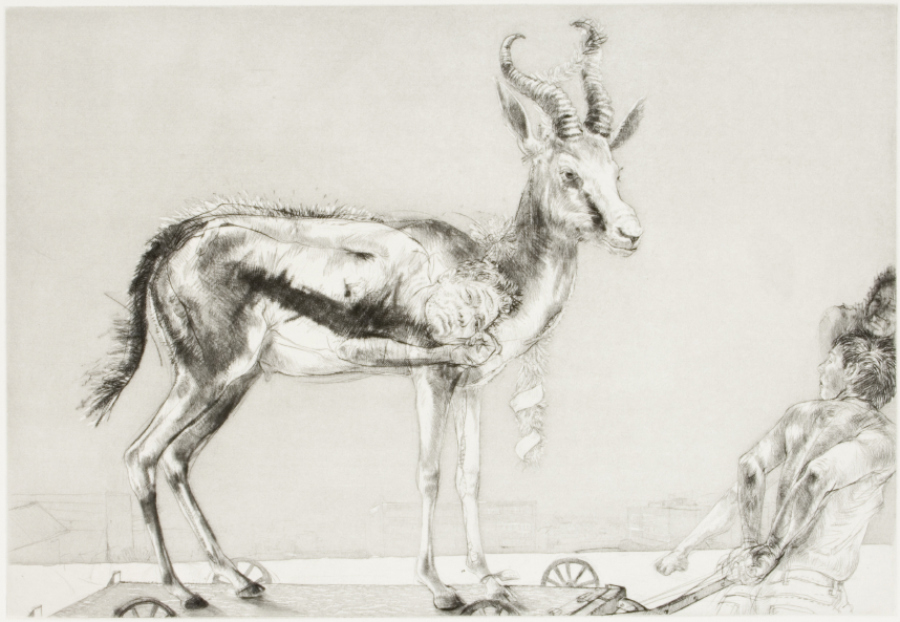 Birth of a Nation comprises of a suite of ten etchings using imagery that is adapted from classical mythology to a South African context of visuality. The series is characterised by a copper matrix drawn using a drypoint needle and a variety of roulette tools to build up an immensely detailed surface. Each of the ten etchings have an edition size of 30. Prints are only available as part of a set.
Springbokkie – Trojan
Who is the figure inside the springbok? What does he represent? "The springbok the national animal of our country but more commonly the name refers to the rugby players who wear its emblem. Many heated words have been issued around the attempt to replace this emblem, as it perceived as being too closely associated with the old apartheid regime. An effective red herring when attention needs to be diverted from more pressing embarrassments thus too an effective Trojan distraction. The hidden man has some sporting references and is somewhat vulnerably positioned." – DV, September 2014.
Artist:
---
Title:
Springbokkie - Trojan (ed. of 30)
---
More about:
---
Year:
---
Artwork Category::
---
Media & Techniques:
---
Edition Size:
30 (Only available as part of the set: 'Birth of a Nation')
---
Image Height:
47.4 cm
---
Image Width:
36.5 cm
---
Sheet Height:
37.5 cm
---
Sheet Width:
47.4 cm
---
Availability:
Available
---
Framing:
Framed
---
Artwork Reference:
1440
---