DAVID KRUT PROJECTS
CELEBRATES 10 YEARS IN NEW YORK
January 14 – February 19, 2011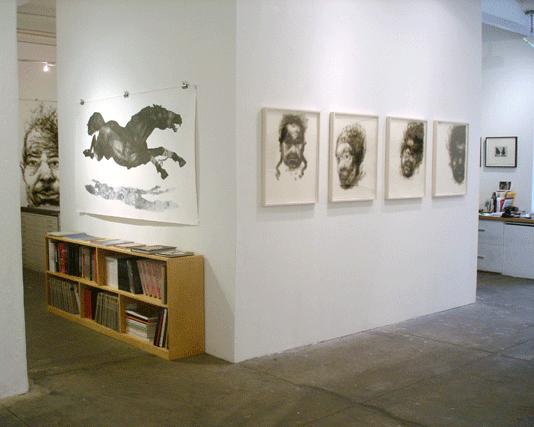 PRESS RELEASE: Celebrating the last ten years in New York, the current exhibition at David Krut Projects, New York (DKNY) features works by Joseph Hart, Tom Huck, William Kentridge, Suzanne McClelland, Nnenna Okore, Gary Schneider and Diane Victor. Exposing New York City to South African artists and inviting many artists to have their first exhibitions in Chelsea, DKNY has both impacted the city and established long-term relationships with artists who continue to develop and expand their artistic careers in New York City and abroad. Looking back at the last ten years can easily see how David Krut Projects (DKP) has provided an important site of intersection, encouraging a dialogue about South African art and fostering an intimate relationship with artists in the United States. Santu Mofokeng, whose photography exhibition launched DKNY's expanded gallery space in 2004, is now having a major exhibit at the Jeu de Paume in Paris this May. DKNY introduced El Anatsui to New York, who has continued to show in the US and currently has a major traveling exhibition organized by the Museum of African Art in New York. David Krut has also introduced US artists to South Africa, including Wallace Whitney, Suzanne McClelland, and Carrie Moyer, at the Johannesburg Art Fair.
This exhibition not only brings artists from South Africa to New York and also the reverse, but it also reveals DKP's careful attention to media and innovation, which can thrive even in monochromatic, primarily black & white, prints and drawings. We are excited to have this exhibition up, especially with the recently framed Diane Victor smoke drawings, which continue to allure with their spectral surface even beneath the frame's glass.