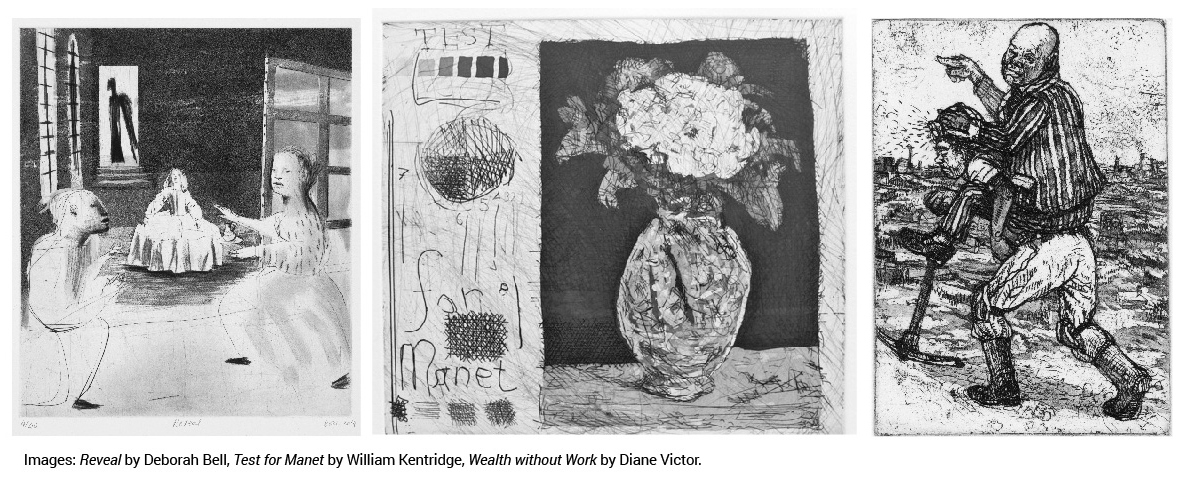 10 December 2016 – 28 January 2017
David Krut Projects Cape Town is delighted to be presenting its 2016 year-end exhibition of works by Deborah Bell, William Kentridge and Diane Victor. Under the guidance of master printer Jillian Ross, David Krut Workshop (DKW) continues to produce projects as part of an ongoing collaboration, with these three prominent artists, and hosts other local and international artists.
While sculpture and painting form a large part of Deborah Bell's mark making techniques, it was printmaking which began her workings with DKW in the early nineties. As a prevalent motif in her work, Bell's connection to ancient sources and memories is linked to her spiritual beliefs and how she defines herself as an artist in Africa. In 2010 the publication Deborah Bell's Alchemy was launched to coincide with her second solo exhibition at David Krut Projects– Collaborations II– a decade of reflection of Bell's print works and projects.  Her most recent collaboration with DKW includes the production of a multiple plate etching Parsifal under the guidance of US-based master printer Phil Sanders, where he encouraged Bell to rework her earlier paintings into colour etchings. Bell continues to draw from art history as inspiration which is evident in her etching Reveal– where she reinterprets Diego Velázquez's 1656, Las Meninas.
William Kentridge has been collaborating with David Krut Projects for more than 24 years. With several publications being produced on Kentridge, his long-term relationship with DKW has seen him collaborate on a large number of prints, using varying printmaking techniques, with print series such as The Nose, Universal Archive, If You Have No Eye, and most recently, a series related to his Triumphs and Laments project in Rome. The first work of this project began in January 2016 with the two square meter woodcut Mantegna. Currently, DKW is in the process of printing The Flood which is the second print in this series.
Kentridge is a modern pioneer in printmaking – drawings and theatre projects regularly emerge from his prints. For Kentridge, printmaking is in itself a multi-disciplinary practice. He says: "There is also a way of thinking of an etching as an extraordinary, ridiculously complicated form of animation, different states of the plate, when you know that you will rework them."
In early 2008 Diane Victor and DKW began collaborating on a series of drypoint prints entitled Birth of a Nation which was exhibited at David Krut Projects New York, following which, Victor went on to complete her residence there in 2009. David Krut Publishing produced Burning the Candle at Both Ends in 2012 to coincide with Victor's two-part exhibition Ashes to Ashes and Smoke to Dust which was held in collaboration with David Krut Projects and the University of Johannesburg Art Gallery. Most recently, Victor independently created Seven Social Sins– a series of seven intricately detailed etchings of figurative drypoints based on Mahatma Gandhi's 'Seven Social Sins.' Being a master in the art of printmaking, Victor's collaboration with DKW is uniquely distinctive and her works exhibited bear testimony to this congruence.
Other artists with which DKW continues to collaborate include Lynda Ballen, Mathew Hindley, Lorenzo Nassimbeni, Robyn Penn and Quinten Edward Williams. Most recently Jacob van Schalkwyk and Nina Torr have been printing in the workshop, while Rhett Martyn and New York based Chuck Webster will be producing works at DKW in the New Year.
 For further information or inquiries please contact Daniel [email protected]  / 021 685 0676
NOTES TO EDITORS
A collaborative printmaking workshop is a space where artists work with trained printers to make original fine art prints.  The artist and the printer work together to make work that the artist would not be able to create on their own.  Printmaking is a very technical medium and the technical aspects are the responsibility of the printer, allowing the artist to fully focus on the conceptual and visual aspect of the work.  Once the work is considered finished, the printer will print the entire edition for the artist so that each print is consistent and one print looks the same as the next.
David Krut Workshop specialises in the techniques of intaglio, relief and monotype printing.  Each technique is made on a plate – the matrix – to allow it to be printed more than once.  This plate is created by the artist's hand with technical help from the printer.  The technique of intaglio is made on copper plates; of relief on linoleum; and wood blocks and monotypes are unique impressions that are made by the artist on perspex and printed once only.
A printer is a technician, a craftsman and an artist all in one.
ABOUT DAVID KRUT PROJECTS
David Krut Projects (DKP) is an independent arts resource, which is active in Johannesburg, Cape Town and New York. Its focus is the encouragement of careers in the arts and literature and provides a platform for collaborations in the visual and other creative arts. Our outreach activities support child literacy and arts education.
In 2002, a Workshop (DKW) was established in Johannesburg as an experimental etching studio. The workshop has since relocated to Arts On Main (a pioneering inner city renewal project in Johannesburg), where master printer, Jillian Ross, collaborates with artists to make work that they are unable to create in their own studios.
-Claudia Bentel