Diane Victor – Burning the Candle at Both Ends publication will be launched at the University of Johannesburg Art Gallery at 11 am on Saturday 21 January 2012 to co-incide with the installation of the second half of the exhibition Ashes to Ashes and Smoke to Dust. The main body of text was written by author Karen von Veh. She has also contributed extensively to the TAXI-013 Diane Victor monograph. von Veh is President of SAVAH (the association of South African Visual Arts Historians), and is a Senior Lecturer in the Department of Visual Art, Faculty of Art, Design and Architecture, at the University of Johannesburg. Her particular interests are in contemporary South African's woman's art, gender studies in art history, and, lately, the transformation of religious icons in contemporary art. On these topics she has presented many conference papers, both locally and internationally, and contributed articles to local art history journals.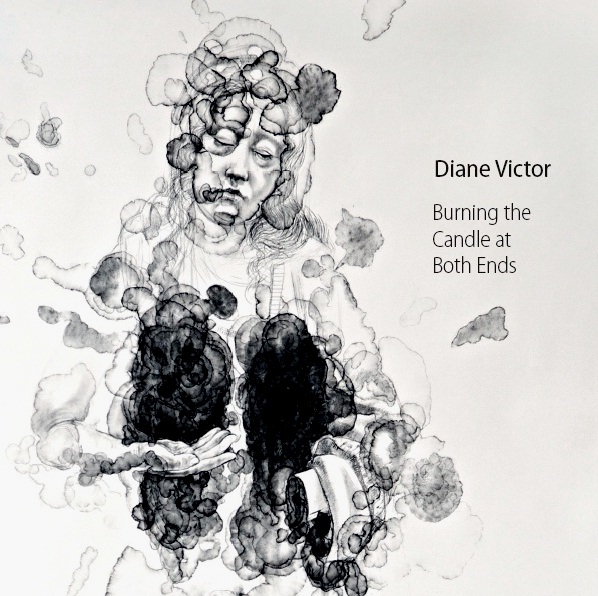 Ashes to Ashes and Smoke to Dust is a body of work divided into two exhibitions. The first is a window installation of smoke on glass which is ideally suited to the elongated format of the UJ Art Gallery. Burdens and Offerings forms the first part of the show with its religious undertones, created solely on drawings made in candle smoke. Victor says, "My images attempt to explore the metaphorical burdens people attach to themselves and drag through their lives as proof of their positions as scapegoats and martyrs." After visiting an exhibition, called Vaudou, at the Foundation Cartier in Paris earlier in the year, she became fascinated with the West African fetish effigies from collections of Jacques Kerchache (1942 – 2001).  She goes on to say, "I responded to the psychological implications that these bound and burdened figures evoked, transferring them into our obsession with contemporary fear and indulgences." Offerings, which extends from the series of glass drawings exhibited at the Nelspruit abattoir. Much like Brief Lives this new series of portraits include images of domestic meat animals which aim at exploring ideas of innocence and sacrifice. The second part of the exhibition is the continuation of the process of working with smoke and ash where she is furthering her exploration into the potential of book ash as a drawing material. The ash drawings featured here are sourced from specific "lost words" from documents and texts which are burnt, dusted and fixed onto paper.
Much of this publication and the work created for the exhibition, Ashes to Ashes and Smoke to Dust, was compiled and created on a very tight schedule. Diane Victor dedicates a great deal of her time to teaching between Rhodes University and the University of Pretoria. In addition to this her travel schedule often runs straight into her next exhibition. For an artist that rarely has a moment to herself, she has managed to create a prolific body of work that is unfailingly compelling. The aim of this publication is to document and discuss the work she has created over the last three years since TAXI-013. In that time Diane Victor has created over 200 artworks and has been involved in almost 50 exhibitions in South Africa and abroad.
Book specifications
Softcover
200 x 200 mm
Full colour
104 pages
ISBN 978-0-9584975-3-4