Diane Victor is currently in the United States on a spring lecture tour visiting universities in Washington, Boston and Brooklyn.  David Krut Projects in New York is presenting Victor's provocative new works in an exhibition aptly titled Showing Truth to Power.
The works displayed in Showing Truth to Power are from Victor's residency in New York last year. She spent two weeks at the Centre for Contemporary Printmaking in February 2017, followed by a one-month residency at the Mothership in Brooklyn New York. Here, she created some new smoke drawings – a technique Victor is revered for. The smoke drawings produced were first showcased at 1:54 in May 2017 followed by a subsequent solo show at David Krut New York where the lithographs were featured too. Victor is established as a key figure in the South African art world, using international residencies as an opportunity to reach a global audience with her sharp-witted social commentary and innovative processes. Her work consistently showcases her distinguished technical skill and draughtsmanship, using her mediums as a tool to lure in her audience to contemplate serious global issues through her distinct visual language.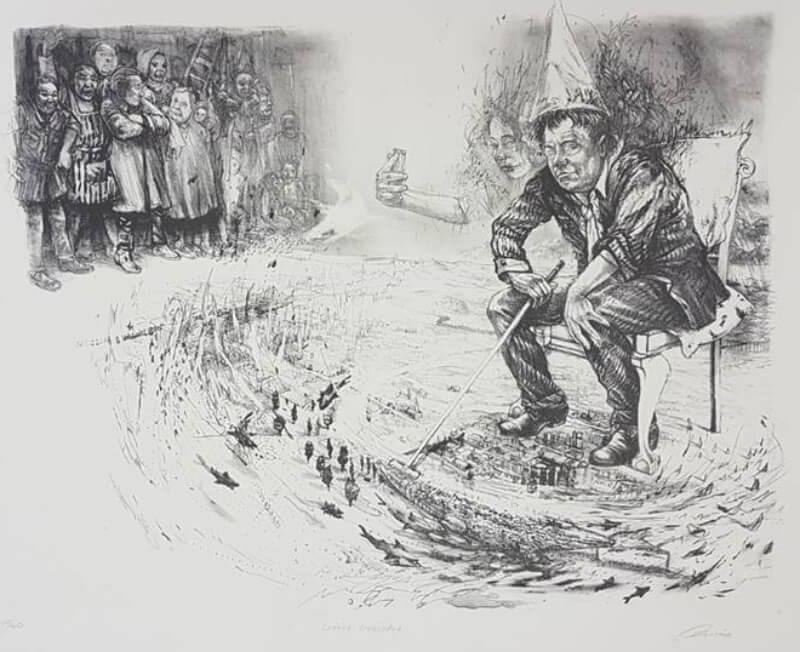 Little Dystopia (2017) is one of the works featured in the exhibition. It is a stone lithograph created by Victor at the Center for Contemporary Printmaking in Connecticut during her residency last year. In the image, an older, white man, in a business suit, is seated in front of a group of people with a grimace on his face. Sharks are circling the small town at his feet, portraying the chaos that has ensued under his power. He wears a dunce cap, and a shadow of a woman is next to him taking a selfie. To his right is a crowd of onlookers who remain unnoticed by this man who is rather absorbed in his own scheming. This is a powerful piece of work by Victor, playing to her strength of social commentary. This work is current, relevant and critical of the prominent issues of power, patriarchy and self-absorption ongoing in our contemporary era.
Diane Victor began her collaboration with David Krut Projects (DKP) in 2008. The ongoing relationship has seen DKP be instrumental in promoting Victor as a master draughtsman and printmaker abroad by organising tours, lectures and residencies in the U.S. Visit us to view Little Dystopia alongside other works by Diane Victor currently up at our David Krut Archive space in Johannesburg.