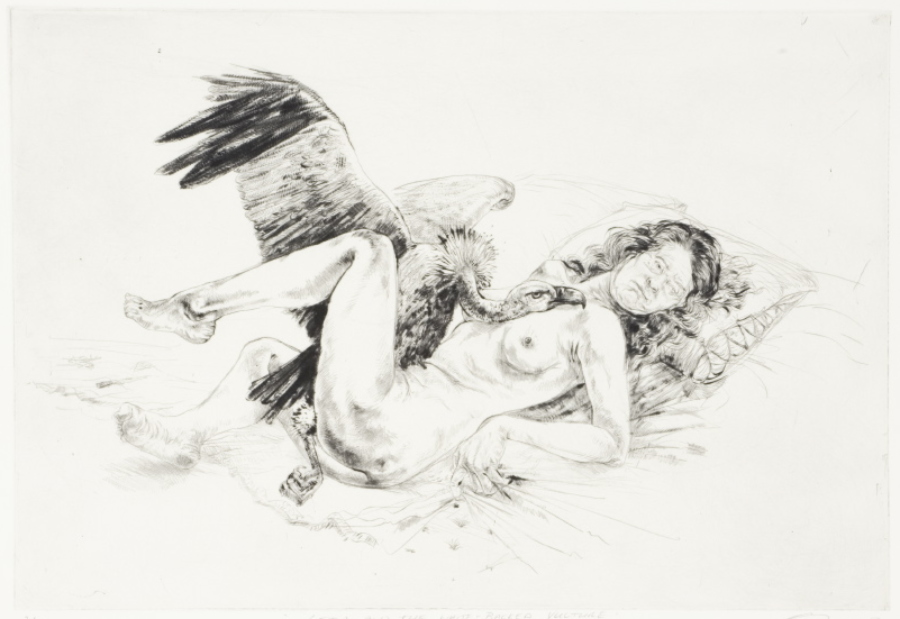 Birth of a Nation comprises of a suite of ten etchings using imagery that is adapted from classical mythology to a South African context of visuality. The series is characterised by a copper matrix drawn using a drypoint needle and a variety of roulette tools to build up an immensely detailed surface. Each of the ten etchings have an edition size of 30. Prints are only available as part of a set.
Leda & the White-backed Vulture
In this work the story of Leda and the Swan becomes a violent encounter between a semi-autobiographical female figure and a white-backed vulture. The insertion of the scavenger (as with the hyena in Romulus and Remus) is quintessentially South African – it cannot but speak of Rainbow dreams for security and prosperity having gone awry.
"Leda and the White-Backed Vulture" (2008) translates the story of a mortal woman's seduction by Zeus (disguised as a swan) into a visceral image of the artist being raped by a fumbling scavenger. Where Antonio Allegri da Correggio's Leda blissfully succumbs to her seducer, and Théodore Géricault's Leda nobly resists, Victor's autobiographical Leda takes a middle route, grimacing and tearing at her sheets with displeasure but submitting nonetheless to the awkward bird's lust. Of all the images in Reap and Sow, this is the most unsettling, in part because of its opacity. Why Victor is the object of violence here is unknown, and the identity of her attacker (here represented by a pathetic animal whose species is on the brink of extinction) remains unclear. Meanwhile, the victim's seeming complicity in the rape adds to the scene's disconcerting horror. (from Art South Africa review by Maxwell Heller, 11 July 2012).
Artist:
---
Title:
Leda and the White-Backed Vulture (ed. of 30)
---
More about:
---
Year:
---
Artwork Category::
---
Media & Techniques:
---
Edition Size:
30
---
Image Height:
47.4 cm
---
Image Width:
36.5 cm
---
Sheet Height:
37.2 cm
---
Sheet Width:
47.4 cm
---
Framing:
Unframed
---
Artwork Reference:
1406
---