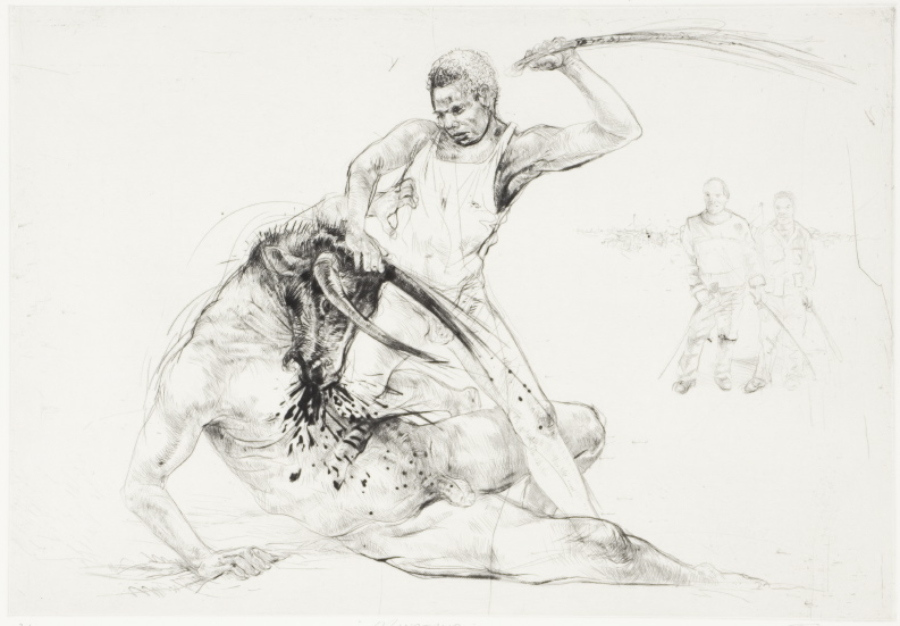 Birth of a Nation comprises of a suite of ten etchings using imagery that is adapted from classical mythology to a South African context of visuality. The series is characterised by a copper matrix drawn using a drypoint needle and a variety of roulette tools to build up an immensely detailed surface. Each of the ten etchings have an edition size of 30. Prints are only available as part of a set.
Minotaur
Who is the 'Theseus' character in this image? Who or what does the Minotaur represent?
"Theseus the hero who conquers the bestial Minotaur. At the time I was working on this series there was much coverage in the news and some outrage around a Zulu traditional custom, a rite of passage where young men ritually are expected to kill a bull using their bare hands, the process is long and gruesome and animal rights activists and public alike were outraged at the cruelty. The incident again highlighted the difficulty in negotiation cultural traditions with contemporary expectations. I was interested in how time and context affect our response; the hero's killing of the bull in the classical labyrinth is lauded yet a similar action performed in Africa now enlists an extremely different response." – DV, September 2014.
Artist:
---
Title:
Minotaur (ed. of 30)
---
More about:
---
Year:
---
Artwork Category::
---
Media & Techniques:
---
Edition Size:
30
---
Image Height:
47.4 cm
---
Image Width:
36.5 cm
---
Sheet Height:
37.2 cm
---
Sheet Width:
47.4 cm
---
Framing:
Unframed
---
Artwork Reference:
1359
---