ICONS & AVATARS
June 8–July 29, 2017
Opening reception: Thursday, June 8th, 6–8PM
Featuring Artists: Aida Muluneh, Carrie Moyer, Marlene Dumas, Diane Victor, Eria "SANE" Nsubuga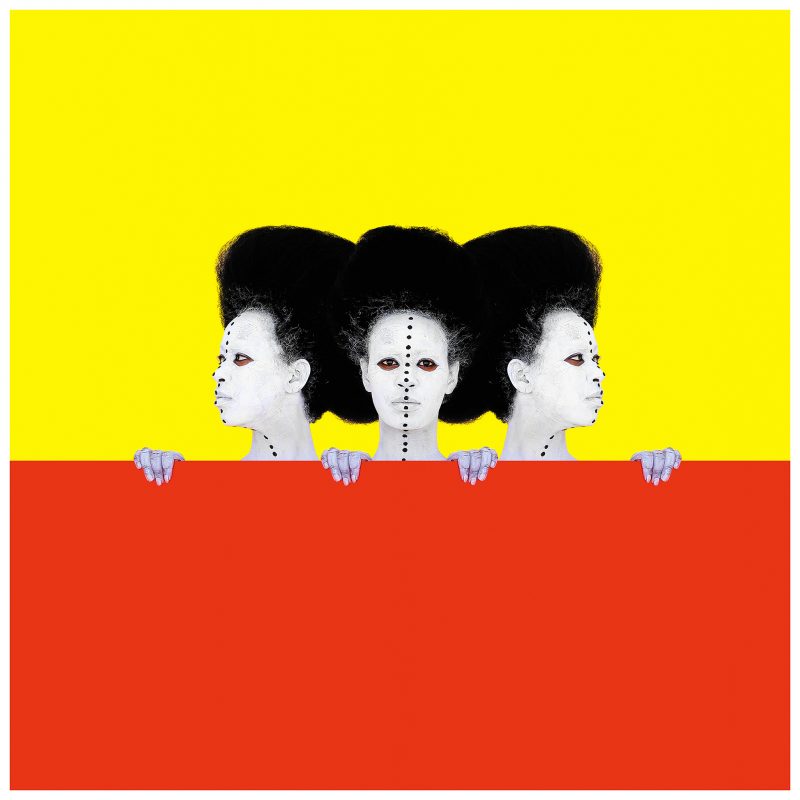 David Krut Projects is pleased to present, ICONS & AVATARS, a group exhibition including photographs, drawings, paintings and prints.
The term avatar often describes the thumbnail-sized portrayal of one's self, beamed out around the world through various social media platforms. This exhibition accounts for the reality of global communication as a backdrop for examining the alternative meaning of the word avatar as: a manifestation of a deity, or incarnate divine teacher. The five international artists: Marlene Dumas (Netherlands), Carrie Moyer (USA), Aida Muluneh (Ethiopia), Eria "SANE" Nsubuga (Uganda), and Diane Victor (South Africa), lend different global perspectives to the ongoing history of portraiture in this ever-developing technological and political landscape.
Through digitally manipulated photography, AIDA MULUNEH's World is 9 Series uses figuration to comment on cultural identity, global politics, and history. Memory of Libya (2016) was made in response to the tragedy on April 19, 2015 where 30 Ethiopian men were beheaded by ISIS on the shores of Libya. Muluneh, who often approaches her studio practice through her background in photo-journalism, describes: "A group of young men left Ethiopia with the hopes of reaching Europe towards what they thought would be a better life. This piece is dedicated to those lost lives and the families they left behind. The three heads are symbolic of the search to the past and the future, a search that often clashes with one's present reality."
DIANE VICTOR's Smoke Screen 24 (2010) is made with Victor's signature delicate smoke-drawn surface and comes from her 2010 portrait series of prisoners awaiting trial. The fragility of the medium mirrors the prisoners' circumstances, and draws attention to contemporary correctional systems and the complex social and political inequalities of South Africa.
ERIA SANE NSUBUGA's playful ballpoint pen drawings on newsprint and panel create an allegorical mash up of political and pop-cultural figureheads from across time periods. Like in the work of Cheri Samba, the figures heads are often dissected and floating as a way to peel back the façade of the characters for a more critical psychological look.
Through the use of abstraction, CARRIE MOYER's paintings titled Avatar (2007) and Tender Star (2007) offer another view of figuration through a feminist lens. Moyer states that, "Recalling my own first eye-opening encounter with feminist work as a young artist, the paintings are full of forms that resonate with the strangeness and preliterate opaqueness of archaic sculpture. Invented avatars — reminiscent of the Venus of Willendorf, ceremonial instruments, human beings and animals — are evoked through the interplay of abstract shapes, flows of pure color, glitter and transparent veils of poured acrylic."[1]
Please email [email protected] for more information.
View ICONS & AVATARS on Artsy
[1] Moyer, Carrie. "Carrie Moyer Feminist Artist Statement." Brooklyn Museum – Elizabeth Sackler Center for Feminist Art. Accessed May 23, 2017. https://www.brooklynmuseum.org/eascfa/feminist_art_base/carrie-moyer.
Image Detail: Aida Muluneh, Memory of Libya (The World is 9), 2016, Digital Photograph, 80 x 80cm, Edition of 7
526 West 26th Street, Floor 8, Suite 816, New York, NY 10001
Summer Hours: June/July: Tuesday–Friday, 10AM–6PM
August: By appointment only
[email protected] | 212.255.3094 | @DavidKrutNY