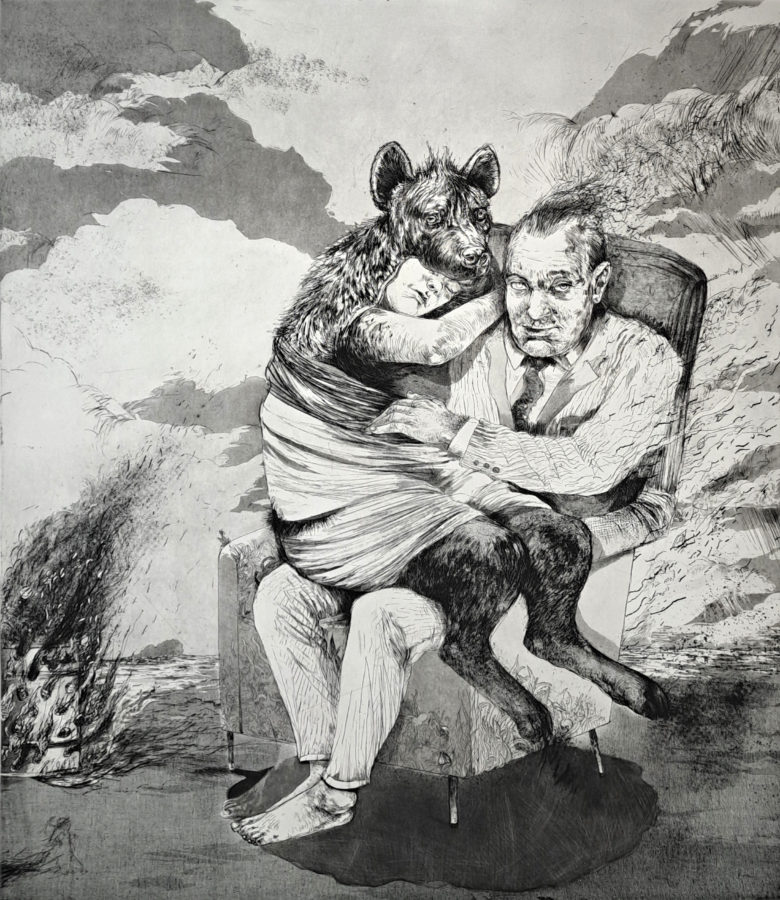 Beware the Lap of Luxury (2020), Diane Victor. Steel plate etching: hardground, softground, drypoint and aquatint.167 cm x 101.6 cm.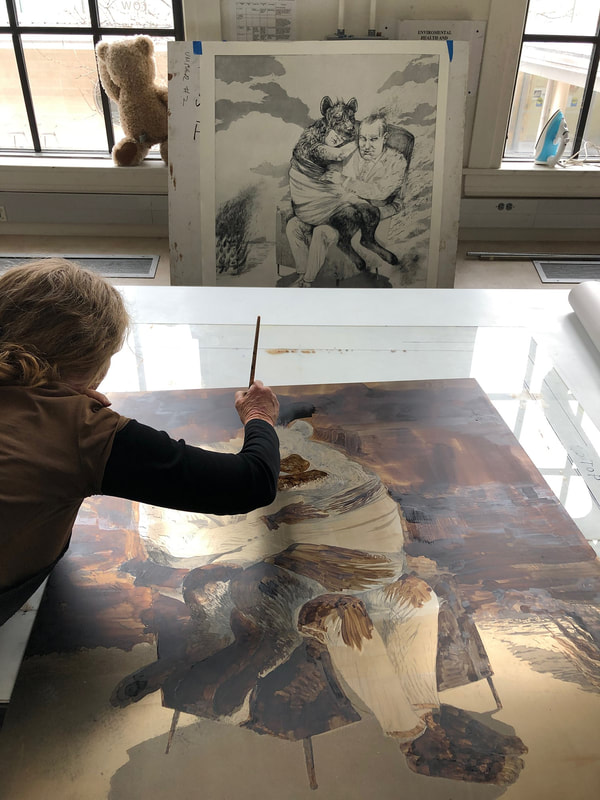 Victor working on her steel plate at Island Press, Sam Fox School of Design & Visual Arts at Washington University. 
The artwork centres its composition around two key figures; one swaddled in the skin of a Hyena and dozing off on the shoulder of the next; who seems far less unassuming. Well-dressed and undeniably confident in his gaze which directs to his viewer, he betrays little trust. Their relative positioning signals the power relation that exists – the magnate and his unwitting pet. Furthermore, noting how his hand reaches across to the belly, almost as if to give it a tickle – in this, the image of Don Corleone from the Godfather begins to ring in mind: the Don sits with a sweet and playful cat in his lap as he 'handles business'.
This scene is widely recognised to symbolise the power and control held by the Don. Similarly, in Beware the Lap of Luxury, the Mister sits and stares with his pet in lap – asserting his dominance. Although, a point of interest is that this figure has been disguised to become a pet.
Hyenas are often associated with scavenging, cunning, and a certain unpredictability, hinting at the hidden dangers lurking beneath the surface of apparent luxury. This costume pokes at the deceptive nature of power and wealth. The hyena skin acts as a physical and metaphorical barrier, blurring the boundaries between human and animal, and perhaps even signifying the predatory nature of power relationships.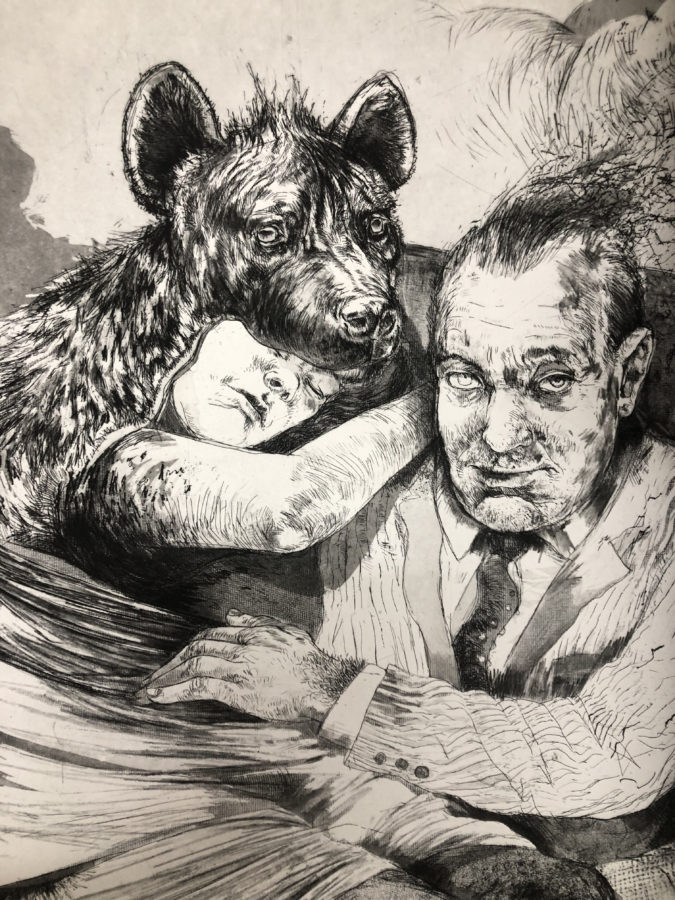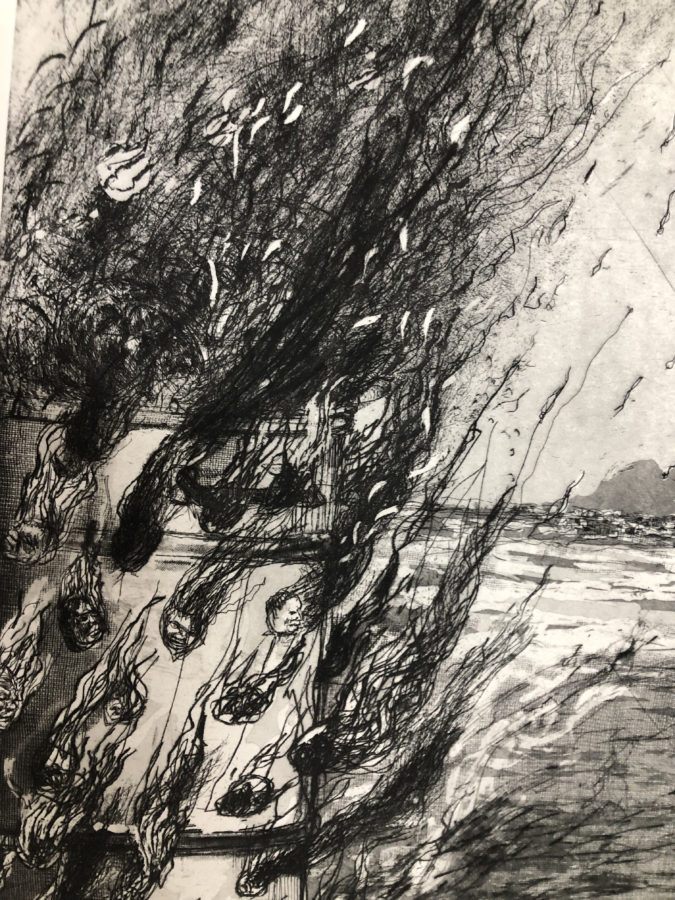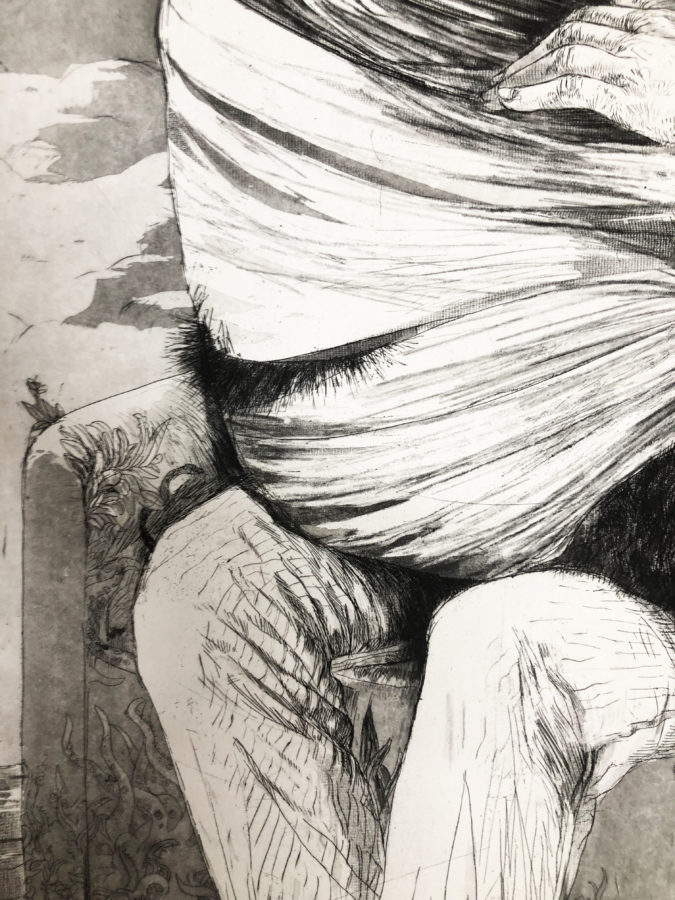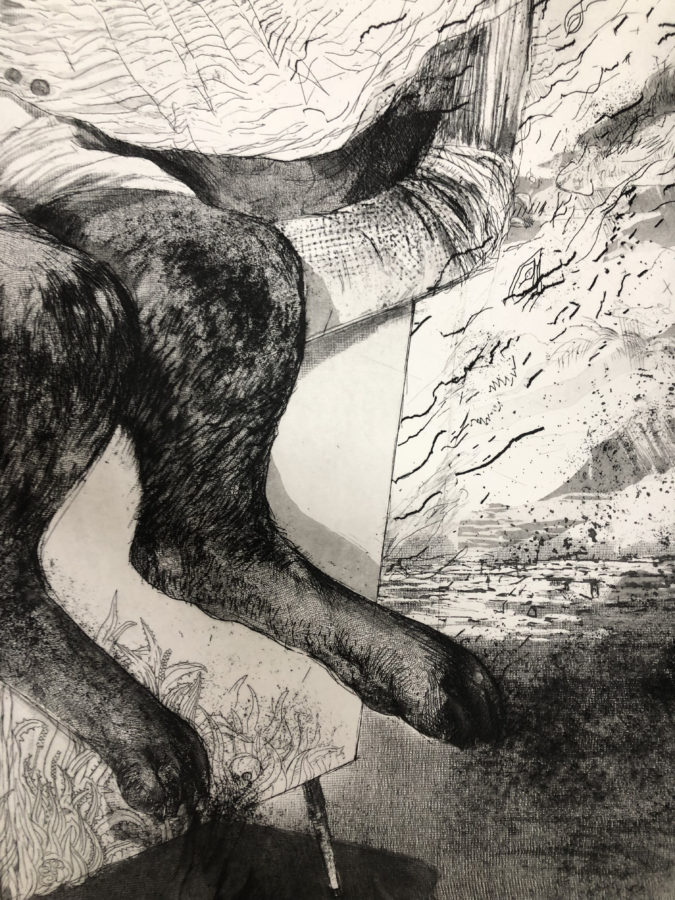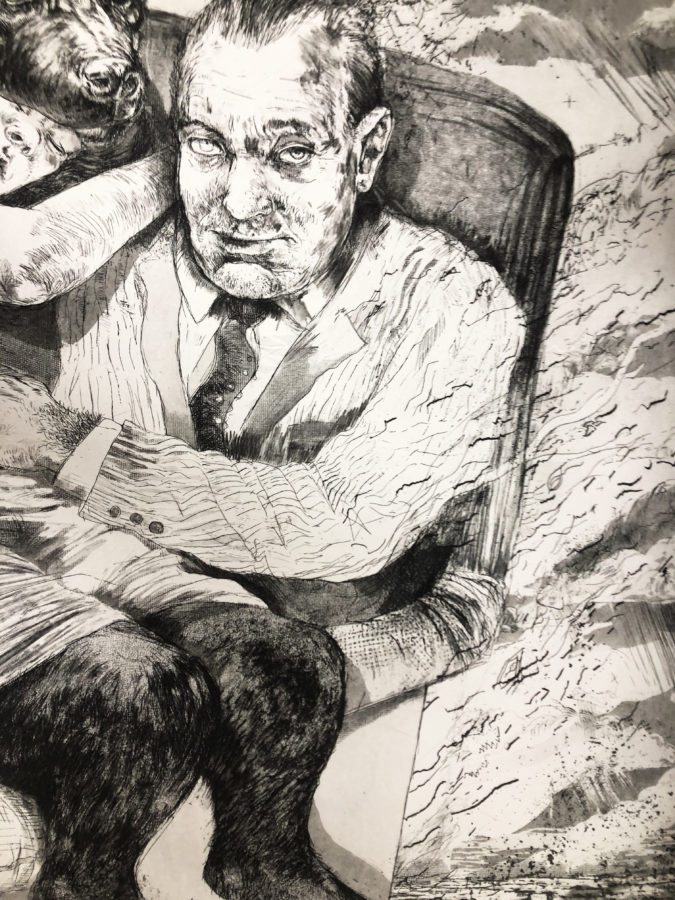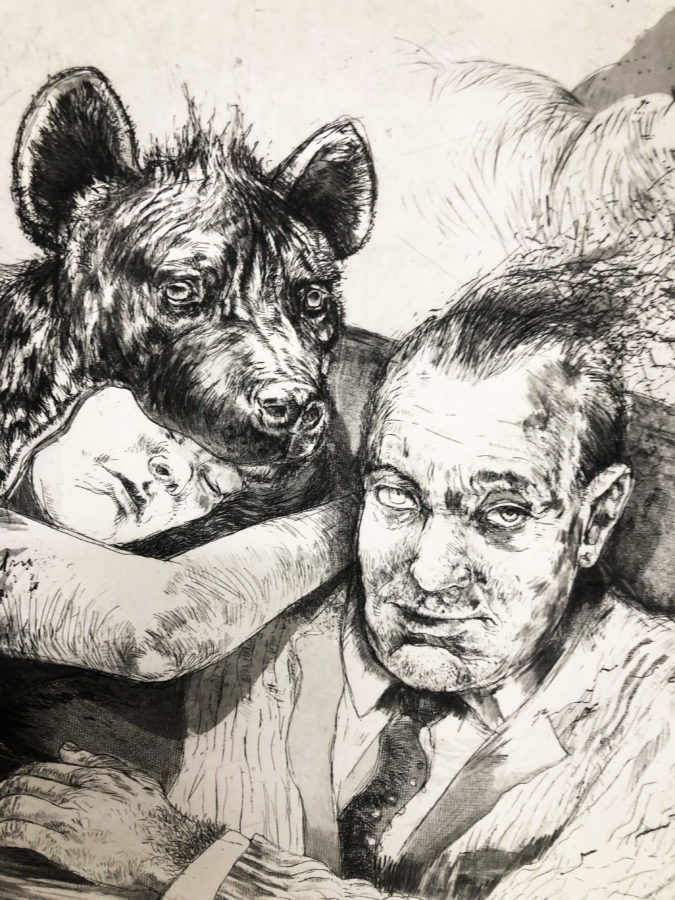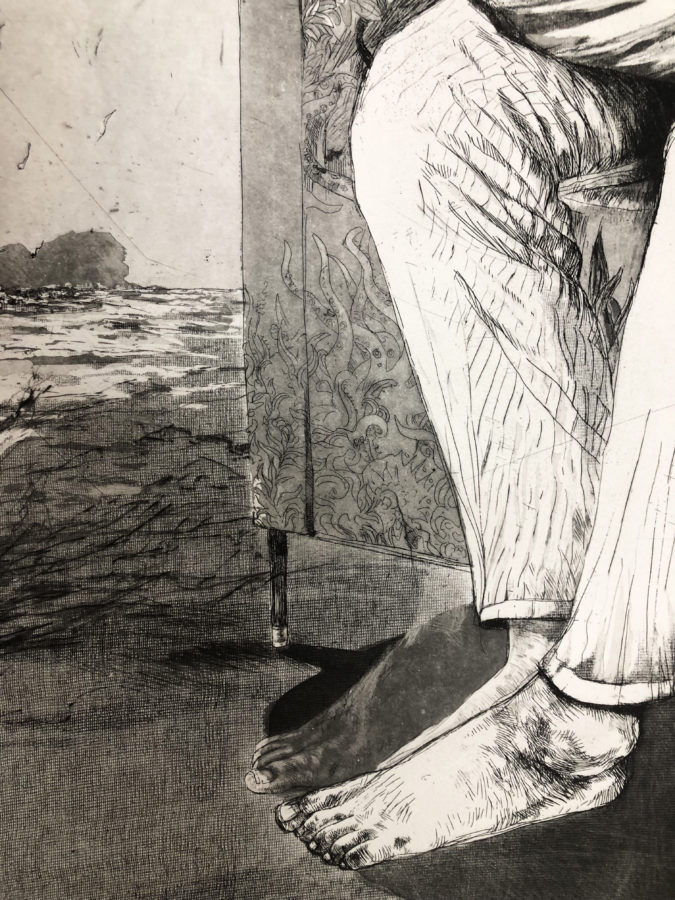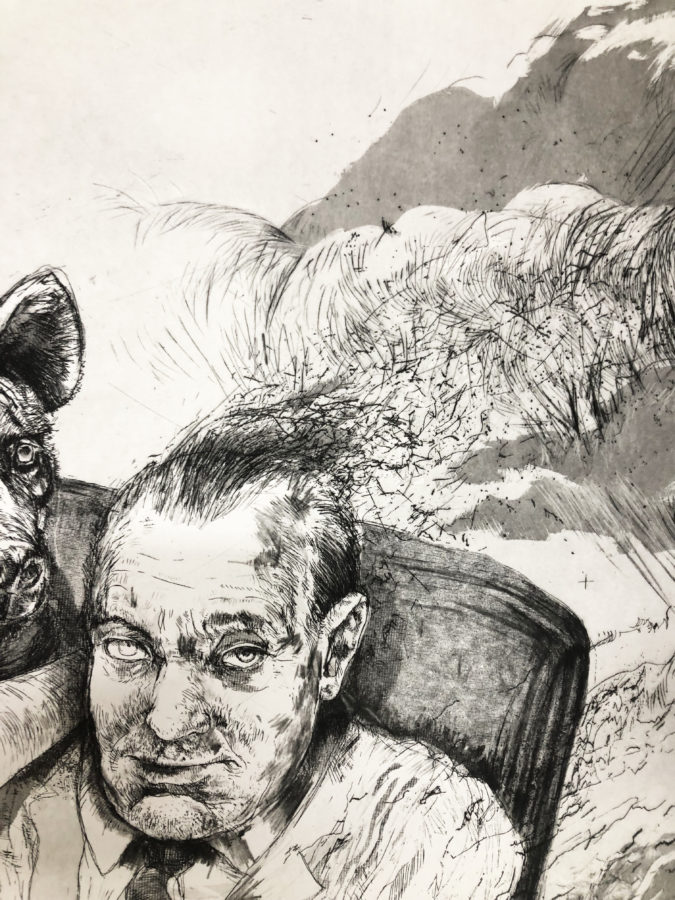 Details of the various textures and marks Victor was able to achieve by combining different etching techniques; softground, hardground, silk aquatint and drypoint. 
The world around them is so explosive with detail, one can't help but feel seduced by the variation of marks employed by Victor, having to lean in closer and closer to investigate all the stipples, waves and scribbles. These explorations expose the spirit of experimentation, which is appropriate seeing as Victor was introduced to two new processes during her time with Island Press: silk aquatint and steel plate etching.  
Etchings are primarily created on copper – a more gentle, malleable surface to draw into that generally does not kick back much. Steel, however, is a far cruder substrate. The matrix is not kind towards its drafter, it rejects control and dexterity. More so, the actual etch is aggressive and far less predictable in comparision to copper and ferric chloride. I imagine that the tension of this process, the push and pull of trying to control the matrix, remains present in the final image, contributing to what now stands as an incredibly powerful, disconcerting image.  
Beware the Lap of Luxury challenges viewers to contemplate their position on the moral spectrum in a world that is saturated with corrupt intentions. However, like the characters it portrays, the artwork doesn't speak clearly from a side of right or wrong. Instead, it highlights the complex balance between control and consequence —a dance that shapes our understanding of power, manipulation, and the temptation of greed.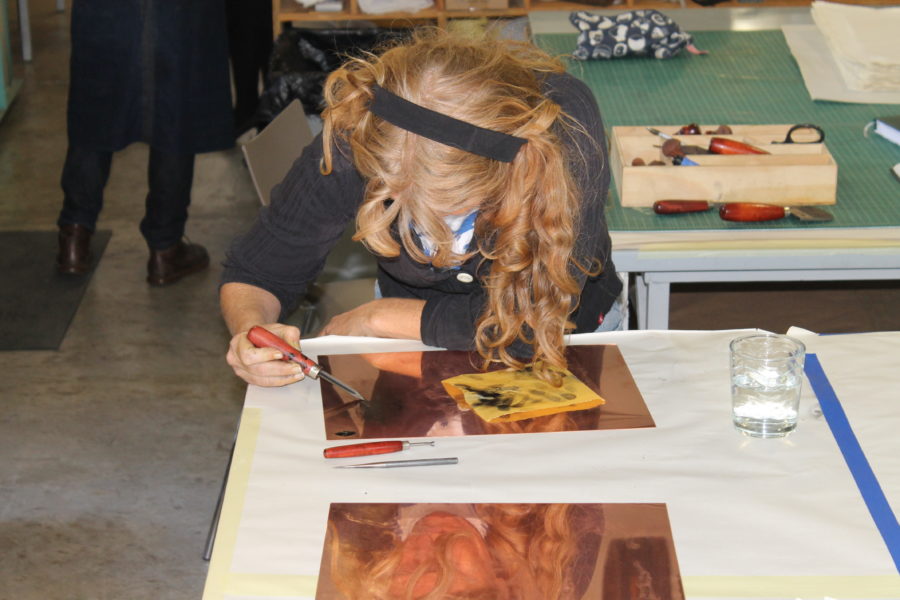 Diane Victor (b. 1964) was born in Witbank, South Africa. She received her BA Fine Arts Degree from the University of the Witwatersrand in Johannesburg. Victor became the youngest recipient of the prestigious Volkskas Atelier Award in 1988. The award granted Victor a ten-month stay at the Cité International des Artes in Paris, allowing her time to work collaboratively and reflect on a society very different from her own.
The tension generated by Diane Victor's impressive body of drawings and prints arises not only from her biting social commentary and the sometimes macabre nature of her images and narratives, but from an interplay between the tough and the fragile, the hard edges of her visual narratives and the delicate mark-making and fragility of her preferred media.
Diane Victor has been a longtime collaborator with the David Krut Workshop (DKW). Her first project saw the creation of three large etchings in 2008. The following year, Victor originated and editioned a series of drypoints, titled Birth of a Nation. Victor has released two dedicated titles with David Krut Publishing (DKP)- TAXI-013 (2008), followed in January 2012 by Burning the Candle at Both Ends, published to coincide with Victor's two-part exhibition Ashes to Ashes and Smoke to Dust.
In 2018, DKP and Victor were able to arrange a lecture tour around the United States which connected the artist to Island Press – a printmaking workshop at the Sam Fox School of Design and Visual Arts at  Washington University, St Louis. Victor was then invited to serve as the Arthur L. and Sheila Prensky visiting artist – a programme which brings esteemed artists in to work closely with the faculty and students. This programme resulted in the creation of Victor's large scale etching, Beware the Lap of Luxury.