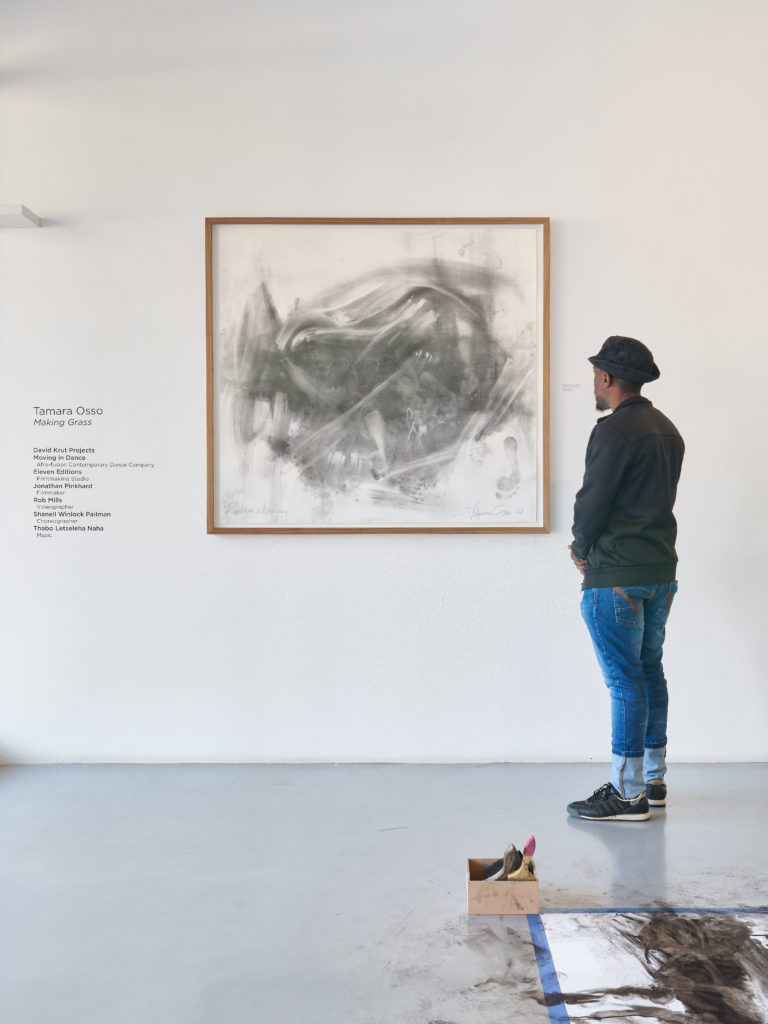 Photograph by Anthea Pokroy
Making Grass by Tamara Osso is an exhibition of drawings, prints and performance work that opened at the DKP Parkwood gallery on the 1st of July 2023.
Making Grass investigates a collective creative process. Through the use of interdisciplinary practices and collaborative modes of making, Osso has created a body of work that intends to emanate and record the metaphor of a shared space of urban solace. The concept of the exhibition was born out of a collaboration between the artist and the Afro-fusion dance company Moving into Dance (MID). Together they began exploring the possibility of creating a "lawn in the city" through movement and mark-making.
Photographs by Anthea Pokroy
"How can we collectively imagine safe spaces, spaces for experimentation and play? And how can drawings become maps of these collective imaginings? Making Grass explores whether it is possible to invent a new metaphorical landscape grounded in community, collective stories, experimentation, conversation, movement, and mark-making. 
Processes of translation and transformation have been integral to producing the works included in this exhibition. First there was a process of researching dance and choreographic modalities through drawing. The ritual of visiting the Moving into Dance studios began with regular observational drawing as a mode for researching dance and movement. Next, choreography and dance were used as means of creating drawings, linking different parts of the body with different kinds of mark-making." 
Tamara Osso 
The collaborative drawings that are displayed are in fact the residue of dances performed by Osso and MID. This recording  shows how the dancers use their bodies as a drawing instrument; creating marks with each of their movements. 
The drawings thus become an iteration of the original movements. Each mark records a certain step or gesture. These experiments worked towards exploring the metaphor of the  urban garden. Essentially the process of creating these drawings became a mode of thinking, imagining and communication between a collective of creatives. 
Osso has had an interesting history as an artist – shifting between a successful career in performance as a dancer and art director as well as establishing a focused painting practice. It is no wonder that with such a dynamic history of creating that Osso would arrive at the point she has in Making Grass, one which is expansive and innovative. Within the interdisciplinary processes she has employed in creating these works, Osso has found a way to use all of her creative streams as a way to research a new form of making which in a way returns to her roots.
The point of imagination arises from Osso's intention of capturing the safety of the lawn space – this idea was triggered by the lockdown confinements and then expanded upon when the artist moved from her suburban workspace to a studio in Ferreirasdorp, which has a noticeable lack of this type of open space. Osso began using the perimeters of the paper as a space to imagine and generate the expressive, playful nature of the lawn, inviting collaborators to explore with her. This invitation into what was previously an isolated practice for Osso created the community of envisioners that brought us Making Grass.
Performance is a collective art, each moment is shared and each gesture requires you to be aware of the space you are in and the bodies that inhabit it alongside you. The nature of art-making itself is collaborative – the artist is constantly exchanging and engaging with ideas, mediums, people, inspiration and beyond. Each of these things require a negotiation between all elements. Even more so, as humans we are innately collective beings, we find solace within sharing. Making Grass is about imaging and subsequently creating this feeling through space, movement and drawing. 
The exhibition runs until the 12th of August 2023 at the David Krut Gallery, 142 Jan Smuts Ave, Parkwood.
Learn more about Making Grass by viewing the film below, directed by Jonathan Pinkhard. 
Tamara Osso is a Johannesburg-based artist whose work explores a trail of connections between painting, dance and other forms of movement. Drawing deeply on her personal experience as a professional dancer and as a mother to a child with a disability, she is interested in how different kinds of movement are available to different bodies in different contexts. For Osso, physical movement is a form of embodied research, and in her painting practice she looks for ways to draw connections between the dynamism of the body and visual languages. 
Click to see more:
Tamara Osso's Live Interview on SABC News
News24's Review of Making Grass
Follow Tamara on Instagram, @tamaraosso and view her website, osso.co.za to find out more about her projects and her teachings! 
Email info–jhb@davidkrut.com to request a catalogue.