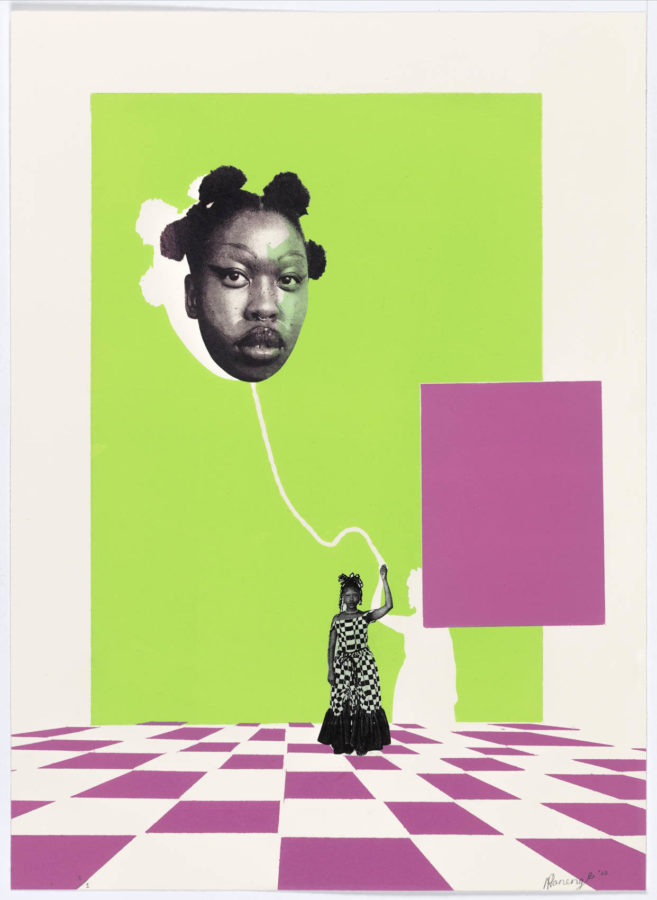 In 2022 David Krut Workshop (DKW) invited multimedia artist Natalie Paneng to collaborate on a series of prints with Sbongiseni Khulu, a process that has spanned continents over the following months and yielded a vibrant body of work unlike anything else in our archive.
Paneng was introduced to our operations after being selected as an artist in residence with the Leipzig International Art Programme (LIA) in association with The Centre for the Less Good Idea, who put out an open call to South African based artists from across all disciplines with a focus in digital media output, to apply for a collaborative print-making residency in Leipzig, Germany. David Krut Projects assisted LIA and the Centre with the selection process in Johannesburg and offered the artists a chance to wet their feet in the printmaking world before embarking on their 3-month residencies overseas.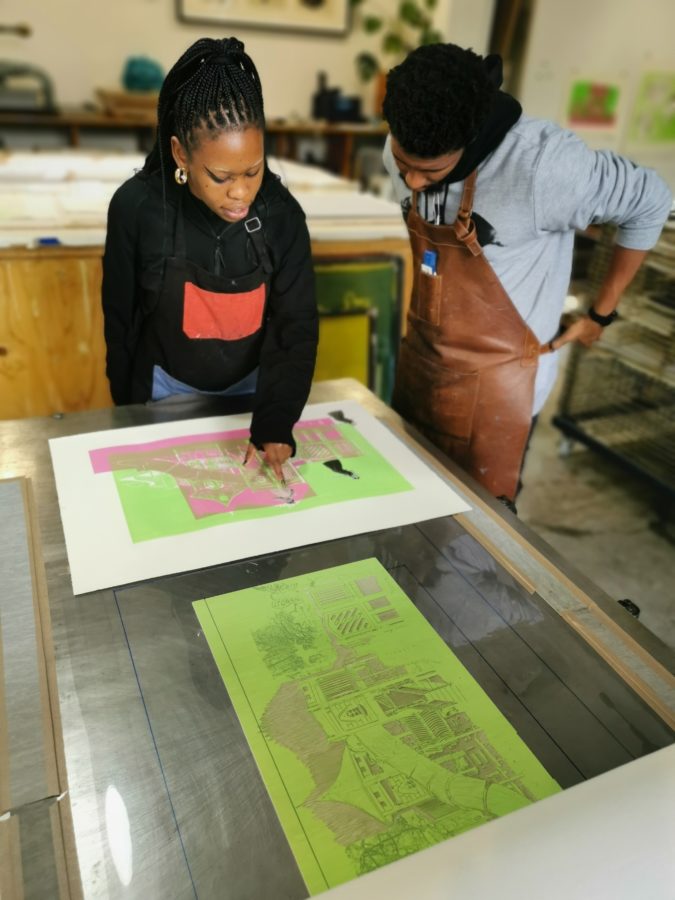 Paneng spent a day at DKW exploring the possibilities of working with a professional print workshop, and the working relationship has grown from there. The prints created during the LIA residencies were exhibited in South Africa in collaboration with David Krut Projects at The Centre for the Less Good Idea Lounge at Arts on Main, just upstairs from our workshop.
We are pleased to be showcasing a number of Natalie's prints at this year's Turbine Art Fair at Hyde Park Corner, and look forward to releasing the rest of her body of work in due course. Her first solo exhibition 'Maze' was presented internationally in Leipzig, Germany, at Galerie EIGEN + ART. This show includes a version of 'Holding onto my inflated head', which was made at DKW as a sister print to those which will be presented at TAF.
Paneng describes herself as a world-builder and sees her growing practice as a way to navigate, share and archive imagined and alternative realities brought to life through digital artistic process. She makes use of both her self-taught digital skills and theatre background to create multidisciplinary digital art/new media.
Paneng's print works, made in collaboration with Khulu, are punchy and playful, employing the unexpected colour combination of pink and bright green – a favourite of the artist. Paneng began her workshop time with the monotype process, often an initial starting point for many of our artists. However, she expressed keen interest in working in linocut for its graphic quality. Because of her digital oeuvre, it also made sense for her to explore pronto lithography as a way of introducing her character (herself) into scenes, a step which has informed the resolution of the body of work.