David Krut Projects is pleased to announce that we will be exhibiting at this years Turbine Art Fair! The 11th edition of the fair will be hosted at Hyde Park Corner from the 27th – 30th July. The fair describes itself as follows: 
"TAF  is a uniquely South African Art fair that brings together exhibitors from around Southern Africa to present, sell and celebrate works. The fair has become the epicentre of emerging art in South Africa. It presents a space for the showcasing of established and new talent in an environment that is immersive, accessible, and inclusive. TAF has always been an Art Fair whose location has been at the forefront of the experience, we are widely known as a fair that takes art out of 'traditional' venues and into communities. It is a place for new voices, and new perspectives by making art accessible through generational relevance and supplementary experiences."
The premise for the David Krut Projects showcase is to celebrate the exciting artistic collaborations that have occurred at the David Krut Workshop (DKW) since its establishment in 2002. This year we will be showcasing artworks generated collaboratively at the workshop by artists such as Maaike Bakker, Peter Cohen, Elize de Beer, Natalie Paneng, Nina Torr and Zhi Zulu. Our presentation will draw parallels between artists working in digital media and methods of printmaking, which are often introduced to the artists during their time spent at DKW. 
Each of our exhibiting artists have initiated their professional practice in the digital realm – whether it be illustration, animation, video art or specialised design softwares. Our point of interest is in the revelations that occur when the thinking behind a digital process is applied through traditional printmaking processes. The translation of mark making, colours, layers and concepts from the screen to a fine art print has created a dynamic channel for each of these artists to expand their practices into. 
DKW specialises in the techniques of intaglio, relief, monotype printing and silkscreen. There is a skilled team of printmakers whose focus is, from conception, for each collaboration to become an opportunity for the artist to create something new to add to their body of work. The workshop's commitment to challenging techniques as well as aesthetic form is another core philosophy.The selection of work shown at the Turbine Art Fair 2023 features recent collaborations of unique works and fine art multiples on paper made at the David Krut Workshop (DKW) and with the above-mentioned affiliated artists. The DKW team works with artists to cross-pollinate these different ways of mark-making, enriching and broadening each artist's practice and encouraging them to produce unique works at the workshop in the inner city of Johannesburg.
We are aiming to create a dialogue around the craftsmanship of digital artists by combining artists who have a digital output with traditional printmaking practices such as intaglio and monotype – the main areas of focus at the workshop. We aim to bring about cross pollination between these different ways of mark-making to enrich and broaden each artist's practice.
Jesse Shepstone, Kim-Lee Loggenberg, Roxy Kaczmarek, Sarah Judge, Sbongiseni Khulu and Siphiwe Ncube make up our DKW team, bringing these incredible artworks to life.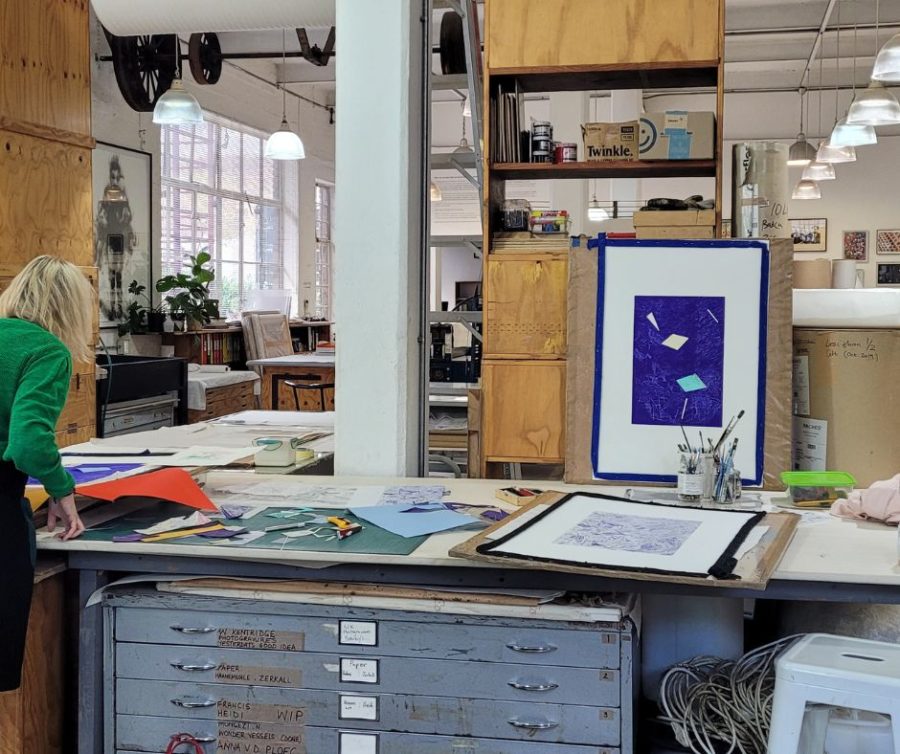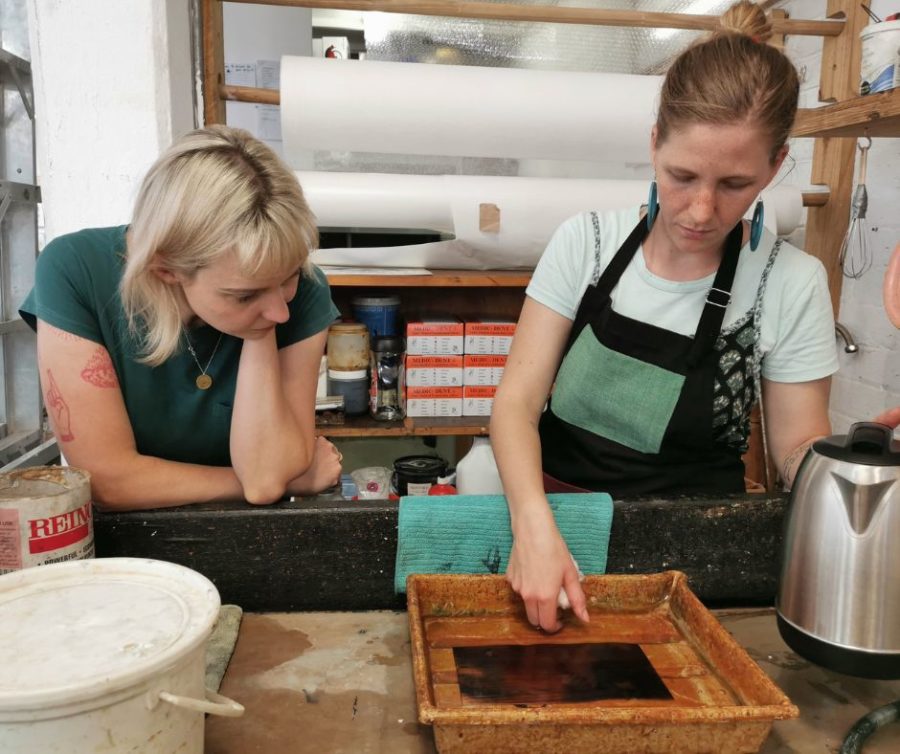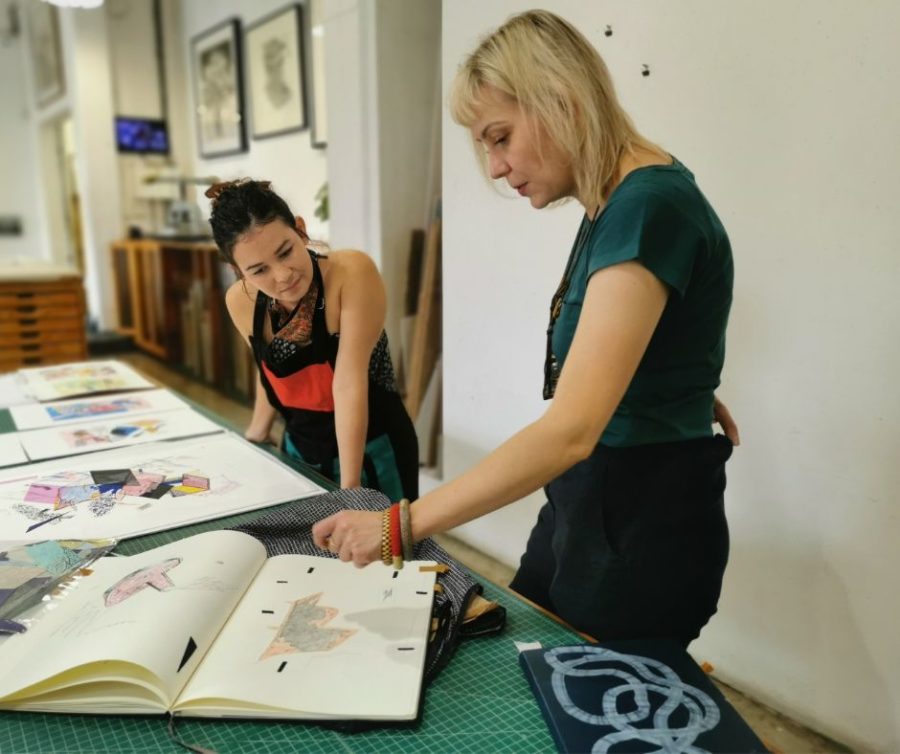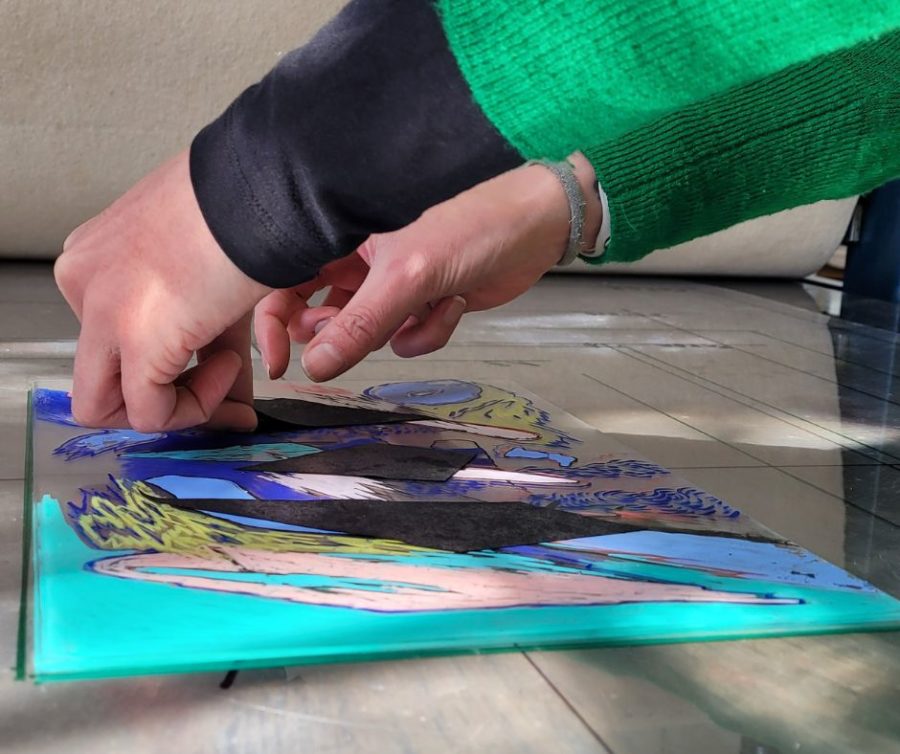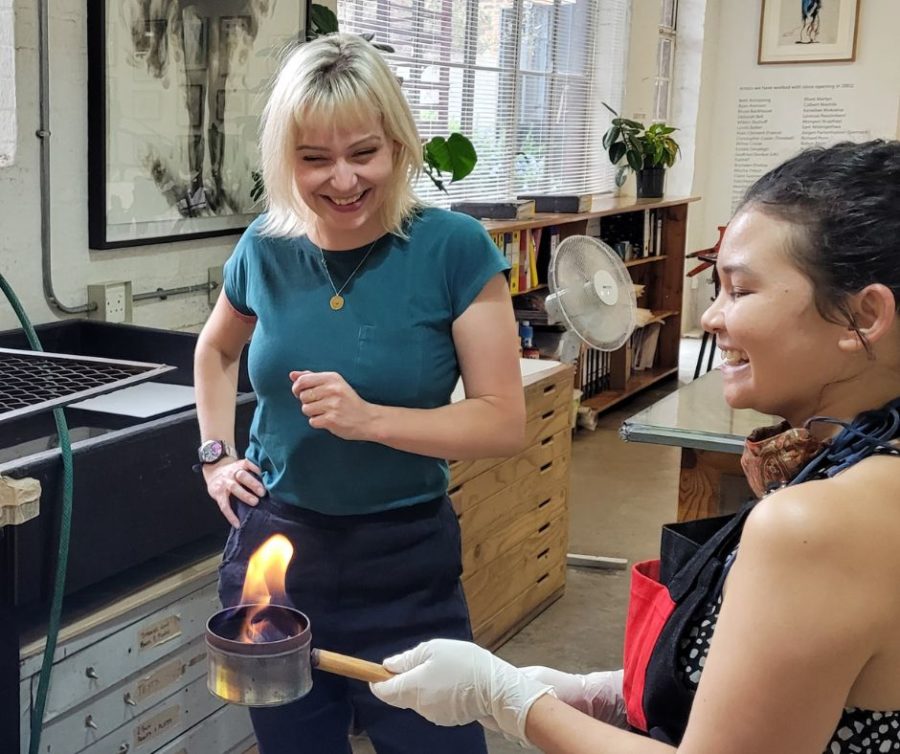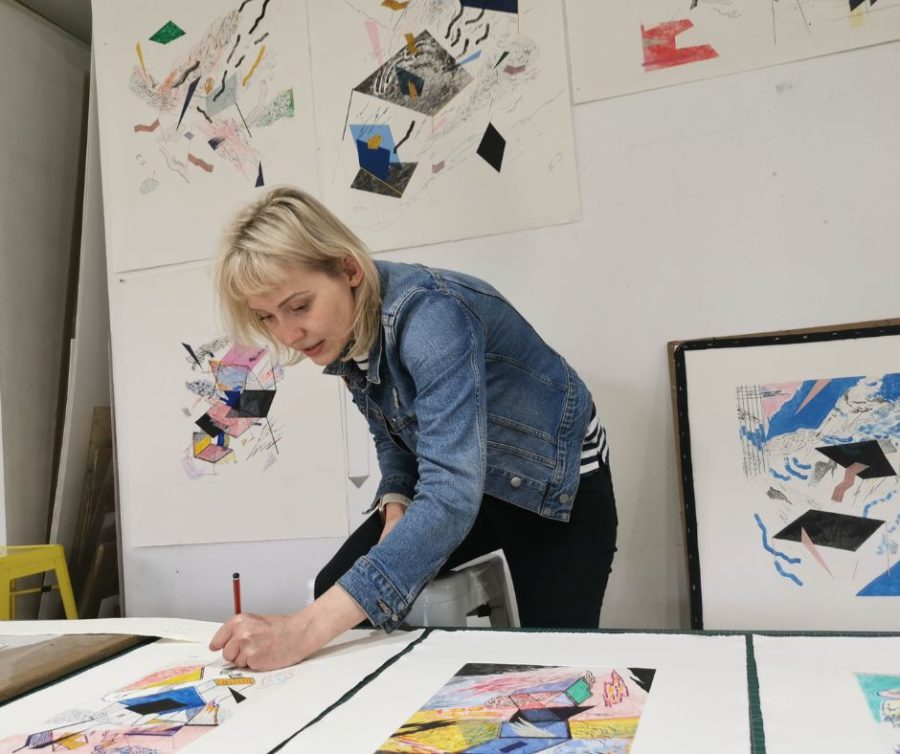 Maaike Bakker (b. 1986) is a  Pretoria-based visual artist and illustrator working with various drawing, sculpture and installation-based mediums as well as digitally with regards to her illustration-based work. Bakker's work can be described as light and eclectic and can be both concept-driven or light-hearted and rough. Bakker's work predominantly explores themes of notation and ephemerality. Her practice also investigates limitations imposed by systems or structures and aims to determine at what point such may become excess and irrelevant, ultimately exploring futility. Bakker's unique style is formed through the creation of line-based patterns, combined with soft, muted, pleasant colours, which together create a sense of richness.  
Bakker began collaborating with DKW in 2021, creating watercolour monotypes with chine collé and collage elements. The collaboration continued in 2022 with printers Kim-Lee Loggenberg and Sarah Judge resulting in Bakker's solo exhibition, 'An Answer to an Unknown Question' which opened in May of that year at the 151 Gallery in Parkwood. A selection unique works from 'An Answer to an Unknown Question' make part of our TAF23 presentation.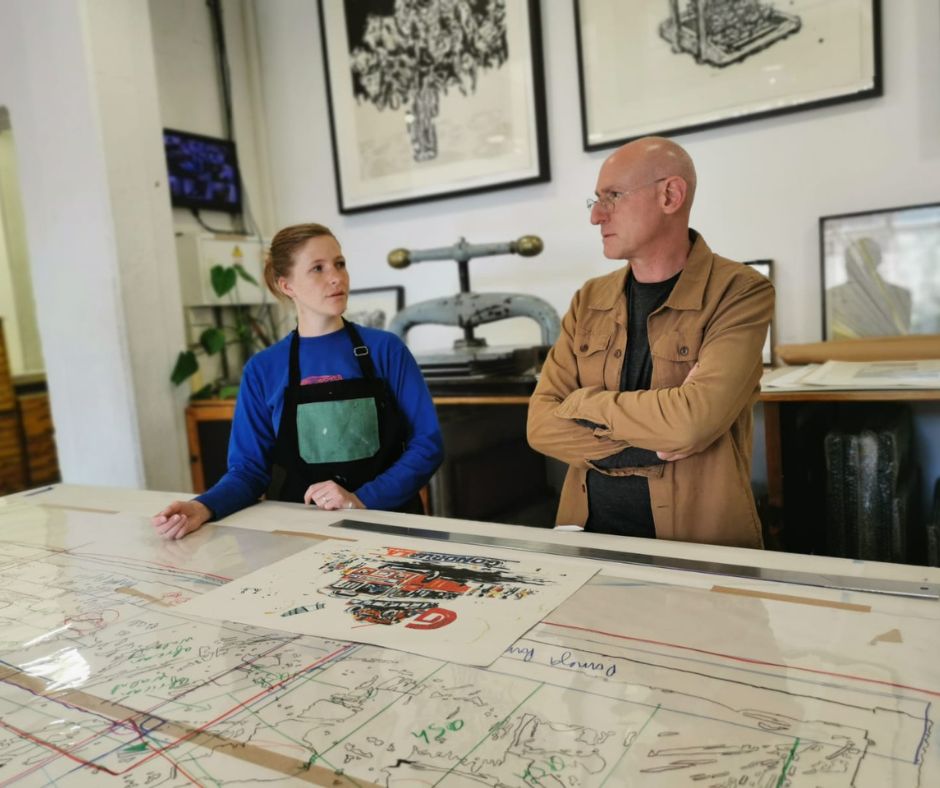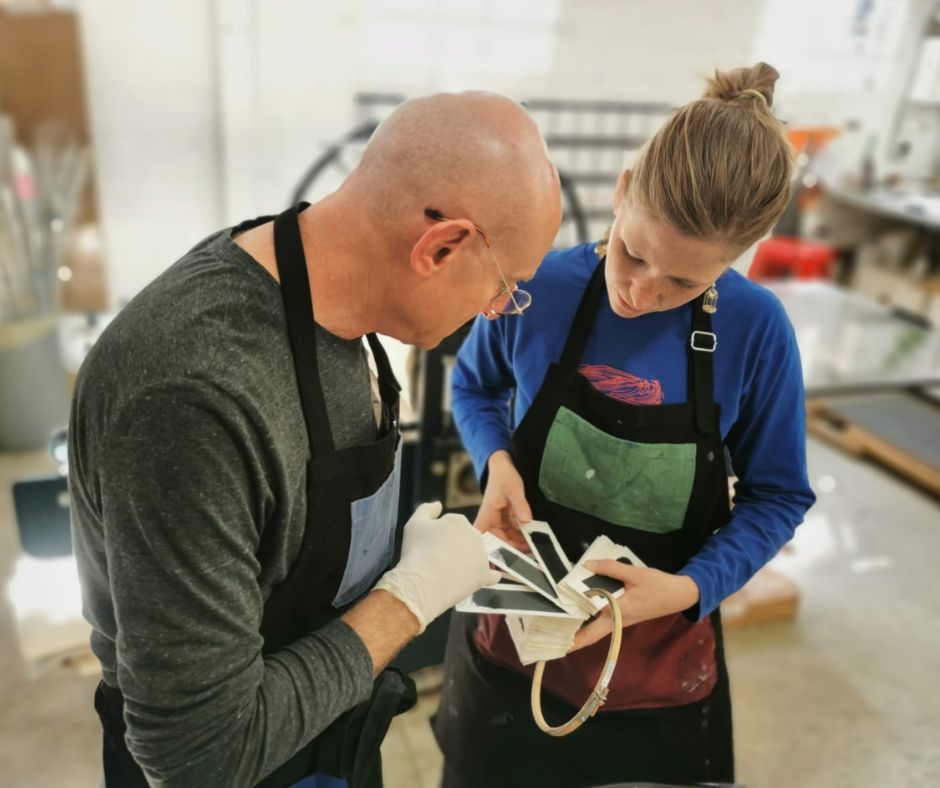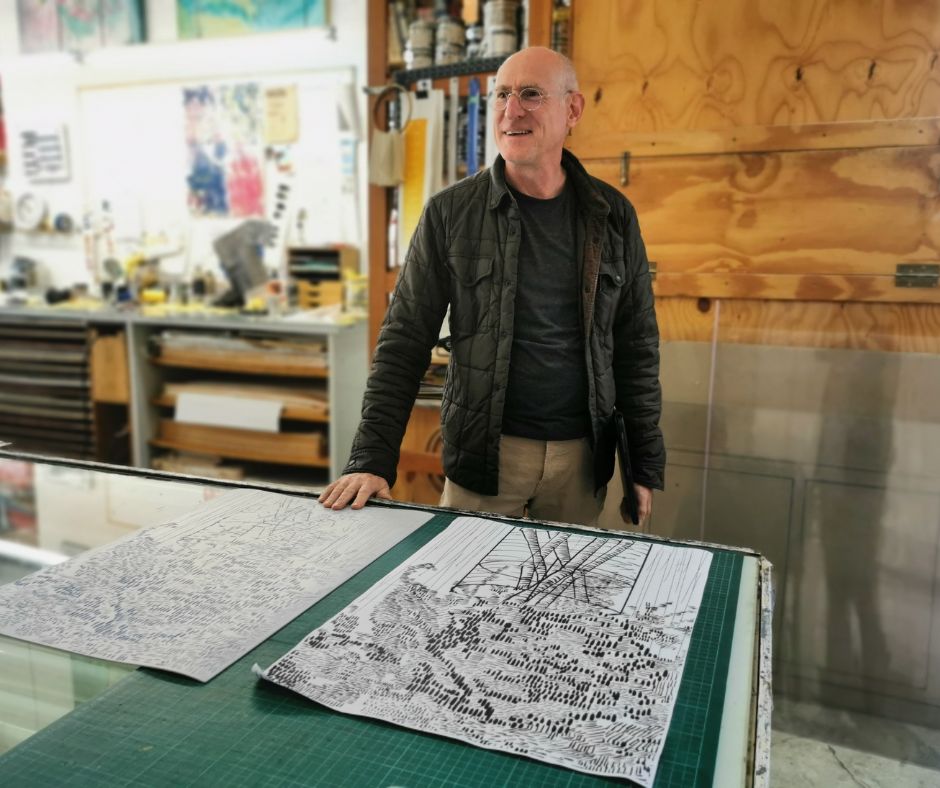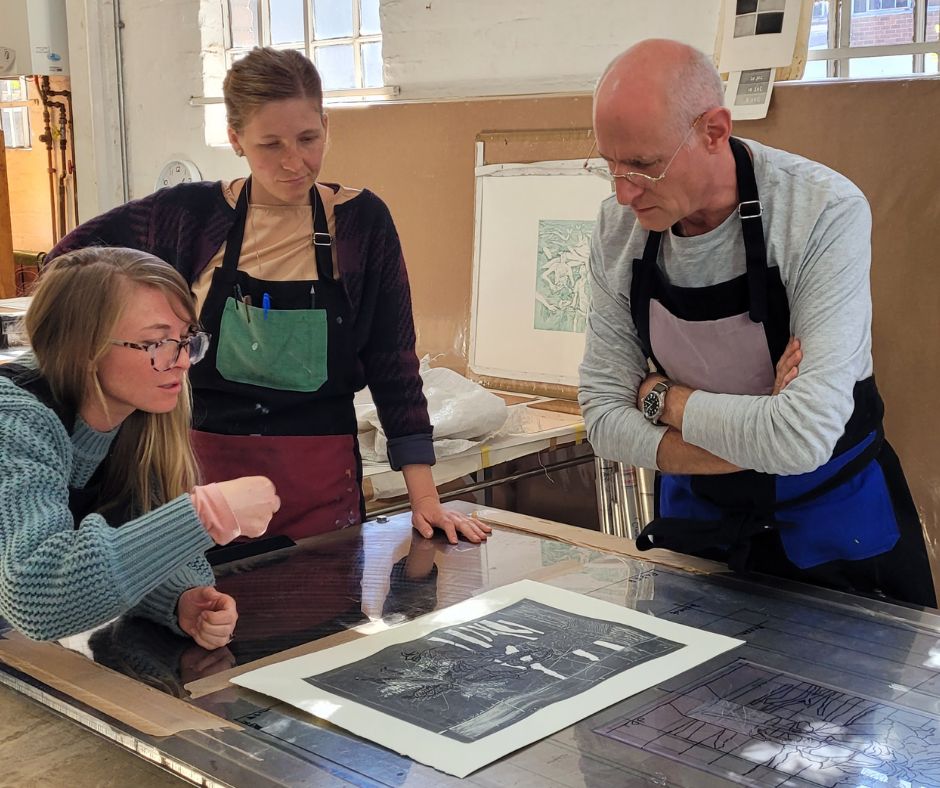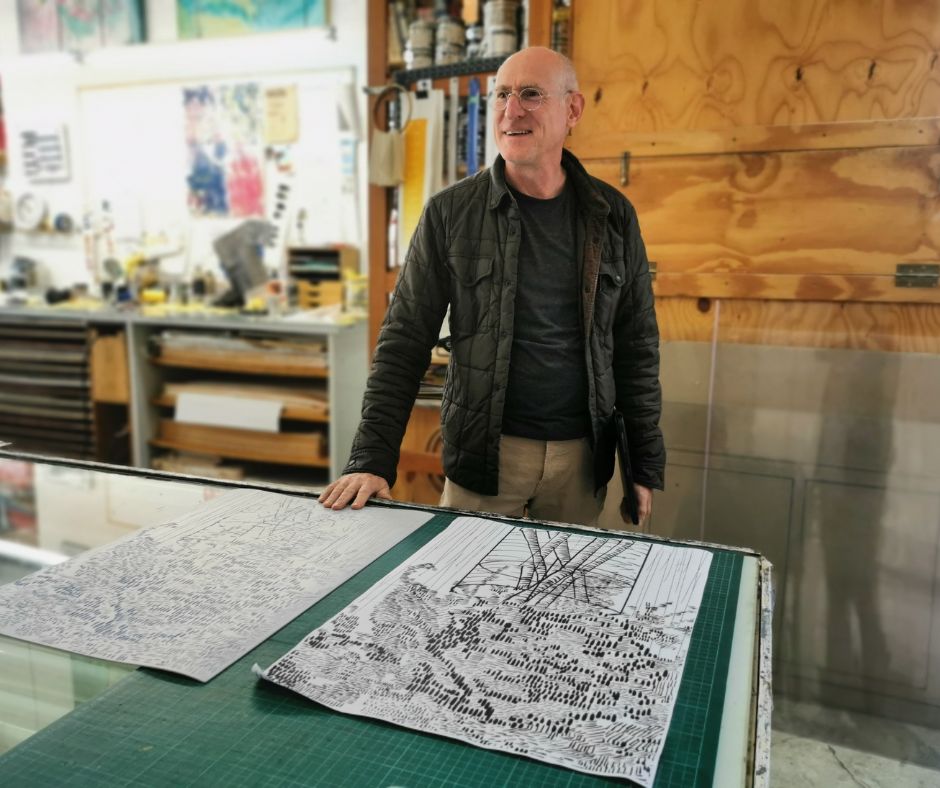 Peter Cohen (b. 1965) is a Johannesburg-based architect and artist with his own architectural practice, with a particular affinity for designing modern dwellings that imagine the fine artworks that would fill these domestic spaces. In 2020, during the global pandemic, Cohen felt the need to create art outside of the realm of architecture. He began exploring both abstract and figurative imagery in different mediums, in the hours after continuing his architectural business by day. Cohen's typically monochromatic work explores imagery related to the built and natural landscape, classical antiquity and other art historical periods, with a mark that is precise, sometimes eliciting a pixel-like surface. 
Cohen started collaborating with the David Krut Workshop in 2022 where he worked with Sarah Judge to produce a series of unique works on paper and a large-scale linocut. This formed part of a body of work that was showcased in 2022; an exhibition titled Colour in black and white at the 142 David Krut Gallery in Parkwood.  
In 2023, Peter returned to the workshop to explore a series of unique works using pronto lithography in response to a series of charcoal drawings about urban landscapes made in his studio. These drawings will be presented at TAF 2023 ahead of Cohen's second solo exhibition with DKP titled City of remembered futures. The exhibition will open at The Blue House, 151 Jan Smuts Avenue in Johannesburg, on the 3rd of August 2023.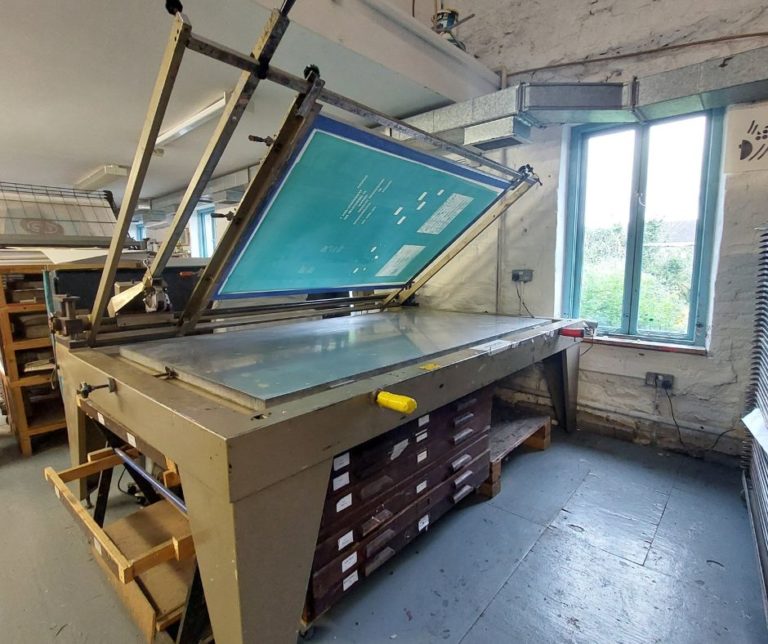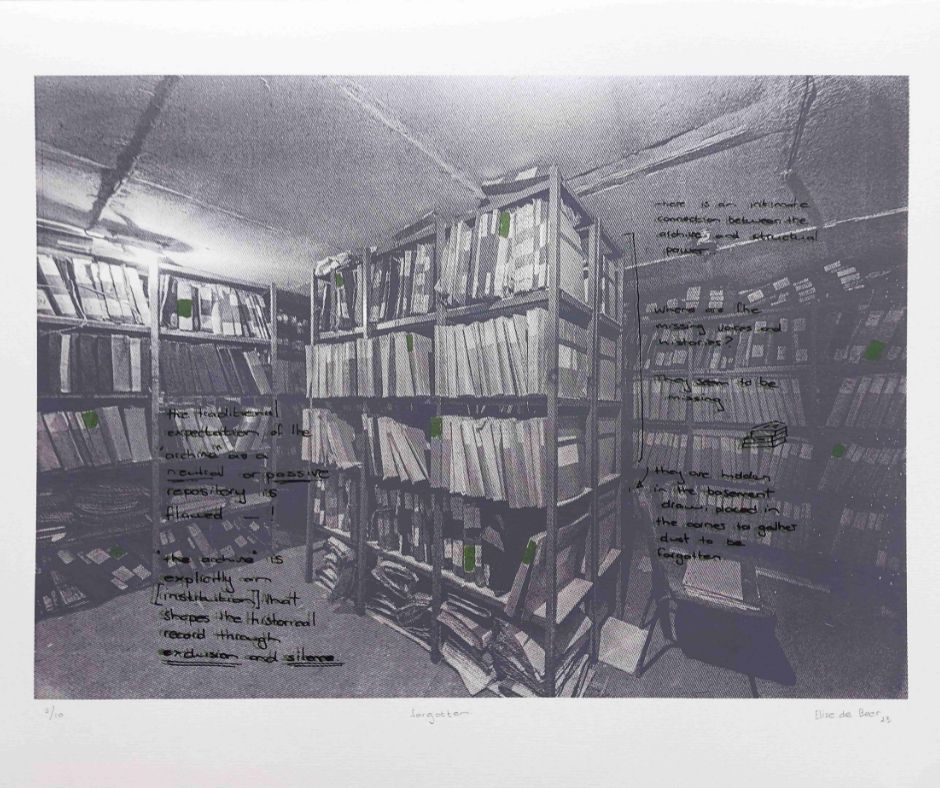 Elize de Beer (b. 1993) is a printmaker and book artist that has developed her visual language through the lens of her dyslexic experience, where written language reads as images and shapes. It is this lens that has informed her methodology for creating conceptual and intuitive abstract artworks that play with the layering of text and images. In her practice de Beers further explores the greater concepts around the use and access of knowledge, particularly in the form of books. In her current body of work de Beer is examining library and archiving practices and highlighting the patriarchal and western-centric bias that exists within institutional spaces.   
De Beer's affiliation with DKW began in 2014 when she completed an internship programme at the Maboneng workshop. She maintained a close relationship with DKP and went on to run the gallery in Cape Town. De Beer is now based in Cork, Ireland, continuing her printmaking and book-binding practice. Her latest series of silkscreens and variable edition aquatint etchings with chine collé will be exhibited at TAF 2023.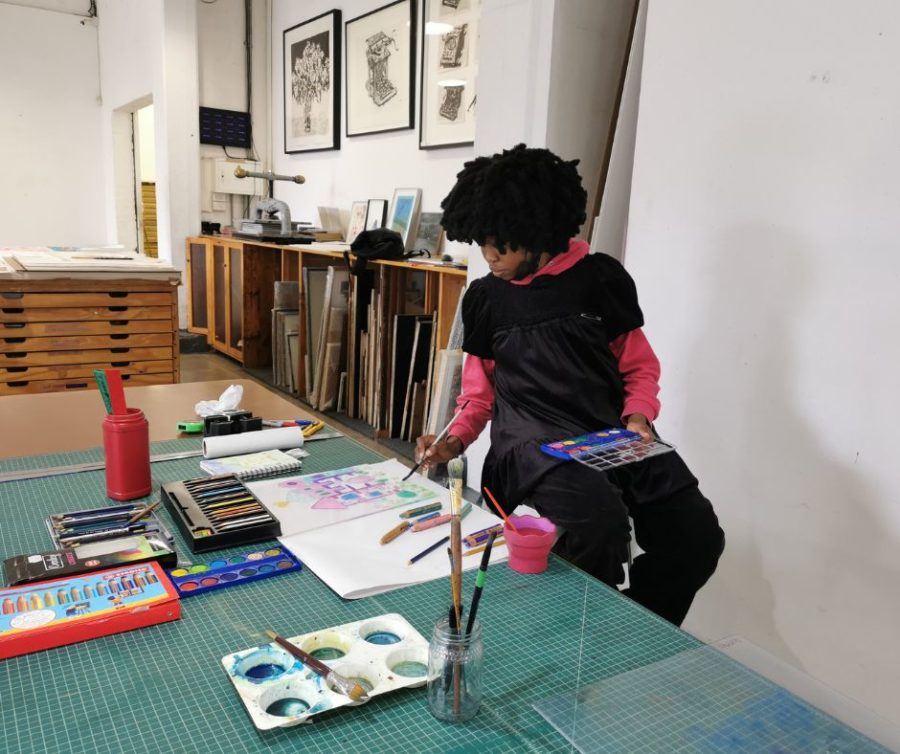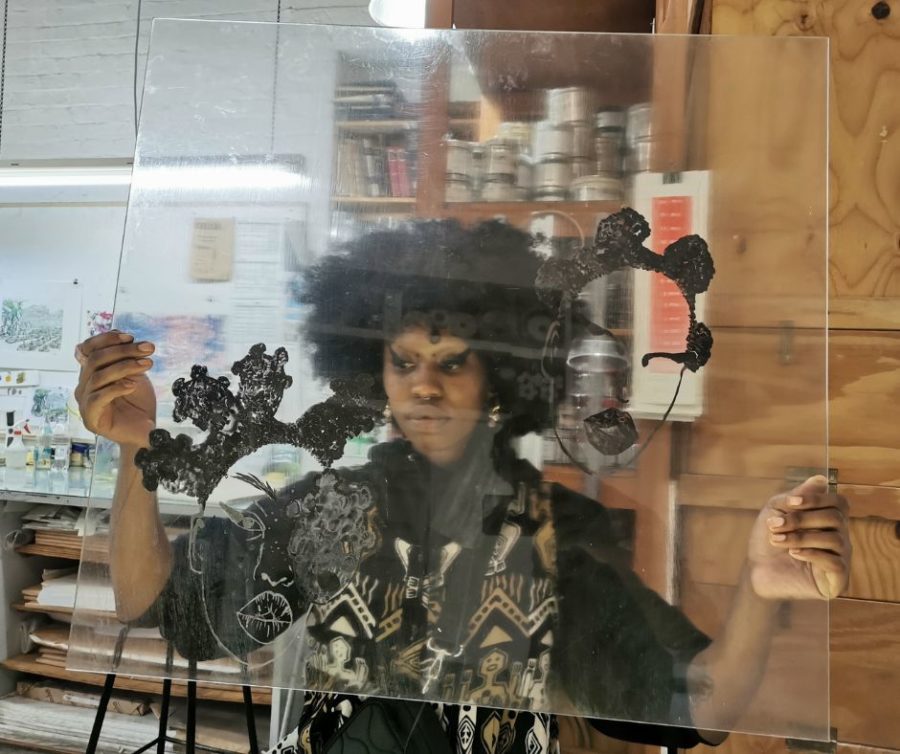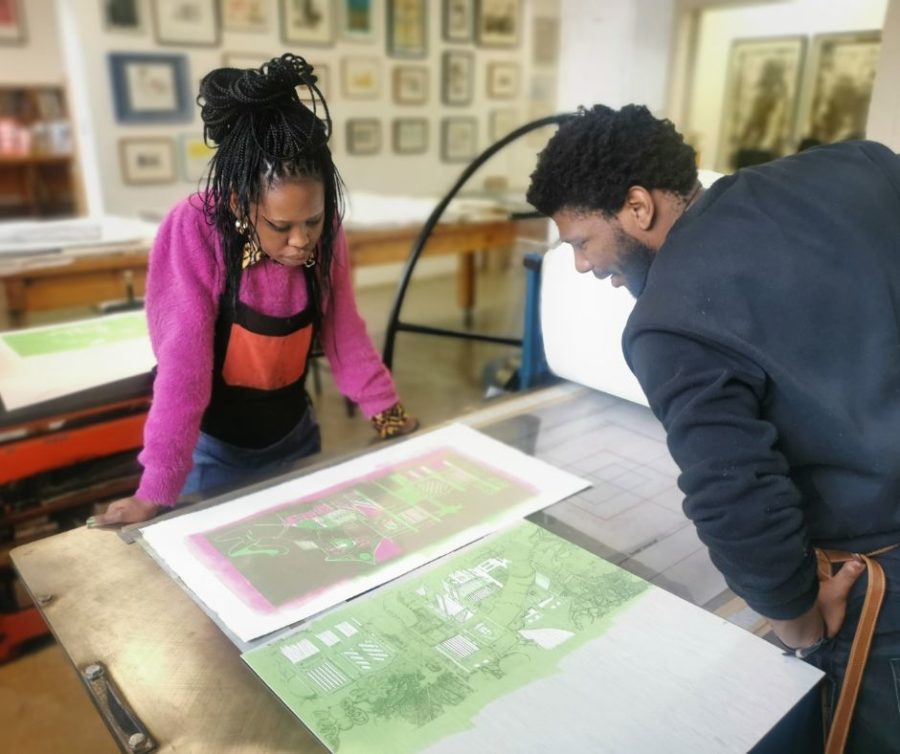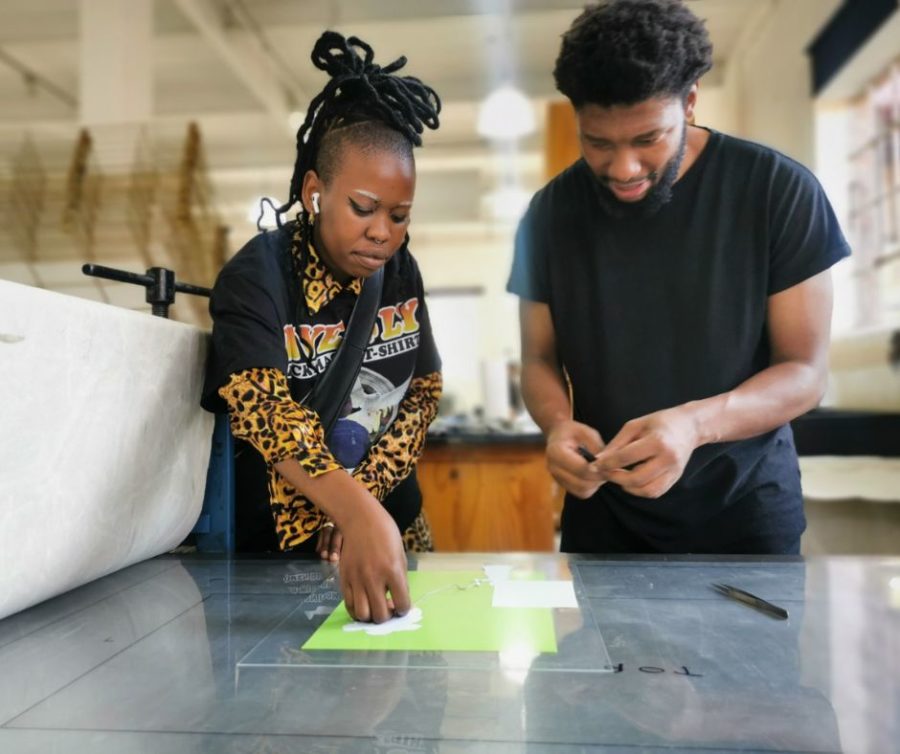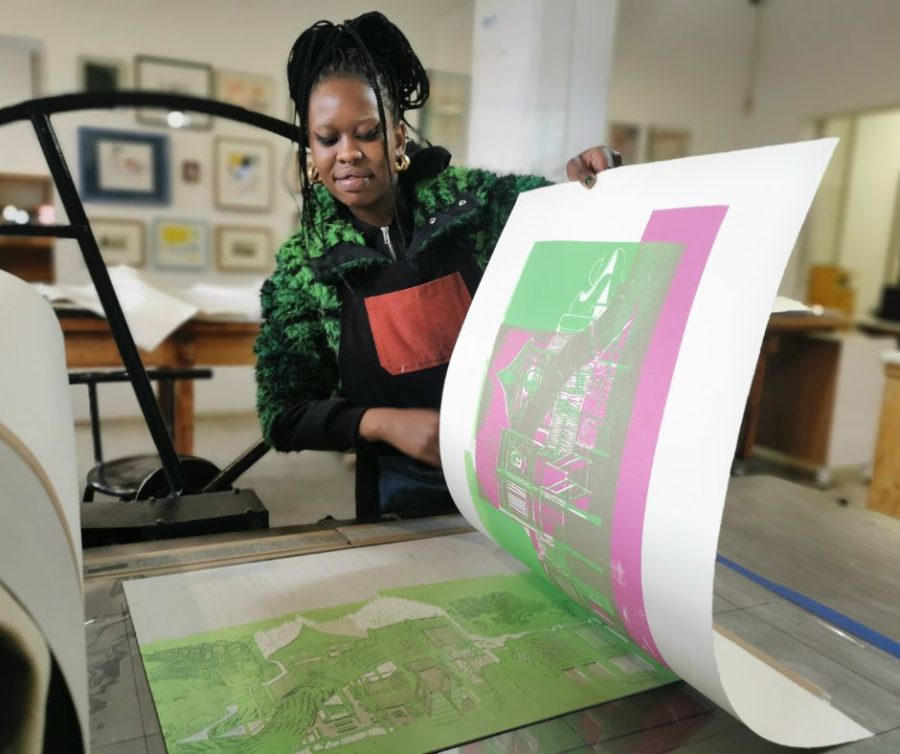 Natalie Paneng (b.1996) is a Johannesburg-based multidisciplinary artist. Paneng received her BA in Dramatic Arts from the University of Witwatersrand in 2018 and was awarded the Leon Gluckman Prize for the best piece of creative work. Paneng draws on her theatre background and self taught digital skills to create multidisciplinary digital art/new media. Paneng describes herself as a world-builder and sees her growing practice as a way to navigate, share and archive imagined and alternative realities brought to life through digital artistic process.  
In 2022, DKW invited Paneng to collaborate on a series of prints with Sbongiseni Khulu. This collaboration spanned continents over the following months and yielded a vibrant body of work unlike anything else in our archive. This series of unique works will be launched at Turbine Art Fair 2023.  
Paneng was introduced to DKP after being selected as an artist in residence with the Leipzig International Art Programme (LIA) in association with The Centre for the Less Good Idea, who put out an open call to South African based artists from across all disciplines with a focus in digital media output, to apply for a collaborative print-making residency in Leipzig, Germany. David Krut Projects assisted LIA and the Centre with the selection process in Johannesburg and offered the artists a chance to wet their feet in the printmaking world before embarking on their 3-month residencies overseas.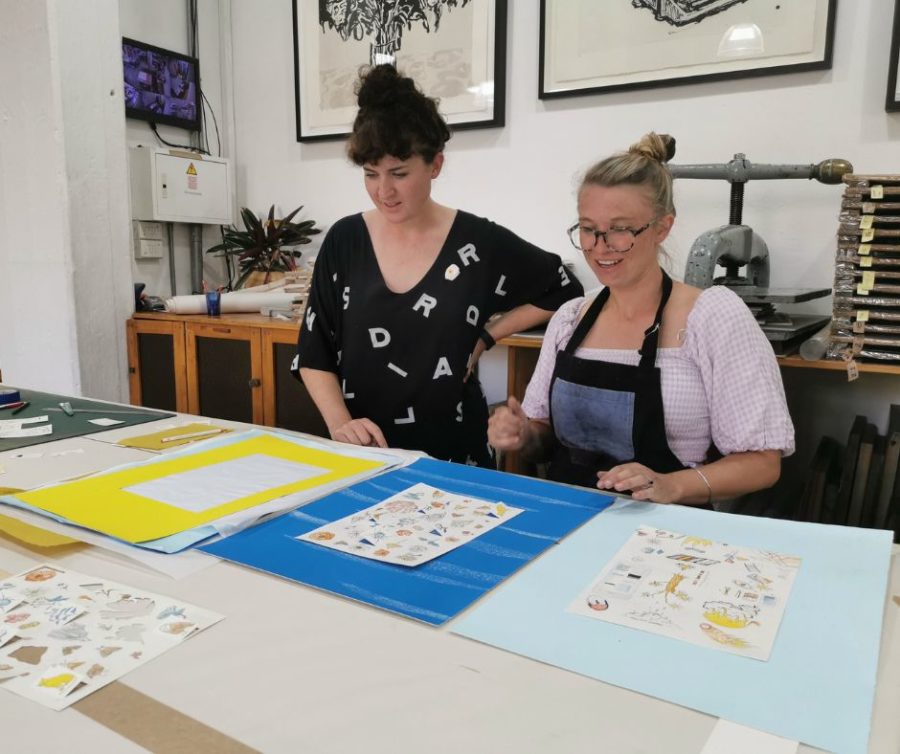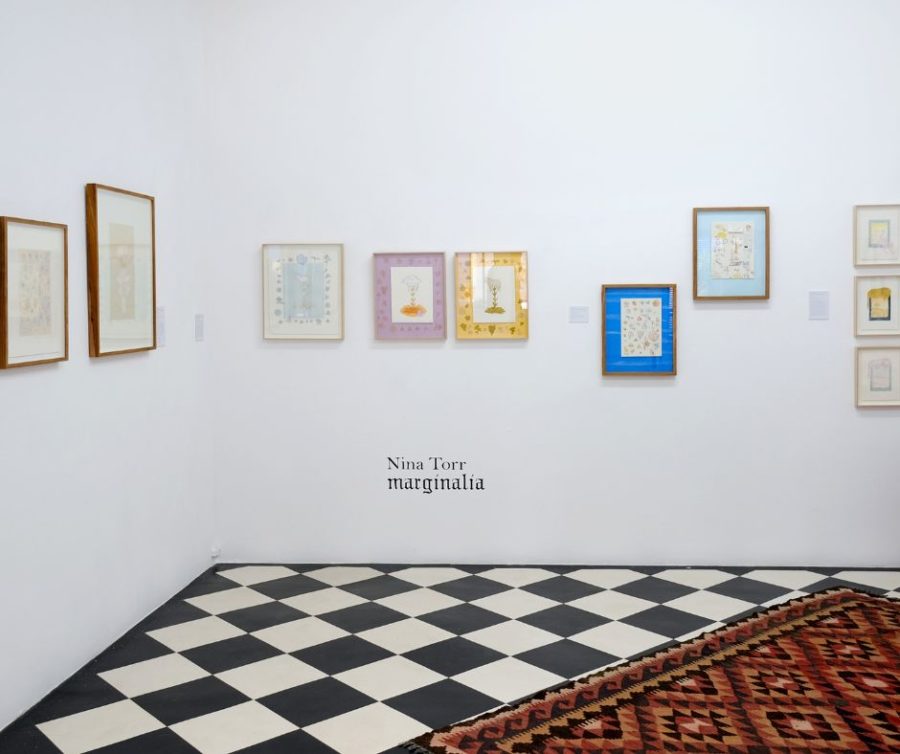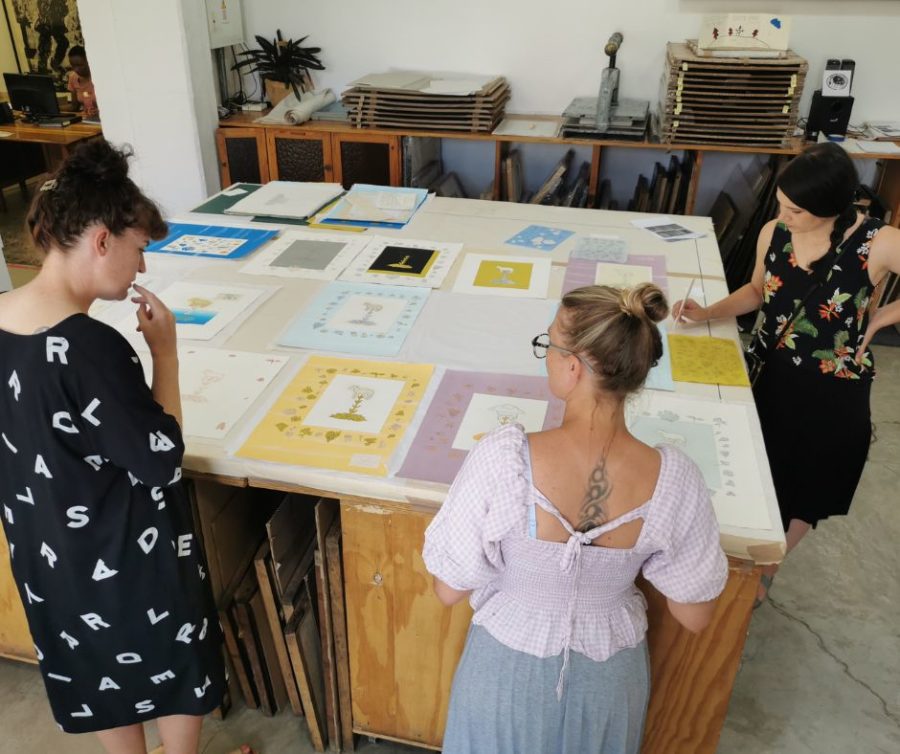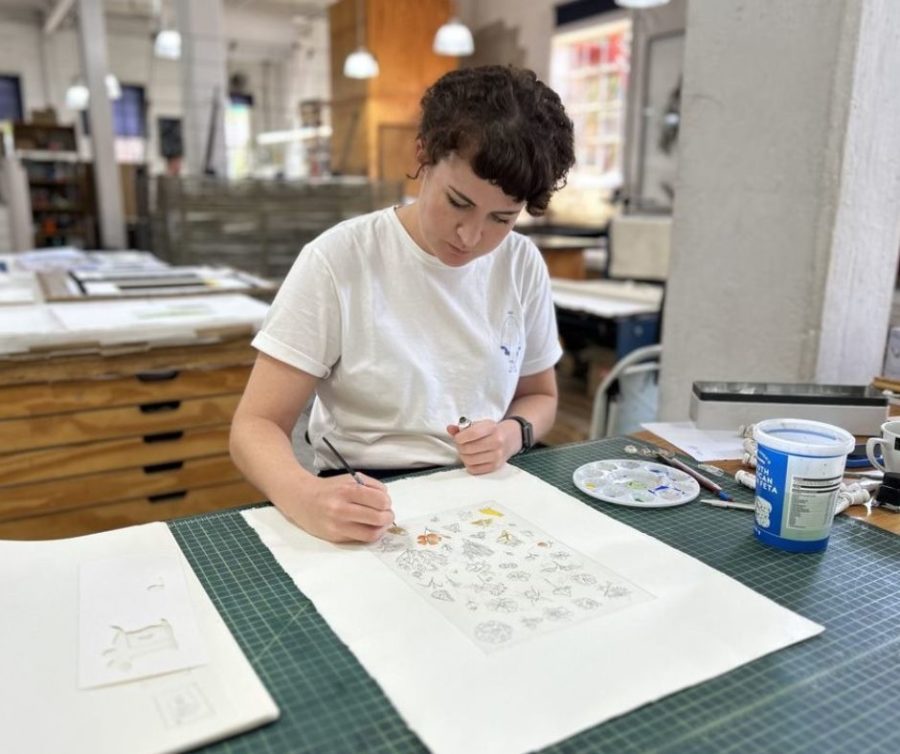 Nina Torr (b. 1987) is an artist/illustrator based in Pretoria. After obtaining her BFA from Parsons School of Design, New York, in 2010, Torr returned to South Africa to further expand on her artistic practice. Torr frequently participates in various exhibitions and is a lecturer in illustration at the Open Window.  
Torr has been collaborating with DKW since 2016. This collaboration has seen the progression of Torr's images translated into multiple printmaking techniques such as etching, monotypes and silkscreen. Torr's work explores mental landscapes inhabited by characters pursuing a journey of sorts and more recently mythological surrealist oddities, which take notes from natural and cultural history, folklore, specimen collections and historical book objects, created in such a way as to impart our current realities of digital screens and windows. Her latest body of work titled Marginalia included multiple etching techniques, monotypes, chine collé, silkscreen, hand-painting and collage. Marginalia was exhibited at the DKP 151 Gallery which opened in February 2023. These variable additions, along with two new collage works by Torr will be on show at TAF23.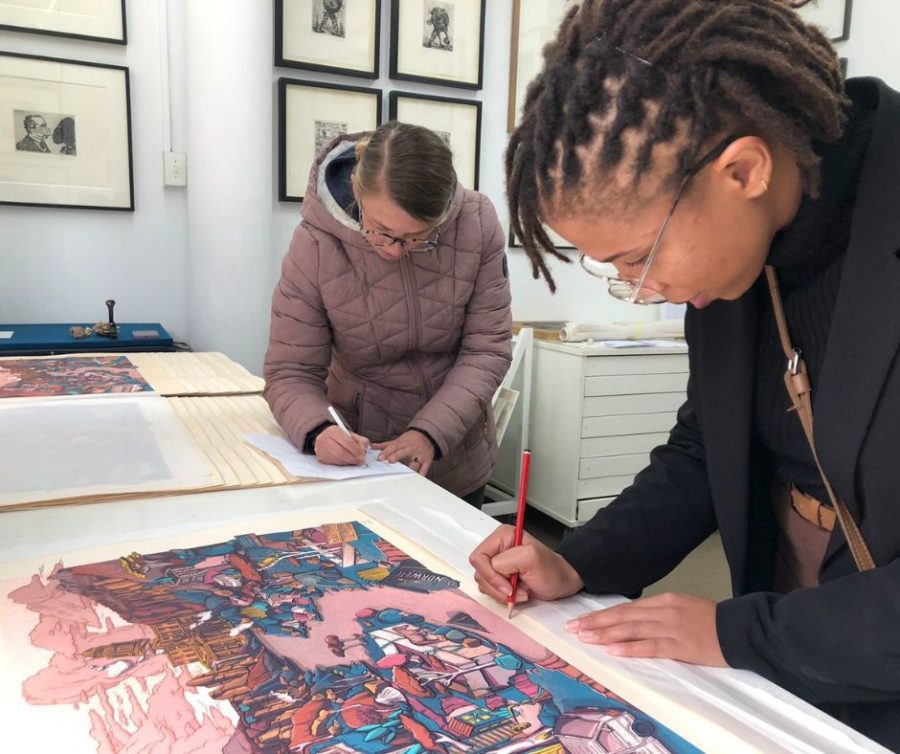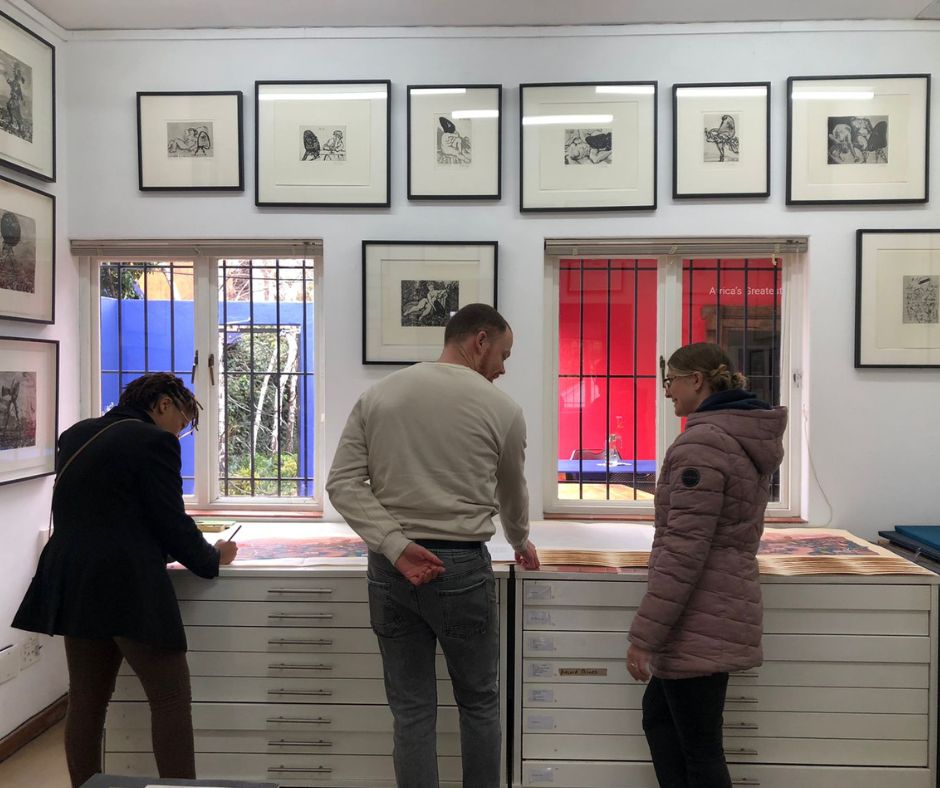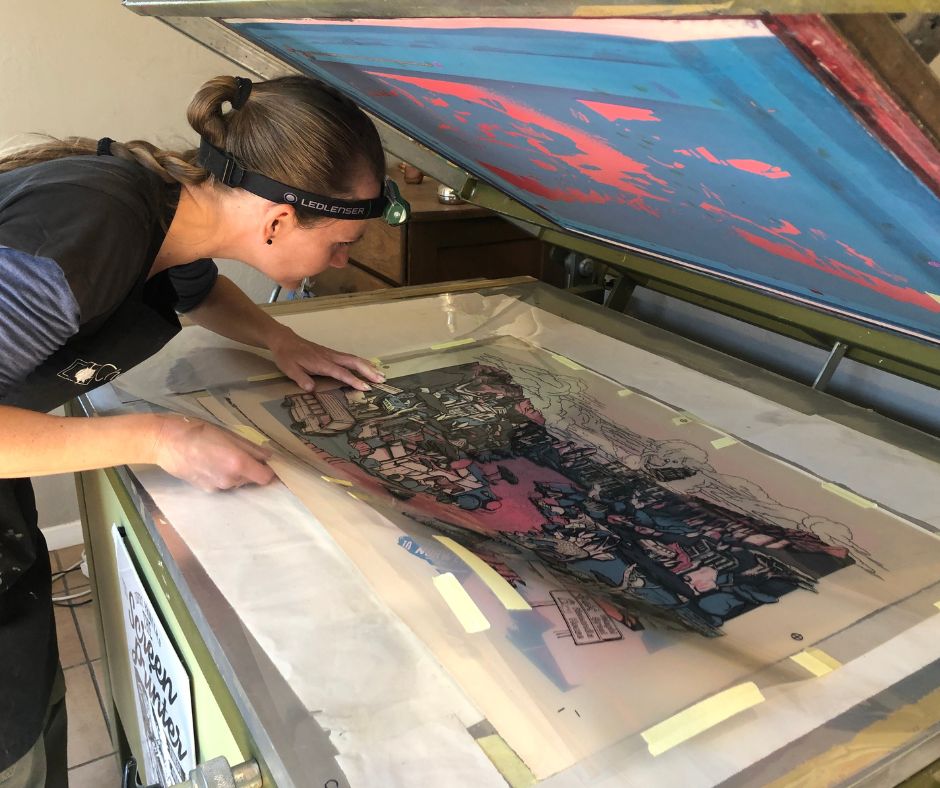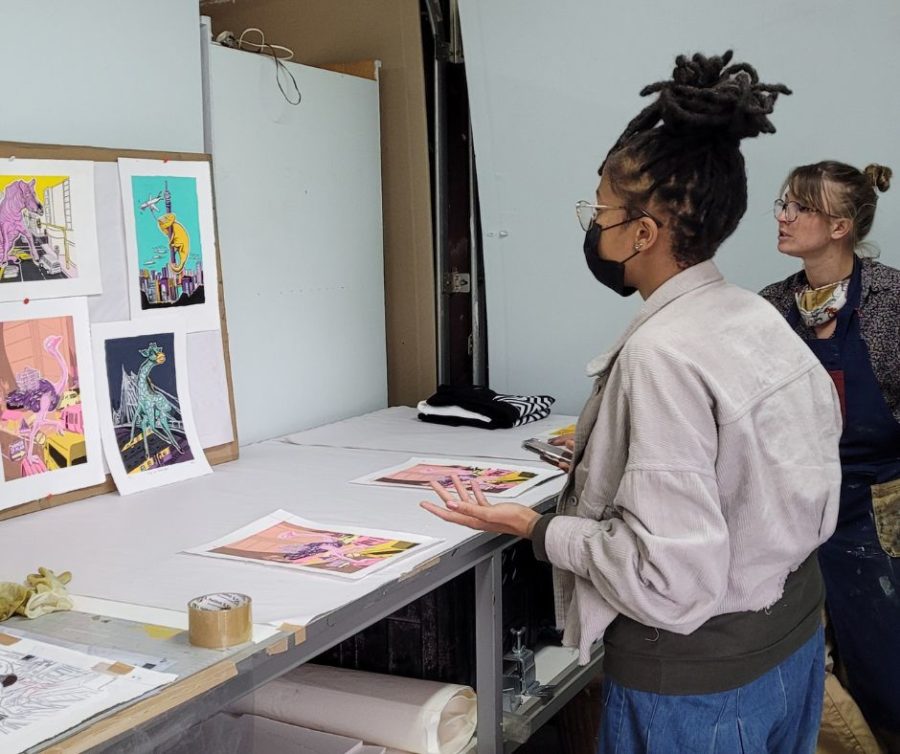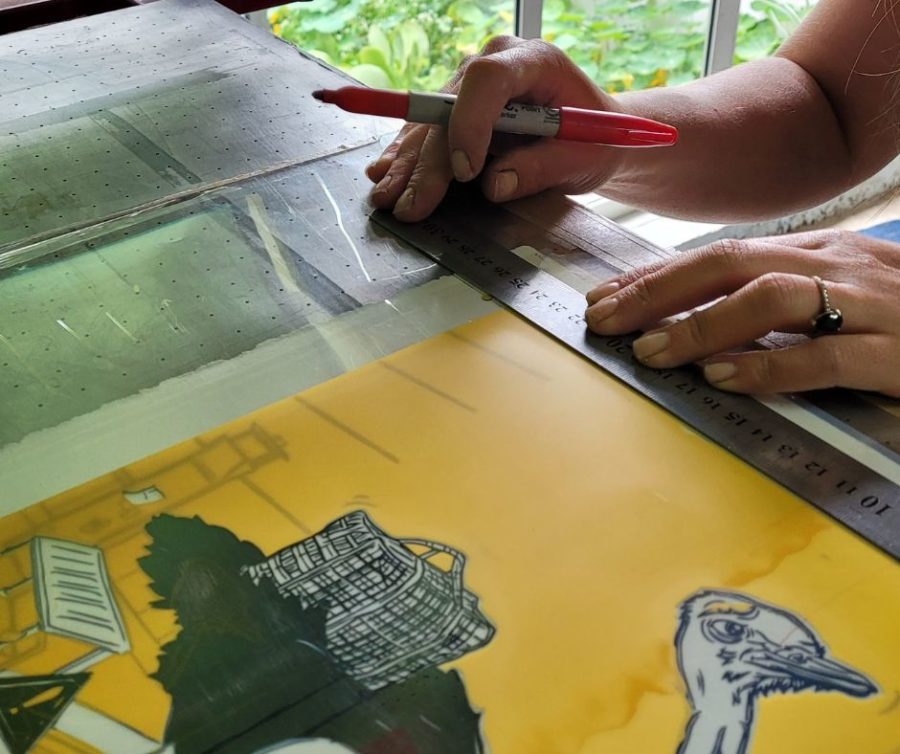 Zinhle Zulu (b. 1995) is a Johannesburg-based visual artist, illustrator, and storyteller. Zulu obtained a Bachelor of Arts (Honours) in Visual Communication at the Open Window Institute as well as a Master of Art in Design at the University of Johannesburg. Zulu's work alludes to the investigation of her heritage and culture. Aside from enticing others to discover the rich uniqueness of their own culture, Zulu aims to influence the education sector by integrating culture-inspired illustrations with the visual methods of teaching literacy in South Africa. 
Zulu started collaborating with the David Krut Workshop in 2019 working with Roxy Kaczmarek and has since produced a popular series of silkscreen editions consisting of the five images titled 'The Curious Five'.  Expanding on the collaboration, Zhi and Kaczmarek worked closely with expert silkscreen printer Cloudia Rivett-Carnac to produce the latest edition Jozi-pocalypse – the sixth and most complex of Zhi's editions to date.