Kim-Lee Loggenberg (1987) has worked as an editioning printer and collaborator at the David Krut Workshop since 2013. Kim-Lee specialises in intaglio printing and takes a special interest in the application of chine-collé and the creation and printing of water- and oil-based monotypes.
Kim-Lee's notable recent collaborations include Studio Life, a Photogravure series with William Kentridge and the making of monotypes and etchings with Heidi Fourie.
In 2017 Loggenberg was integral in the printing of Deborah Bell's large-scale etchings and Mikhael Subotzky's photogravure project with visiting United States-based Master Printer, Phil Sanders.
Other collaborations include Lindokuhle Sobekwa, Vusi Beauchamp, Robyn Penn, Maja Maljević, Endale Desalegn, Nina Torr and Diane Victor.
Kim-Lee has been the editioning printer for artists Deborah Bell, Sam Nlengethwa, Diane Victor, Mikhael Subotzky, Lynda Ballen, Robyn Penn, Maja Maljevic, Wilma Cruise, Mischa Fritsch, Quinten Edward Williams, Chad Cordeiro, and Jaco van Schalkwyk.
Kim-Lee has facilitated multiple public print workshops and technical talks for David Krut Projects. Watch and listen to her "DKP Inside Story on Deborah Bell's artwork Aware of Being Aware, 2017".
Bio: Kim-Lee Loggenberg was born in Port Elizabeth in 1987. She received her Bachelor of Technology (Btech) in Fine and Applied Arts, majoring in printmaking, from the Tshwane University of Technology in 2010.
Kim-Lee's artistic practice involves delicate intaglio etching and drypoint prints and monotypes. Her work has featured on group shows including Kind of Blue 2019, at David Krut Projects, Johannesburg; and Life Amongst Cats, 2018, David Krut Bookstore & Gallery 151, The Cat Show, 2019, David Krut Bookstore & Gallery 151, Johannesburg.
"I love "getting to know" a plate/print. There is a time at the beginning of each project where the plate or plates you're working on feel like strangers, the images are unfamiliar to you. You haven't quite figured them out yet. But then after printing them a few times you really get to "know" them. You know the areas where they are lighter or darker. You learn where you need to be aggressive when wiping and when you need to be a little more careful and considerate. You form a special kind of relationship with each plate and each image. When you see the finished piece in the gallery or at an opening you remember that special relationship you built with it and each print becomes like an old friend."
Sbongiseni Khulu (1990) is a printmaker at the David Krut Workshop. In 2015 he began as an intern and later started working as a printmaker. Khulu's eye for detail and recognition as a perfectionist in the workshop is reflected in the projects he works on.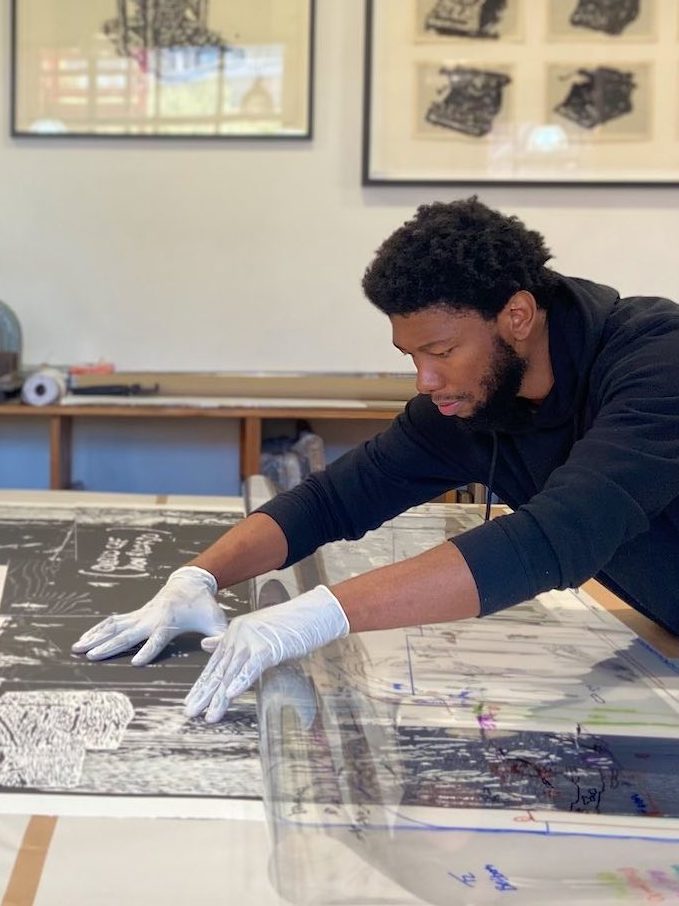 Sbongiseni has been a key individual in the production of the recently completed large-scale print project for artist William Kentridge titled Triumphs and Laments Woodcuts (2016 – 2021). Triumphs & Laments is a series of six large-scale, multiple-plate woodcuts with collage. Sbongiseni has been part of the core editioning team of printers and is the head carver and has run the final post-production on the project.
Recent notable collaborations include Mbali Tshabalala, Mandla Mavengere, large-scale unique prints with Maja Maljevic and editions with Stephen Hobbs at the Turbine Art Fair.
Among the artists Sbongiseni has editioned for are: Deborah Bell, Stephen Hobbs, Maja Maljević, Keneilwe Mokoena, Pebofatso Mokoena, Senzo Shabangu, Mongezi Ncaphayi and Mary Wafer.
Sbongiseni is a founding member, alongside Chad Cordeiro and Nathaniel Sheppard III, of Danger Gevaar Ingozi Studio, which was  established in 2016.
He is an artist in his own right and his work embodies a depth of introspection and honesty as well as a certain level of inquisitiveness towards the status quo within the controlled precision of an artist with the utmost attention to detail.  
Bio: Born 1990 Esikhawini in KwaZulu-Natal, Khulu matriculated from a technical high school and furthered his studies under the scaffolding of a Civil Engineering degree in Durban. Dissatisfied with engineering, Khulu pivoted towards a Fine and Applied Arts degree in Pretoria at the Tshwane University of Technology (TUT). There he majored in sculpture and printmaking.   
In his third year Sbongiseni was chosen to be amongst the 2012 PPC Young Concrete Sculptors Awards finalists (PPC Imaginarium). This led to his appointment as co-student assistant of the sculpture studio at TUT in his fourth year. Since then his work as an artist has been exhibited both locally and internationally, all whilst continuing to collaborate with a number of artists as printmaker.   
"I love print because of its obvious contrast to sculpture. In a way sculpture and printmaking are the Yin and Yang to my compulsive production-based psychosis. DKW offers a platform for me to prove my utility and aid to the artists I collaborate with."
View his work here and read more in an interview with Jessie Cohen from 2016.
Roxy Kaczmarek (1990), is a printer at the David Krut Workshop who coordinates printmaking project management, post production and daily running of the workshop. Her role is as a go-between for the sales and marketing team at the Gallery, and the print workshop where the production happens.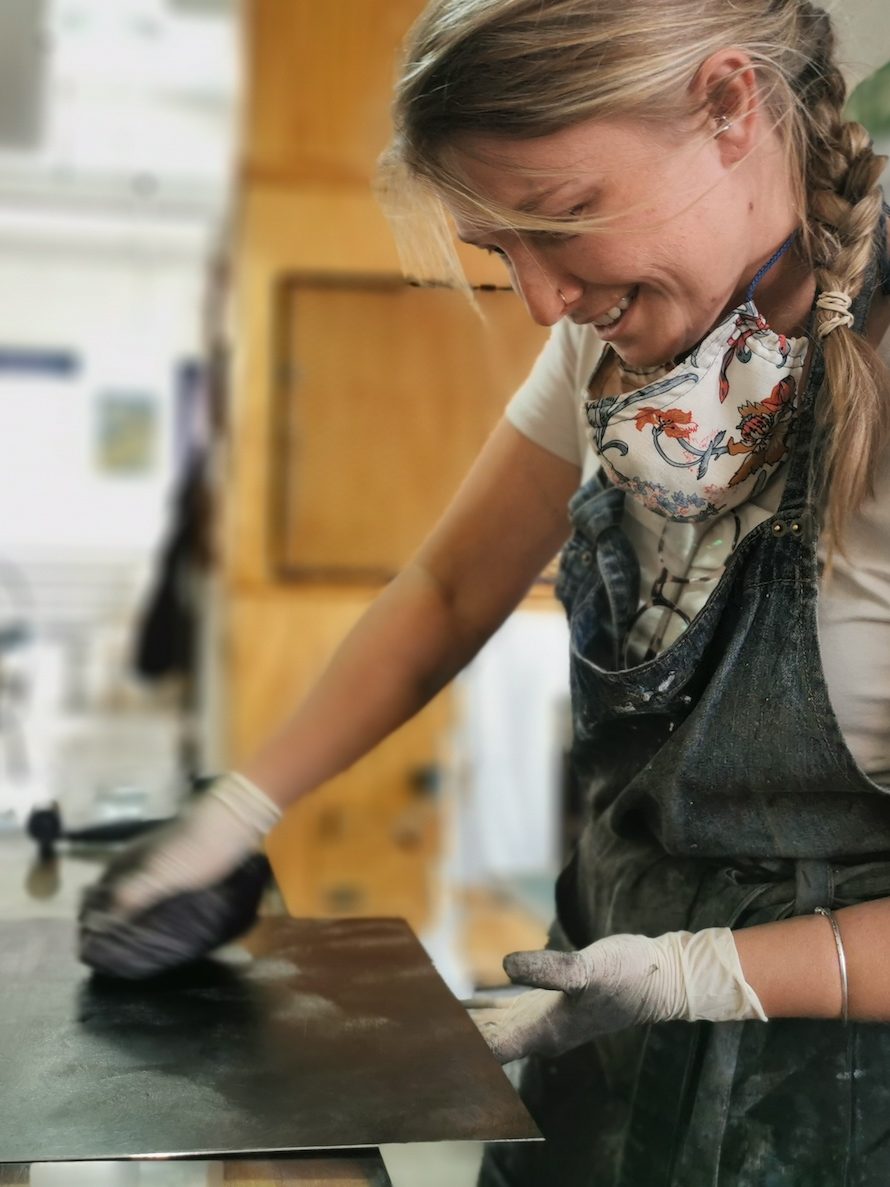 Originally from Cape Town, Roxy joined the David Krut Workshop team in 2017 as a part-time staff member. She had moved up to complete her Masters at the University of Johannesburg and her initial role was administrative but in 2019 she joined the team full-time and began working on projects as a printer and collaborator.
Notable collaborative projects are with artists: Zhi Zulu, Helena Uambembe, Anna van der Ploeg, a series of giant silkscreen collage prints with Maja Maljevic, Nina Torr, unique silkscreen collage prints with Stephen Hobbs, monotypes with Adele van Heerden, Fanie Buys and Clive Sithole.
Roxy established a home-based silkscreen studio in 2019 to allow her to broaden her own practice. The equipment has been utilised for DKW projects such as illustrator Zhi Zulu's continuation of her Curious Five series and multi-media works by artist Pebofatso Mokoena for Internal Probes (exhibited in Johannesburg, 2020); silkscreen printing for Mikhael Subotzky's Humorism after Elliot, silkscreen printing for multiple process prints with Maja Maljević and Latitudes Limited five-colour silkscreens with artists Sthenjwa Luthuli, Pebofatso Mokoena, Mbali Tshabalala, Adejoke Tugbiyele and Clint Strydom created for the first edition in 2019 of the Latitudes Art Fair in Johannesburg.
She has worked on a number of publishing projects including post production for William Kentridge's large-scale series Triumphs and Laments Woodcuts and text contributions and production of Deborah Bell's 2018 book Invocations to the Plate.
Roxy teaches at the University of Johannesburg part-time and has run workshops related to the DKP gallery programme.
Her artistic practice is focused on the sensibilities and relationship between humans and nature. Roxy's printmaking and paintings delve into the uncanny darkness of the scenes beneath the canopy of leafy forests and the desolate land and soothing seascapes. Through expressive, painterly marks, Roxy explores the dichotomies of our separation from and our closeness to nature; how we attempt to package and shape the environment, yet revel in its wildness.
In February 2022, Roxy embarked on a 3 month artist residency at the Leipzig International Residency Programme in Germany.
Bio: Roxy Kaczmarek studied at UCT's Michaelis School of Fine Art and majored in Printmaking. She moved up to Johannesburg in 2017 to complete her Masters at the University of Johannesburg's Faculty of Art and Design which she graduated with cum laude in 2019. The paintings, installation and prints for the Masters show exhibition 'Third Landscapes' (2019) interrogated the intersection of plants and people within liminal spaces of the city. Kaczmarek worked as Printer and Studio Manager at Warren Editions Studio, Cape Town (2013-2017). She won a gold medal in the Absa Art and Life Awards for Printmaking in 2012 and has done internships at the London Print Studio and at Amsterdam's Grafisch Atelier in 2013.
"A special memory from DKP is 'ringing of the bell'. At the end of each print project once the editions are fully printed (this can be very time consuming!) it is tradition at DKW to ring a bell in celebration. It's always very special when it gets rung!"
Sarah Judge (1995) joined the DKW team as an intern in 2018 while completing her final year at WITS University. Sarah is a passionate printmaker and works with artists in multiple techniques.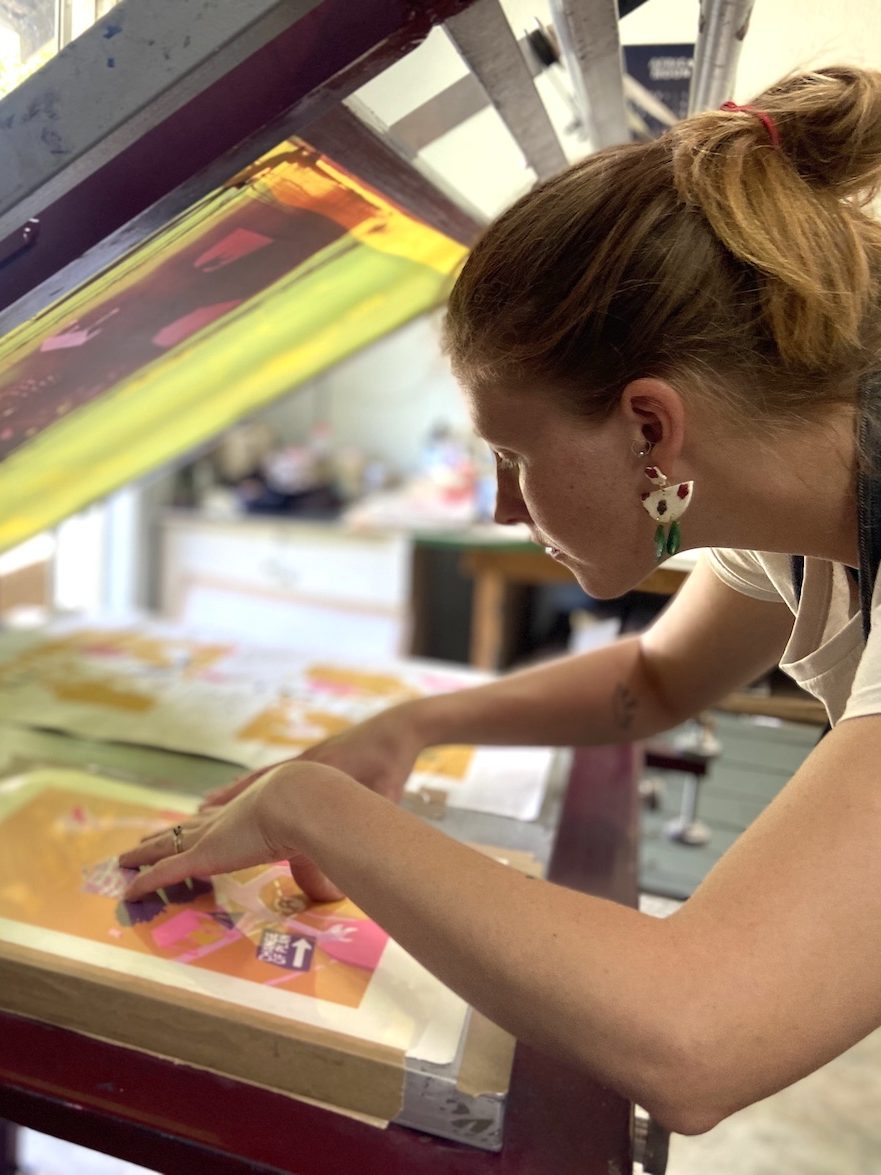 Since joining the DKP team, Sarah worked closely assisting Master Printer Jillian Ross with the complex project for William Kentridge, Triumphs & Laments Woodcuts series (2016-2021) of six life-size, multiple-plate woodcuts with collage making books and post-production.
Notable collaborations include artists: Monotype Babe (Lebogang Mabusela), Olivia Botha, Lindokuhle Sobekwa, Stephen Hobbs at the Turbine Art Fair and Maaike Bakker and Peter Cohen
Sarah has been an editioning printer on projects with artists: Zhi Zulu, Maja Maljevic, William Kentridge, Anna Van der Ploeg, the Latitudes Limited five-colour silkscreens with artists Sthenjwa Luthuli, Pebofatso Mokoena, Mbali Tshabalala, Adejoke Tugbiyele and Clint Strydom created for the first edition in 2019 of the Latitudes Art Fair in Johannesburg.
Sarah's own artistic work is situated in and around the urban area of the larger Johannesburg. She engages with Johannesburg, its buildings, their power relations, and their surroundings, exploring unfamiliar spaces along with her daily travels, becoming more aware of her own surroundings. She explores different printmaking techniques,and loves to learn new things, she is not drawn to one particular technique per say. Her interests lie in finding new ways of making marks and or imagery. The process of coming to an artwork plays a big part in her practice.
Her work has been shown on Kind of Blue, 2019, DKP Johannesburg, Mother Nature in Monotype, 2021, White River Gallery, Mpumalanga, The Lithographic Symposium, 2022, at the Lithographic Academy of Sweden, The Miniature Show, 2022, Gallery 2, Johannesburg.
Bio: Born in Johannesburg, Sarah completed her Bachelor of Arts in Fine Arts at The University of the Witwatersrand (WITS) in 2018. She was the winner of the Thami Mnyele Art on Paper Award 2017 and a Top 100 Finalist of the Sasol New Signatures competition 2018. Sarah also became a member of The Printing Girls in 2020 and is still a part of the collective now.
"One of my favourite memories in the short time that I have been at DKP was when we collaborated with Steven Hobbs in 2018 where we created a small pop up gift that was given to people at a performance hosted at the Four Seasons hotel in The Westcliff. The performance was a collaboration between Hobbs, DKP and the chefs that work at the Four Seasons hotel restaurant- creating multiple narratives that Hobbs performed, with canapes that helped the audience experience the stories. The evening was absolutely beautiful, and a night that could never be reproduced."
Siphiwe Ncube began working at David Krut Projects in 2010 as a part-time database administrator. Today, Ncube is the David Krut Workshop Administrator. She manages administration with a focus on database and print archiving across the board.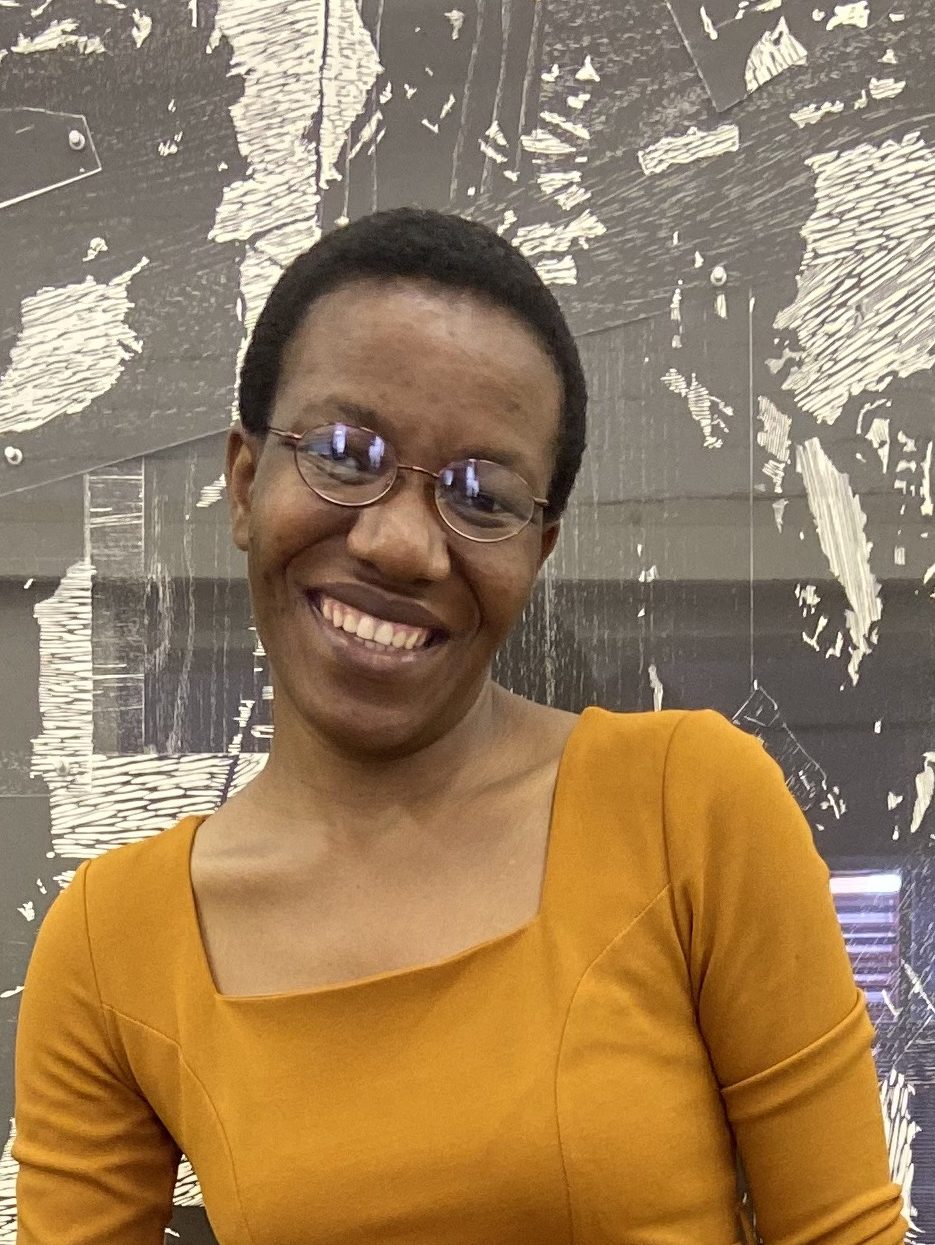 Siphiwe Ncube runs the behind-the-scenes of DKW activities including client liaison, inventory, archiving, suppliers and consultants, artist projects and shipping and logistics. This role feeds into the rest of our operations and secures seamless progression of our projects.
Siphiwe acknowledges that David Krut Projects is a "learn-by-doing organization," and believes her position has given her an opportunity to learn a variety of skills outside of her job scope. The dynamism of Administrator at David Krut Workshop requires a level of diligence and thoroughness that can only develop with experience. Siphiwe's role is ever changing; there is never a single task to focus on and it is this that makes her (and the whole of the DKP team) outstanding multitaskers.
Each and every project that I have been involved in is a special memory, and I promise you, there is a lot of them to pick from the ten years I have been here.
Siphiwe Ncube, was born in Bulawayo, Zimbabwe, and studied Economics at the University of Zimbabwe.

---
Independent Printmakers who have worked with the David Krut Workshop
Jillian Ross began her career in 2003 under the mentorship of David Krut who has been in print publishing for over 40 years. Master printers from the US and the UK assisted in the workshop expansion and training and in time Ross herself became a master printer, workshop manager and director of the David Krut Workshop.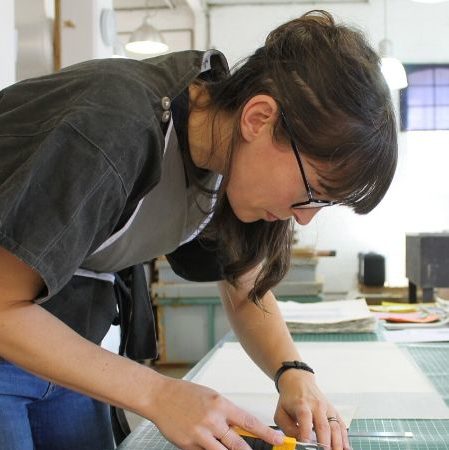 Jillian Ross, a leading South African collaborative master printer, returned to Canada in 2020. Ross has been the Master Printer and Director of the David Krut Workshop (DKW) in Johannesburg, South Africa, for the past 16 years working with celebrated South African and international artists in collaborative printmaking.
​Ross' most notable ongoing collaboration exists with William Kentridge. Since 2006 the Ross has collaborated with the artist in creating over 150 editions at DKW. Among others, three major bodies of work are the Triumphs and Laments Woodcuts series of six life-size, multiple-plate woodcuts with collage (2016–2020); the Universal Archive series of 75 linocuts on dictionary pages (2011–2014); and The Nose series of 30 etchings (2006–2010).
Large bodies of work, in addition to her work with William Kentridge, have been created with over 100 artists, such as Mongezi Ncaphayi, Deborah Bell, Stephen Hobbs, Robyn Penn, Wilma Cruise and Mikhael Subotzky. More recent collaborations include multi-media works by emerging artist Pebofatso Mokoena for Internal Probes (exhibited in Johannesburg, 2020), multiple process prints with Serbian-born Maja Maljević for Silence of the Change (Johannesburg and New York, 2019), and Latitudes Limited, five-colour silkscreens with artists Sthenjwa Luthuli, Pebofatso Mokoena, Mbali Tshabalala, Adejoke Tugbiyele, and Clint Strydom, created for the first edition of the Latitudes Art Fair in Johannesburg in 2019.
Chad Cordeiro (1993), first joined the David Krut Projects (DKP) team in 2012, working in the bookstore. At the time he was busy completing his studies in Fine Art at the University of Witwatersrand. He moved into the David Krut Workshop a year later to work as a printmaker. 
Chad Cordeiro was part of the core editioning team and printers for William Kentridge's, The Triumphs & Laments Woodcuts series (2016 – 2020). A six image, large-scale, multiple-plate woodcuts with collage.
Chad has been an editioning printer for artists William Kentridge, Senzo Shabangu, Stephen Hobbs, Deborah Bell and Rhett Martin.
His artist practice focuses on processes of working with archived or collected material as a response to multiple, interconnected narratives that are embedded in archives or collections. This additive process of cutting and pasting manifests collage-based works that exist as unique records of conversations between "the historical" and "the contemporary", through media such as linocut, silkscreen, vinyl records, cassette tapes, mural installations, and publications.
See more of his work here.
Together with Nathaniel Sheppard III and Sbongiseni Khulu, Cordeiro co-founded Danger Gevaar Ingozi (DGI) Studio in 2016. DGI Studio is a co-operative space for artistic research and collaboration, with a focus of print-based media.
Bio: Born in Johannesburg in 1993, Cordeiro completed his undergraduate degree at the University of the Witwatersrand in 2015. He is currently completing his MAFA at the University of the Witwatersrand, where he is also a guest lecturer in the printmaking department.
"A moment that I will always remember is hanging out and printing with Aida Muluneh."