13.10.16
Printer Feature: Sbongiseni Khulu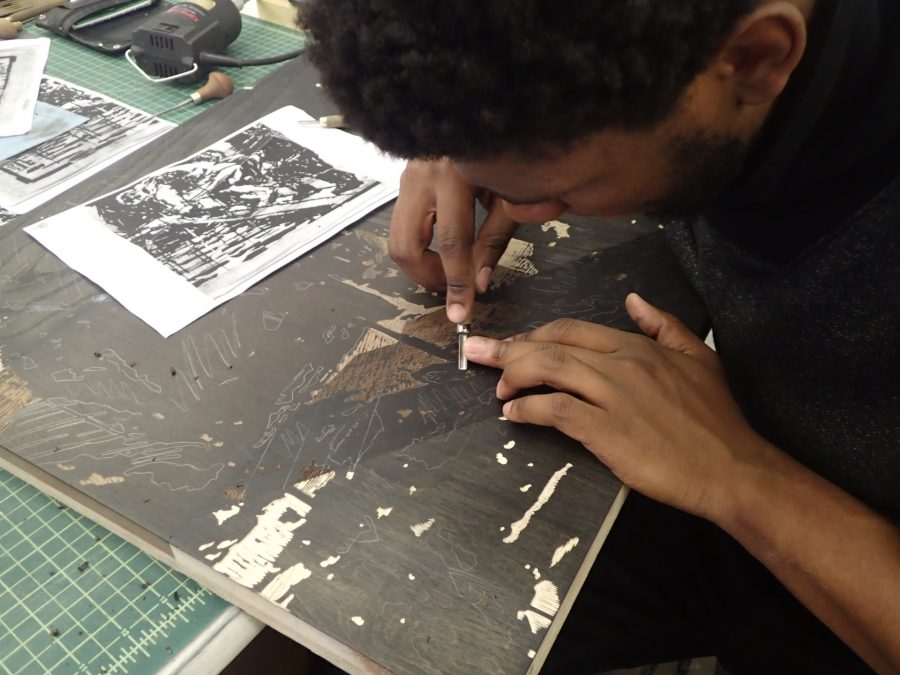 Just over a year ago, Sbongiseni Khulu stepped out of TUT with a degree in Printmaking and Sculpture. Khulu was was keen to gage the art scene outside academic practice and, one day, he chanced upon David Krut Workshop at Arts on Main while a live print demonstration was under way. He remembers thinking to himself, "cool, I can see myself here."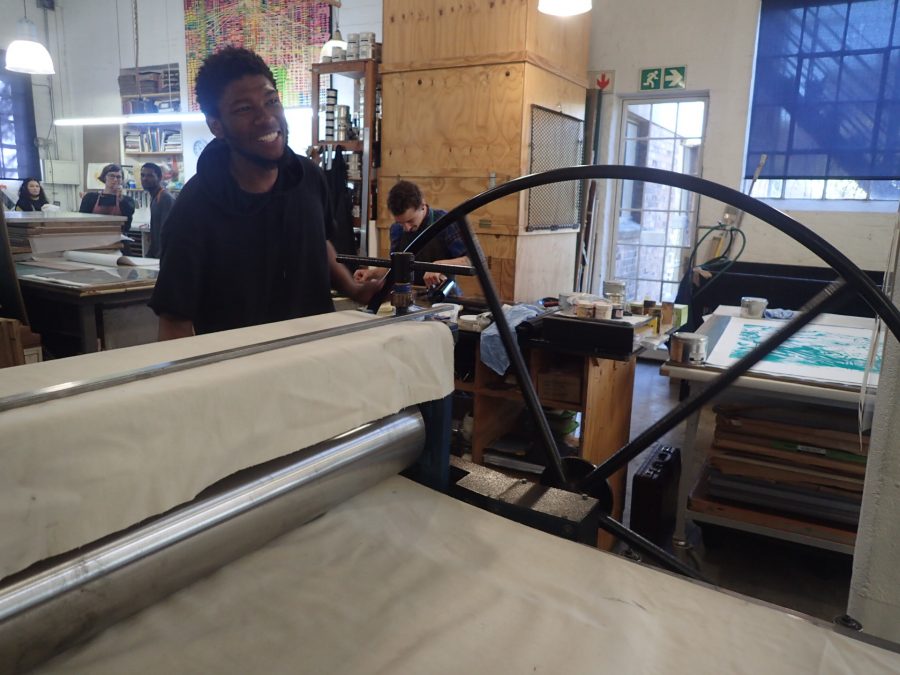 Khulu started off as an intern, but within a few months he was a fully fledged member of staff. He quickly went from being a helping hand around the workshop – picking up skills along the way – to taking on bigger projects, such as Stephen Hobbs' aquatint Mike's Hand (2015) and Mary Wafer's woodcut, Veneer (2015).
Khulu: "There wasn't a significant amount of information with regards to printing Mike's Hand so, needless to say, it came with some challenges – from printing on the wrong paper then to encountering inconsistencies with wiping techniques, the battle with the image waged on for a week before I finally got it right, and not a week too soon!"
Khulu describes how with every new project he learnt a unique "formula" for printing the plate: "I've learnt to trust my intuition and to adjust my knowledge to the needs of a specific image. The "formula" for printing Mike's Hand did little to prepare me for what would be in store for printing Veneer."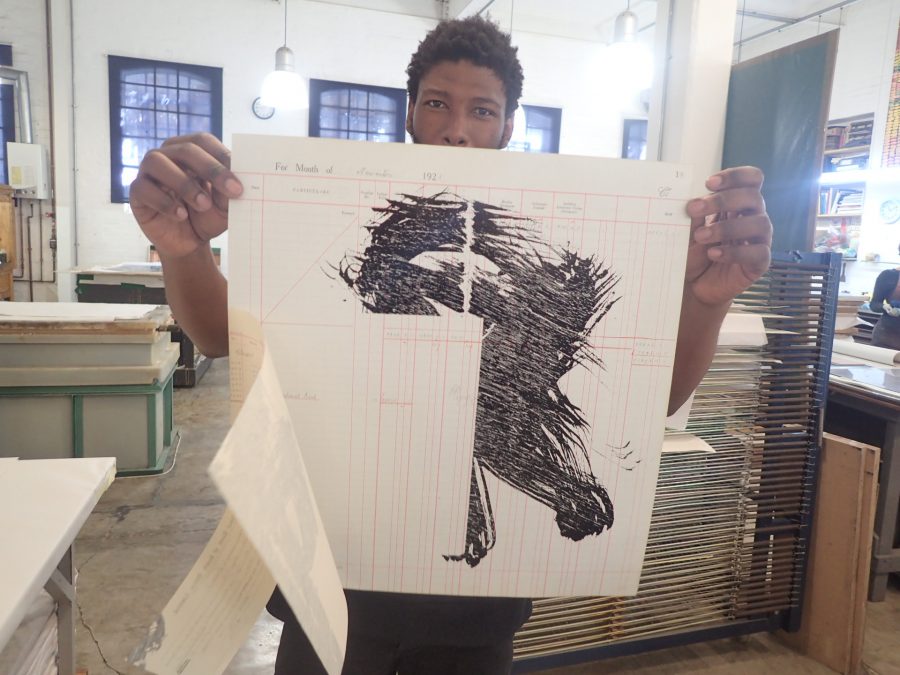 At varsity, Khulu preferred working in isolation so the shift to a collaborative printmaking space has proven to be a stimulating challenge. He has had to adapt to a constantly changing environment, often collaborating with different artists at once.
Khulu studied civil engineering for two years before changing to art. Why was engineering not for him?
"The nature in which problem solving occurs in the engineering field is less free-flowing than the arts. It is much more rigid and limits you to certain formulaic structures that became monotonous for me. I love having the option to think outside the box so I shifted to studying art. Ironically, what drew me to engineering in the first place now feeds my enjoyment of printmaking. I moved away from science only to find myself in a space that revolves around chemical equivalences and, just like in engineering, precision is key."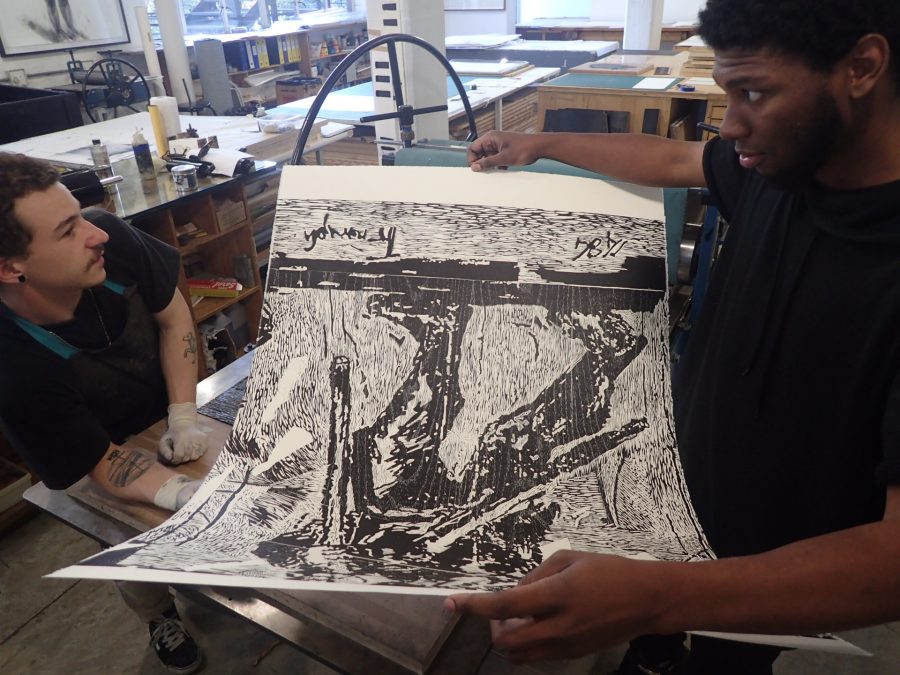 No doubt, Khulu is a meticulous printer: "Not only do I check my work, I often go as far as checking that of my fellow printers. I make sure I get it right, which means I check what I'm doing at least three times before I start."
According to Khulu, what does it take to be a good printer?
Khulu: "Precision, precision, precision! … And dedication. When lying in bed at night I often find myself thinking about prints and what I need to do next. In fact, my art helps my printmaking. It comprises explorations of printing techniques to see what works so I am equipped to suggest new methods to the artists with whom we collaborate."
While at university, Khulu was not a fan of relief printmaking, but since the start of 2016 he has mostly worked on Kentridge-related woodcuts and has developed a preference for the medium, but remains open to developing his skills in intaglio too.
In fact, Khulu has an unusually fluid approach to artistic mediums. He did his dissertation on printmaking as installation, "blending sculpture and print to forge a third space in the arts between 2D (printmaking) and 3D (sculpture)", for which he was influenced by Kentridge's animations (drawings that have been turned into video) and paper sculptures.
So, what's Khulu ultimate goal?
Khulu: "Grand Master Printer. I wanted to be an artist, but now my head is solidly in printmaking. I'll carve my own stuff from time to time to get thoughts out my head because I believe the two positions serve each other."