Vusi Beauchamp is an artist with a signature style – bright colours reminiscent of the pop art era, striking patterns and a quirky humour to his work which makes it fun to look at despite the works' deeper, heavier meaning. His work comments on social issues, politics and events that make up the current socio-political landscape. For the latter part of 2021 Beauchamp has been hard at work collaborating on monotypes with the David Krut Workshop (DKW) team.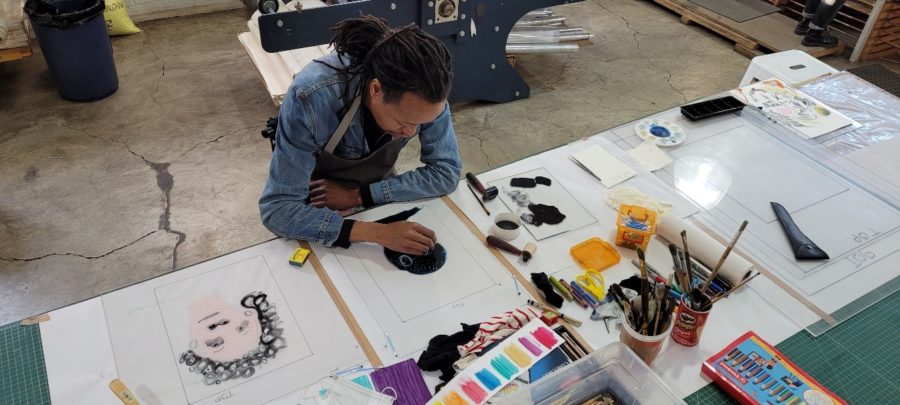 Beauchamp's relationship with the DKW started in 2020 when he visited the workshop by chance. Printers Kim-Lee Loggenberg and Sbongiseni Khulu were familiar with Beauchamp as they had all studied at the Tshwane University of Technology in Pretoria. Loggenberg approached him with the idea of possibly making some prints. In 2021 the idea was revisited and Beauchamp was keen to come into the workshop and make monotypes for an upcoming monotype show.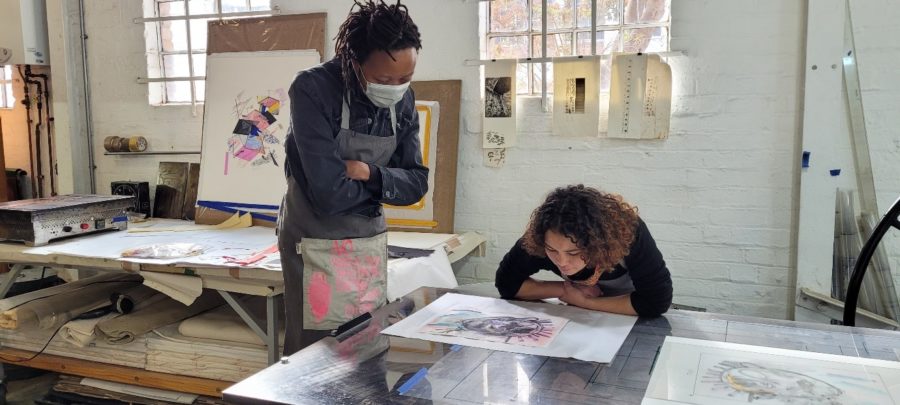 He describes himself as being an artist, multimedia designer and art director. Beauchamp is predominantly a painter and his paintings are created by using various methods, including spray painting and stenciling as well as materials such as crayons, charcoal, oil sticks and acrylic paints. Similarly, Beauchamp's prints use a number of materials and techniques as well as multiple layers to create a final print. Beauchamp's use of quirky, fun patterns and bright poppy colours make the collaborative process of creating prints fun and enjoyable for both artist and printer. The DKW team mixed Beauchamp's signature pop colours and monotyped them onto pieces of chine which would later get cut up and incorporated into the print. Beauchamp was also supplied with various print materials to further explore his ideas and integrate his painting practice with the printmaking process.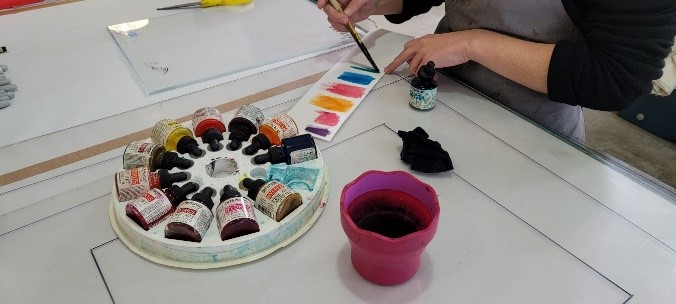 The prints are created by first establishing the background layer which is hand worked and does not involve the press. Beauchamp paints washes of watercolour, scribbles with woody water-soluble pencil, crayons, and he also draws directly onto the printing paper. One image in particular features a small drawing of a venus fly trap for example. At this stage he sometimes collages brightly coloured pieces of chine or stencils in bits of text which might later be pushed back by the layers that follow.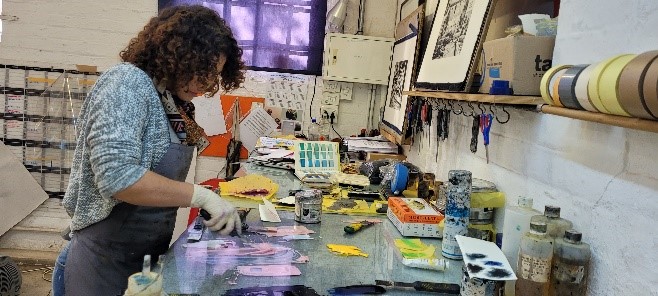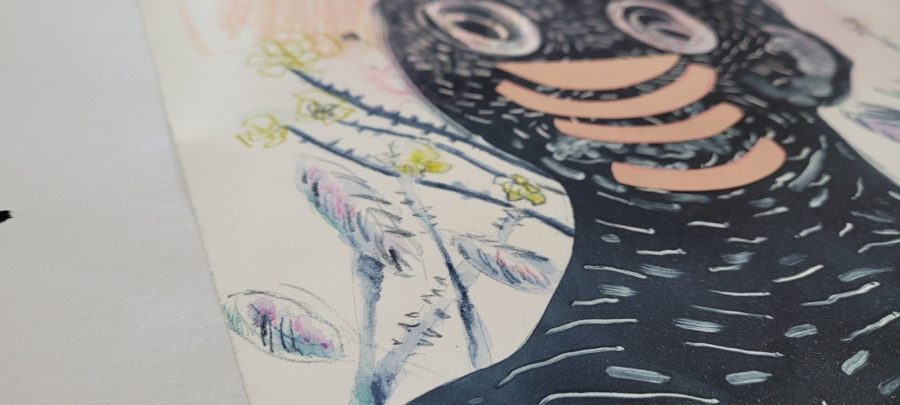 Starting with the background layer allows Beauchamp a starting point. He often uses this background layer to determine the kind of face or figure he wants to feature in the print and the colours of the layers that follow. He has a keen eye for which colours work together and compliment each other and there is a definite play between the soft background washes and the heavier oil monotype layers that are printed overtop.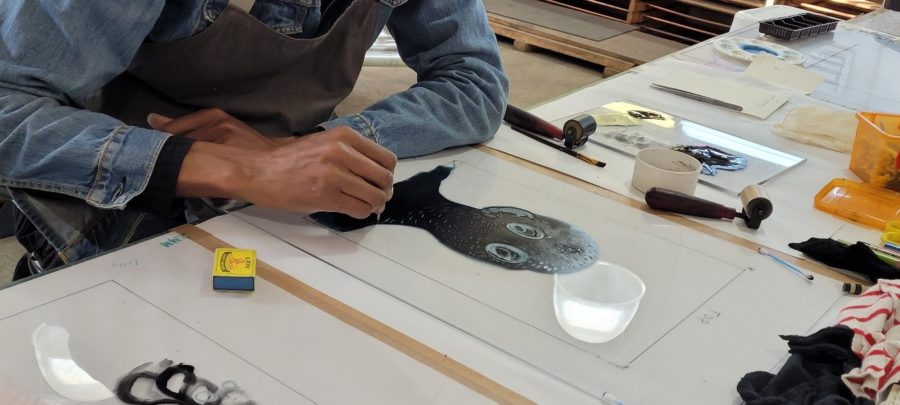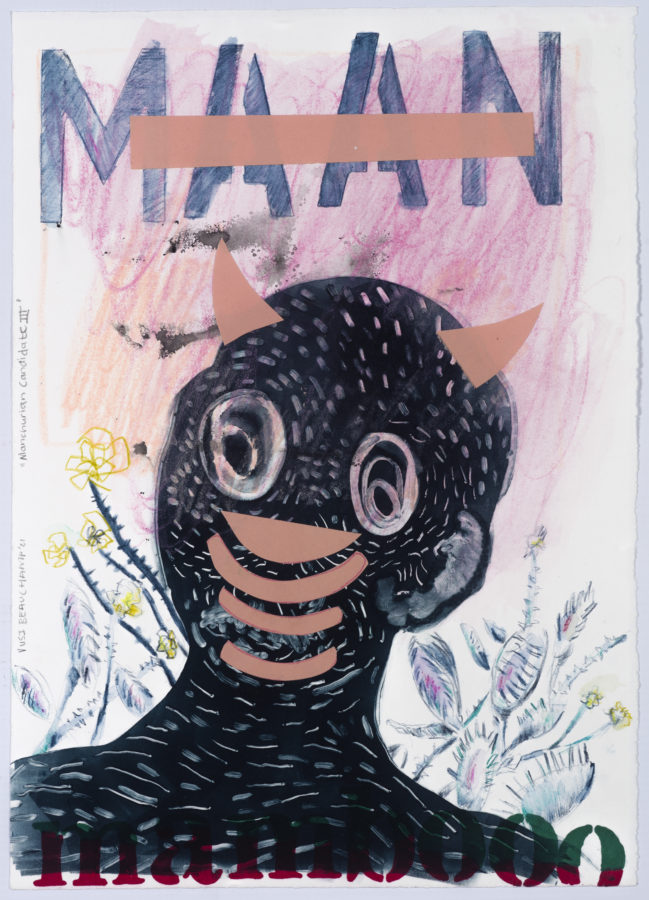 Vusi Beauchamp, born in 1979 in Johannesburg, studied printmaking and painting at the Tshwane University of Technology and Graphic Design at Damelin. Beauchamp has been featured in various articles including Art South Africa and Mail & Guardian. Beauchamp has participated in a number of exhibitions including:
2019 Paradyse of the Damned, Borderline Art Space, Romania
2018 Paradyse of the Damned, Johannesburg Art Gallery
2017 Welcome to Banania, World Art Gallery
2016 The Great Grotesque Woordfees, Stellenbosch
2016 Terrorist, Kalashnikovv Gallery
2015 Paradyse of the Damned, Pretoria Art Museum, Pretoria
2013 WORKING TITLE, Group Exhibition, Goodman Gallery
Beauchamp's collaboration with the workshop is ongoing, and the works produced will be featured in the David Krut Projects' Monotype Show in 2022.
Click here for our Glossary of printmaking terms.