Nina Jacobson interned at the David Krut Workshop for August and September 2022. She is in her final year at Wits University. She was a wonderful assistant in the studio and is passionate about print!
---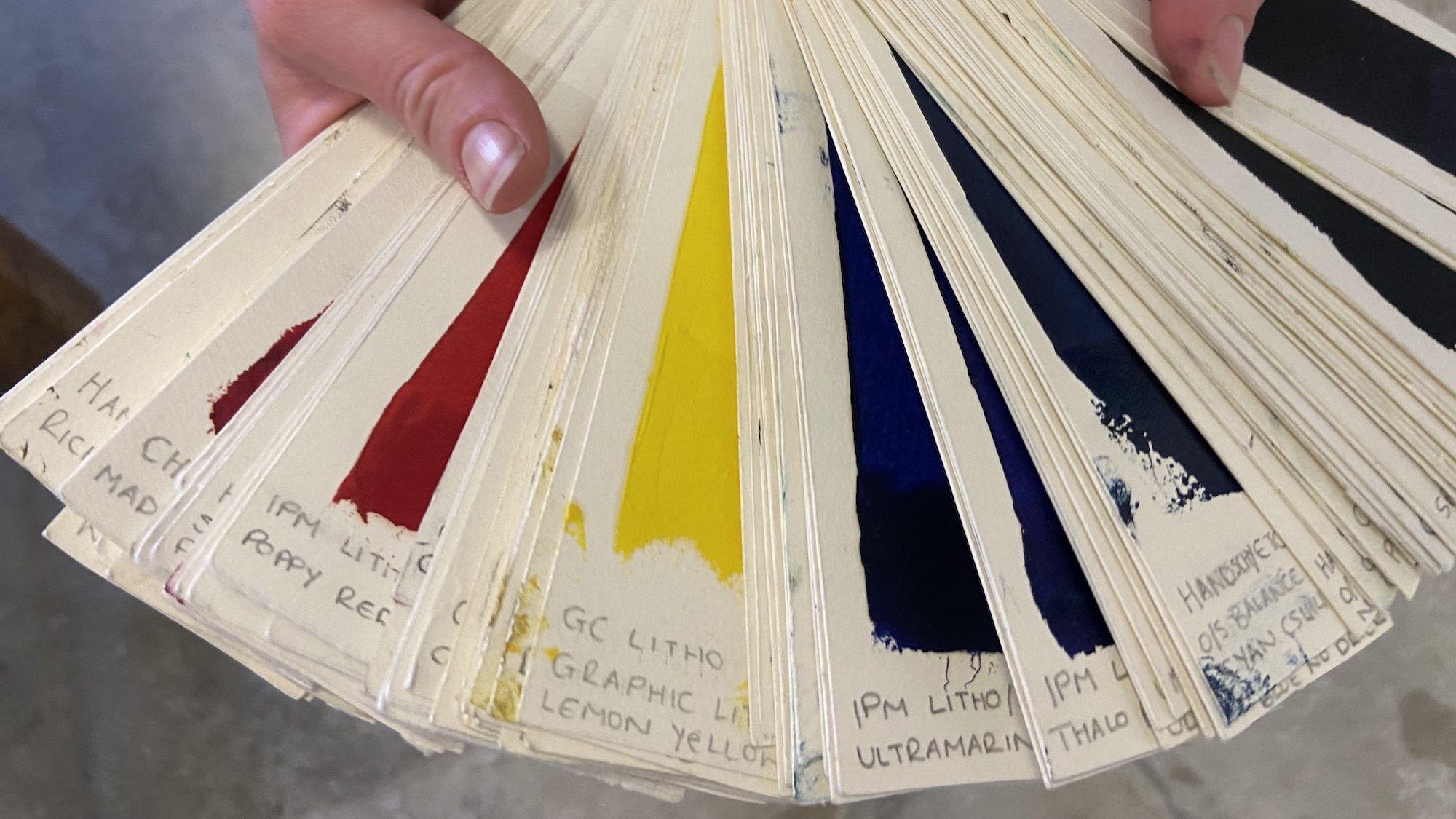 First Day at DKP: Organising and cataloguing the vast ink collection. It is my first day and I am nervous. I'm also not allowed to touch anything important. I'm trying to take in as much as I can from this place. It's big and beautiful and there are little nooks everywhere with treasures. It's like a magical grotto for printmaking. I am allowed to spend two full days of my week here for the next two months and honestly I am so excited.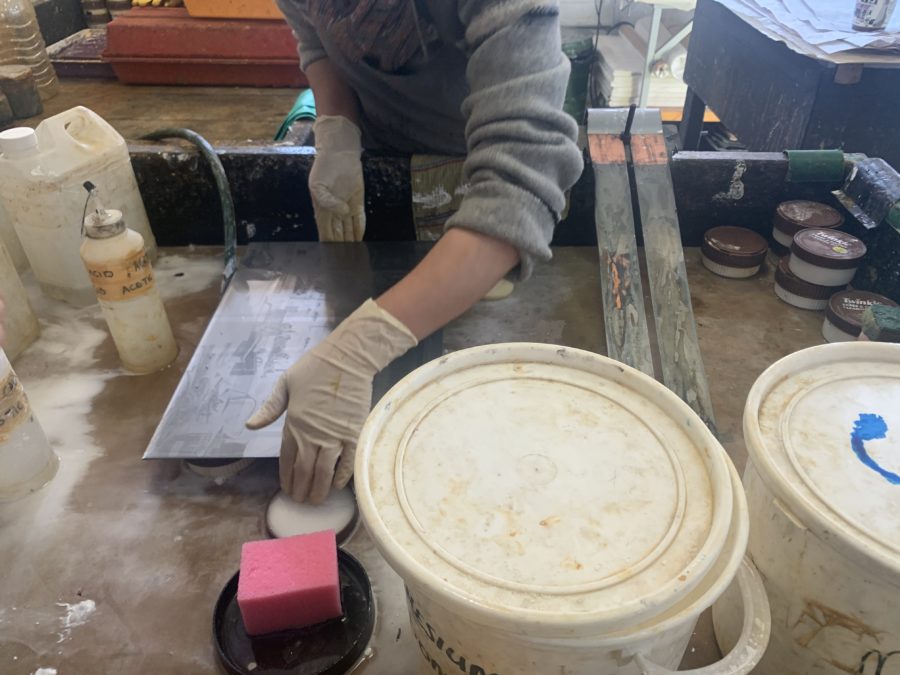 Kim "steel-facing" a photogravure plate. This was a new one. This was real alchemy. The way I explained this to my mom when she said she had no idea what I was talking about was that steel-facing a plate is a way to protect all the beautiful little drawn or etched elements in the copper from flattening out when you are printing your edition. It's a way of protecting the plate itself, so the edition looks as clean as possible. Mind. Blown.
Kim handwiping Kentridge's photogravure – the last step after meticulous scrimming, wiping, and examining the way the ink sits in all the little grooves.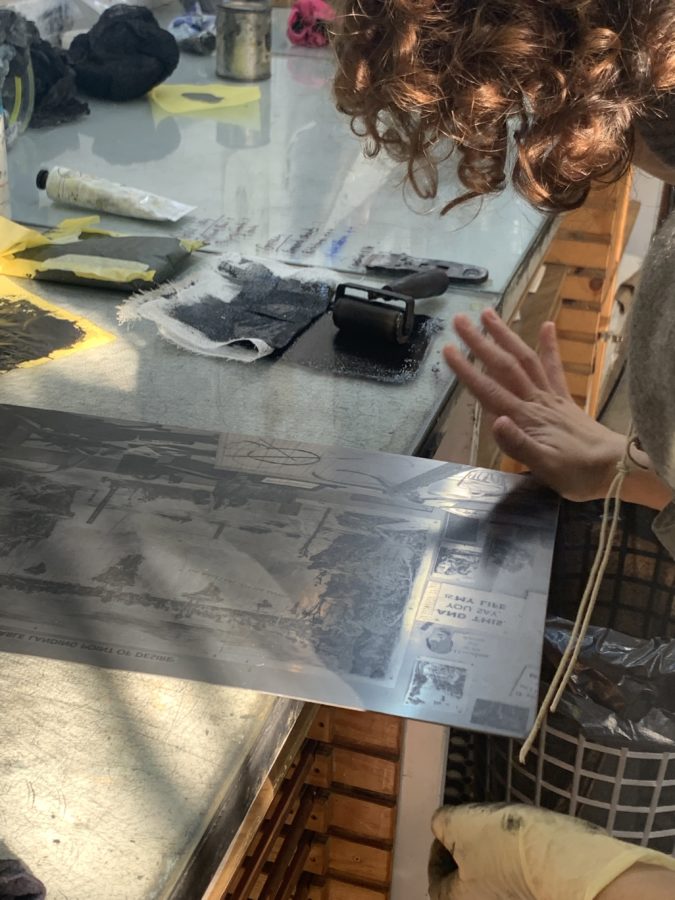 This is the inking station. Probably one of my favourite spaces in the workshop. Pictured here are several colours for Vusi Beauchamp's monotype experiments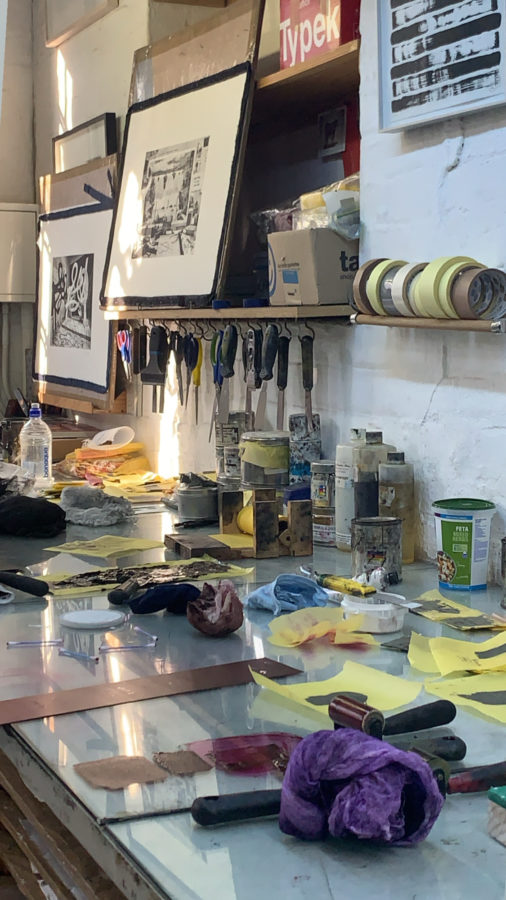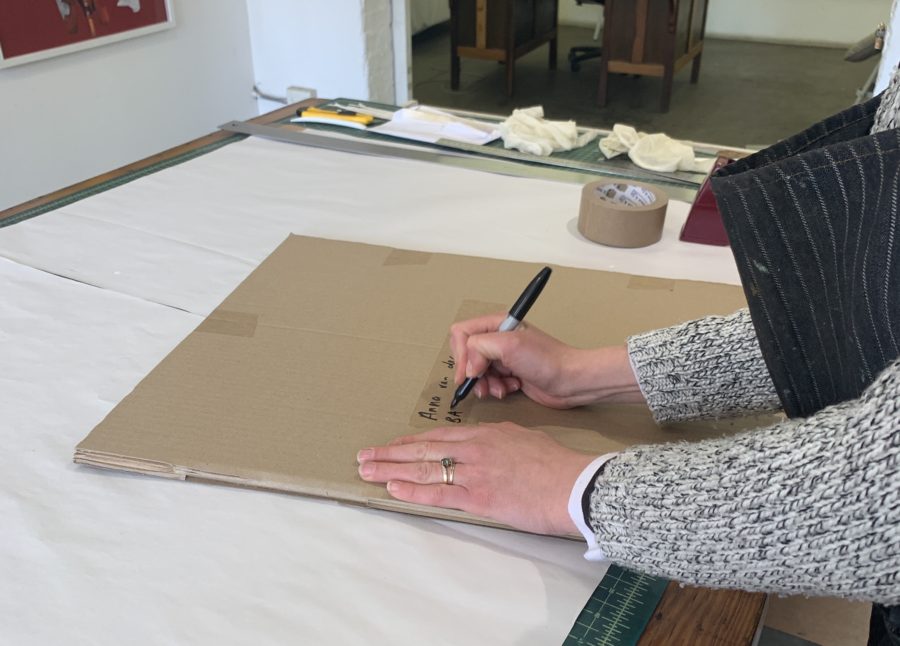 Sarah showed me how to package prints today. This is one of Anna van der Ploeg's works from her last show. It's going to 151 to be framed.
Sbongiseni is compiling a Kentridge woodcut here. He has made an acetate stencil and is matching up all the pieces that make up this massive collage print so that they can be editioned and packaged. He says that he has spent about 6 years on this project. That's a really long time. I don't think I've spent that long of my life on anything? This feels like a quest to rival the Lord of the Rings trilogy. Sheeeeeesh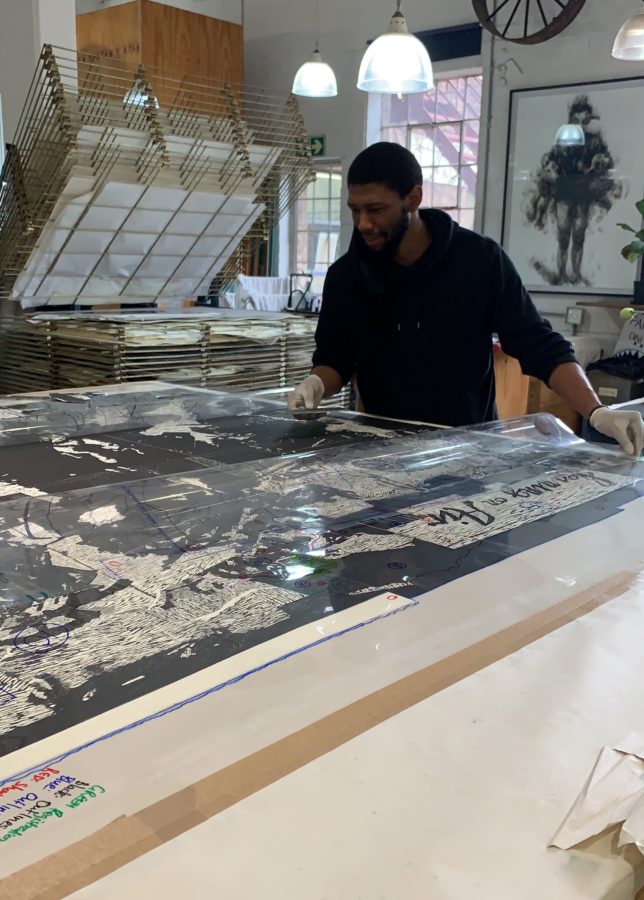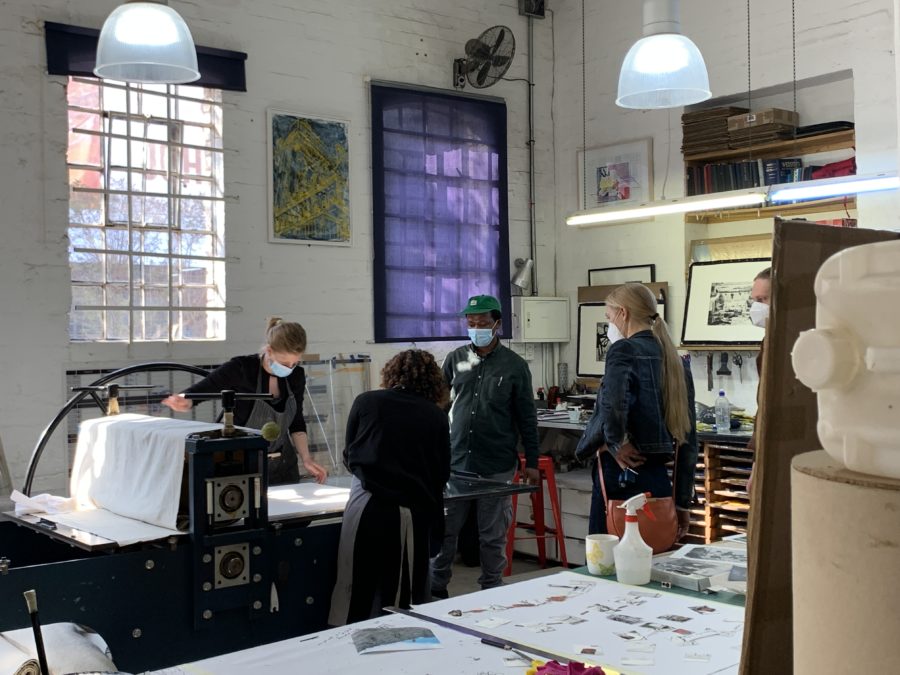 Today Sarah and Kim are working with Lindo, an artist who works primarily with photography. They are assisting him with some prints for an upcoming exhibition. He is collaging with photography chine-collé.
This is one of the first things I'm allowed to print in the workshop. It's an aquatint step-test which shows the different tones of aquatint you can achieve depending on how long you leave your plate in the acid bath. I want to print it in sepia because I have a deep appreciation for caffeine these days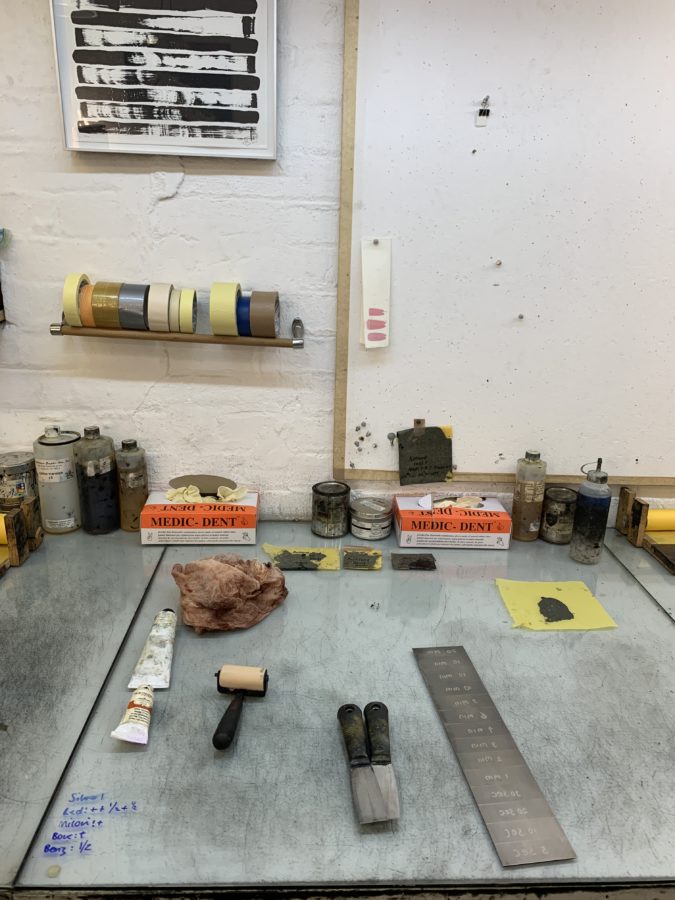 I'm pretty in love with the way the sun hits the walls. There's a little orange circle of light that I follow down the wall from a certain point late morning until the afternoon.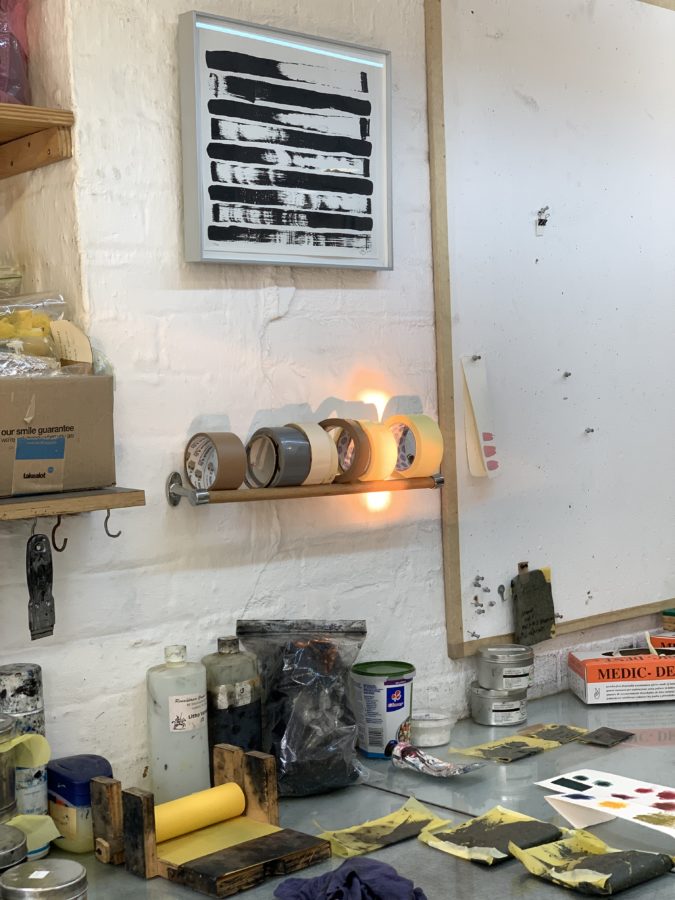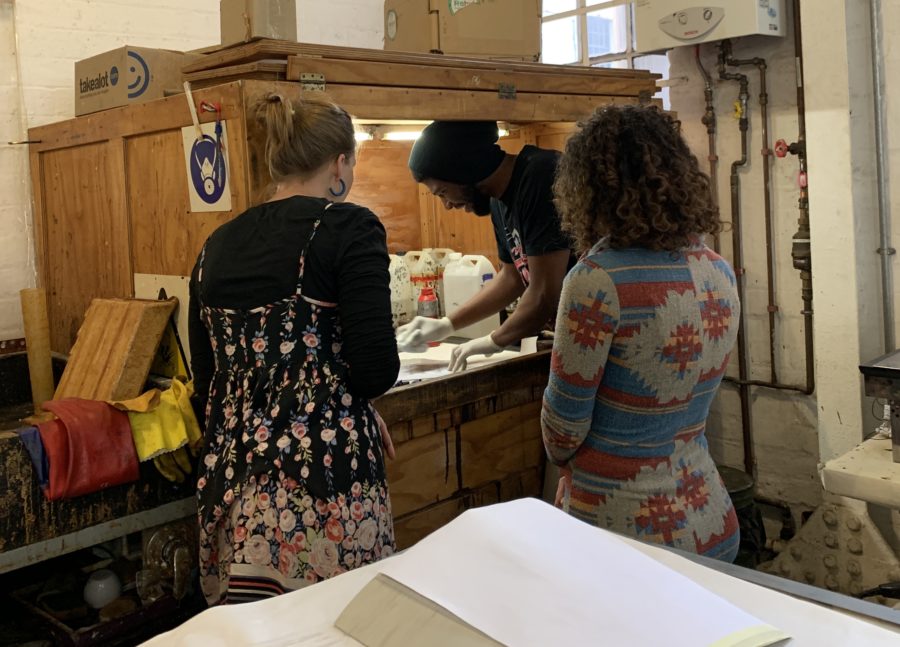 We're transferring stencils onto pieces of linocut with thinners. The smell goes straight to my eyeballs. This is for linocut carvings for Stephen Hobb's prints that he will be working on at Turbine Art Fair. I correctly predicted that I would cut my finger at least once during the carving process. Linocut and I have an endless duel.
---
These photos are from the surreal week that Maria Ondrej visited the workshop. She was one of the loveliest people to learn from. We worked with her to make a large collaborative print, a 'print jam' , and she insisted that everyone who was there had to produce a plate for this large-scale collaboration. I got to flex all the skills I'd picked up and I made a weird warped image of a woman eating a dessert (subconsciously Roxy has made me have an eternal craving for baked goods). My plate started as a hardground but I added some soft ground textures and aquatints just to be fancy. It ended up looking pretty good!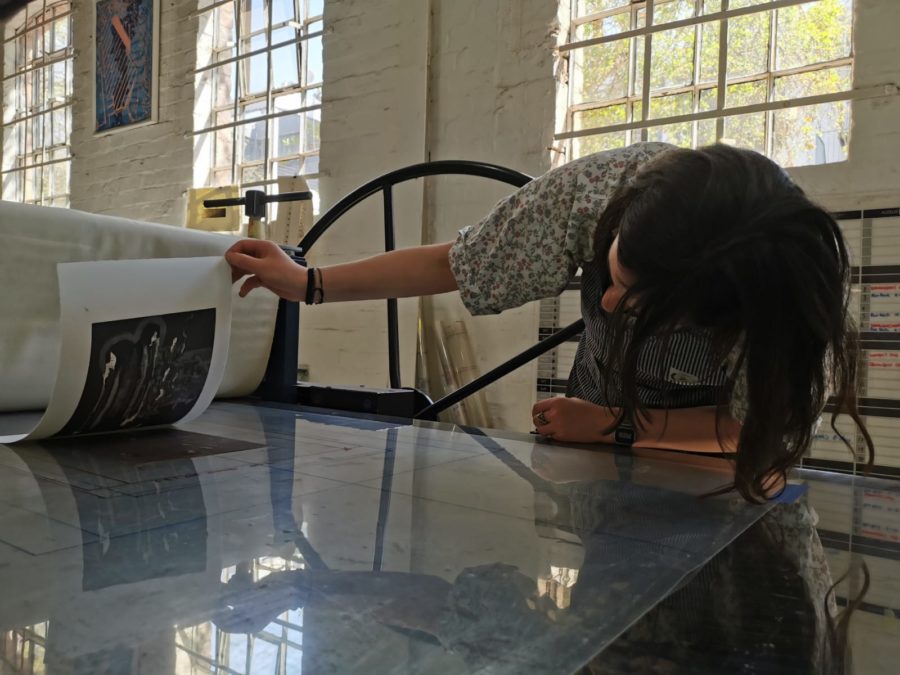 Meeting everyone was such a special experience. I'm lucky to have met David and the super team working at 151; Melissa, Britt, and Amé (and the adorable cats!). Thank you for your kindness and your encouragement.
I learned from some absolute printmaking wizards. Thank you so much Roxy, Sbongiseni, and Kim for sharing your wisdom with me. Thank you Siphiwe and Paul for being so welcoming.
I am so grateful for everything I have gotten to do in the past 2 months. The time was way too short upon reflection. I could spend 6 years of my life doing that – definitely.
For more information about internships and applying please email [email protected]