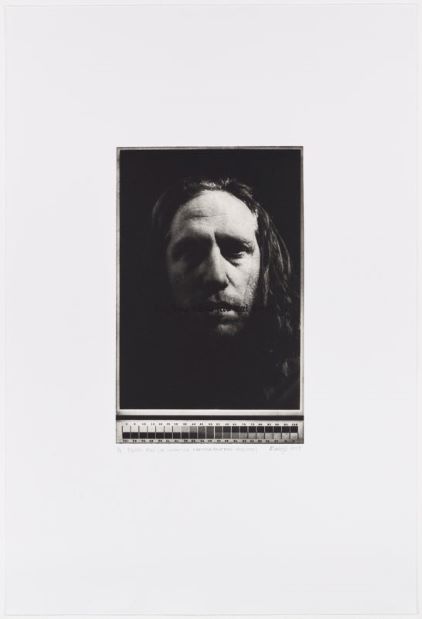 Collaboration History
In 2019, Mikhael Subotzky collaborated with the David Krut Workshop on a body of prints called the Four Quartet Series: Humorism (After Eliot and da Messina). The series of eight prints mark the artist's first foray into printmaking and combines a number of techniques, including photogravure, silkscreen, digital chine collé and monotype. The prints continue Subotzky's investigation into white masculine vulnerability. The series was created in concert with a new body of work, Massive Nerve Corpus, a solo presentation of paintings, drawings and collages which opened in May 2019 at Goodman Gallery (Johannesburg).
Biography
Mikhael Subotzky was born in 1981 in Cape Town, South Africa, and is currently based in Johannesburg. Subotzky's photographic work combines the directness of the social documentary mode with a questioning of the nature of the photographic medium itself. He is concerned with structures of narrative and representation, as well as the relationship between social storytelling and the formal poetics of image-making. Over the past eight years, his work has focused on the inside and outside of South Africa's notorious prisons, the small town of Beaufort West, and Ponte City, a single iconic building in Johannesburg. His most recent exhibition, Massive Nervous Corpus, which included his print series made at DKW, marks a new stream in Subotzky's work – a cross-medium attempt to illustrate and understand the giant modernist poet T.S. Elliot's Four Quartets, four long poems that were published over the course of 6 years, the last work of poetry created by the modernist giant, which are in essence a meditation on time and the process of moving through a life beset with massive and destabilising change.
Subotzky's work has been exhibited widely in major galleries and museums, and his prints are in numerous important collections, including the Museum of Modern Art (New York), Solomon R Guggenheim Museum (New York), the National Gallery of Art (Washington), Tate (London), Centre Pompidou (Paris), and the South African National Gallery. In 2020, Subotzky was listed in the Apollo International Art Magazine's list of 40 Under 40 as 1 of 40 people below the age of 40 who were born, are based in, or have worked on the African continent — and who are transforming the way that art is made and experienced.
Additional Media
Apollo International Art Magazine – 40 Under 40 AFRICA 2020
LATITUDES Online – Mikhael Subotzky: a first foray into printmaking