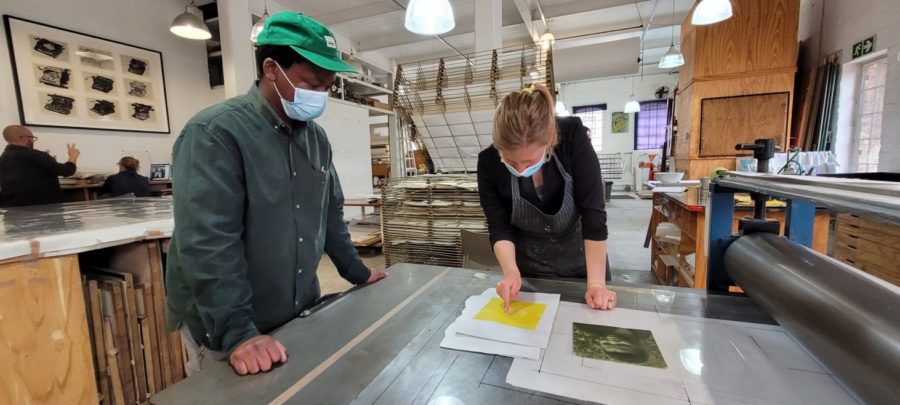 Lindo Sobekwa and printer Sarah Judge discussing a pronto print which has just been printed.
Photographer Lindokuhle Sobekwa was introduced to the David Krut Workshop (DKW) through renowned Johannesburg-based photographer Mikhael Subotzky, who is currently mentoring Sobekwa and whose studio neighbors the DKW at Arts on Main. Subotzky himself also collaborated with the DKW in 2019 to produce a series of photogravure editions. Sobekwa was born in Katlehong in 1995 and grew up in the township of Thokoza. He participated in the Of Soul and Joy Project, an educational programme at Buhlebuzile High School in Thokoza, which is where he was introduced to photography, working with more established photographers. Since then his photographs have been featured in various exhibitions and publications and he became a nominee member of Magnum Photos in 2018.
Each artist has their own way of approaching and producing images and by acknowledging this, our printing team values suggesting printing techniques that compliment an artist's practice within the collaboration. Ordinarily, Sobekwa's artistic practice and photography in general, is quite a lonesome process, from taking photographs to editing the images. The printing workshop not only provides Sobekwa with a platform for collaboration, but also with the opportunity to develop and grow his image making. Printers Kim-Lee Loggenberg and Sarah Judge headed up the project and assisted Sobekwa in printing and developing ideas as this is the photographer's first experience with making prints.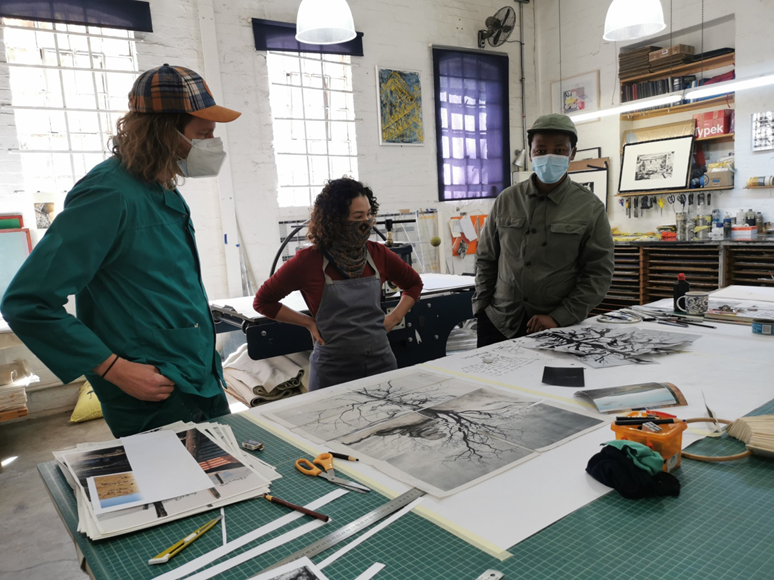 Mentor Mikhael Subotzky, Kim-Lee Loggenberg and Lindo Sobekwa at DKW – Subotzky advising Sobekwa on the layout of one of his prints.
The printing team suggested pronto plate printing as a good printing fit for Sobekwa, as it allows him to make use of some of his existing photographic images in the making of new prints. With the assistance of printer Sarah Judge, Sobekwa sifted through his archive of photographic images and selected some that he wanted to turn into pronto prints.
Polyester plate or "pronto plate" lithography is a printing technique capable of producing the full spectrum of lithographic marks such as hand drawing, brush strokes, ink wash,  crayon and pencil marks, and is well suited for digital imaging. Plates can also be imaged directly with a toner printer so the process of making a plate is more immediate. Once the image is transferred onto the plate, the plate is heat-set so that the image bonds to the pronto plate and doesn't lift off during the print process. Hereafter, the image is sensitised by soaking in a mixture of Gum Arabic and water. Gum Arabic and water is applied to the plate and an oil-based lithographic ink is used to capture the image. It is then possible to print the image multiple times resulting in a direct transfer of the printed image. Using the photographic image process on the pronto plate Sobekwa was able to disrupt the image using thinners, creating an uncontrolled, organic, handmade mark. Sobekwa's prints use combinations of pronto plate printing as well as colour images digitally printed and chine-collé'd together to form one layered image.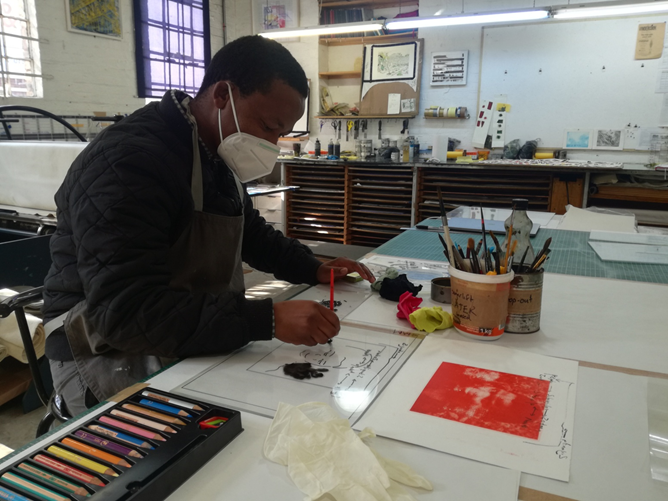 When he came to the workshop Sobekwa decided to work with a selection of images from two ongoing and related bodies of work: I carry Her photo with Me and Ezilalini: the Country. The first body of work explores the artist's relationship with his family, focusing on a search for his older sister, Ziyanda, who disappeared when Sobekwa was a young boy. His search for her led to a deeper investigation of his family history and engages both with the memory of his sister and the wider implications of such disappearances—a troubling part of South Africa's history. The project was developed when Sobekwa was a Magnum Foundation Photography and Social Justice fellow and found its first form as a hand-made artist book. The work also developed into a deeper investigation of Sobekwa's ancestral homeland in the Eastern Cape. These are the images that make up Ezilalini: The Country, an ongoing photographic engagement that examines ideas of home and the fragmentation of family and identity, brought about by a reconnection to his community.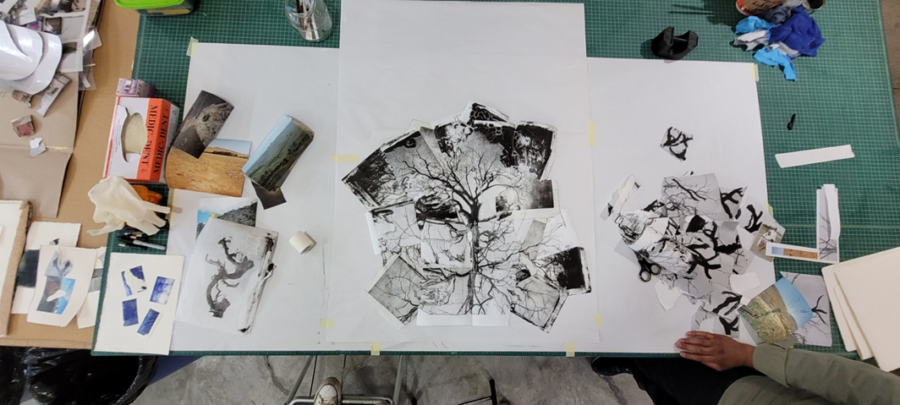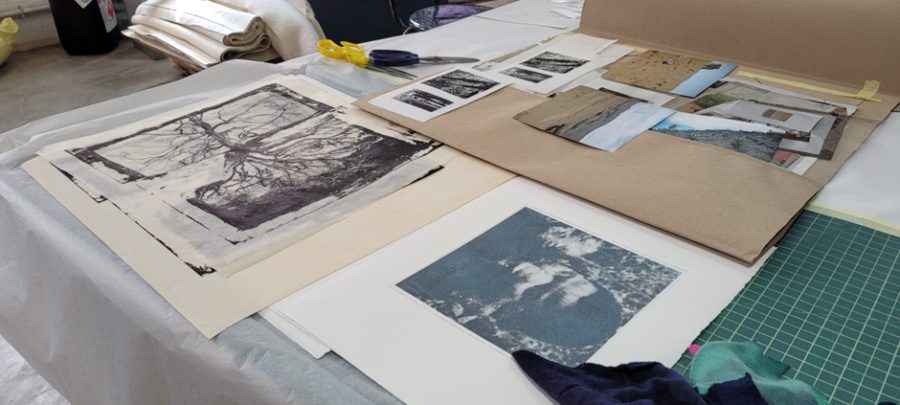 Sobekwa's collaboration with David Krut Workshop is ongoing, with further experimentation with both pronto plate printing and chine-collé. He is participating in a residency with the A4 Foundation in Cape Town in October, showing some of the works produced at the workshop in the concluding residency exhibition. We look forward to sharing more of Sobekwa's imagery soon.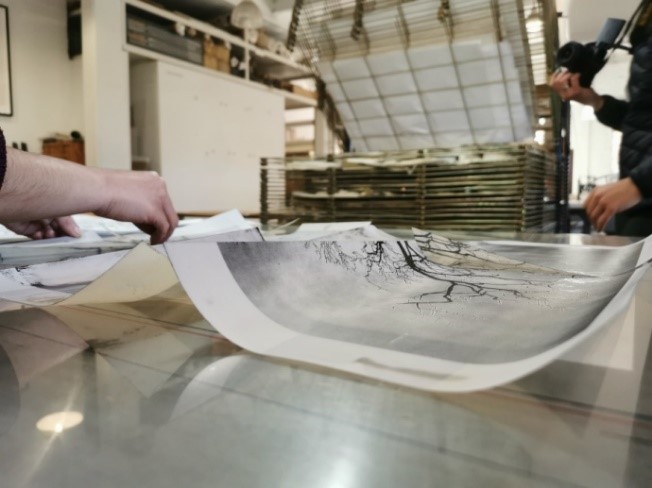 Further reading:
Mikhael Subotzky | Humorism (After Eliot and da Messina)