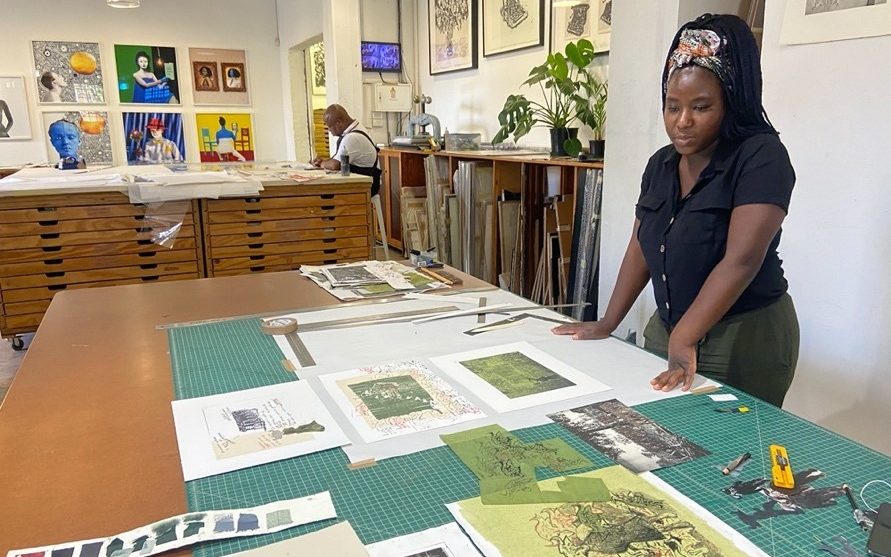 Helena Uambembe (1994) was born in Pomfret, South Africa to Angolan parents who fled the civil war which broke out in their home country in 1975. Once in South Africa, her father joined the 32 Battalion, a military unit within the South African Defence Force made up mainly of black Angolan men. In her work, Helena explores narratives informed by the 32 Battalion and her Angolan heritage, interweaving connected symbols and archival material.
Helena is an interdisciplinary artist who currently uses printmaking, performance and photography to recreate and reposition the history of the 32 Battalion. In an attempt to understand her family history within the bigger context of the history of both South Africa and Angola, and the ways in which they overlap, Helena wrestles with painful memories, absences and erasures.
In 2017 Helena visited the former Commanding Officer of the 32 Battalion, Colonel Gert Nel, and he showed her his personal archive of military images. Helena's 2018-19 lithographic series Confidential Histories was her initial exploration of this interaction. Her collaboration with the David Krut Workshop team and printer Roxy Kaczmarek is an extension of this exploration. In this body of work Helena used the technique of Pronto Lithography combined with chine collé, collage and hand work to create a series of experimental unique prints. Helena specifically explores the archive of images given to her by Commander Nel, grappling with the content and, through the lithographic print process, disrupting both his images and his perspectives. Similarly, the text elements found in the works have evolved from Helena's notebooks, notes taken from research, interviews and thoughts.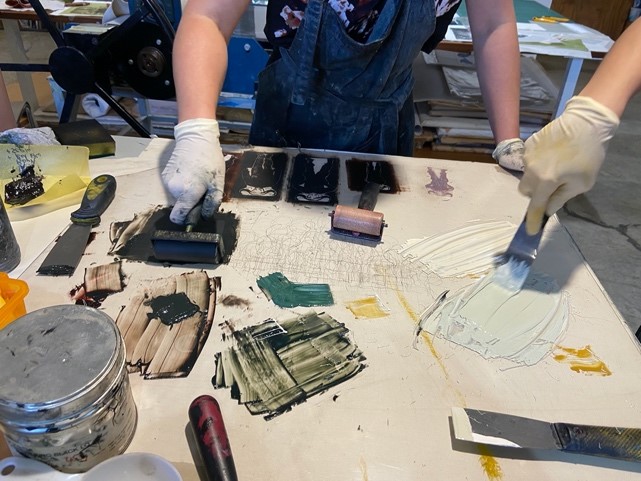 Polyester plate or "pronto plate" lithography is an immediate and often playful printing process that offers a non-toxic option for artists to incorporate visual elements as disparate as photography, digital designs and hand-drawn illustrations. To make the matrix, the artists image is either printed digitally using a digital printer or can be drawn directly onto the polyester plate. Gum Arabic and water is then applied to the plate and an oil-based lithographic ink is used to capture the image. It is then possible to print the image multiple times onto high quality archival printing paper. In Helena's case, a selection of delicate papers was used to offer the possibility of collage and translucent overlay.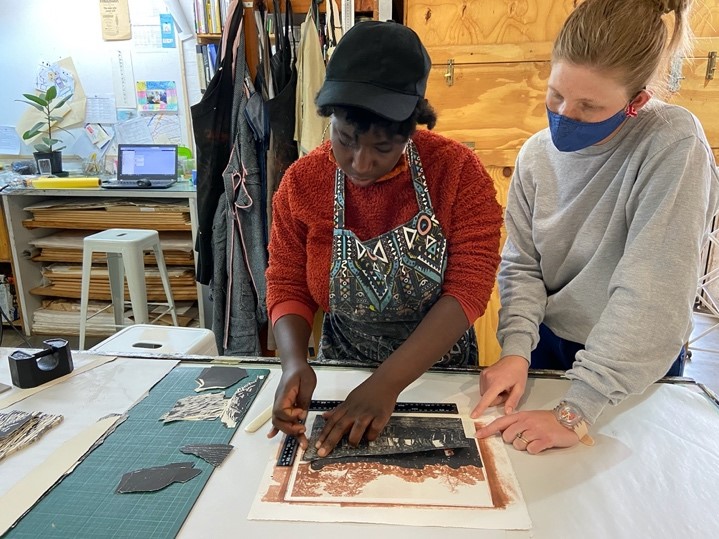 Commander Nel's Archive features a repetitive motif of an amorphic buffalo-headed figure. The buffalo's head has a literal link to the 32 Battalion's insignia and was first used by Helena in her performance Tchigangi (see image below). Like a hand-carved mask or ornament, the buffalo head at first represented death, but its meaning has evolved as the dialogue in her work has unfolded and become more complex over time. The character of Tchigangi is layered, as are the traits of the 32 Battalion. The figure is a kind of spiritual presence, a monster, a ghost. Tchigangi also serves as a crucial reminder that, despite the public-facing, grandiose performance that often accompanies the military establishment, the reality of the personal and private impact of war tells a very different story involving death and the upturning of the lives of those who are not directly involved – perhaps most significantly, the lives of women and children.
This series of prints is Helena's first collaboration with the David Krut Workshop. To view the works, visit her viewing room and our website.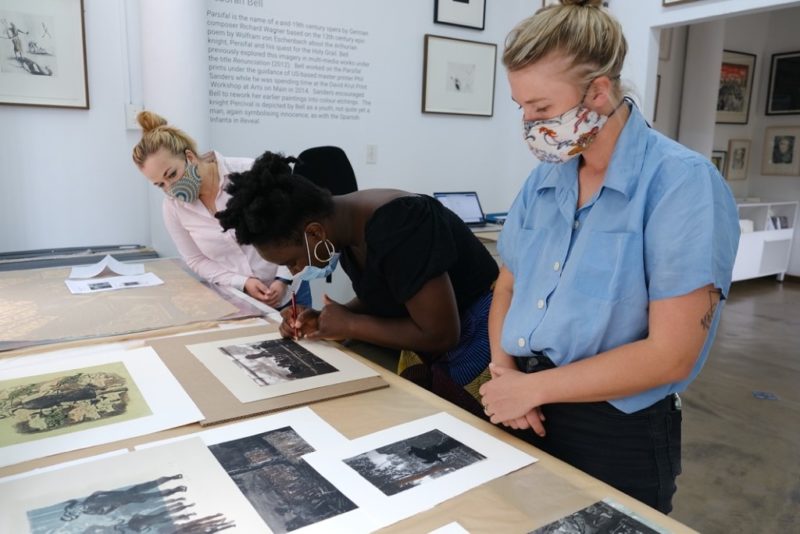 Take a listen to Helena Uambembe in conversation with Britt Lawton about this series: