Written by Sarah Judge
Think about a chocolate cake! Doesn't that sound delicious? If I wanted to eat a home-baked cake it wouldn't just appear, right? Maybe if I had super powers…but I don't.

The order of events:
Have a list of ingredients, get out a mixing bowl, cake tin and utensils, set it all out so that it's easy to follow, then preheat the oven before I start so that it's ready for the cake to go in and bake.

Only after all of that, will I have my mouth-watering cake! So, what am I getting at? Well, to make a cake there has to be preparation before we can eat it! Just like making a cake, printmaking requires PREPARATION.
During this incredibly important lockdown period the David Krut Workshop team are able to continue their practical tasks that contribute to creating our artists' beautiful prints – and do it from home. This is only possible because of the preparation we put in before the lockdown.

Our preparation for these tasks were just like a recipe: our lists – lists of things that we need to get done, and then lists of things that we will need to have in order to achieve that. Most times, these lists don't actually stop, they just evolve into a second and even third list.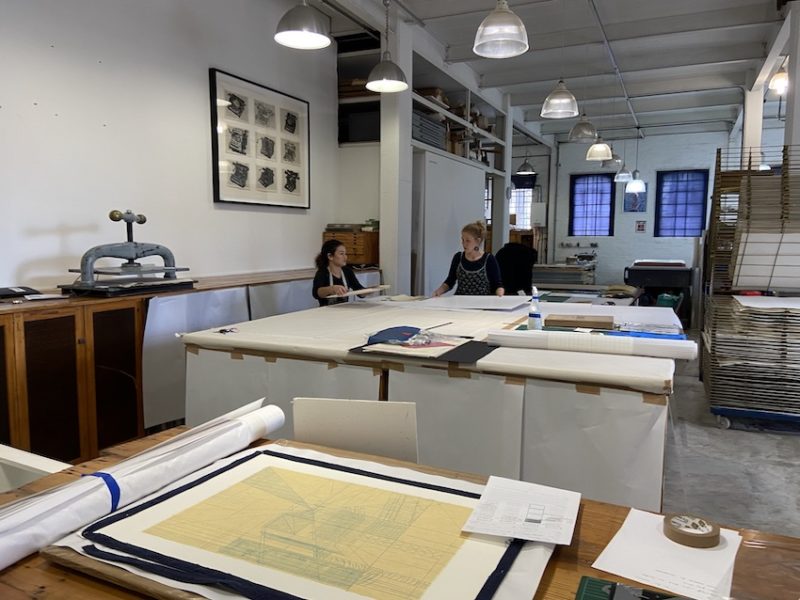 These are some of the items at we each took home:
Chad Cordeiro – Etching press, inks, rollers, wood and lino to carve and paper.
Sbongiseni Khulu– parts to put prints together, acetate, cutting tools and bone folder.
Kim-Lee Loggenberg – parts to put prints together, acetate, cutting tools, cutting mat and tape.
Sarah Judge – book press, book material, big roll of acetate, sharpies, book board and book glue.
Roxy Kaczmarek – ink, perspex, rollers, screens to print silkscreens, artist info and our workshop plants
While all the list-making is happening, we start to gather our ingredients – or materials. Here is a glimpse into what our material-gathering looked like just before the lockdown as we prepared to continue our collaborations with multiple artists and keep our work flow going.
Below features Kim-Lee Loggenberg and Sbongiseni Khulu, two of our amazing printers, printing and gluing etchings to cut out and collage onto backing sheets that form part of artist Maja Maljević's soon-to-be-released editioned works. The initial creation and design of the print has been done by the artist herself. Now, the necessary parts have been printed and taken home for the printers to cut out and assemble.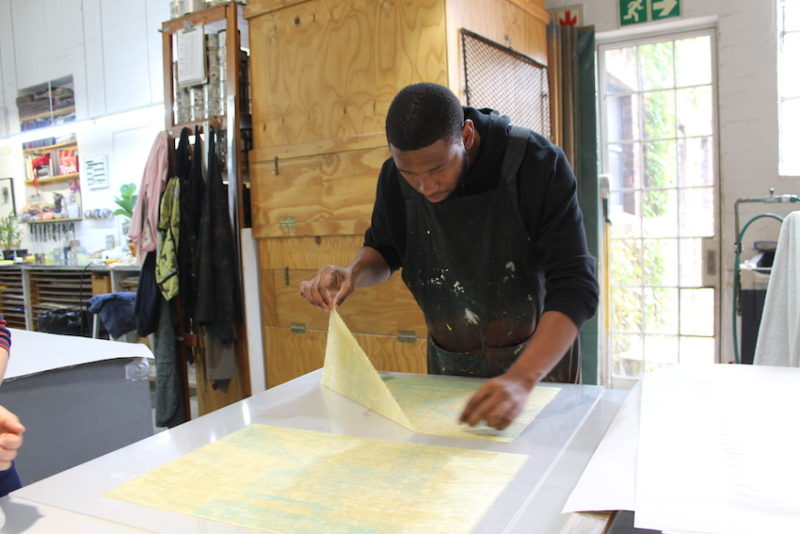 Take a look at Majlević's beautiful unique work series that these upcoming editions are based on: Document for the People and Winter Files.
There is always more than one step. In Maja's case, it is printing different imagery onto many different sheets so that they can get adhered to archival double-sided tape, cut up very delicately and then all assembled in the same way each time to form an entire edition. There are also many tools needed to finish Maljević's latest editions: tape, bone folders, craft knives, printed coloured papers, pens and pencils, to name a few.
Click here for more information about Maja Maljević and her recent series Document for the People and Winter Files.
Because we work with multiple artists simultaneously, we spent some time preparing a pack of material for Mikhael Subotzky to take and work with at home. This was made up of different proofs and parts from his recent series made in collaboration with the studio: Humorism (after Elliot and da Messina).
The Triumphs and Laments Woodcut Series that William Kentridge has been collaborating with the studio on over the last few years is still in the process of being editioned.

These prints range in scale from 1x2m to 1.8×3.5m, so they're big and incredibly complex works. Much like Maljević's works, they are made of many different parts that many people are involved in. For instance, there is the carving of the woodblock, the printing, making acetate maps to assemble the works and then the making of assembly manuals.
Each woodcut is made up of multiple torn pieces which the team editions. These are cut and torn and then held by pins onto the final print.
Rolls of acetate that have the print drawn out to enable each piece to be placed correctly for editioning.
Here is how the prints are assembled.
Each finished woodblock print comes with a hand-bound portfolio book that includes a document on how the work was made and an assembly manual on how to put it together.

Preparation in printmaking is a key element to rolling out a successful project. As printmakers, we love every part of the intricate process. We also love sharing how things are made, allowing our audience another perspective into the creation of the work.

Next time you visit an exhibition and take in the wonderful art on the walls, take a step back and try to imagine what the preparation of that project looked like.

Smooth preparation results in easy execution and a delicious result – now I'll go and eat my chocolate cake.