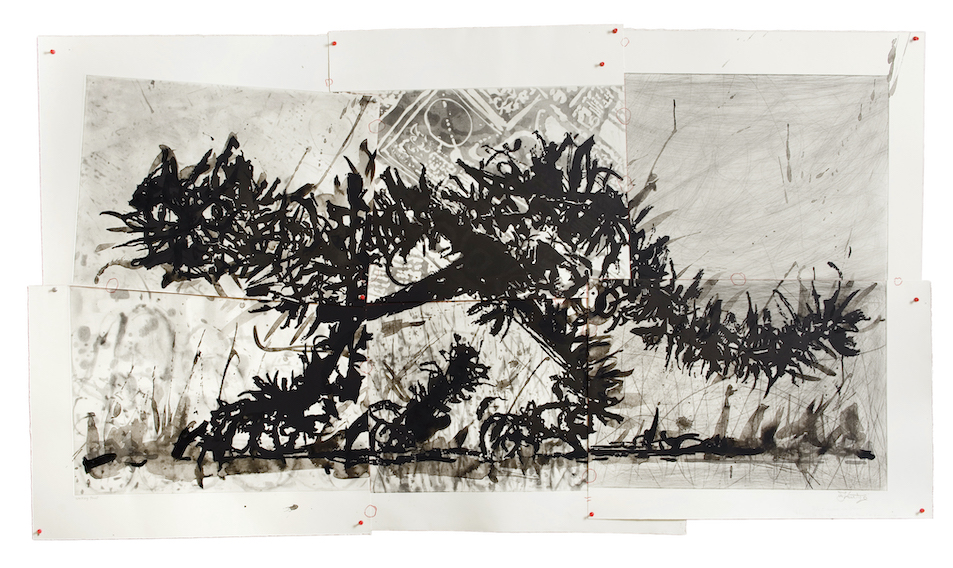 In 1997, the first major publication on Kentridge's work was published in CD-ROM format by David Krut. Since then, David Krut Publishing has released numerous books about the artist's work, including William Kentridge Prints in 2006, which is the first book to give an overview of Kentridge's printmaking career up to that point.
In total, David Krut has published more than 300 print editions with Kentridge. Kentridge has had more than eight solo exhibitions with DKP and been included in many group exhibitions in Johannesburg, Cape Town and New York over the years.
Collaboration History
The relationship between William Kentridge and David Krut began in 1992, when the pair met casually at the opening of an exhibition at The Market Theatre Gallery in Johannesburg. Kentridge was due to visit London for his first exhibition of drawings and prints at the Vanessa Devereaux Gallery in the Portobello Road area of London. Krut, who was based in London at the time, had developed a working relationship with master printer Jack Shirreff dating back to 1981 and he invited Kentridge to visit Shirreff at his 107 Workshop in Wiltshire to explore making very large copper plates, which would allow the artist to create editioned work on a scale that was not available to him in South Africa.
From that point on, Krut became one of Kentridge's primary publishers, working with him on print editions as well as book and other publications. Some of the early publications include the iconic large-scale Heads series, the General and Iris prints; the HMV series, the Baedecker series and Atlas Procession series. In 1998, Krut was the first to bring Kentridge's work to the USA in exhibition in Chicago, through which Kentridge's work was placed in many important museum collection, including the Museum of Modern Art. Krut continued this promotional activity with exhibitions in the USA, including in New York  and Washington, throughout late-1990s and early-2000s.
After Krut established his own print workshop in Johannesburg in 2002, Kentridge became a frequent collaborator with Master Printer Jillian Ross (and before her, Randy Hemminghaus) and her team at David Krut Workshop (DKW). Kentridge has worked with DKW on various large-scale print series including the Nose series from 2006-10, The Universal Archive from 2012-16 and the Triumphs and Laments woodcut series from 2016-19. Other collaborations include the Magic Flute series, Zeno Writing and various other prints that were created alongside Kentridge's ongoing theatre and film productions.
Biography
Kentridge, who was born in 1955 in Johannesburg, South Africa, is a multidisciplinary artist – a printmaker, a director of theatre and opera, a draughtsman and an animation filmmaker. One might call him a maverick of the arts for the unparalleled ways in which he combines old and new artistic mediums, such as film and charcoal. While he does not define himself as a "political artist", Kentridge is widely regarded as the go-to contemporary South African artist whose work cannot be detached from his country's recent history and fraught present.
While many artists dabble in printmaking on the side of their practice, Kentridge is a modern pioneer in the medium – drawings and theatre projects regularly emerge from his prints, and vice versa. For Kentridge, printmaking is in itself a multi-disciplinary practice, considering an "etching as an extraordinary, ridiculously complicated form of animation," knowing that a single plate will constantly be reworked, resulting in several different states.
One of the key characteristics of Kentridge's practice is the inter-relatedness of his various forms of work. Often he is working on a multitude of projects simultaneously and so the works on one medium inform works in another, and there are strands of narrative running from project to project. When he is producing an opera, it's probable that he is doing some drawings and prints on the way. The Nose series, for instance, was inspired by the adaptation of Shostakovich's opera, The Nose, that Kentridge did for Metropolitan Opera New York, and contains traces of that as well as the previous opera – Mozart's The Magic Flute – print projects, such as L'Avanzata Inesorabile, and projects yet to come.
As the winner of countless awards and honorary titles, Kentridge is considered one of the most important artists working today. His extraordinary range is acknowledged and credited for having "followed its own unique path, irrespective of contemporary fashions" (Ben Eastham for Apollo, vol. 182, no. 637, Dec 2015).
Kentridge's work is placed in hundreds of collections worldwide.
Related blog posts:
Kentridge does a DKW walkabout with Harvard University Art History postgrads,
The Refusal of Time at The Metropolitan Museum of Art,
Nose and Other Subjects travels to Syracuse University Art Gallery.
Related articles:
William Kentridge: Officially Africa's Most Powerful Artist,
Black & White: Interview with Kentridge,
Kentridge plans massive, vanishing mural in Rome
Ink | Thinking Aloud: The Prints of William Kentridge
Billboard art makes the questions bigger
William Kentridge: Star of the art world at Deichtorhallen
For related videos, take a look at the William Kentridge Playlist on the David Krut Publishing & Projects YouTube Channel
For related books, CLICK HERE.