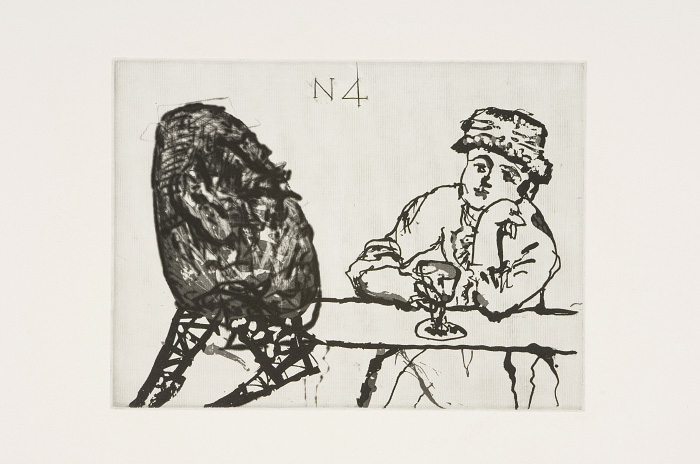 NOSE IN LOVE
The Nose follows the familiar route from Titian to Manet, though I cannot remember whose Olympia I was looking at. Postcards of both were on the table. At the start of his journey in the world, I flipped through boxes of old postcards collected from museum visits over the years, taking some out to use in duets with The Nose. Manet was there with both the Olympia and the lady of the beautiful thick fingers and the beautiful pink hat. Picasso and Degas stayed in. Many hundreds of other possible stopping places were left out.
Image before thought is always the principle, in the hope that somewhere behind lack of thought is some other impulse that combines stupidity and insight. In a sketchbook, one accepts happily an unreflective provisionality. On the hard copper it is expected that an image take responsibility for itself. And some do. But always the hope is for an image that refuses cross-examination, is impervious to it.
This text by William Kentridge appears alongside the illustration of this print in William Kentridge Nose: Thirty Etchings, edited by Bronwyn Law-Viljoen and published by David Krut Publishing in 2010.
Artist:
---
Title:
Nose 4
---
More about:
---
Year:
---
Artwork Category::
---
Media & Techniques:
---
Printer:
---
Edition Size:
50
---
Image Height:
40 cm
---
Image Width:
19.9 cm
---
Sheet Height:
35 cm
---
Sheet Width:
40 cm
---
Framing:
Unframed
---
Artwork Reference:
1110
---