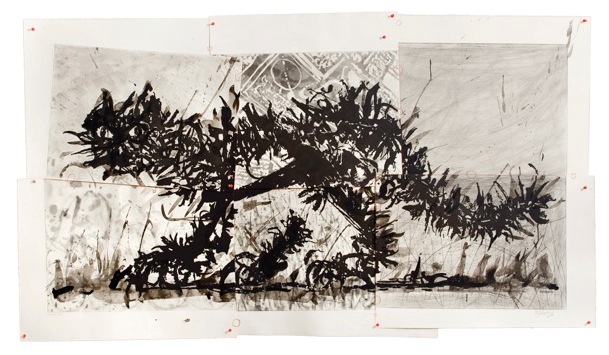 When William Kentridge was around six years old, the artist Cecil Skotnes presented the Kentridge family with a print depicting the image of a cat for Christmas. That particular cat image stayed with Kentridge – both because it seemed to him to be a self-portrait of Skotnes, with his moustache whiskers and his bright, cat-like eyes; and also because it changed the way that Kentridge saw cats (the animals themselves).
Cats have become a recurring motif in Kentridge's work, all of them in one way or another indebted to that first Skotnes cat. Over many years Kentridge has drawn, sculpted and printed cats; two spiky steel cats even stand as guardians on top of his front gate and another above his studio door.
Scribble Cat is very much in the honourable lineage of these cats. Its form – an imperfect puzzle of multiple overlaid pages – follows from drawings Kentridge was making at the time in which multiple fragments (often on found book pages) are pieced together to make a whole. The disjunctive background treatments across the different pieces are pulled together by the cat, and the tension between fragmentation and coherence gives the print its taut, feline energy.
Scribble Cat was originated by Kentridge in August 2010, in collaboration with Jillian Ross at the David Krut Print Workshop, which had relocated just before then to its current facility at Arts on Main in the City and Suburban precinct of downtown Johannesburg.
The work consists of six separate sheets printed from six copper plates. At one point in the proofing process Kentridge, publisher David Krut and the workshop team were standing together assessing the latest proof, which the artist felt was very static. The six sheets on which the plates had been printed were all lying exactly next to each other in two rows of three in a standard grid format. With a single deft movement, Kentridge shifted the top left print, placing it at a jaunty angle and thereby breaking the grid. This decision created the tension and movement – the arch of the cat's back, the subtle postural nuances – that were lacking previously. The sheets were meticulously cut and shaped in order to accommodate the angle, and registration marks were added in the form of red pencil crayon lines and circles, to guide the assembly of the work. This method of working with separate sheets brought together at different angles formed a foundation for the production processes employed in the Universal Archive series of linocuts that began in 2012 and became increasingly elaborate over the course of four years.
Text – Jacqueline Flint
DK Inside Story | David Krut talks briefly about the large-scale etching by William Kentridge titled 'Scribble Cat' which was published by the David Krut Workshop at Arts on Main in 2010.
Artist:
---
Title:
Scribble Cat
---
More about:
---
Year:
---
Artwork Category::
---
Media & Techniques:
---
Edition Size:
30
---
Sheet Height:
102.2 cm
---
Sheet Width:
180 cm
---
Availability:
Available
---
Framing:
Unframed
---