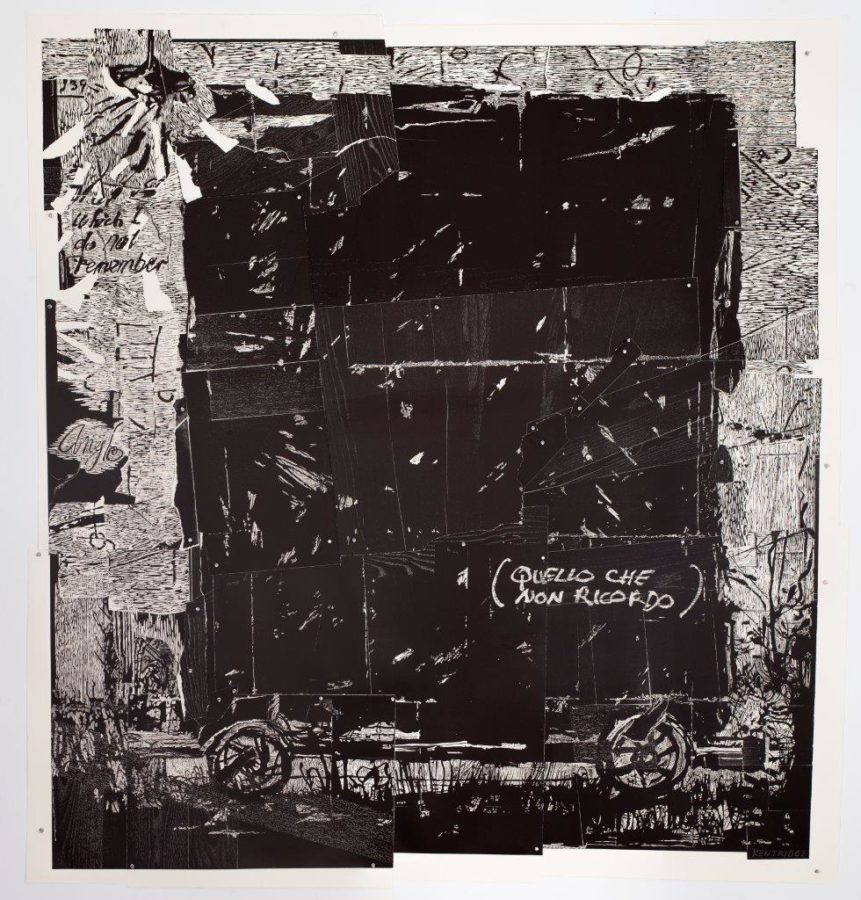 That which I do not remember is the fourth print in the Triumphs and Laments Woodcut Series. Both within the print series and the frieze on the banks of the Tiber River, the image serves as a pinnacle work owing to its resonance with key conceptual components of the project. However, the image was not conceived as such beforehand, arising instead from a shrewd response to an oversight during the installation of the frieze. During the installation of the work, with pressure-cleaning in full swing, and nearing completion of the 550m stretch, Kentridge realised that there was a section of wall which had been overlooked. No image existed for 12 metres of space, and it was too late to create new stencils. And so a massive black, blank square, simply inscribed with the words quello che non ricordo – 'that which we do not remember' – became the image occupying that portion of the embankment. Just like the dirt that holds the history of the city and is erased in the process of making the work, this mass functions as a break in the historical record, a reference to what Kentridge has described as "a personal loss of memory, [but also] the things that society wants us to forget, a sort of  'fill in what you want' for what we do not want to remember."
Kentridge has elaborated on the proliferation of associations that began to spring up after the creation of the image – eclipses, for instance, of sight or of memory; the blackness of Indian ink; Malevich's black square which, despite having changed the course of art history, also had "inauthentic origins" as a fragment of cloth from a whimsical theatre costume; the sticky black printer's ink, known as caviar, used by the Soviet Union as part of censorship procedures to black out undesirable text and images.
In the print the reference to blacking out – or to forced forgetting – is entrenched in the process of creating the work, because the ink used to print the blocks is so similar in blackness and viscosity to the Soviets' caviar. In the print, a rickety trolley appears underneath the black mass, inferring an ever-present tendency to negotiate with versions of truth, as if we carry our forgetfulness – forced or otherwise – through the ages.
Text – Jacqueline Flint, 2020
William Kentridge talks about the making of 'That which I do not remember' at the opening night of  'The Making of That which I do not remember' in February 2019.
Artist:
---
Title:
That which I do not remember
---
Year:
---
Artwork Category::
---
Media & Techniques:
---
Printer:
---
Edition Size:
12
---
Sheet Height:
210 cm
---
Sheet Width:
200 cm
---
Availability:
Available
---
Framing:
Unframed
---