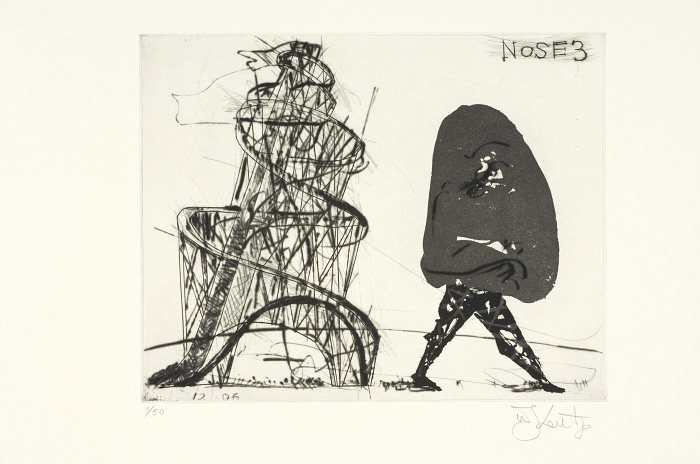 TATLIN'S GHOST 
The Nose with Tatlin's Monument to the Third International. Let us count the steps of remove.
Tatlin's plan was for a 400-metre high monument made of steel and glass. The design was obviously influenced by the Eiffel Tower. In the original plan, there would be four revolving forty-storey buildings inside a double helical steel structure—a chamber of deputies, a concert hall, if memory (or my imagination!) serves me correctly.
This monument was never built—of course. But a six-metre- high model was made and paraded by art students around the streets of Petrograd. Remember St Petersburg, the old Czarist capital, was renamed Petrograd in 1914 to sound less German, and then Leningrad after Lenin's death, and since 1991 has once again been St Petersburg.
There is a film of the second copy of this model of the monument being paraded.
There is a photograph of a still from this film.
There is memory of this photograph—in fact of several photographs.
There is a drawing of this memory in condensed milk and Indian ink and drypoint on a copper plate.
There is a print—reversed—of this drawing.
There is a photograph of this print.
Here on the page opposite is a print of the photograph (of the print of the drawing of the memory of the photograph of the film of the model of the idea of Tatlin).
This text by William Kentridge appears alongside the illustration of this print in William Kentridge Nose: Thirty Etchings, edited by Bronwyn Law-Viljoen and published by David Krut Publishing in 2010.
Artist:
---
Title:
Nose 3
---
More about:
---
Year:
---
Artwork Category::
---
Media & Techniques:
---
Edition Size:
50
---
Sheet Height:
35 cm
---
Sheet Width:
40 cm
---
Availability:
Not Currently Available
---
Framing:
Unframed
---