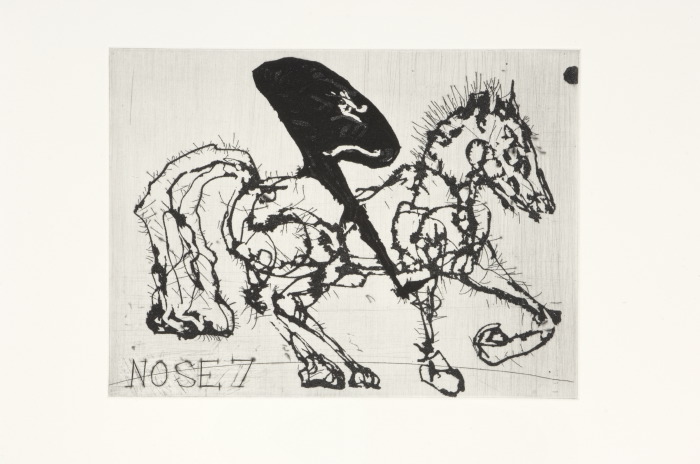 IN SEARCH OF CIVIC GLORY
A horse is exactly the right scale for the magnification of a man, for making him magnificent. A man on a chair or a table is ridiculous. On a pedestal we begin to let him grow. But put the man on a horse—and preferably a horse on a pedestal—and you have a hero or a tyrant, at any rate someone who has made a name for himself. A horse fits so snugly under the legs. It feels not just connected to a person, but part of him, an extension of him to show who he really is.
I had been wanting to make tabletop equestrian statues. At about the same time I started working on the opera The Nose, and was contemplating what activities The Nose, now independent of the face of Kovalyov, could participate in. The Nose, we knew, was a higher rank than Kovalyov, gave itself airs and—why not?—had civic ambitions. An equestrian monument would do it well. In the sculptures I was primarily interested in the horse part. But these horses needed a rider and The Nose was pressed into service.
This text by William Kentridge appears alongside the illustration of this print in William Kentridge Nose: Thirty Etchings, edited by Bronwyn Law-Viljoen and published by David Krut Publishing in 2010.
Artist:
---
Title:
Nose 7
---
More about:
---
Year:
---
Media & Techniques:
---
Edition Size:
50
---
Sheet Height:
35 cm
---
Sheet Width:
40 cm
---
Availability:
Not Currently Available
---
Framing:
Unframed
---