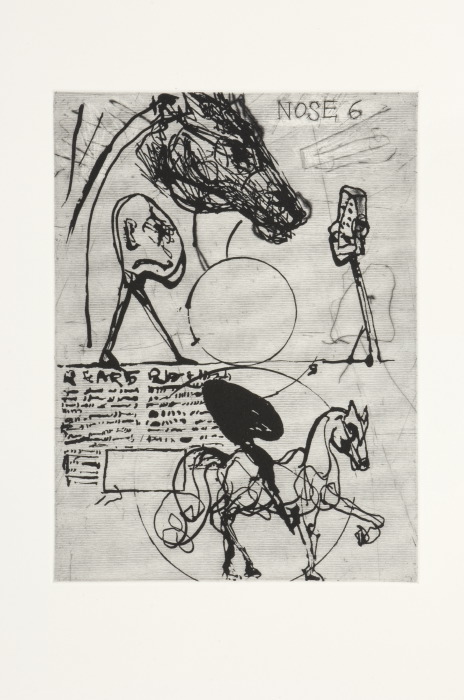 SKETCHBOOK
This is a page of a drawing-book I was using to make notes about the series of etchings. The Nose with a microphone (image abandoned); a newspaper page (used). Nose on horseback (ditto). I tried to reproduce the sketchbook page as accurately as I could, to try to pin down the moment of an image emerging.
Wait. This is rubbish. There is no equivalent page in a sketchbook. These notes are written many months after making the image. I cannot remember what I was thinking when I made the etching. Maybe testing whether a dipping-pen nib would work with the thick condensed milk and ink mixture. Seeing if I could use the nib in a compass to draw the circles. And then deciding to keep this rough plate and etch it. To etch the plate as it was. To show the etching before the etching.
This does sound more convincing to me. But it is as untrustworthy as the first explanation—or the other notes here.
This text by William Kentridge appears alongside the illustration of this print in William Kentridge Nose: Thirty Etchings, edited by Bronwyn Law-Viljoen and published by David Krut Publishing in 2010.
Artist:
---
Title:
Nose 6
---
More about:
---
Year:
---
Artwork Category::
---
Media & Techniques:
---
Edition Size:
50
---
Image Height:
35 cm
---
Image Width:
14.8 cm
---
Sheet Height:
40 cm
---
Sheet Width:
35 cm
---
Framing:
Unframed
---
Artwork Reference:
1112
---