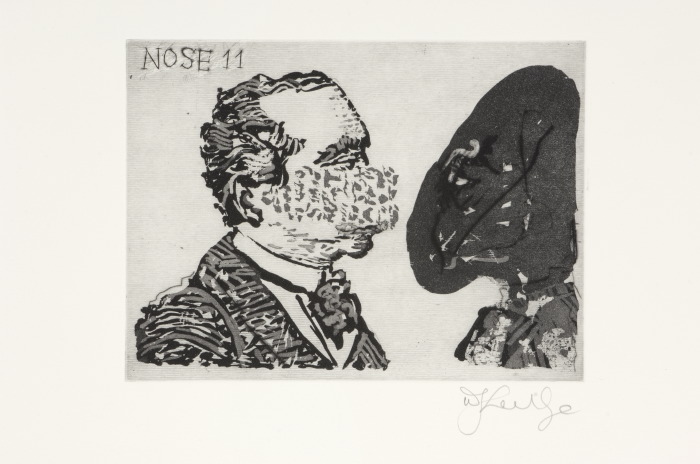 BAD DISGUISES I
There is a general principle in theatre for working with masks. A mask works by making us focus on everything that is not the mask. The immobility of a mask makes us concentrate on the movement of the body (this is the same in puppetry). A simple hand gesture performed by someone in a mask is enlarged. We see every nuance of it with a surprising clarity, which has been provoked by the very immobility of the mask.
The red ball of a clown nose is a miniature mask. We think we focus on the nose, but in fact the red nose works by focussing our attention on what is around it.
I cannot remember on whose portrait I based the image of Kovalyov in this print. From his tie I would think it comes from an engraving in the Illustrated London News of the 1870s.
This text by William Kentridge appears alongside the illustration of this print in William Kentridge Nose: Thirty Etchings, edited by Bronwyn Law-Viljoen and published by David Krut Publishing in 2010.
Artist:
---
Title:
Nose 11
---
More about:
---
Year:
---
Artwork Category::
---
Media & Techniques:
---
Edition Size:
50
---
Image Height:
40 cm
---
Image Width:
19.9 cm
---
Sheet Height:
35 cm
---
Sheet Width:
40 cm
---
Framing:
Unframed
---
Artwork Reference:
1121
---