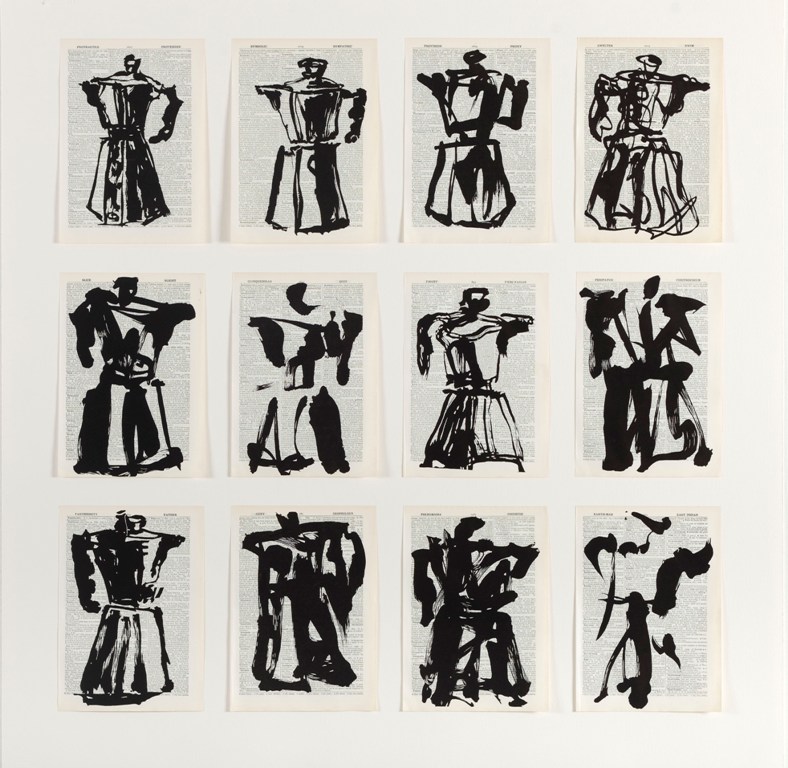 In the works assembled from multiple single images attached to one large backing sheet, a key trope of the project is clearly visible in the progressive deconstruction of figurative images into abstract collections of lines, or other figurative images altogether, which are nonetheless still suggestive of the original form – in this case, a coffee pot. This movement from figuration to abstraction and back places this body of work at an interesting intersection between printmaking and animation.
"There are some print technologies and mediums which are really good with alteration – like etching soft copper – as opposed to lithography, for example, altering which is very laborious. In ink wash linocuts, the alteration happens largely before the print is made; many variations, many paintings, things collaged and put together, are then consolidated into the cut. Or one pursues a form of variation where, rather than saying, 'I need to get one perfect coffee pot,' you make forty different coffee pots. You take a simple image and see how far it can be reduced to a series of simple calligraphic marks before it disappears. If you start with a relatively naturalistic drawing of a coffee pot, then your brush marks get faster, the thickness of the brush grows, and the number of brushstrokes gets reduced; then, after 15 prints, you end up with something that is only recognizable as a coffee pot if you see the complete series of images. If you came across the final image by itself, it would appear as some kind of unknown Chinese character."
This commentary by William Kentridge comes from a conversation with Kate McCrickard in A Universal Archive: William Kentridge as Printmaker, published 2012 by Hayward Publishing and David Krut Publishing, page 28.
Artist:
---
Title:
Universal Archive (Twelve Coffee Pots)
---
More about:
---
Year:
---
Artwork Category::
---
Media & Techniques:
---
Edition Size:
30
---
Sheet Height:
105 cm
---
Sheet Width:
103.5 cm
---
Availability:
Available
---
Framing:
Unframed
---