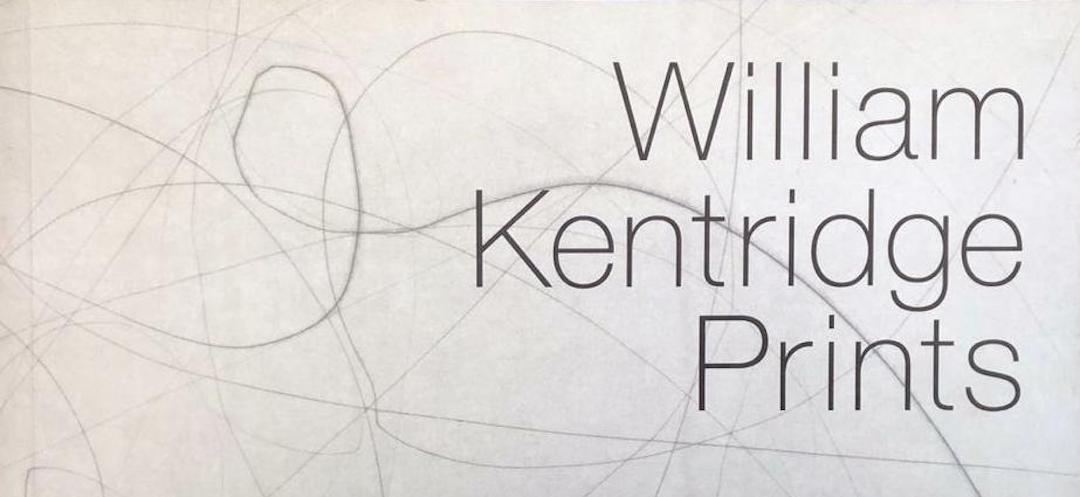 David Krut Publishing, in association with the Faulconer Gallery at Grinnell College, Iowa is pleased to publish William Kentridge Prints. In October 2004, the Faulconer Gallery mounted an exhibition of Kentridge's prints that included loaned works and an important body of the artist's prints from the Grinnell College Art Collection. Kay Wilson curated the exhibition in collaboration with Kentridge and his assistant Anne McIlleron, and a substantial catalogue was produced. The exhibition travelled, in 2006/7, to other museums in the US. At the time a decision was made, given the opportunity afforded by the show, to expand the catalogue into a book that would include recently editioned and unique prints from the artist's oeuvre not available for the exhibition.
William Kentridge Prints is the first substantial publication on the artist to focus solely on his prints. It is not intended as a definitive catalogue but it includes as wide a range of Kentridge's prints as possible, from his earliest linocuts of the 1970s to the sophisticated drypoints created during preparations for a 2005 production of Mozart's The Magic Flute.
While Kentridge admirers and collectors are familiar with his films and drawings, knowledge of his prints is less extensive. This is partly due to a lack of understanding – in a world familiar with digital images – of original printmaking, and to the tendency of curators to exhibit Kentridge's films and drawings in preference to his prints. We hope that this book will lead to a renewed interest in printmaking in the same way that Kentridge's film drawings have revived interest in drawing at art schools around the world.
The book retains the catalogue essay by Susan Stewart and includes commentaries by Kentridge on his working process and ideas relating to the prints. These texts shed light on the thinking and methodology of an obsessive and highly sophisticated printmaker who has produced many etchings and prints in other mediums over the past twenty-five years.
William Kentridge has lived all of his life in Johannesburg, with his homes, schools, university, and studios inside a three-kilometer radius. He read for a BA in Politics and African Studies at the University of the Witwatersrand and between 1976 and 1978 studied etching with the late Bill Ainslie at the Johannesburg Art Foundation where he later taught.
In November 1978 he participated in Exhibition, a show of artists from Ainslie's workshop, at Gallery 101 in Johannesburg. In November 1979 his first solo exhibition opened at the Market Gallery, part of the Market Theatre complex in Newtown, Johannesburg that was the centre of the arts resistance struggle against apartheid. Exhibition included thirty monotypes created using a reductive process in which the artist opens up small areas on a plate covered with printer's ink that then show up on the paper as stark white against a dense black background. Since these earliest prints, Kentridge has demonstrated an interest in light, memory, and perspective and he has used the mark-making allowed by various printing processes to explore these concepts. The aggressive drypoint marks of Kentridge's prints are reminiscent of the lines of his charcoal drawings and, despite the differences between the two mediums, have always been recognisable as the work of the same artist.
Kentridge's second solo exhibition was in 1981 at the Market Gallery, and included a series of forty etchings entitled Domestic Scenes. Like many of Kentridge's prints, these address important social issues and are a satirical attack on the bourgeois existence made possible for white South Africans by apartheid. Kentridge etched the plate and editioned the works himself, but never completed the editioning.
In 1986 Kentridge began a working relationship with Malcolm Christian at The Caversham Press, a newly established professional print workshop in the village of Caversham in the KwaZulu-Natal Midlands. Their first project was Industry and Idleness, a suite of eight etchings based on William Hogarth's series of the same name and featuring real-life characters in a poor area of Johannesburg. These works were part of a collaboration with Robert Hodgins and Deborah Bell, two other Johannesburg-based artists. The second project at The Caversham Press with Bell and Hodgins was Little Morals, published in 1991. The series took its title from Theodor Adorno's Minima Moralia and its subject from the volatile atmosphere of South Africa in the throes of political change.
In February 1992 I met Kentridge during a visit to Johannesburg and he mentioned a solo exhibition he was to have in London in May. I suggested that during his trip he visit a print workshop with which I had a collaborative relationship, where he would have an opportunity of making large etchings. The possibility of working in this facility appealed to Kentridge as he had previously had to print his large plates himself. The visit to master printer Jack Shirreff at 107 Workshop in Wiltshire led to the origination of several copper plates that were worked further during subsequent visits and editioned over five years. Variations of these works, Head and General, are included in this book.
The lack of a professional etching workshop in Johannesburg led Kentridge to visit international intaglio workshops whenever he had exhibitions abroad. With more and more such exhibitions, arts audiences were becoming aware of his works on paper, and there was growing interest in his painstaking, antiquated way of making animated films. The editioning of prints made it possible for a wide audience to appreciate the relationship between his works on paper and his film and theatre creations. The Felix in Exile etching, for example, may be seen as a storyboard for a film of the same name. Collaborative projects with Bell and Hodgins, with whom he made a short film for the 1997 Johannesburg Biennale, also led to wider experiments with film.
By 1996, South Africa had had its first elections and was on the road to establishing a new democracy. The Truth and Reconciliation Commission had begun unearthing atrocities committed during the decades of the struggle against apartheid and extending amnesty to applicants from all quarters of the political spectrum. It was in this highly charged atmosphere that Kentridge, Hodgins, and Bell began another collaboration at The Caversham Press that resulted in a third portfolio of etchings. The images created for this series led to Kentridge's theatre production of Ubu and the Truth Commission and a film backdrop shown in Kassell, Germany at Documenta X. The film, like others by Kentridge, was made through a process of drawing, photographing, erasing, and redrawing. His work at this point was attracting the attention of a wide audience.
In October 1999 Kentridge had just returned from Italy with various old books that he had purchased, including some Baedeker travel books on northern Italy. Earlier that year he had created the series of etchings Sleeping on Glass that were printed on double sheets of text from books he had contemplated giving away or destroying. I suggested a visit to the only professional artists' lithography workshop in Johannesburg, The Artists' Press, which led to Kentridge's first lithographic editions using pages from the Baedekers. This was the start of an ongoing relationship between Kentridge and printer Mark Attwood that, in due course, allowed Attwood to terminate his commercial printing activities and return to the artist's collaborations for which he had trained at the Tamarind Institute in New Mexico. A highlight of the work with Attwood was Portage. Like the Baedeker and Sleeping on Glass series, this work utilised the pages of a book, this time Le Nouveau Larousse Illustré Encyclopaedia.
In 2002 I invited Randy Hemminghaus, a New York-based Canadian printer, to South Africa to work on photogravures with artists in Johannesburg. We based the project at the University of the Witwatersrand but their presses could not handle the pressure needed for photogravure plates. I acquired a press from retired printer Egon Guenther and set up the David Krut Print Workshop in Johannesburg where Hemminghaus proofed the photogravures. Once the proofing of Kentridge's plates was done, Hemminghaus would take them to Kentridge who, becoming enamoured with the combination of photogravure and drypoint, kept adding drypoint lines.
At the same time, Kentridge was working on the theatre production, Confessions of Zeno, based on a book by Italo Svevo. He created a film that was to be the backdrop for Confessions of Zeno, and the images for Zeno Writing and the subsequent Zeno II were drawn from this film, which included projections of puppets and found World War I footage. Zeno Writing was editioned by Hemminghaus in New York.
During a residency at Columbia University starting in late 2002, Kentridge explored the photogravure process further with Hemminghaus, working on larger, highly polished plates to create Zeno II. Kentridge again worked the plates extensively with drypoint lines drawn directly into the plate. Excited about the velvety texture that Hemminghaus managed to elicit from the drypoint lines, Kentridge asked him to further proof two plates that he had created at his studio in Johannesburg. Two works, Four Instruments and Panther, were editioned in New York by Hemminghaus.
This collaboration led to the establishment of David Krut Projects, a gallery in Chelsea attached to Hemminghaus's etching studio, Galamander Press. Hemminghaus subsequently closed Galamander Press to take up the post of master printer at the Print Center at Rutgers University. Prior to that he visited Johannesburg to help develop David Krut Print Workshop and collaborate with Kentridge and other artists invited to the Workshop.
In 2004 Kentridge was engaged in developing his production of Mozart's The Magic Flute, to premiere in Brussels in 2005. At the same time, he was creating the copper plates for the Thinking Aloud series. Working on various related projects, in different mediums simultaneously, is not uncommon for Kentridge, and the prints in Thinking Aloud are a distillation of this process.
The swirling drypoint marks of these prints, their references to the characters in Mozart's opera, and the subtle interplay between text and image demonstrate Kentridge's extraordinary command of this medium and his ability to incorporate ideas generated by a major theatrical production in works on paper. I trust that this book will draw attention to the work of William Kentridge and to the collaborative and creative possibilities of printmaking.
David Krut – William Kentridge Prints, 2007