Watch The Philips Room (2020) by William Kentridge being wiped and printed by editioning printer Kim-Lee Loggenberg, with a helping hand from Sbongiseni Khulu, at the David Krut Workshop, Arts on Main Johannesburg 2020.
Filmed and edited by Marisha Flovers.
What is on the studio walls
A new series of photogravure prints began as photographs taken in Kentridge's home studio in Johannesburg, in part as documentation, and in part as a personal reflection of the life that unfolds on the studio walls. They exist as part of Kentridge's development of a new series of short episodic films relating to the life of the studio, and his 11th animated film for the ongoing Drawings for Projection series – City Deep – being released online in October 2020. The film features the drawn interior rooms of the Johannesburg Art Gallery (JAG), ebbing and flowing and finally collapsing in on themselves. The history of the JAG and its ongoing struggles with maintenance and repair is common knowledge with the film sadly telling of current times in South Africa.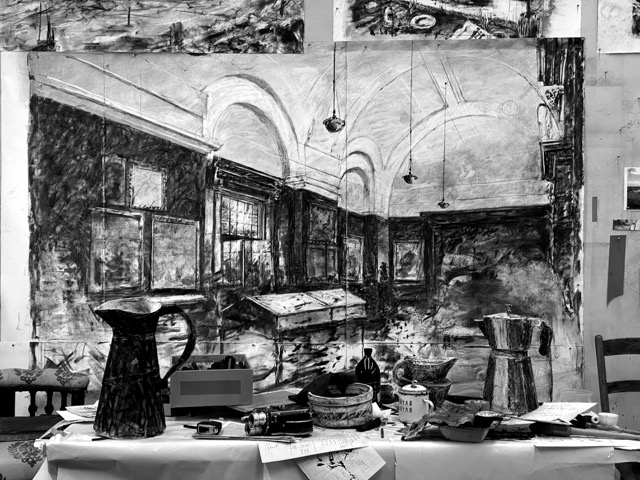 In The Philips Room, the first photogravure to be released, Kentridge has placed a still life in the foreground with a charcoal drawing, made for City Deep, of the Philips Room in the Johannesburg Art Gallery hanging behind it. The water jug, espresso coffee pot, milk jug and other items make up the scene of larger-than-life paper sculptures made in the artist's studio. They have been created and used for reference in an ongoing number of charcoal still lives created during the lockdown and filmed for part of Kentridge's next set of films. The images draw on the wonderful still life imagery of the great Italian painter and printmaker Giorgio Morandi.
Kentridge's new series of films is made up of 12 episodes about life in the studio, the third episode having already been completed in mid-August. Each film in the series, aptly titled Studio Life, will be 40 minutes in length and will include aspects of drawing, of performance, of daily life – all insights into life in, and the life of, the studio.