The David Krut Workshop is excited to announce the arrival of Lesotho-based visiting artist, Patrick Rorke, as he collaborates with our team of printers during a short residency this week. Watch this space for daily updates on the artist's time in residency and his interaction with DKW.
Patrick is exploring the technique of painterly prints in the form of monotypes at our workshop space in Maboneng as a precursor to his solo exhibition at The Blue House, 151 Jan Smuts Avenue, on Saturday the 24th of October 2020. For this exhibition, a selection of his never-before-seen paintings and drawings will be on show, with an opportunity for visitors to meet the artist himself on opening day. Patrick usually works on canvas and in clay, which makes this printmaking collaboration a first for him in many regards.
Day 1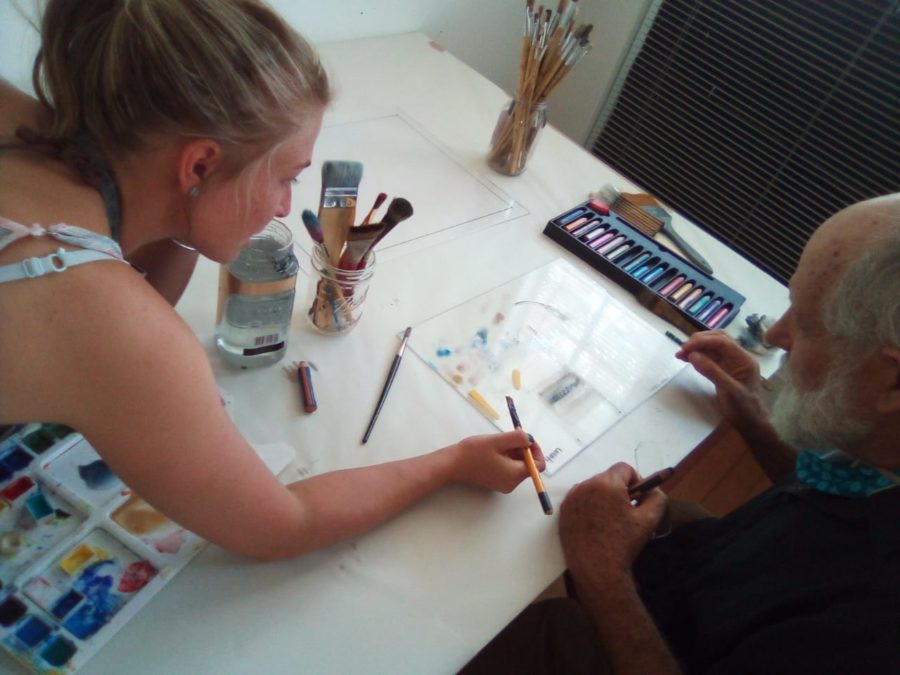 During his first day at DKW, Printer Roxy Kaczmarek took Patrick through the technique of monotype printing and went over a range of technical ideas for him to experiment with. Patrick took to the process enthusiastically, using his first time at the workshop to create test prints: a watercolour monotype and a multi-layered oil-based monotype.
In one of the tests, Patrick worked in lithographic ink, making marks concurrently with a roller and paintbrush, a tool he is all too familiar with, being a true expressionist at heart. Patrick virtually zoomed through his first day, trying his hand at printmaking and let's just say, he has taken to it like a duck to water.
From the artist:
It is always hard to begin working right away in a new studio and in a new setting. There is much to familiarise oneself with. New materials, new approaches and the collaboration with strangers. Of course there is also the fact that one wants to begin grappling with fresh ideas. Doing more of what one always does seems disrespectful and against the ethos of such a venture.
So I began. Roxy, a printmaker at the workshop showing me how to make prints from watercolours. I have never seen this before and was very pleased with the results. Or, should I say, with the potential results. My first prints were hesitant, I had disguised the hesitancy with heavy shading. Not marvellously successful, but showing where my investigations should go.
I came away from the first day happy, secure in the knowledge that I had not blundered too seriously in my initial attempts, knowing that day two would offer fresh opportunities.
---
Day 2
It was an interesting day of stop-motion pictures and watercolours as visiting artist Patrick Rorke sat down for his second day in residence at the David Krut Workshop in Maboneng. Patrick created three watercolour plates on perspex, which is a commonly-used surface for monotypes. A watercolour monotype is a form of printmaking made by painting on a smooth surface, such as metal or plexiglass. The image is then transferred onto a dampened sheet of paper using a printing press. This method allowed Patrick to build up the layers of paint incrementally and maintain the painterly feel and texture of his work.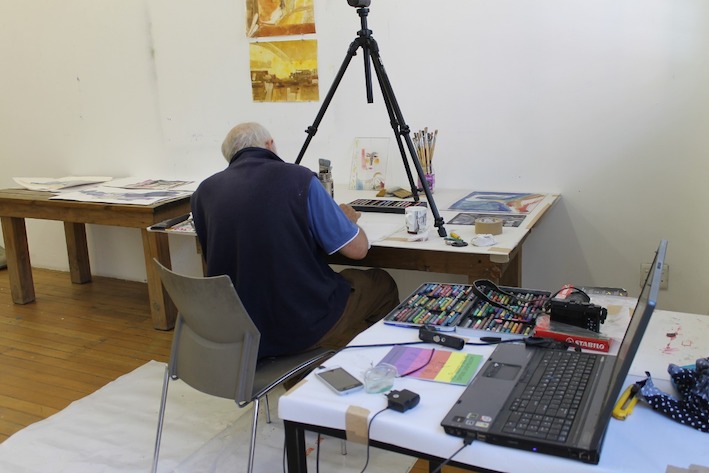 One of Patrick's technical tips when it comes to painting is to work with light behind the paper, as it brings a great deal of life into the simplest of colours and marks. The benefit of working on a transparent surface such as perspex is that paint applied can be very closely observed using only natural light. Patrick also created some interesting watercolour drawings, shown below. The reason for the tripod and camera above Patrick's desk is to take stop-motion photographs. We are excited to see what it will result in as Patrick, apart from working as a painter and ceramicist, also creates animations.
From the Artist:
Day two came and with it a lighter touch. I was kindly given beautiful watercolour paper to work on and almost with an enormous sense of relief alternated working on perspex with working on paper where I knew what the brush marks would do. I began, though, to feel more comfortable working on the perspex, flooding the surface with deep colour, almost like staining glass.
As with a diary, I followed the images that seemed appropriate. Qiloane. The city seen driving in to Johannesburg almost overcome with the clarity of what I was seeing. The city looking for all the world like a 1970s semi abstract painting. The city on perspex, dark, stubborn, unlovely but poetically resonant. Qiloane on perspex like water washing up to the shore. Then I went for lunch. I bought two packets of peanuts from an Indian shop owner. He seemed newly arrived, he spoke no English. I marvelled briefly at how he managed to run a business in such an unfamiliar and reasonably hostile environment.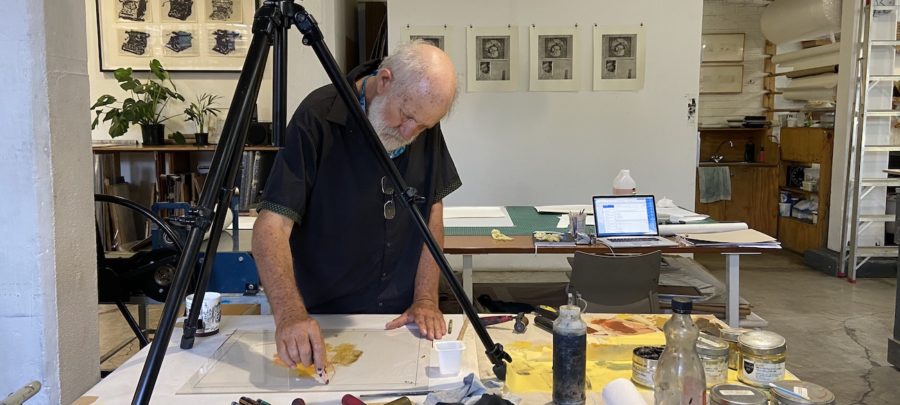 Later, drawing onto the perspex I realised that I was drawing the shop owner. He looked up from the perspex determined and yet perplexed. How did he see the city? There was about him an air of nobility, a nobility that would remain largely unnoticed and unremarked. I drew, next to the drawing of the shop keeper, a semi-abstract sculptural element. I soon realised that the sculpture was a sculptural portrait of the same shopkeeper.
I realised that I had perhaps stumbled upon a conceptual underpinning for the workshop. How many people can claim to have a sculptural likeness made of themselves? I began looking at everyone that I saw on the walk back to my quarters as potential subjects. The young girl battling to hold her skirt down in the wind. The guard at the flat. Flay-like, unmoving, always there. A thankless existence, but one perhaps more deserving of a sculptural likeness than some unpleasant politician.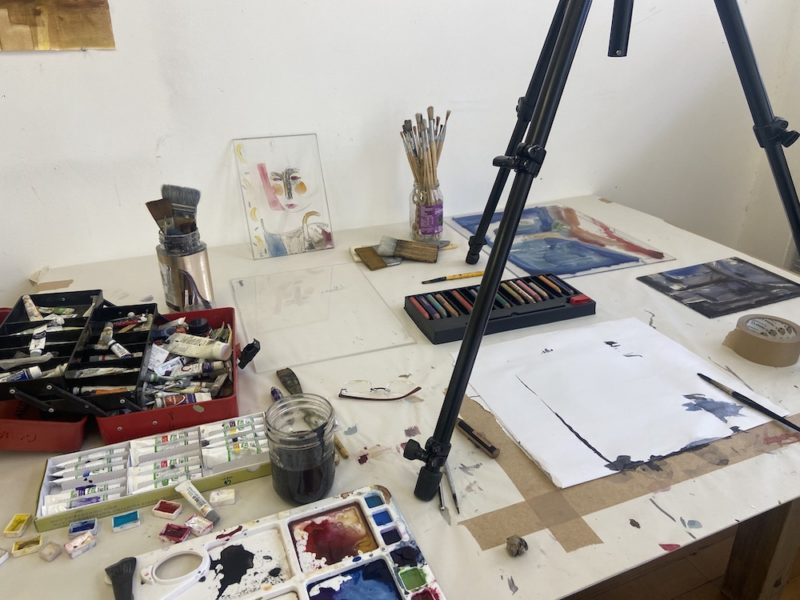 Well, perhaps not a sculpture. But at least the sketch of one.
So, I have now the germ of an idea, and the means to turn this idea into reality. Obviously the likeness of the people who inspire the sculptures to drawings of the sculptures will remain tenuous at best. I see the drawings as abstract sculptural elements. A conceptual underpinning and at the very least a way forward.
---
Day 3
It's day three of Patrick Rorke's residency and the watercolour plates he made yesterday were finally sent through the press. Sbongiseni Khulu, printer at the David Krut Workshop, assisted the artist by printing his three monoytpe plates, seen below. The end results are beautiful.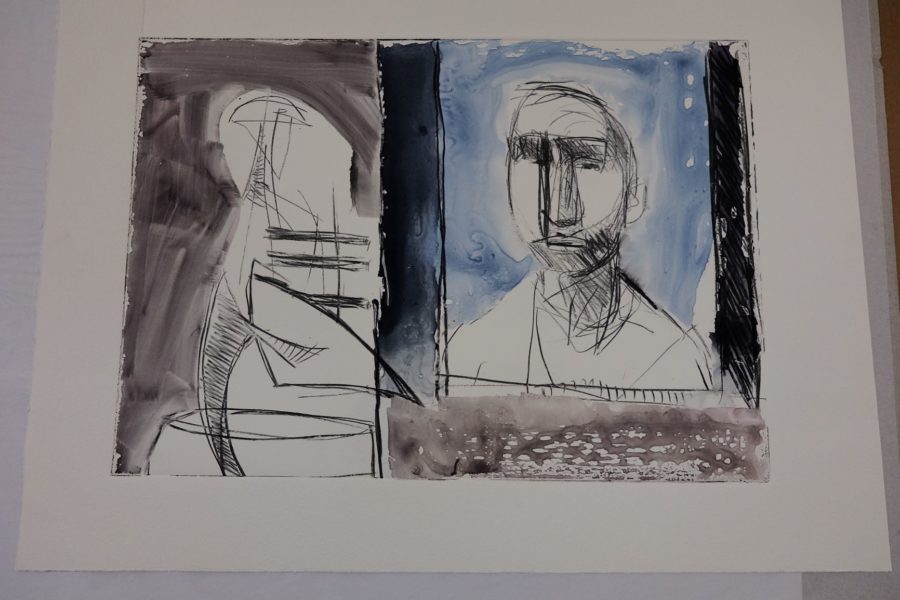 Patrick is very much inspired by his surroundings. Back home in Lesotho, he passes the same mountain every day as he leaves his home to visit the Kolonyama pottery studio. This mountain, along with numerous abstracted versions of it exist in many of Patrick's works. Now, the energy of Maboneng Precinct and bustling Jozi are definitely a source of inspiration for Patrick during his time here. He is also becoming more and more daring and has excitedly starting layering a couple of the watercolours with oil-based layers.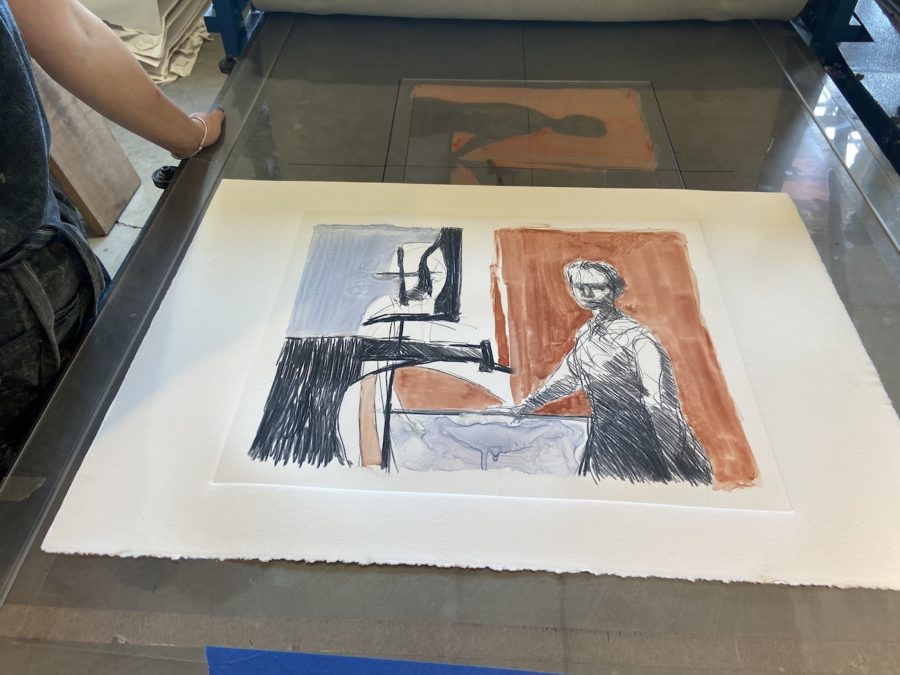 From the Artist:
The way forward. On my way back to the studio after some quick stops, I was waiting for the Rea Vaya bus to arrive when a young woman arrived and stood nearby. She was dressed in an overall, she had heavy boots on and looked as though she was busy with some heavy physical work. Work that men would normally do. She looked over her shoulder and I saw a real physical tiredness in her. She looked tired but very strong. I knew that I had found my second subject. I hurried to the studio to begin drawing. The drawing flowed smoothly. The paint took happily to the surface.
The time came to print the plates from the previous day. The shopkeeper and a simple drawing that I realise had the elements in it already of the pairings of portraits and sculptural elements. Today I was assisted by Sbongiseni who fussed over the press like a submariner ready to dive. All the delicate calibrations worked and the shopkeeper emerged perfectly. As did the small portrait. Incredible. I was and am very happy. I am impatient to see the second portrait. I begin to feel that I am near an open door and that I need to step through this opening with resolve: resolve and dispatch.
Tomorrow I will begin on the third portrait. Perhaps the doorkeeper. I need to break through his wall of stubborn impenetrability. I see a plate, a metal plate, dark and impervious. It becomes clearer in my head. Always a good sign.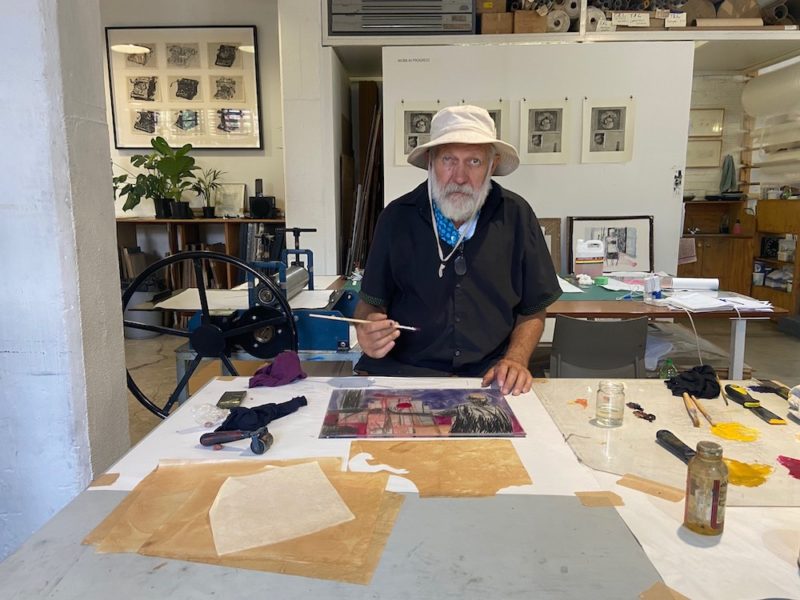 ---
Day 4
Patrick has begun to pick up speed with his monotype making at the workshop. His familiarity with oil paint made oil-based monotypes a natural technique for him to be drawn to but it is into the wonder of the watercolours that Patrick has been pulled. Printer Roxy Kaczmarek introduced another element for Patrick to play with, multi-layer printing and chine collé. Tea-stained sheets of thin Japanese Gampi paper are torn, drawn on and adhered in between paper and watercolour during the printing process.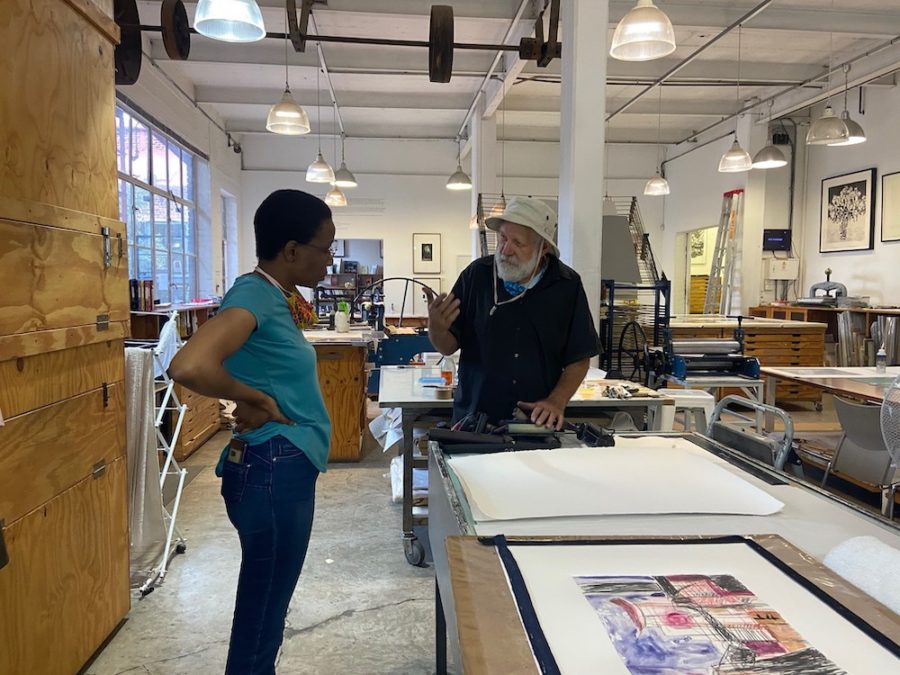 From the Artist:
One of the things that I enjoy most about staying in a flat in downtown Johannesburg are the sounds. There are snatches of many different languages that float up from the street below. I am, I realise, starting to put together a paean of some sort, a chant, a reaction, a reflection to this place. I will begin harvesting as I have sometimes done: sounds. I will begin seeing things less as still images but also as unfolding moving visuals. Because of this, my efforts at capturing the stop motion process of the work I am doing, is becoming more important.
Ke fumane monyetla o moholo. Ke ska se lahla.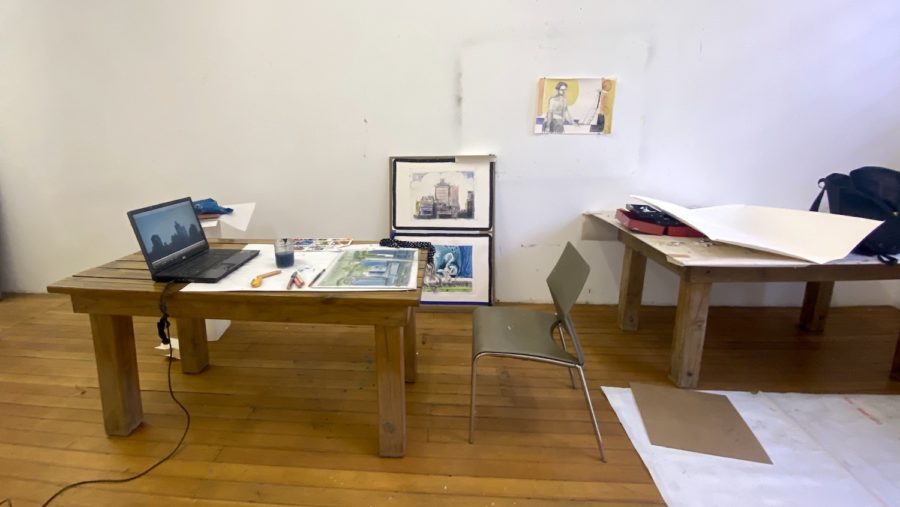 ---
Day 5
After a weekend break and meet-and-greet at the 151 Blue House Gallery in Parkwood, the workshop team are back at work to print another day.
Head down and brush up, Patrick continued to work on his series of narrative figures in the city, refining the watercolour monotype technique.