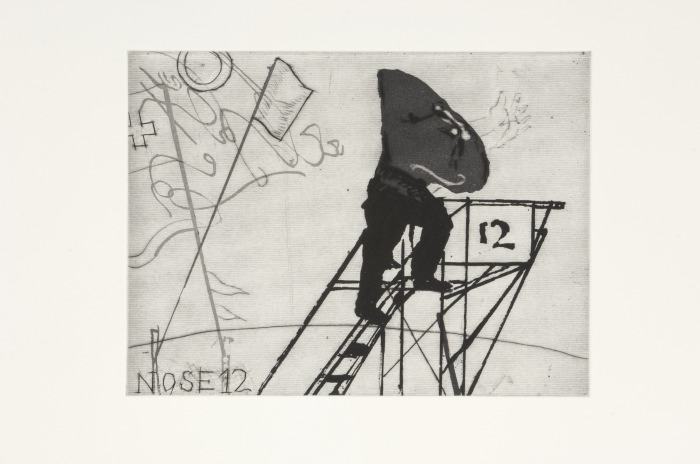 HIS MAJESTY, COMRADE NOSE
There is a famous photograph of Lenin, taken early in the October Revolution, standing on the balcony of the Bolshevik headquarters building in Petrograd. The building had been the villa of the ballerina Mathilde Kschessinskaya. This photo—or similar images—was the basis of El Lissitzky's design for an orator's podium, upon which it was hoped Lenin would continue his speech. The stairs and podium that The Nose uses in his ascent to the higher echelons of society is based on El Lissitzky's design, and was made using the stairs in my studio, with some extra construction lines added to the basic structure when it was animated. Many of the images of The Nose were based on photographs of legs in dark trousers, to which were added a paper cut-out nose. In the animation, The Nose reaches the top of the steps only to tumble down them again. In the etching, his moment of success is fixed.
This text by William Kentridge appears alongside the illustration of this print in William Kentridge Nose: Thirty Etchings, edited by Bronwyn Law-Viljoen and published by David Krut Publishing in 2010.
Artist:
---
Title:
Nose 12
---
More about:
---
Year:
---
Artwork Category::
---
Media & Techniques:
---
Edition Size:
50
---
Image Height:
40 cm
---
Image Width:
19.8 cm
---
Sheet Height:
35 cm
---
Sheet Width:
40 cm
---
Framing:
Unframed
---
Artwork Reference:
1122
---