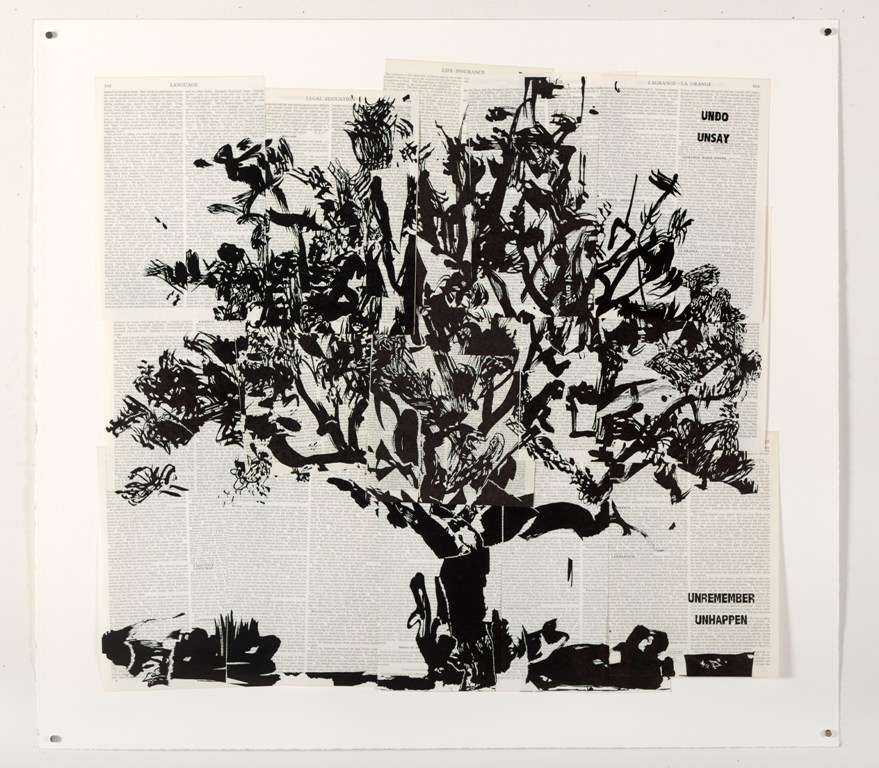 Universal Archive (Big Tree) was the first large multi-sheet work created in the Universal Archive series. For this work, William Kentridge and the David Krut Workshop team decided to carve the image in parts with linoleum plates sized to match the exact dimensions of the Encyclopedia pages they were to be printed on. The overlapping of the printed pages meant that layered areas of the image were carved twice, once on each layer. To achieve movement and a sense of effortlessness in the work, every aspect of the print was planned down to the tilt of the individual pages. The final act, and finishing touch happened when Kentridge decided to crop the bottom one sheet at a diagonal in an area where many sheets overlap. Master Printer Jillian Ross described this seemingly simple act as a magical moment that created movement and completed the work.
"The over determined branch: This is how the tree breaks. […] For the last year I have been drawing trees. […] I had Chinese brushes which hold their point for a while and then change, and the point splays out and makes a group of imprecise marks, rather than the clear calligraphic mark of the good brush. The bad brush suggests the plethora and the ordered randomness of leaves, or the feathery twigs at the end of a branch. There was a memory of some trees I had drawn in some charcoal landscapes in which I had been dissatisfied with the transformation of charcoal into foliage. Here was a chance to rescue those trees. The trees are grown. Pages of the encyclopaedia with trunks, with secondary branches, foliage, grass, shadows, sunlight on a trunk are collated and collaged to make the trees. The tree can find its form. Pages can be more or less overlapped, other pages added to change the shape."
William Kentridge, lecture notes from Humanitas Professorship, Oxford, May 2013
For more information about the presence of trees in Kentridge's work, listen this episode of the David Krut Podcast – The Thought Forest.
Artist:
---
Title:
Universal Archive (Big Tree)
---
More about:
---
Year:
---
Artwork Category::
---
Media & Techniques:
---
Edition Size:
30
---
Image Height:
77 cm
---
Image Width:
72.4 cm
---
Sheet Height:
82 cm
---
Sheet Width:
90 cm
---
Availability:
Available
---
Framing:
Unframed
---