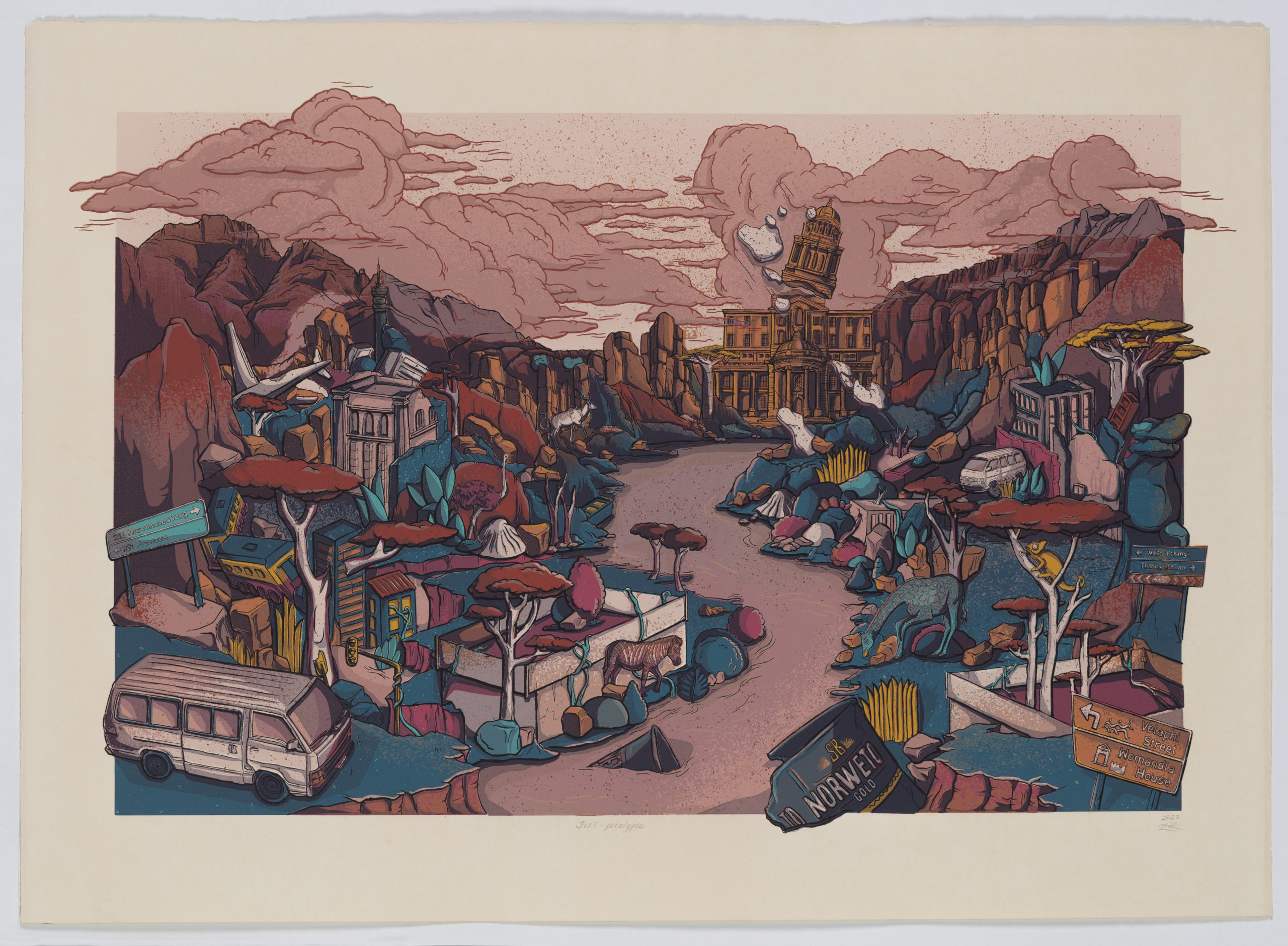 Collaboration History
Zhi Zulu started working with David Krut Projects (DKP) in 2018, featuring in the group exhibitions The Cat Show and Post This!. In 2019, she collaborated with David Krut Workshop (DKW), producing a silkscreen print together with printer Roxy Kaczmarek called Zebra Crossing. It was her first time being involved in printmaking and the print was later shown at Turbine Art Fair. This experience has led to a 5-part silkscreen series – The Curious Five which ran from 2019-2022. In 2023, DKW collaborated with Chocolate Ink Studio to create a new silkscreen print of Zulu's entitled JOZI-pocalypse which was launched at Turbine Art Fair 2023.
Zhi Zulu has also been the interview partner in two episodes of David Krut Podcast.
Biography
Zinhle Zulu who goes by the artist name 'Zhi Zulu' is a 20-something-year-old illustrator, lecturer and cultural visual story-teller based in Johannesburg.   Zulu obtained a Bachelor of Arts (Honours) in Visual Communication at the Open Window Institute as well as a Masters of Art in Design at the University of Johannesburg. In 2017, she won the Gold-craft Loerie award for illustration and was part of Design Indaba's creative class of 2019. Zulu has participated in various notable exhibitions, including the Turbine Art Fair (2019-2022) represented by David Krut Projects. She represented South Africa at the Semerang International Illustration festival.  Additionally, she runs an illustration studio called Zuluvisual, through which collaborates with various clients such as Absolut Vodka, Levis, Constitution Hill, Wanderland Collective, E-coffee cup and FlySafair. Most recently, Zulu designed the new South African 20c coin. 
Zulu is particularly interested in representation in our newly democratic South Africa and how that can be interpreted through illustration. As a visual communicator, she thinks it's important for young South African creatives to spearhead the exploration of newness in how Africa is portrayed.