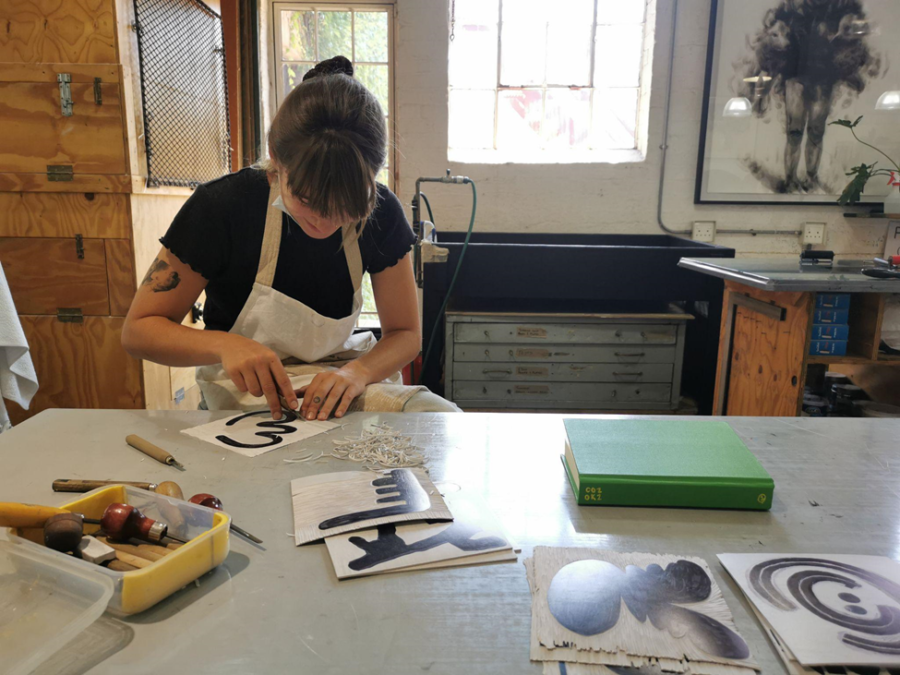 After a long, mostly lazy holiday, entering the David Krut Workshop was the perfect kick start to my year. My first day was filled with total wonder, the workshop hums with a quiet focus and each nook and cranny of the workshop is filled with something to entice a print enthusiast.
I spent my first day happily hunched over linocuts that were being prepared for Maja Maljević, listening and learning throughout the whole day. Most of my days in the workshop were filled with just that, listening and learning.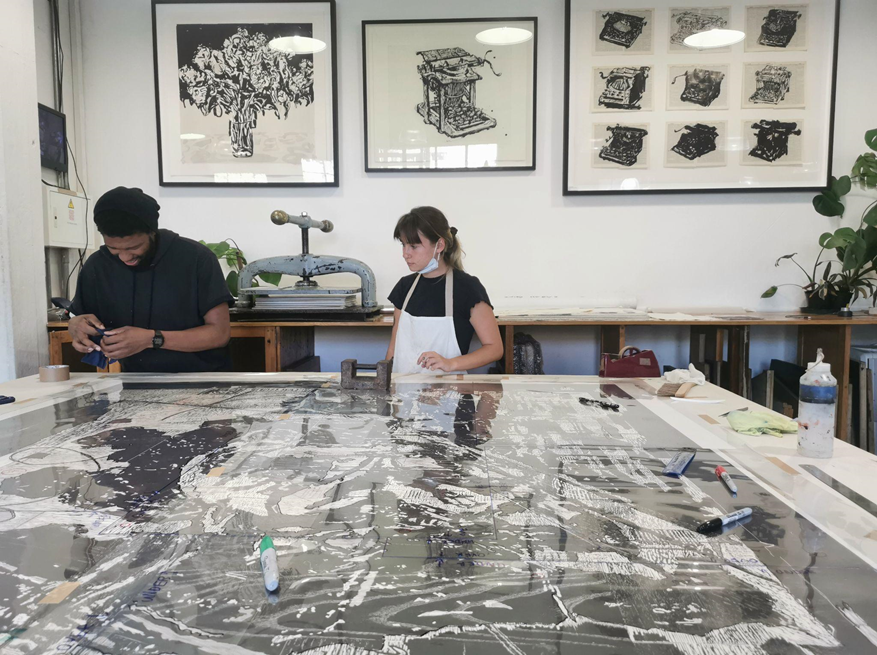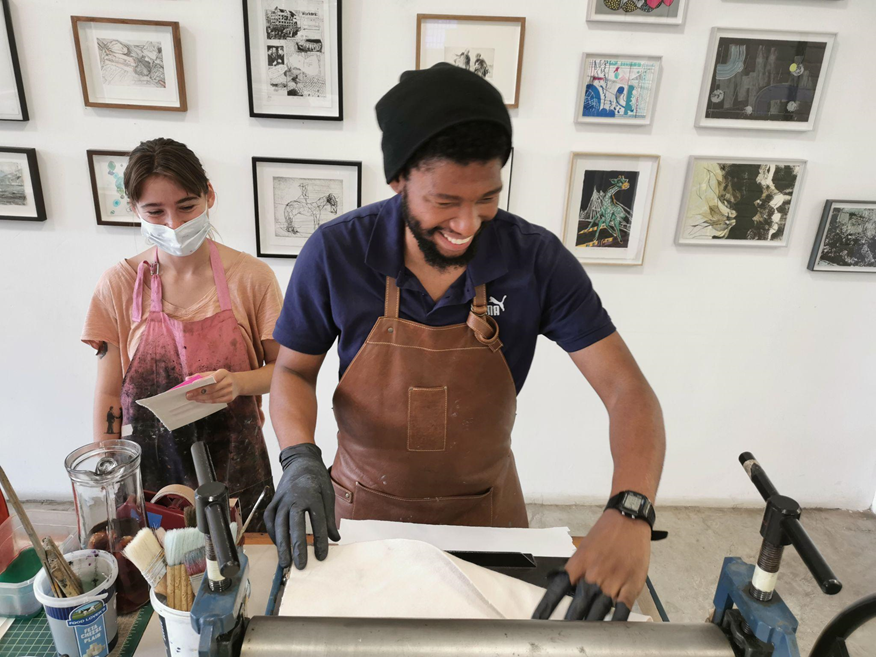 Each of the printers were incredibly engaging and patient with any questions I had, and I am sure I had a lot of them. Sbongiseni Khulu introduced me to paper lithography and surface monotypes. It was incredible to assist him on the assembly acetates for Kentridge's woodcut series, "Triumphs and Laments", being "behind the scenes" on such a monumental body of work is a unique experience. Sbongiseni Khulu, Kim-Lee Loggenberg and Sarah Judge all function with a meticulous nature and have taught me so much about problem-solving, the preparation that goes into producing a fine art print and the temperament this requires.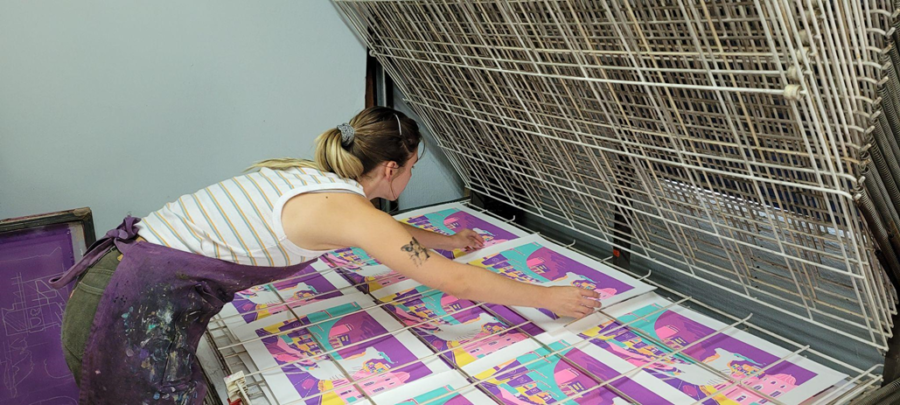 I must admit that the highlight of my short time working with the DKW team was the three days I spent assisting Sarah with screenprints by Zhi Zulu. Sarah entrusted me to work very closely with her on these works and was open to share each of her tips and tricks with me. The editioning process demands an intense focus and a lot of tinkering, there are inevitable moments of frustration but it was a wonder to watch Sarah think of solutions so quickly and effectively. On my last day, Sarah found the time to teach me how to do a silkscreen monotype. I felt very lucky to have had the space to play around with a new technique, and to be encouraged to have as much fun as possible with it. My internship concluded with a collaborative monotype between Sarah and I, the perfect end to a rewarding two weeks!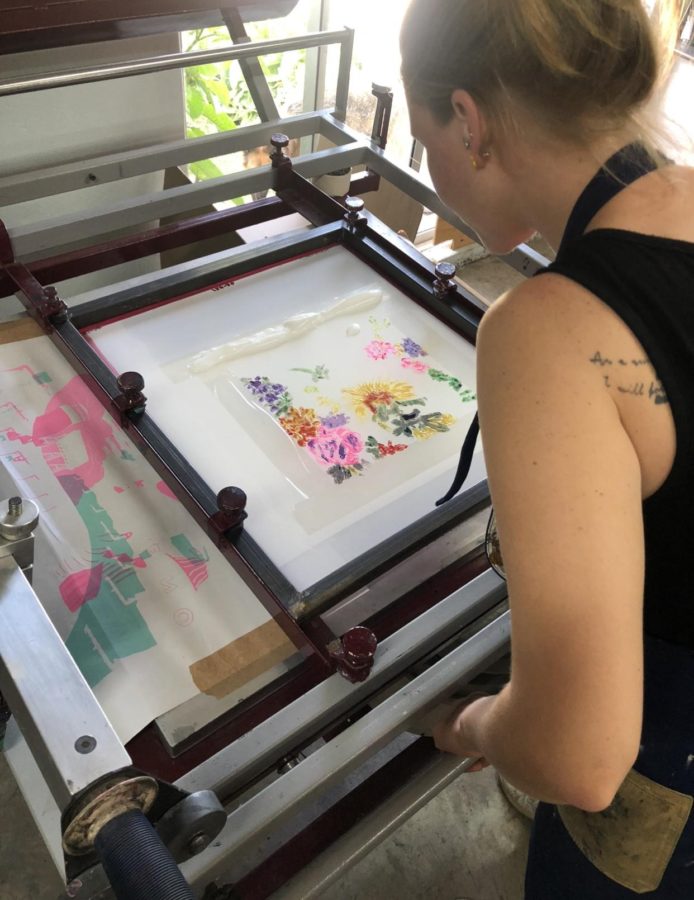 I am very grateful to have spent this time learning from such a clever, hardworking team. A huge thank you to Sarah, Kim-Lee, Sbongiseni and Siphiwe Ncube for being so welcoming and for sharing so much with me, and to Roxy Kaczmarek for her encouragement and for organizing the internship. The workshop is making a great contribution to young printers by providing a space for us to gain confidence in our personal practice as we navigate our way through our tertiary studies, as well as the daunting aspects of the professional art-world.