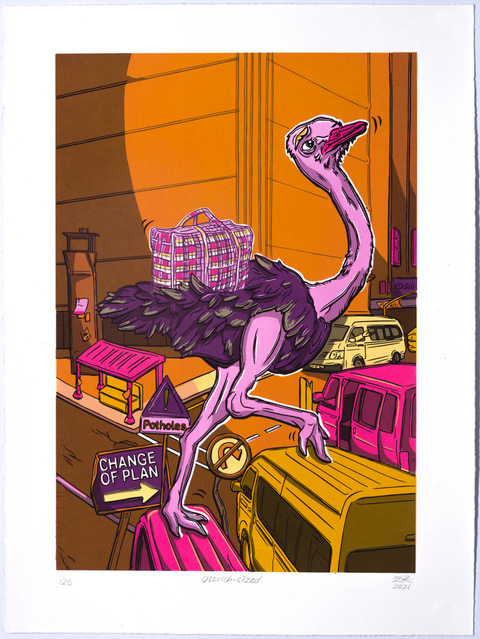 "The Ostrich aims to identify with anyone migrating to or from SA. Young Oscar finds himself in the midst of the busy Joburg madness, at the peak hour for traffic. He has all his belongings packed in his tricolour bag (a well-known symbol of migration). As to whether he's just gotten off a plane from Zimbabwe or if is on his way to catch a flight to Australia… we don't know‍. This guy is just trying to find his way home and start again. After covid struck, there was a change of plan and that's better than keeping your head in the sand. No stranger to civil wars, xenophobia, political corruption or unemployment, Oscar is caught up in the turmoil – he's a running, flightless bird, a nomad, unsure of where to settle." – Learn more about Zhi Zulu's The Curious Five on the David Krut portal Viewing Rooms.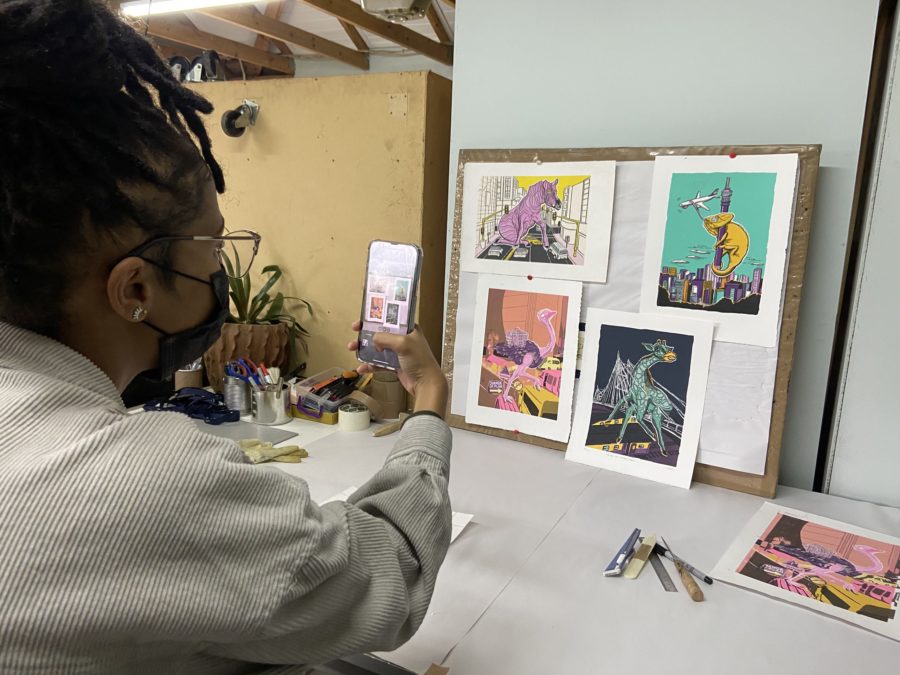 In silkscreen each layer is a single colour and therefore Zhi Zulu has to carefully design her image with this in mind choosing a limited palate and allow them to overlap to create a full tapestry of colour. Planning the layers and layout of a silkscreen print is one of the most important steps in the process. Zhi carefully designs the image; colour is very specific to her visual language and style. The printers then carefully match these colours with ink, which is a challenge as colours appearing on a screen and physical material ink behave differently. Sometimes exciting and unexpected things happen when overlays occur, this is all part of the magic of printmaking.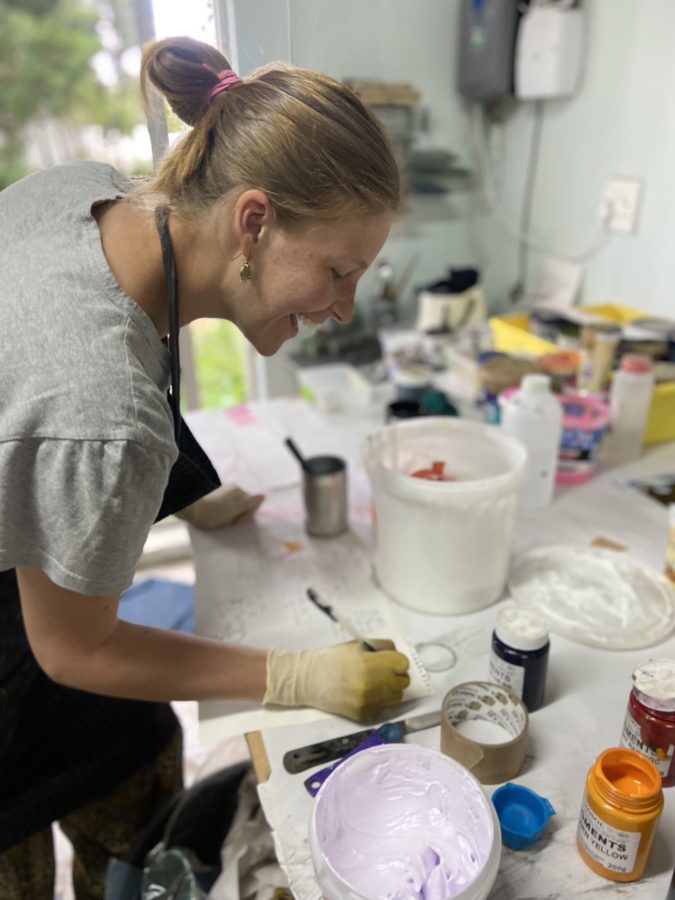 In the silkscreen process, each colour is represented by a layer, which means that another handful of steps are needed to complete the artwork. More steps equal more variables, thus making the process more difficult. With this in mind, the careful consideration of colours in this series of works becomes an important factor when appreciating it, as we often take for granted the harmony of colours in art. Added value is unlocked when we realize that the colours are not so random and wild as they appear, when they were each one carefully curated to add to the atmosphere of the image.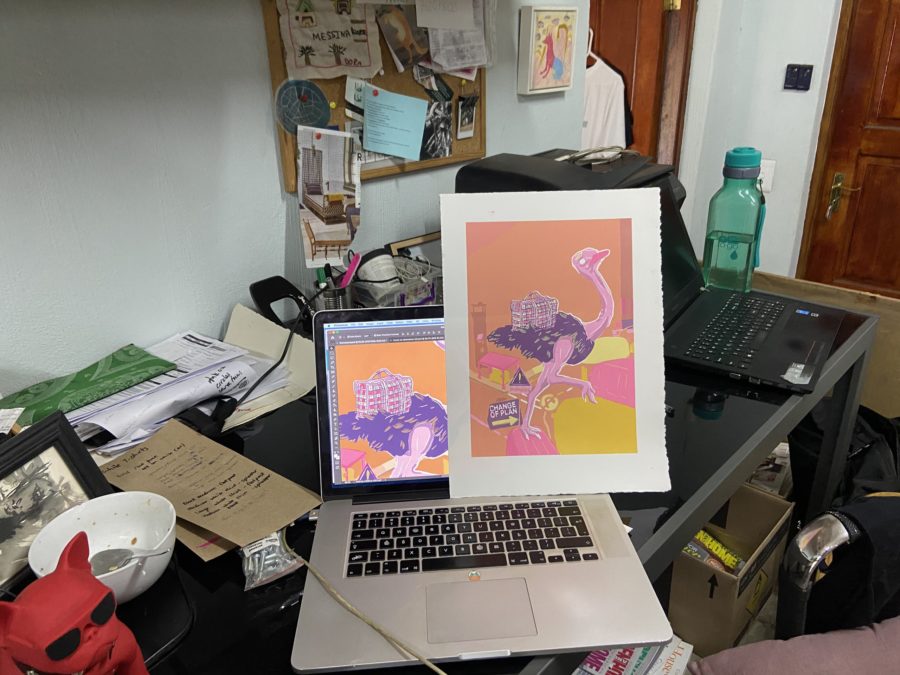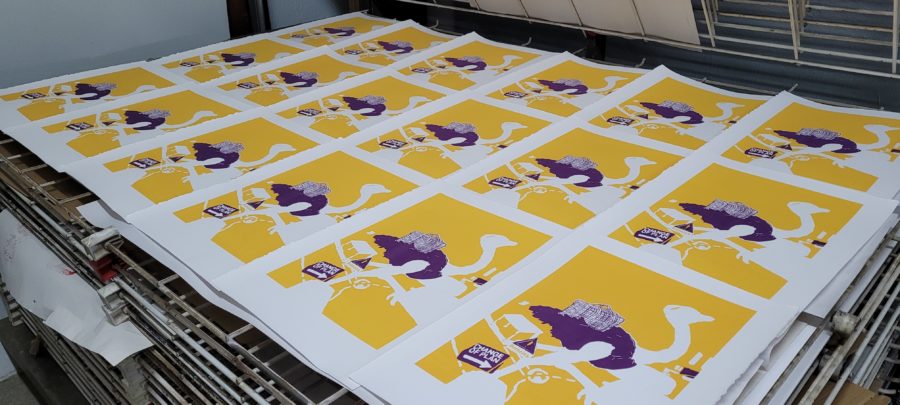 The artworks have developed into a series of silkscreens titled The Curious Five. To date there are 4 including Zebra Crossing 2019, Bridge over troubled Giraffe 2020, and C'mon Chameleon 2021. Zhi Zulu created this silkscreen print as her fourth collaboration with the David Krut Workshop in 2021. Zhi was assisted through the silkscreen process by printers Roxy Kaczmarek and Sarah Judge.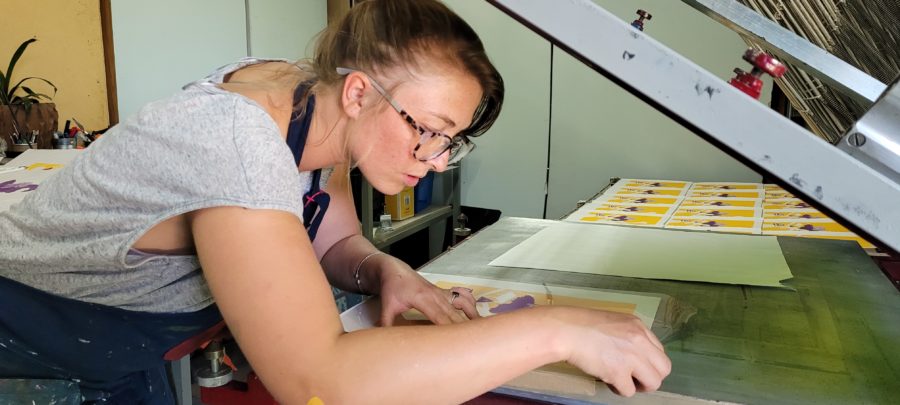 Throughout her childhood Zhi found it difficult to relate to the illustrations she encountered in Zulu cultural books, while at the same time the books she found visually interesting didn't feature characters that she could relate to. This motivated her to address these discrepancies in her work. Art is her passion and her life, her key goal being "to tell stories of Zulu culture in a contemporary way through illustration".
Being a digital artist and illustrator, making work that are considered artworks in their own right has been a great leap for Zhi. Collaborating with the David Krut Workshop and the resident printers has been an exciting experience for all involved.