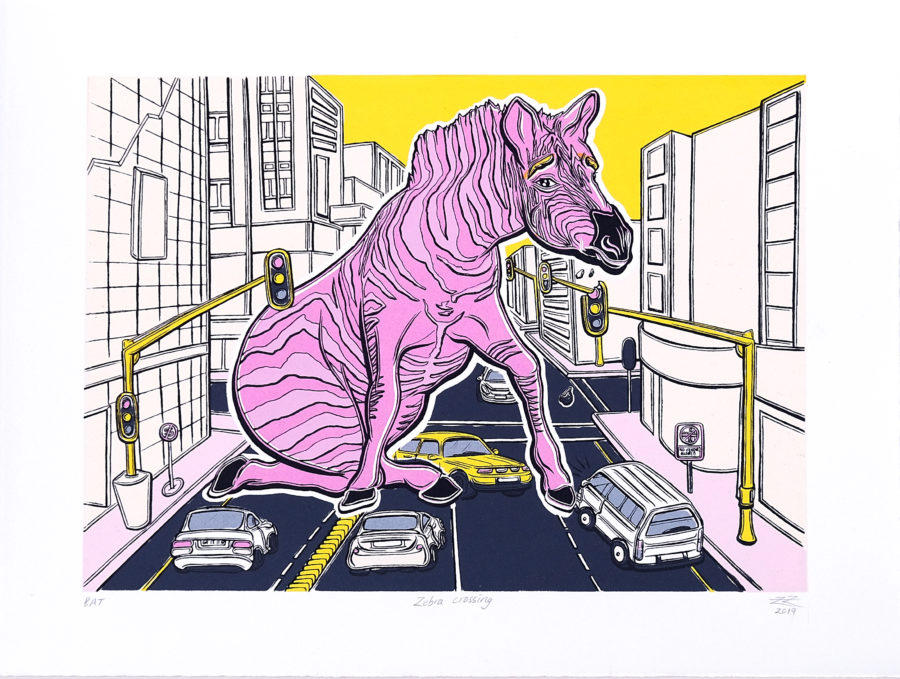 It is well known that zebras have stripes to confuse their predators. Zhi Zulu's pink Zebra in her work Zebra Crossing, however, seems to have been confused by its own tactics. Having taken the city's notion of a Zebra crossing a bit too literally and winding up perplexed by its inner-city surroundings, it sits munching on a traffic light in resignation. Read more in the Print of the Month Blog post here.
Take a listen to this episode of the David Krut Podcast | Zhi Zulu & Zebra Crossing
Listening Time: 22 min | CLICK HERE
Britt Lawton speaks to artist Zhi Zulu about her artwork 'Zebra Crossing'. Zulu talks about working with a new medium, how she feels entering the fine arts realm and what she learned about printmaking, her inner artist self and the very important question – whether the 'non-Big Five' animals feel excluded.
Artist:
---
Title:
Zebra Crossing
---
More about:
---
Year:
---
Artwork Category::
---
Media & Techniques:
---
Printer:
---
Edition Size:
25
---
Sheet Height:
27 cm
---
Sheet Width:
35.5 cm
---
Availability:
Not Currently Available
---
Framing:
Unframed
---