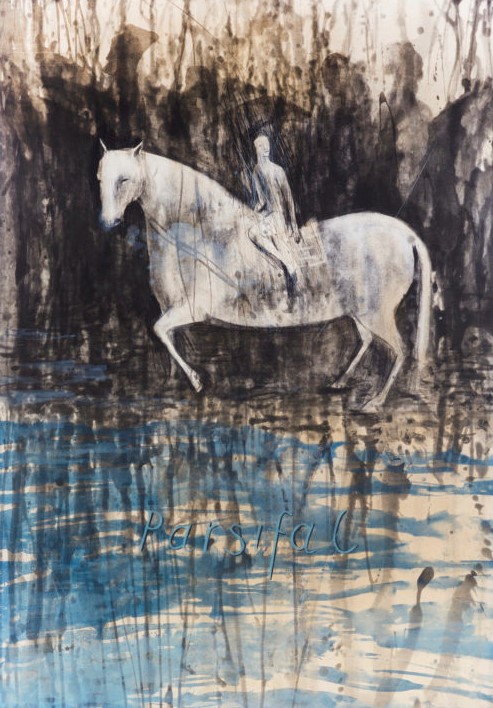 Collaboration History
Deborah Bell's first collaboration with David Krut was in 2000 when he introduced her to Jack Shirreff and his 107 Workshop in Wiltshire, United Kingdom, where Krut had been collaborating with accomplished international artists since 1981. The introduction enabled the completion of Bell's first editions, published by David Krut, of large copper plate etchings that she had begun in Johannesburg.
In 2004, David Krut Publishing released TAXI-010 Deborah Bell, part of the TAXI Art Books Series, the first cohesive publications on contemporary South African artists that had started in 2000. This book was the first monograph on the work of Bell, and reviewed her work up until that time as a sculptor, painter and printmaker. In the run-up to the book's publication, Bell had started to collaborate with the newly-established David Krut Workshop (DKW) on various etchings, including work on the Ulysses series.
In 2009 and 2010, Bell had her first solo exhibitions with David Krut Projects (DKP), titled Collaborations I and Collaborations II. The latter was accompanied by Alchemy, a book publication by David Krut Publishing, which explored her printmaking collaborations, and formed the basis of an exhibition at David Krut Projects Cape Town.
In 2015, DKP Johannesburg presented Renunciation, a solo exhibition focused on the artist as a printmaker, further reinforcing her standing as a collaborative arist.
In 2017, her second solo exhibition at DKP Cape Town, Uncovering Ancient Memory – 15 years of Etching, showcased the evolution of Bell's etching career with DKW.
In the following year, major new prints, which were created in collaboration with DKW and Master Printers Jill Ross and Phil Sanders, were part of Invocations to the Plate at DKP Johannesburg. This solo exhibition was accompanied by a book of the same name which described in detail the making process of the various artworks displayed in the exhibition.
She has also been part of various group exhibitions at DKP and been the focus of the fifth episode of David Krut Podcast's Artist Series.
Bell's collaborations with artists Robert Hodgins and William Kentridge on different projects in a range of media and themes play a central role in her early work, and are therefore interesting to note. The unique relationships that were forged with these collaborations had further significant influence on the individual works of each artist to follow. In 2010, with the passing of Robert Hodgins, Bell created Cry me a River in collaboration with DKW as an ode to the friendship.
Biography
Bell (born 1957) is a leading painter, sculptor and printmaker in South Africa. While her early work was more political, her work across different media she is more recently concerned with worlds in between: the realm between "mortality and immortality, matter and spirit, presence and absence, the quotidian and the mythic, the grounded and transcendent."
Bell has noted, of her practice: "The idea of an artist as a magician delights me. It is about alchemy and the turning of base material into gold." Bell's work is fundamentally informed by a personal search for the 'Self' and she often draws on spiritual imagery from a wide range of sources. Multi-layered references and connection to ancient sources and memories is linked to her spiritual beliefs and how she defines herself as an artist in Africa. This continuity of form and content within Bell's oeuvre allows the possible meanings within her work to reach beyond the personal search of the artist herself.
She is the winner of multiple awards and her works lie in numerous collections, including the Johannesburg Art Gallery, Johannesburg; Museum of Modern Art, New York; National Gallery of Art and Smithsonian Institute, both Washington, D.C..
For related books, CLICK HERE