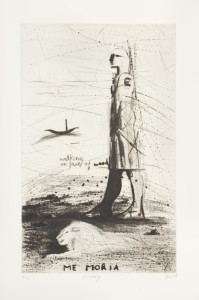 Memory
Deborah Bell Recent Prints at David Krut Projects Cape Town
– Jacqueline Nurse, 2008
Deborah Bell's recent series of prints, the result of her latest collaboration with David Krut Print Workshop in Johannesburg, can be read as an extension of the ideas that Bell has been exploring in her work for some time. Bell's work is fundamentally informed by a personal search for the 'Self' and she often draws on spiritual imagery from a wide range of sources. Bell's use of varied sources means that the symbols she employs can never refer only to one idea. This allows the possible meanings of her images and motifs to reach beyond the personal search of the artist herself and in this way Bell sidesteps the potential criticism of being unwilling to explore new ideas in her work.
The exhibition is comprised of seven prints, each containing an apparently dislocated arrangement of images. Some works are presided over by tall, guard-like figures, reminiscent of Bell's sentinel drawings and sculptures. These rub shoulders with wounded lions and charioteers, small eagles, boats, dormant figures and figures waking up. The images are arranged without attention to scale or perspective, lending them a dream-like quality which resonates with their mythological and spiritual nuances. Also, each incorporates a collection of words – fragments of sentences that appear as handwriting, as titles, as repetitions of threads of an idea that is forming. Each mark or symbol begins to speak to the other marks and symbols framed in the same space as well as to images in other of the prints. Multiple references and connotations allow the prints to "mean" different things depending on their relationship to each other and the viewer's relationship to the work. The dialogue between viewer and work reaches into memory and the shadowy world of dreams and hallucinations.
Bell's belief that the 'Self' is discovered "through forms of intuition and intensely personal, individual experience" (1) is evident in the works' refusal to speak clearly. The prints interact with each other in a fragile narrative in which life, death and rebirth are folded into an ambiguous cycle of meaning. As much as the works' inspiration will have been drawn from Bell's "intensely personal, individual experience" (2), Bell's unqualified use of universal imagery secures her works' anti-theatrical existence in the realm of memory and dreaming, perhaps even of an imagined afterlife. A parenthetical relationship is established in which it is unclear whether Bell's work serves to qualify her borrowed mythological and spiritual imagery, or whether the broad scope of the imagery serves to justify the work. In this sense the qualification becomes the responsibility of the viewer.
Bell's technique (a combination of etching and drypoint) serves further to emphasise the notion of journeying through life or the underworld, or life which is the underworld. Behind the defined images exists a world of possibility in the traces left behind by the process of Bell's mark-making. Faint constellations of shadows behind existing forms and words whisper meanings that are waiting to be realised. Bell encourages the viewer to explore the poetic growth arising out of loss and the configuration of one's experiences in memories, which is eclectic and manifold. The graceful, song-like narrative that emerges allows the viewer to look both in (at oneself) and out (at oneself in the world) in a process of reviewing one's journey, which is also, ultimately, one's destination.
1. Pippa Stein. 'The Journey Home'. In TAXI-010 Deborah Bell. David Krut Publishing, 2004.
2. Ibid.