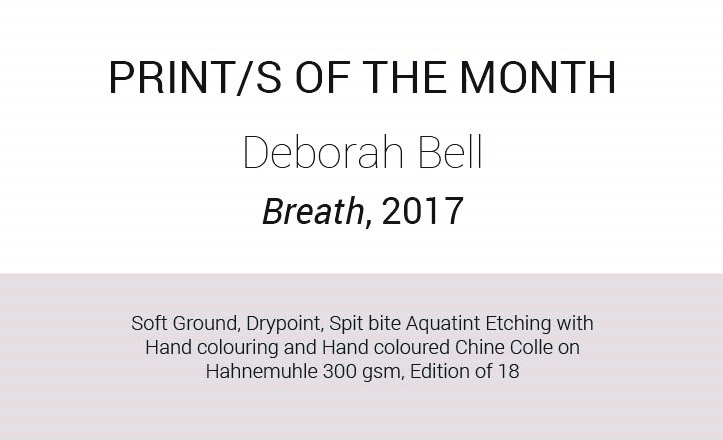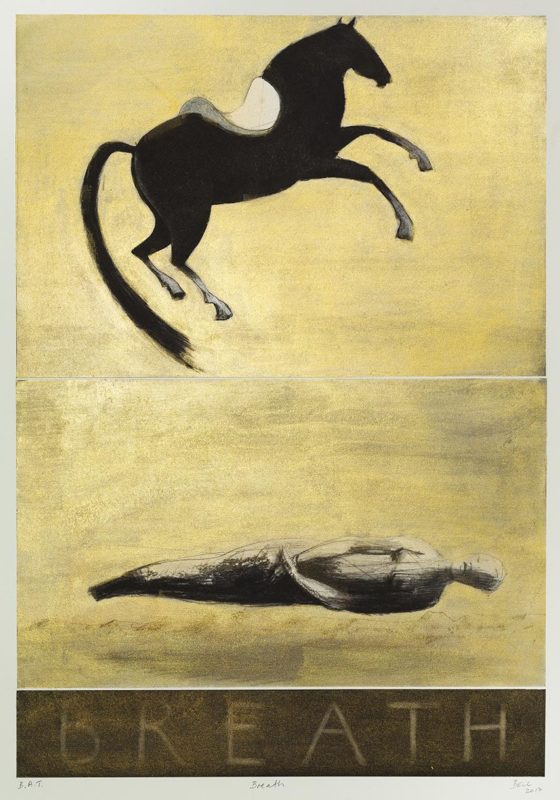 David Krut Projects is pleased to announce a new series of complex etchings by Deborah Bell, which have been created in collaboration with American Master Printer Phil Sanders at the David Krut Workshop at Arts on Main in Johannesburg.
A work of alchemical beauty to come out of the collaboration is Breath. The image stems from a much larger painting also titled Breath. A complex print made up of 3 separate plates where Bell expertly combines softground, aquatint, spitbite aquatint and drypoint, printing onto delicate chine or Japanese paper, hand painted Gold.
A dark horse with an empty saddle appears poised above a figure in repose. One of the horse's hooves is hand painted blue, which resonates with the glittering alchemical gold across the print. They both float above an expansive landscape presupposing a spiritual dimension rather than a physical one. Breath reflects on that moment of one's presence.
The figure, horse and landscape emerged first through the use of a pencil like softground. A painterly spitbite aquatint wash was added in the sky and a heavier black aquatint was then added to the horse. More detail was added through drypoint. The bottome text plate with 'Breath' was made using a mezzotint like aquatint and burnished in reductively.
Before printing the Toshu washi paper used for the chine collé is hand painted with a light gold wash. After printing the printer paints gold into the background as well as a wash over the text plate.