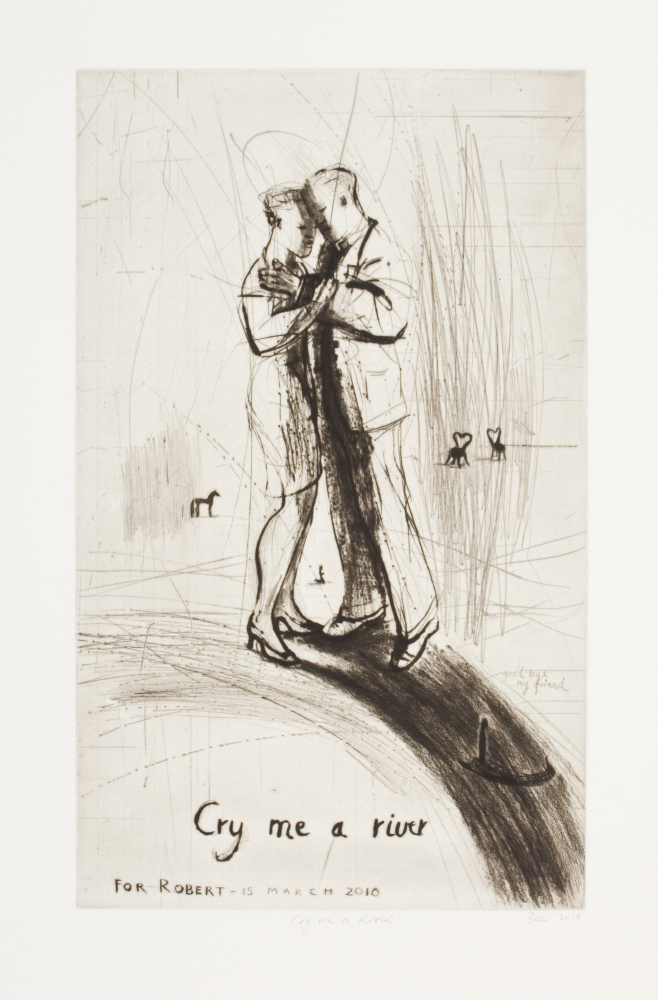 Deborah Bell created this etching in March 2010. At the time she was working at 107 Workshop, in the UK with master printer Jack Shirreff, on prints such as Coeur Rageand Bride Stripped Bare for her upcoming show at David Krut Projects in Johannesburg. When she heard the news that her close friend and collaborator had passed away, Bell decided to dedicate this print to Robert Hodgins with a line that runs along the bottom saying, "For Robert – 15 March 2010." She recalls how the two of them often danced together; the title of one of the songs being "Cry me a River".
Robert Hodgins, Deborah Bell and William Kentridge collaborated on various short animated films and artworks from the 1980s onwards.
Collaborating on Memo (1994), for example, took the process from a movie, to etchings, to paintings. Bell says, "I created imagery that I would not have used otherwise. Seeing how people work can't help but influence you." She adds that they certainly looked over each other's shoulders admiring what they liked and commenting on what images they wanted to steal. Most of all, they did challenge each other. This collaboration marked the first time that Bell started using text in her work. They would listen to music and often she would incorporate lyrics from the songs into the work. It was also the first time she had started using the title in the work.