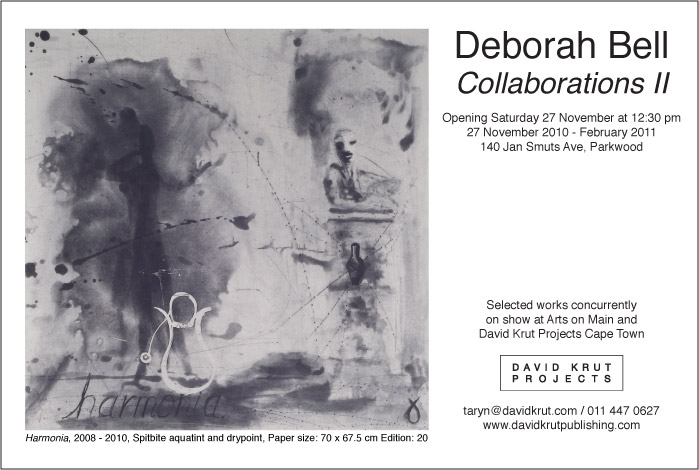 Deborah Bell's Collaborations II opens at David Krut Projects on Saturday 27 November at 12:30pm.
Over the last ten years, Deborah Bell and David Krut have collaborated on projects through print workshops in SA, USA and the UK. This exhibition brings together the recent projects and is a follow-on from her show, Collaborations, at David Krut Projects in early 2009. This new exhibition highlights the different techniques that Bell has been able to explore at each studio, and how they have allowed her to vary her creative process. This body of work ranges from the large and striking to small poetic imagery. Selected works are chosen from projects originated at DKW in Johannesburg, Bell's studio in Magaliesburg, Robert Blackburn Print Workshop in New York, and 107 Workshop in Wiltshire, UK.
To accompany this exhibition, David Krut Publishing has produced Deborah Bell's Alchemy; a publication dealing with the last ten years of Bell's collaborative printmaking. It highlights the start of her printmaking career alongside William Kentridge and Robert Hodgins and expands on her recent visits to Jack Shirreff (107 Workshop), Phil Sanders (Robert Blackburn Printmaking Workshop) and regular projects at DKW and the new location at Art on Main with Jillian Ross, Mlungisi Kongisa and Niall Bingham.
The exhibition runs through until early February 2011 at David Krut Projects Parkwood, with selected works on exhibition at our locations at Arts on Main and Montebello Design Centre, Newlands, Cape Town.