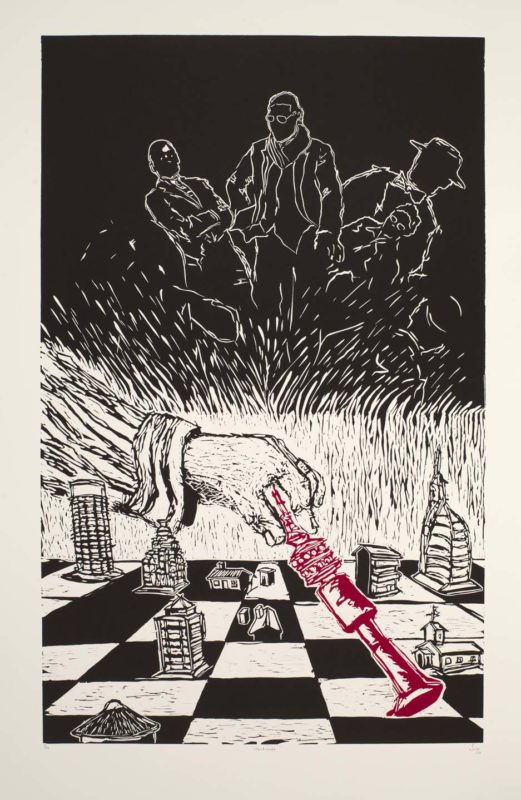 Collaboration History
Senzo Shabangu began working on monotypes at the David Krut Workshop (DKW) with master printer Jillian Ross in 2010. His monotypes explored themes of urban living and human nature. Shabangu moved on to making linocuts in 2011 at DKW as an artist in residence in preparation for his solo exhibition, Naked Pressure, which was shown at the workshop gallery space.
He continued to print at DKW creating new works for his 2012 exhibition Amandla!. This was followed in 2013 by Obsession, his first show in the main David Krut Projects (DKP) gallery space on Jan Smuts Avenue, as well as a concurrent exhibition in Cape Town, titled Recollection: Works on Paper.
In 2014, he continued working with DKW, creating multiple prints with various techniques, working during that time with visiting master printer Phil Sanders. He exhibited two works at the 2014 Johannesburg Art Fair and was part of the group exhibition The Benediction of Shade II at DKP.
2015's My World was the artist's 5th solo exhibition with the gallery, for which he printed extensively at DKW Parkwood.
His works have also been shown at various art fairs and group exhibitions.
Biography
Senzo Shabangu was born in the village of Driefontein, Mpumalanga, in 1985 and spent a large part of his childhood living at an apostolic mission station. Imagery from this time in his life features regularly in his work. Shabangu came to Johannesburg in 2006 after completing his Matric, and although he had dreams of becoming a pilot, he ended up studying printmaking at the Artist Proof Studio in Newtown (2006-2008) after being introduced to the medium through the Taxi Art Education Program at the Johannesburg Central Library. Although this was the beginning of Shabangu's formal artistic training, he had been drawing on his own since childhood.
In 2008, Shabangu's work was chosen to represent the Many Voices, One Movement Global Conference, for which he produced an edition of linocut prints for the conference attendees. Shabangu's work was also selected to form part of the advertising for the World Art Summit at Museum Africa in 2009. Early in 2010, Senzo Shabangu was the recipient of the David Koloane Award and as a result he engaged in a four month residency at the Bag Factory, under the mentorship of prestigious artists David Koloane and Pat Mautloa, and had the experience of working with resident artists from around the world.
Shabangu's monotypes depict scenes of the Johannesburg CBD. He often places city landscapes emerging from below and suspended above his characters creating an almost claustrophobic sense of being surrounded by the city. Within this theme, Shabangu also deals with movement in the city and how people are moved. Many of his works look at how people live and the politics surrounding forced removals.
Shabangu is a firm believer in community work and in helping young artists to achieve their dreams. On a trip to the Biennale in Kampala, Uganda, Shabangu was again inspired by his drive to share what he has learnt and to help artists from around Africa get exposure in the art world.  Not forgetting his own dreams, Shabangu started his pilot training at Rand Airport in 2012.
ARTS LOUNGE AFRICA | A CONVERSATION WITH SENZO SHABANGU