28.10.16
Blogger: Jessie Cohen
Master printer feature: Jillian Ross
For profiling Ross, she suggested I begin by painting a picture of the workshop – past and present – as a prelude to describing her role as master printer and workshop manager…
On entering David Krut Workshop (DKW), one is confronted by a whirring maze of creative activity. DKW was one of the first spaces to opt into the Arts on Main initiative back in 2010 and today it is equipped with a letterpress, three printing presses, a steel facing tank and stocked with top quality inks and paper, making it one of the most impressive printmaking workshops in the country. To access the workshop one winds through the dappled light of an internal courtyard with William Kentridge's studio to the left and various local designer spaces to the right and up the stairs of this old building with a rich history. In 1911, it was a liqueur warehouse, which was later used by a construction company. Since 2009, it has been redeveloped by Propertuity as a pioneering arts initiative. DKW exists at the centre of this creative hub.
Recently, Ross sent me a piece of writing by professor Hildreth York on the Printmaking Workshop run by master printer Bob Blackburn in 1980s New York, which pays homage to the "ordered chaos" intrinsic to a printmaking workshop by describing the space through an ignition of the senses and imagination…
The elevator door opens into the Printmaking Workshop, and the visitors nostrils are immediately greeted by the sweet,  rich smell of printer's ink. A few steps further and a setting unfamiliar to most stretches out to fill a large New York City loft. Glass – and marble-topped cabinets and tables form a maze of passageways to the deep recesses of the space. Large etching and lithography presses stand like rectangular iron creatures in the open areas. Against the walls, wide metal shelves, which rise beyond the reach of those without a ladder, hold portfolios, rolled-felt press blankets, creamy thick sheets of fine printing paper, floppy shelves of newsprint paper, metal plates, cardboard, toolboxes, and tins of ink. A glance into one of  the many cabinets and lockers reveals that these contain personal collections of tools, ink cans, brushes, aprons, tarlatan – all typical of the varied paraphernalia of the devoted printmaker.
DKW's idiosyncrasies in pictures…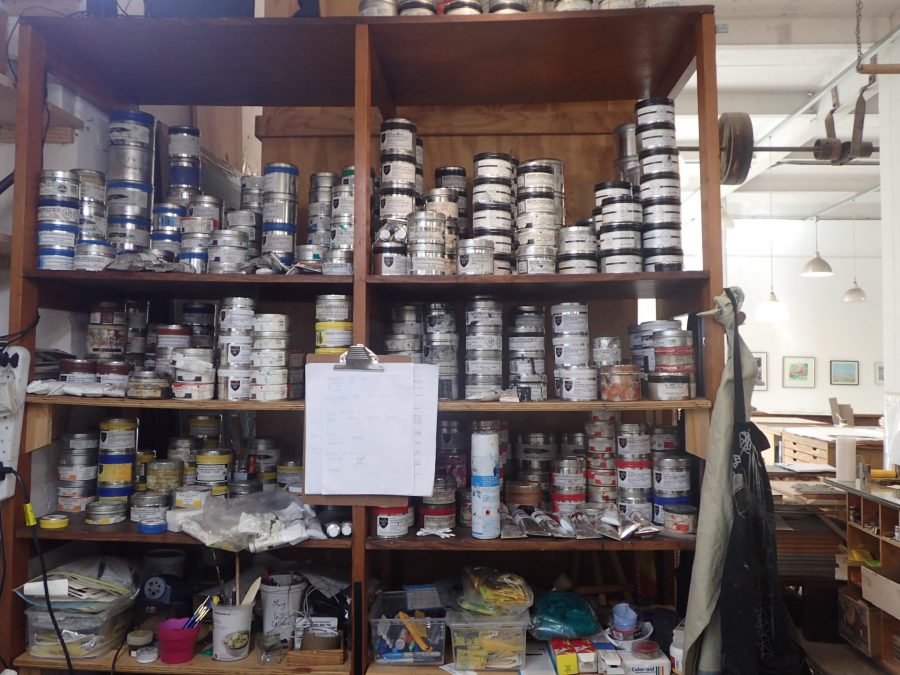 When asked to define her role, Ross responds:
"As workshop manager, I'm in charge of production as well as studio visits with artists, putting our artists in collaboration with our printers, mounting work on the wall to map progress, talking to walk-in traffic about what we do and doing the finishing touches on everything. As master printer,  I am always pushing artists conceptually. Essentially, I assemble all the pieces of the puzzle."
Ross smiles when I ask her to define the role of a printmaker, explaining that one is perpetually shifting between technician and magician: "the printer is always problem solving. We often say with straight faces, 'yes we can do that' to our artists, but have to figure out how to make it happen afterwards. One of our main printers, Chad Cordeiro is an artist and a printer. He has said that an interesting aspect of experiencing both positions is knowing that the printmaker's brain doesn't switch off when you get home as you continue to work through various techniques in your mind to achieve the effect that the artist wants."
Ross studied Fine Arts at the University of Saskatchewan in Canada where she majored in Art History and Drawing and did two years of printmaking, despite her ambivalent relationship to it: "I had a love-hate relationship with printmaking. I found it too technical with too many variables", Ross recalls.
Thirteen years ago, Ross joined DKW as assistant to the printer when the workshop was significantly smaller and situated in the northern suburbs. Within a year, she was the workshop manager and, by 2006, she was head printer. She has collaborated with roughly 70 artists in that time.
For Ross, the thrill of collaborative printmaking is the constant stimulation – tackling a project like a puzzle to be solved, where the technical is pushed alongside the conceptual. The flexible nature of the space, where everything is built on wheels, is an externalization of Ross' adaptable mode of working. She welcomes a collaborative relationship with artists where problem-solving is an important part of the process for arriving at the BAT – the proofed print against which all further prints in the edition are measured. Metaphorically "moving pieces around" to arrive at the best possible work is Ross's raison d'être.
Of late, Ross and her team have collaborated with Capetonian artists Jacob van Schalkwyk and Matthew Hindley as well as local artists, such as Mongezi Ncaphayi, Robyn Penn,  Lorenzo Nassimbeni, Stephen Hobbs and William Kentridge.
This year, the collaboration with Kentridge has been particularly consuming and demanding for Ross who in managing an ambitious woodcut series of 12 images selected by Kentridge from his recently launched Triumphs and Laments frieze in Rome. The project started in January and hasn't let up. The first image, Mantegna, was released a few months ago and the next print, The Flood, is currently underway.
For this mammoth project, Ross has sourced woods, encouraged the carvers to experiment with mark-making and solved the "puzzle"of how to arrange the woodblocks as well as various pieces of A1 paper to come together to articulate the image most effectively.
On asking Ross to reflect on her trajectory of growth since joining DKW, she is particularly vocal about her collaborations with Kentridge, which have spanned a decade, and which she sees as marking keystone moments in her career: "A major highlight has been, and continues to be, collaborating with William Kentridge", Ross says.
We take a trip down memory lane with Kentridge projects, starting with the Dove series in 2006…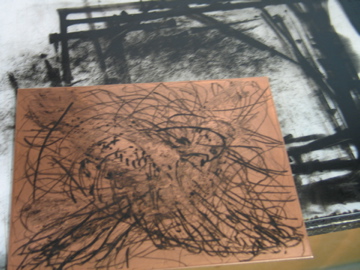 Ross and Kentridge forged a collaborative bond in the first few months of printing, which led to working together on the Nose etching series, which took four years to complete, together with Scribble Cat and the Universal Archive (2010)…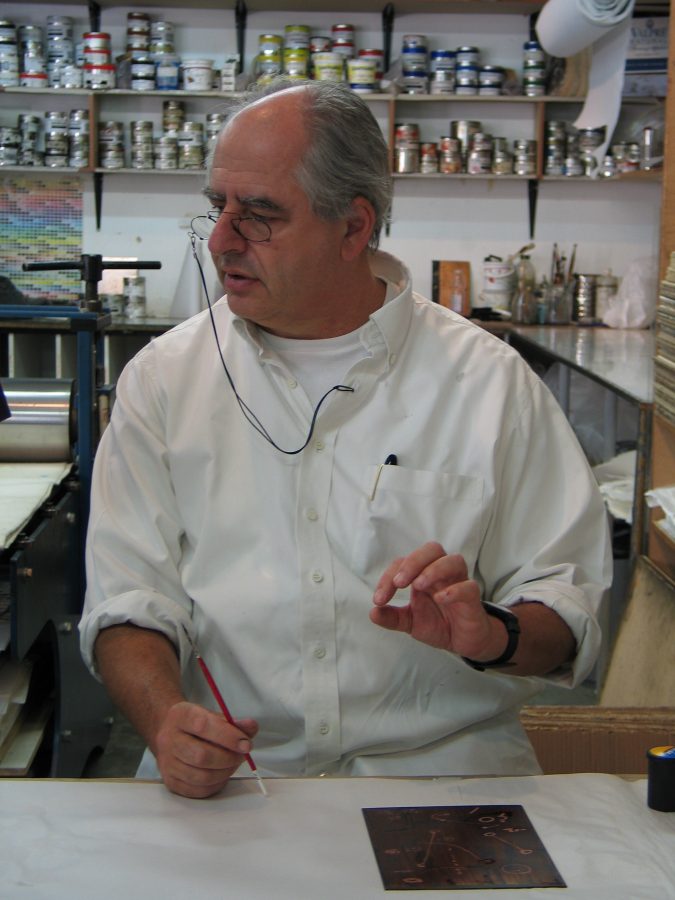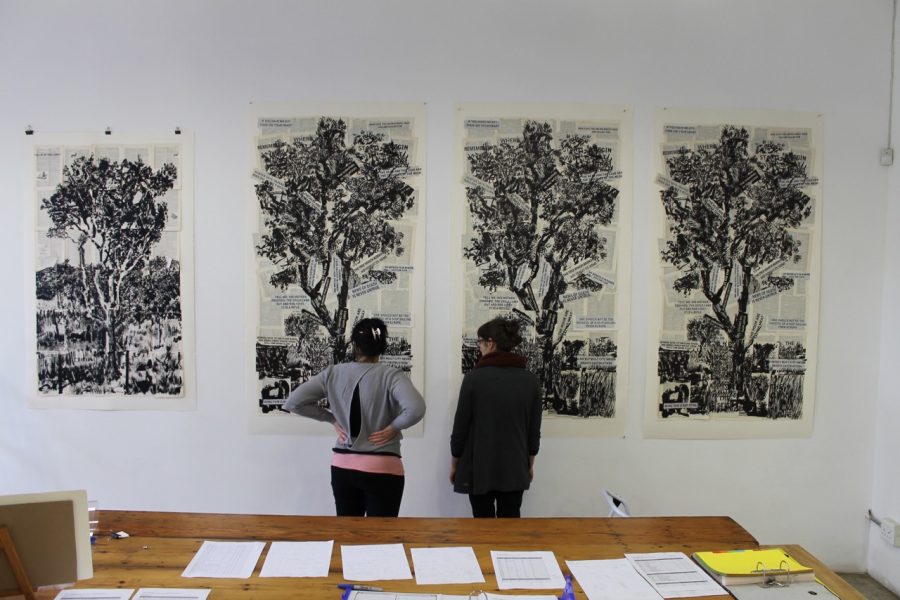 Ross notes that, over time, the DKW-Kentridge collaborations have shifted from intaglio to relief, working with lino and wood more than with copper plate etchings. The workshop started off as an intaglio-focused space, but has taken on more relief projects over the years in general, which Ross also puts down to working with emerging local artist, Senzo Shabangu.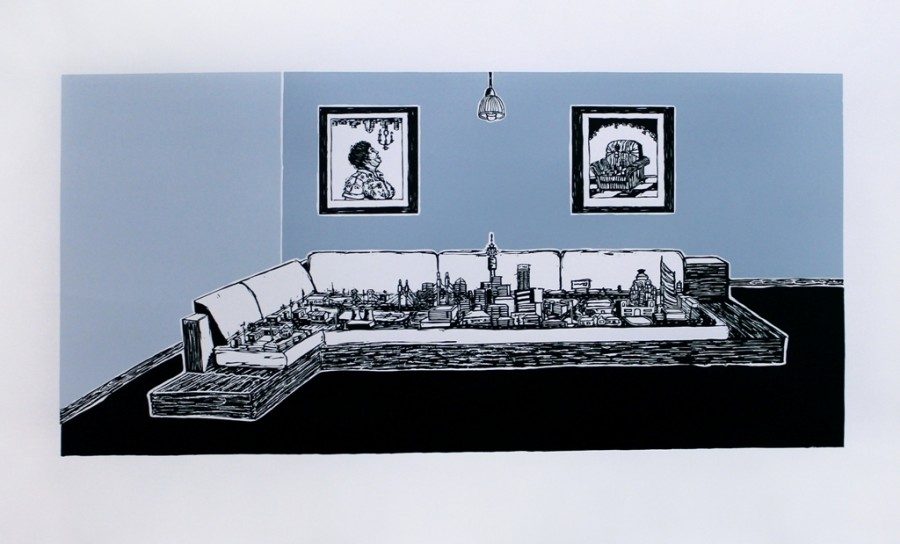 It is important to emphasize that Ross is passionate about all her collaborations. She states that "every project I've worked on has developed my technical and problem-solving abilities. I have on-going relationships with all our artists, such as Robyn Penn and Stephen Hobbs. The thrill of the job is working with different artists who each inspire diverse approaches to making art."
Penn's Nine Views of a Cloud comes to mind when Ross describes her role to be always thinking outside the box – "to push the artist to explore something they're not necessarily ready to tackle," she says. For Ross, working with Penn means enjoying "the push and the pull – she pushes back and I respond."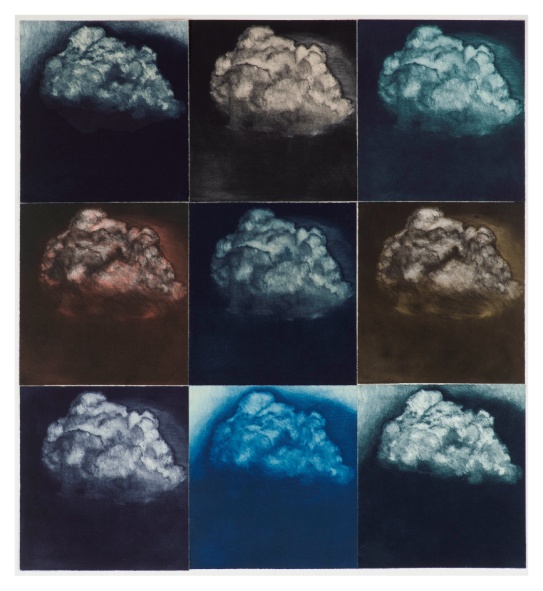 Ross adds, "With Stephen, the pull is seeing how he works in other mediums, like public artwork and installation, for collaborating on print projects. His approach to printmaking is very specific. His style is to keep pushing, to keep dissecting an image and then to move forward, whereas someone like Kentridge uses the same images over a long period of time."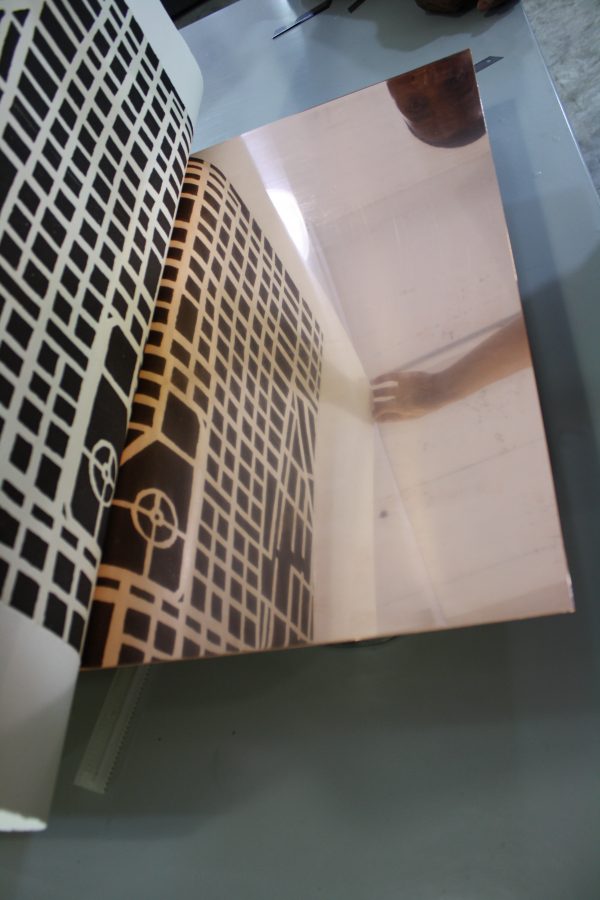 After reflecting on her various collaborative relationships with artists, Ross returns to discussing her dynamic team, stating: "We've never had such a diverse team and all with designated specialisms. While Sbongiseni and Chad tend to focus on relief printing, Kim-Lee and myself do etchings. Together, we problem-solve and assemble the puzzles pieces for making each print the best it can be."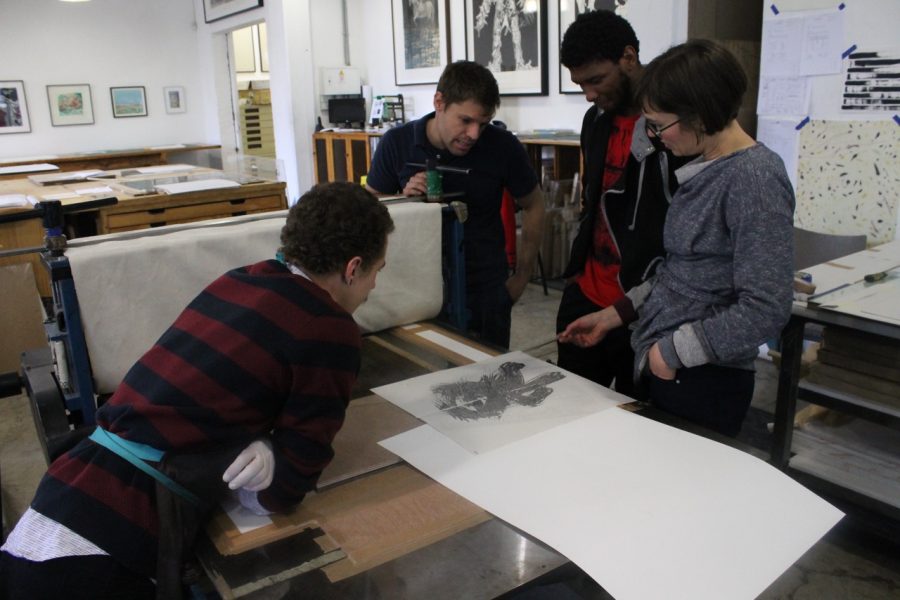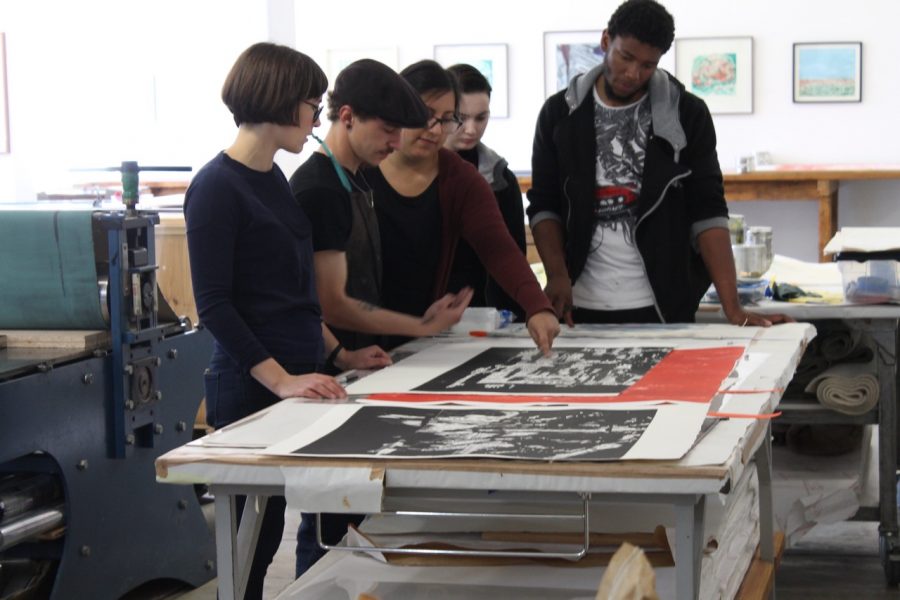 Ross also acknowledges input from Noma Ngwenya and Siphiwe Ncube,  who help man the space, as well as outside experts, such as US master printer Phil Sanders who spent time at DKW in 2014.
Earlier this year, Ross did the Visual + Digital Arts residency at Banff Centre for Arts and Creativity in Canada. At the end of the residency, she had an open studio where she pinned prints from her most pertinent collaborations to prompt discussion on her role as the orchestrator of creative collaborations that form and develop at DKW – seen below: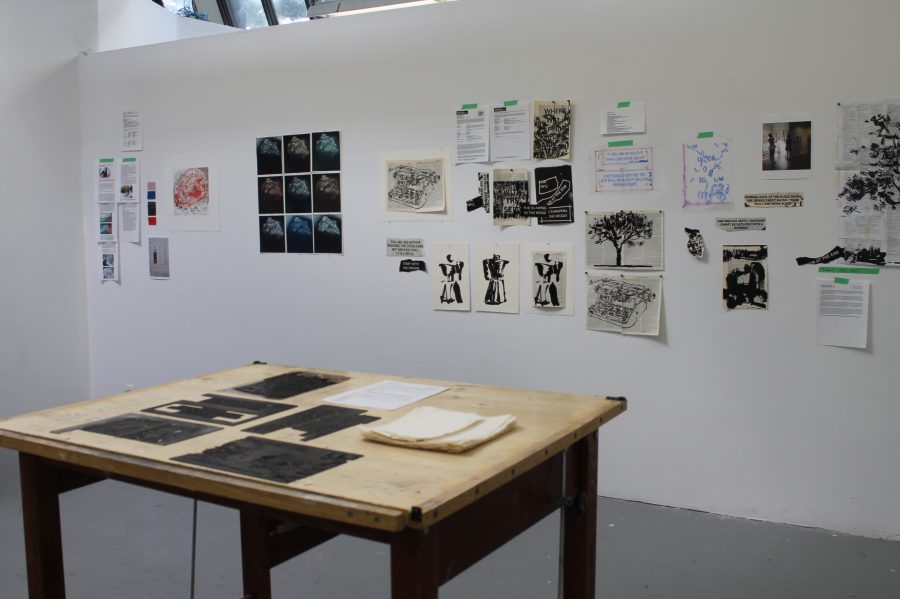 After reflecting on her development over the past 13 years, Ross takes a lyrical tone in contemplating her creative role:
"My work is within the artist's work. It lies in the story of how each print comes into being – a decision, a happy accident – the thinking processes behind it all".