The workshop at 151 Jan Smuts Avenue (below the David Krut Bookstore) is officially up and running. The workshop team have been working tirelessly to get the space ready after relocating from 140 Jan Smuts Avenue.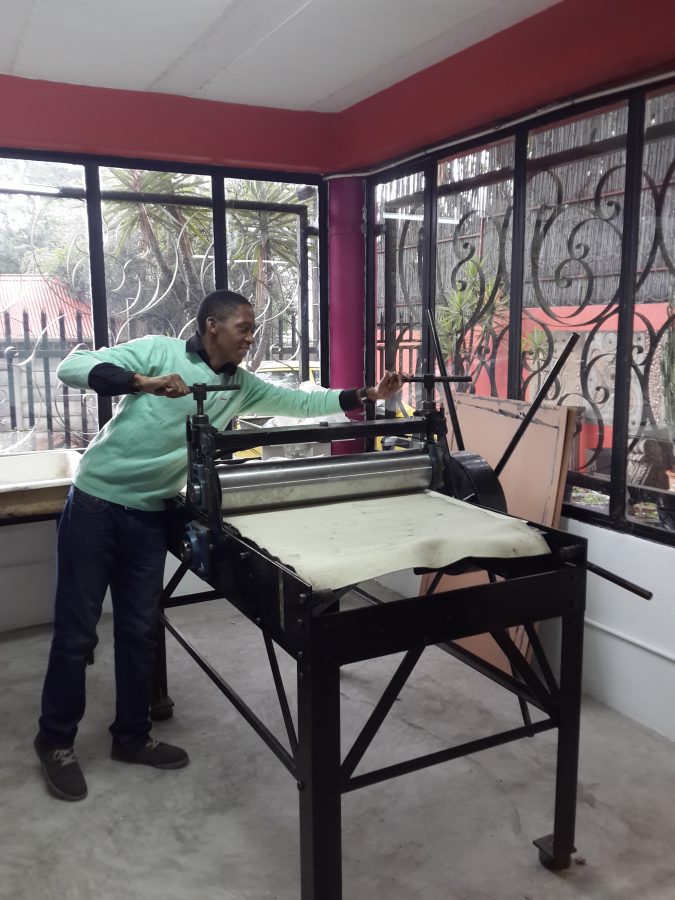 The workshop will mainly be dedicated to linocut and monotype printmaking. Resident David Krut artist Senzo Shabangu is currently working in the new space and is busy on a series of sketches which he aims to translate into prints. He has already completed his first monotype, in preparation for his upcoming show in 2015.
His current works continue with a prior theme involving stacked boxes (see Little Boxes).  The boxes symbolise the temporary nature of renting property, as many people in the city cannot afford to buy their own homes, and by stacking the boxes, the precarious nature of living month-to-month is emphasised.   Furthermore, Shabangu is playing with the metaphor of the pillar – the stacked boxes on top of the woman's head (see below) form a pillar, with pillars being symbolic of architectural permanence as well as representing key figures, 'pillars', of the community.
In this first monotype (see below) Shabangu once again bases the features of the woman on those of his mother, something he has done in several previous works.  However, instead of drawing his mother's face directly, he copied from a lino print he did of her (Siyaya ePitoli), in which he imagined how she would look today (she passed away in 2005).  In the process of drawing the face from a stylised lino print, Shabangu feels that the woman in the monotype (untitled) no longer resembles his mother. The work uses both reductive (see the blue ink) and additive (black ink) monotype techniques, onto which he has then drawn with pastel once printed.