David Krut Projects caught up with some of the artists with works represented in The Benediction of Shade II currently on show at David Krut Projects Johannesburg (142 Jan Smuts Avenue and Arts on Main).  The artists engaged with the figure, idea or metaphor of the forest or the tree in different ways and through various media.  Also running as a subtext through the exhibition is the interplay between nature and the urban environment, and Johannesburg in particular.
(For Part I of In Conversation with the Benediction of Shade II Artists, click here).
Stephen Hobbs
Multi-media artist Stephen Hobbs' work has a focus on landscape and architecture and the nature of the interplay between both. In his photographic work Midrand Mosque Diptych Hobbs describes how the developers for this building travelled the world in search of an appropriate site for the demonstration and exhibition of an Ottoman Style Mosque.  According to Hobbs, "In keeping with the historical exactitude of the construction methods of that era, the scale of the juxtaposition between wooden supports and scaffolding structures casts momentarily, a medieval eye on the state of the building.". This idea is then carried forward in his architectural model Flat Church, Full Tree: "It's not impossible to imagine the emergence of a tree, amidst the ruins of a church."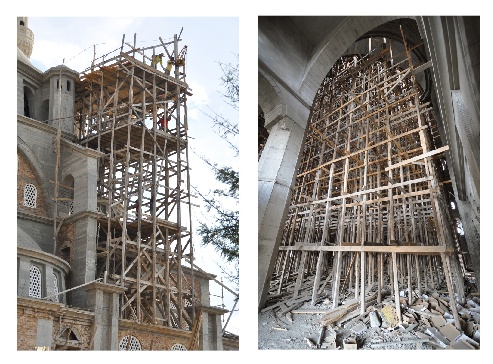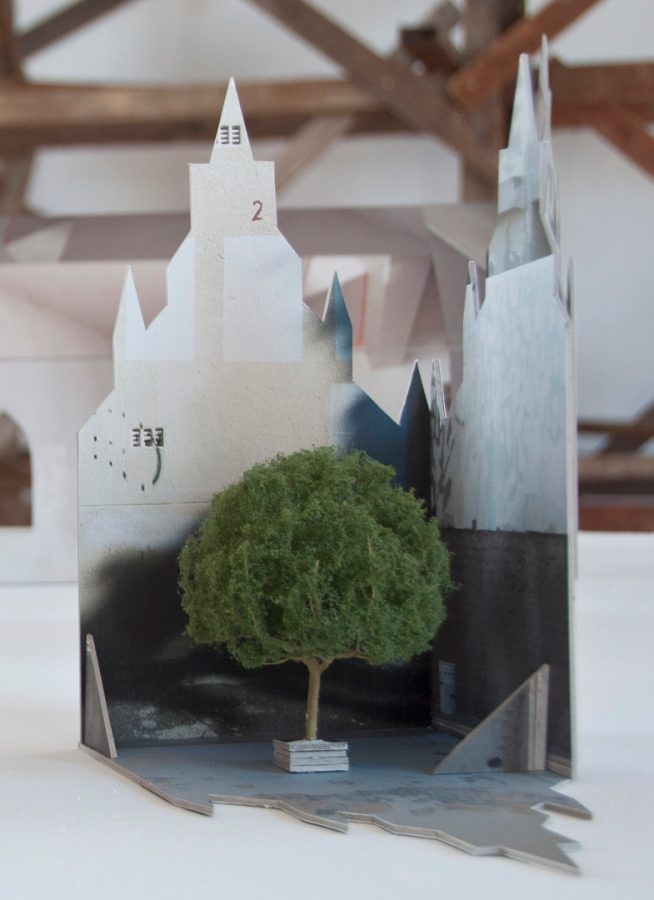 In his woodblock prints In the Canopy and A Gap In the Canopy Hobbs explores the dappled effect of light shining through a canopy of trees, while at the same time reflecting military themes of camouflage.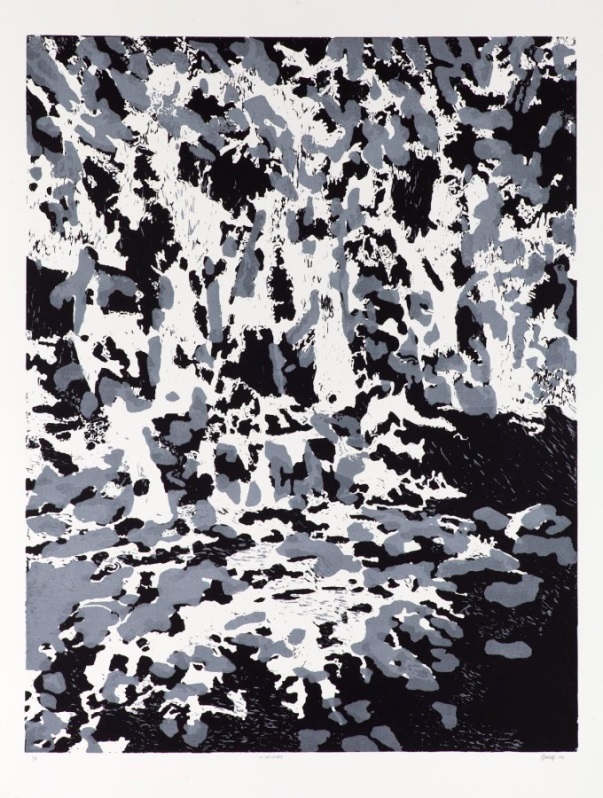 Jason Larkin
The two photographic works by Jason Larkin featured here are taken from his book Tales From The City Of Gold, which explores the relationships between the effects of gold mining and urbanisation on the landscape.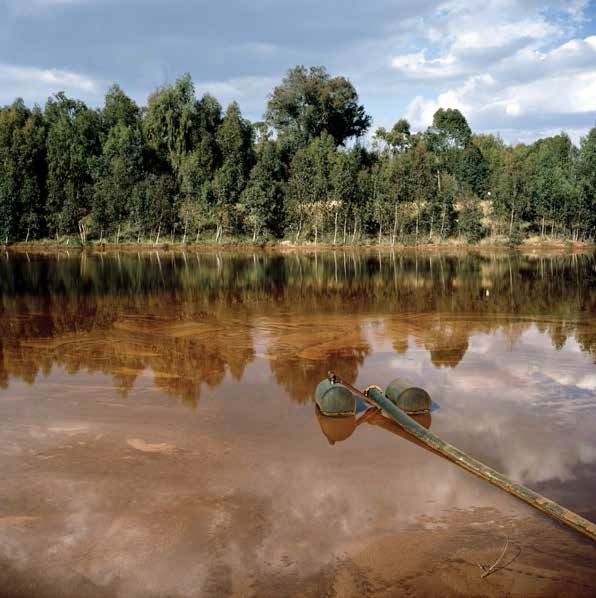 "Long after the mining has finished, its environmental and social impact is still embedded in the fabric of modern Johannesburg. Tailings dams, the by-product of past extractions, now exist as manufactured mountains of waste. Six billion tonnes of these 'mine dumps' form the backdrop of Southern Africa's largest city. These vast monuments are a constant reminder of the productivity of the past, whilst attracting a plethora of contemporary activities. With around four hundred thousand people currently living around the six billion tonnes of toxic waste, the resurgence of re-mining the dumps for remaining gold is stirring an already fragile existence for many.
Tales From The City Of Gold explores these tailings as an integrated extension of the thriving metropolis that surrounds them. Anthropological in its approach, this project is the result of living in Johannesburg for two years, observing the ordinary and extraordinary nature of life alongside the dumps. Focusing on the coexistence between past and present allows a unique perspective on the actions of previous generations and reveals that impact on our society and environment today."
(Courtesy of artist's website: www.jasonlarkin.co.uk)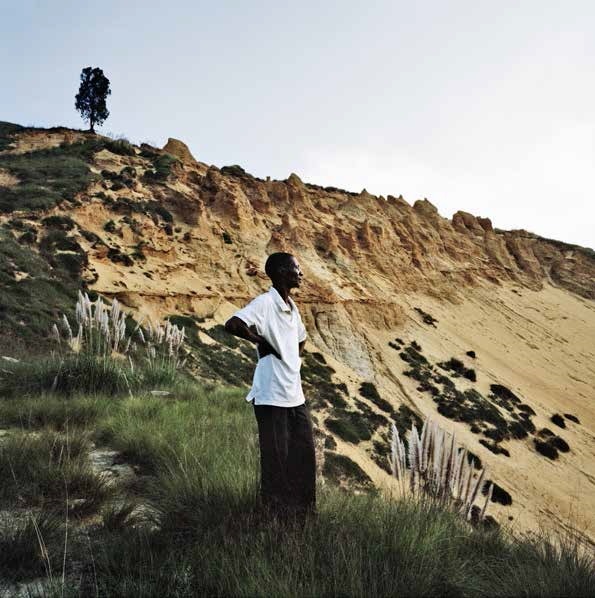 Khehla Chepape Makgato
Artist Khehla Chepape Makgato has the following to say about his charcoal tree drawings done for The Benediction of Shade II:
"Whenever I look at trees I don't habitually treat them merely as objects of aesthetic enjoyment but also as a successive deposit of the nature spared to human imagination. My works in this exhibition are inspired by my rural surrounding, where I always wake up to the delight of appreciating the landscapes. Mothimakoscapes depicts my nostalgic, phenomenal way of learning to interact with nature, especially when I was a little boy during the time when we took pride in hunting birds, not for pleasure but for relish. I walked across the vast landscapes of Makotopong and Mothimako, a combined neighbourhood of villages where their meeting point is called Mothimako Secondary School, a place that still today holds a dignified presence for me. These landscapes bear witness to fundamental autobiographical sketches from my childhood.".  (Artist statement, 2014).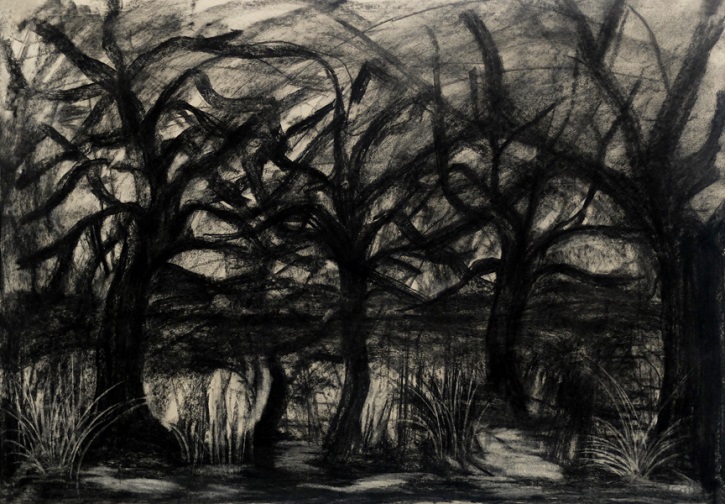 Robyn Penn
Robyn Penn's Vaderlandswilg (Bush willow in English) captures a nostalgic effect, reminiscent of an old photograph, drawing on memories of Penn's childhood and planting trees with her father.  Her second work is titled by the GPS co-ordinates of the site it captures, namely the War Memorial next to the Johannesburg Zoo. Her abstract rendition shows the memorial at a distance, in the middle of the leafy surrounding suburbs of Forest Town, Parkview and Saxonwold.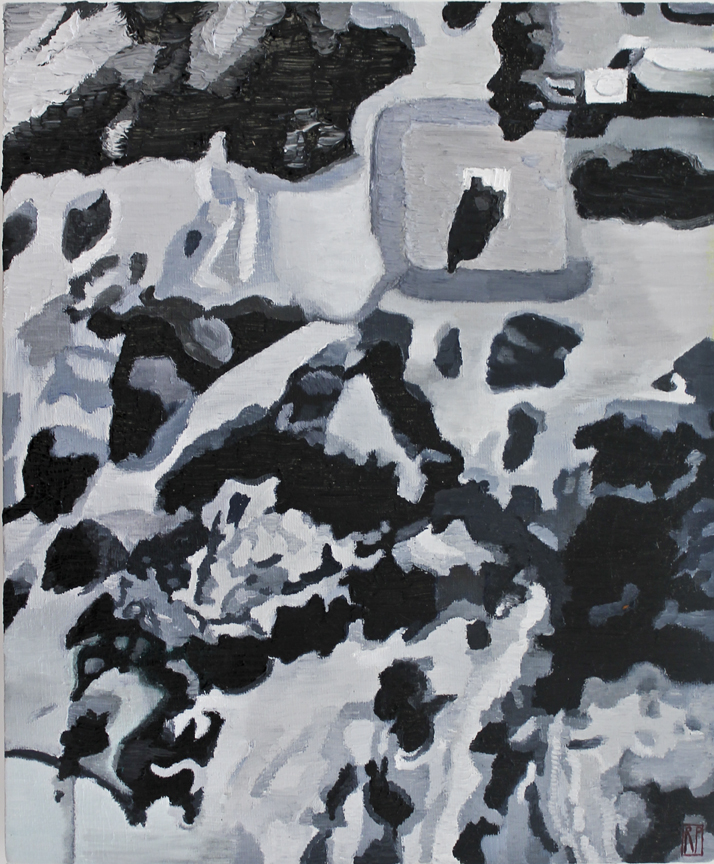 Robyn Penn reflects on her inspiration for Vaderlandswil:
"Vaderlandswilg draws on early childhood memories of planting trees on the rocky outcrop my parents bought when our family first moved to Johannesburg in 1980. I grew up in Northcilff above Albert's Farm with a 180 degree view of Johannesburg. It was a view that took in the whole of Johannesburg, from the affluent suburbs of Sandton, Rosebank, and Saxonwold, through to Hilbrow, the CBD, Brixton and Fordsburg, with Melville and the Melville Kopjies, Sophiatown, the mine dumps, SOWETO and Westpark Cemetery, a quiet mass in the centre of the landscape.
Our home stood on a ridge and below was typical Highveld rocky grassland. When my father built the house he planted a forest of indigenous trees that spilled out into the conservancy of Albert's Farm. He did this so that there might be a seamless transition between his property and the rest of Johannesburg. The trees blurred the line between what was ours and what was our country. As a family we planted that forest and the memory and significance of that time has remained with me. Recently, when my husband and I bought our first home, the first thing we did was buy eleven trees to plant with our young family in our treeless garden." (Artist's statement, October 2014).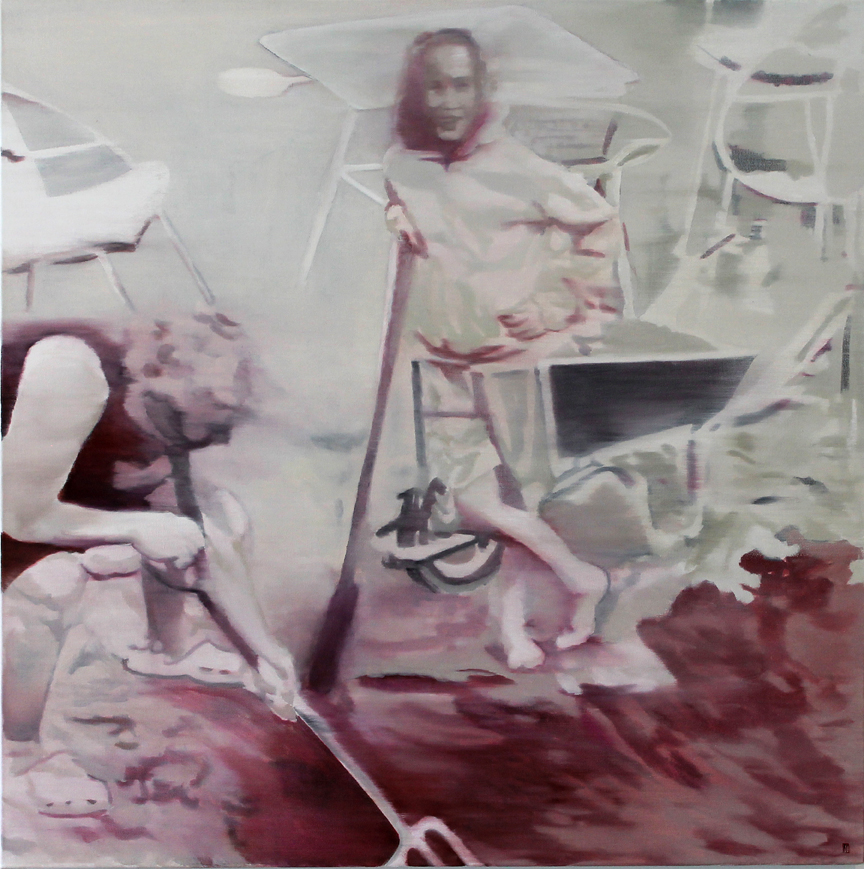 Senzo Shabangu
God Bless JHB is a personal, spiritual work for Shabangu, a tribute to his adoptive home of Johannesburg, acknowledging all the city has both given and taken from him. The figures in the foreground are depicted as kneeling in prayer, with the Joburg skyline to the left, and a rural scene dominated by a tree is behind them.  For Shabangu this symbolises both where he lives currently (Joburg) and where he comes from (rural Mpumalanga).  Shabangu still has strong ties to his roots and feels a responsibility towards the community where he grew up.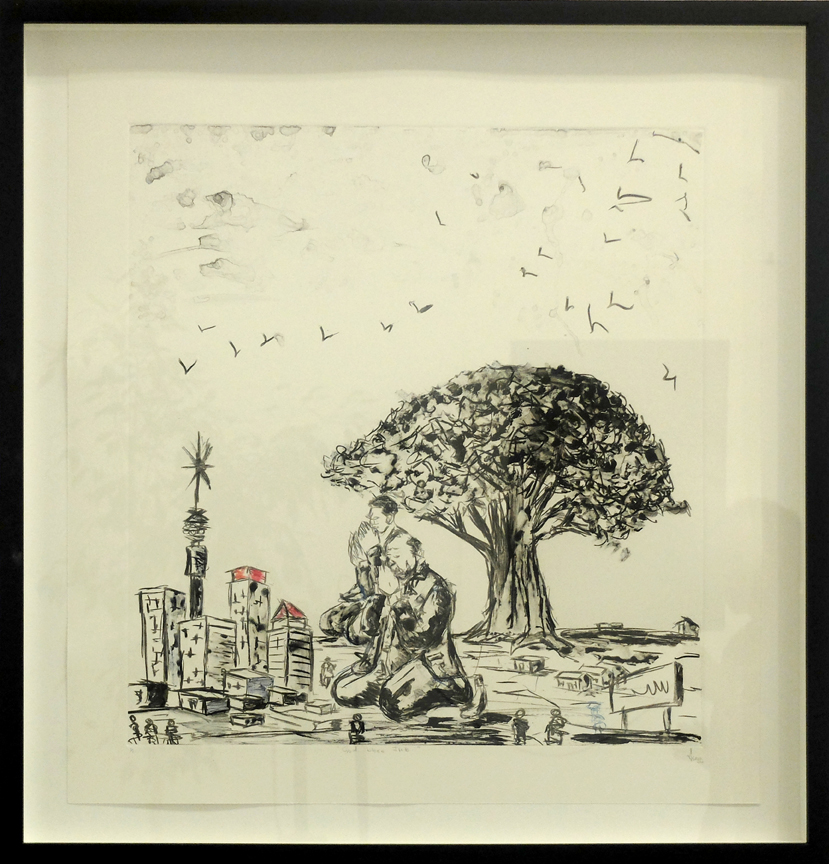 In We are one team, one body, Shabangu features four figures from different walks of life, holding hands while standing under a tree, symbolising that the four figures are one spirit, standing under a tree, the symbol of life, which keeps them together.  Shabagnu says of the work:  "We as human beings don't (necessarily) see a need to help others. In the bible it is written that we are one body of Christ – we don't need to compete with one another, as each part of the body has its own function".
On a personal level, Shanbangu is using this work as a message.  While he was working on the plate for We are one team, one body in Cape Town, Shabangu realized that many artists are too prideful, that there is too much competition between artists. He further refers to the art world in saying that he is not in competition with other artists but would rather like to learn from, and help others.  This is a continuation of Shabangu's theme of carrying the loads of others, seen in some of his prior works.