David Krut Projects caught up with some of the artists with works represented in The Benediction of Shade II currently on show at David Krut Projects Johannesburg (142 Jan Smuts Avenue and Arts on Main).  The artists engaged with the figure, idea or metaphor of the forest or the tree in different ways and through various media.  Also running as a subtext through the exhibition is the interplay between nature and the urban environment, and Johannesburg in particular.
Beth Armstrong
Johannesburg sculptor Beth Armstrong has two works exhibited in The Benediction of Shade II – By Three (Arts on Main) and Will Suddenly Trees Leap from Winter and Will (142 Jan Smuts Avenue).  Armstrong works primarily with metal, exploring "lines in relation to lines in various densities and looseness".  In her sculpture Will Suddenly Trees Leap from Winter and Will (named for a poem by E.E. Cummings) Armstrong began the work as an abstract, architectural sculpture, experimenting with lines moving vertically through space and encountering an object, but when she stood back from the work, she saw that a weeping willow tree with a tree house had emerged.  This process of experimentation and works forming and evolving over time is common to Armstrong's methods. Armstrong prefers to work with steel in an organic way, not shining it up, working with the natural colours of the steel that emerge from the welding process.
Gawie Joubert
Johannesburg-based artist Gawie Joubert has the following to say about his series of small sketches, featured at both The Benediction of Shade II locations:
"Joburg is renowned as the largest man-made forest in the world. The city's construction engages with delicate contradictions and juxtapositions that lend itself to a quiet exploration of the rigidity of man-made structure with the intertwining of organic spaces. The contradiction between the hard lines and materials of the city clashing with the softness and natural lines of the forest creates the potential to start questioning the concept of "naturalness". In these untitled works I explore the placing of natural objects like twigs and branches in a more constructed and controlled way creating abstract growth patterns that call into question what is organic and natural, and its necessity, in our contained, technological, man-made existence."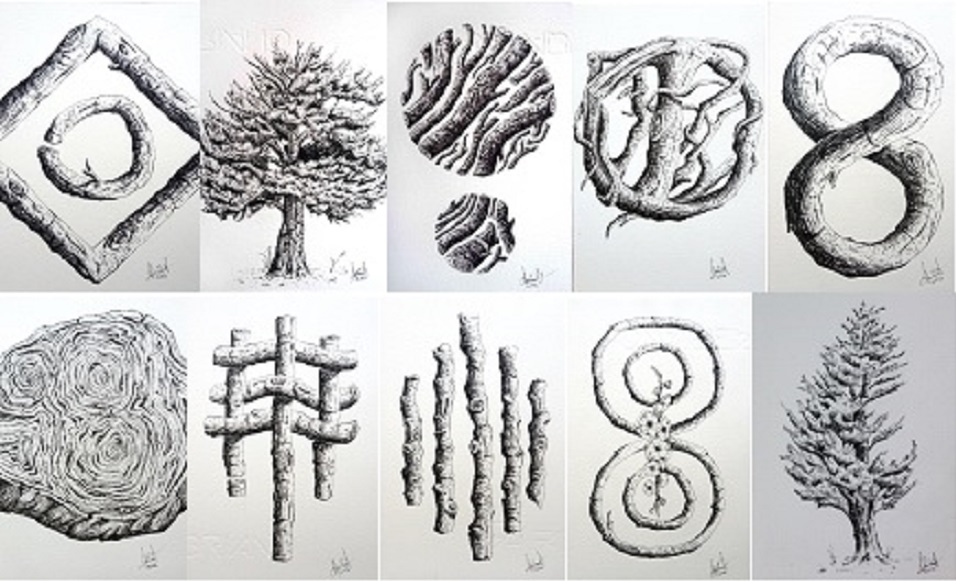 Ramarutha Makoba
Another Johannesburg-based artist, Ramarutha Makoba sees trees as symbolic of family on a personal level, as well as progress on a broader level.  Trees, often used to symbolise life, gain an extended meaning within the urban context. Makoba incorporates the Johannesburg skyline into the background of his works, symbolising progress and development. However he also adds his own 'imagined' buildings to the existing skyline, envisaging future progress.  The use of red lines running through his works represent map lines, a metaphor for families finding their way in the urban setting.
For Makoba personally, trees illicit emotions and he hopes that his works will elicit emotions in his viewers in return.  Makoba, who grew up in rural Limpopo, recalls that families and communities would regularly gather under the shade of trees to discuss important matters. In the urban context, this use of trees is lost.  The placing of a hut in front of the cityscape in A Place in My Heart I refers back to his rural roots, and is in fact a representation of his grandmother's home.
Maja Maljević
Maja Maljević's Tree formed part of a body of work she created in collaboration with the David Krut Print Workshop in 2013.  During this time Maljević experimented with monotype prints using the addition of chin collé, assembling the work in layers (an important element in her work) to resemble a mosaic. Maljević was pleased with the result of the contrast of this technique with the relative flatness of drawing.
For Maljević the symbolism of the tree is diverse, she sees trees as witnesses to history, as they stand silently and observe man and time.  On a more personal level, a book from Maljević's childhood, The Giving Tree by Shel Silverstein, has remained with her, along with its humbling and inspiring message.
Carla Liesching
The three photographic works featured in The Benediction of Shade are part of Carla Liesching's Nihilophobia [Expeditions into the Unknown #1-15] series. (Nihiliphobia – Fear of 'nothingness'). Liesching had the following to say about the series:
"I use fictional characters and theatrical narrative as a means to examine the ways that identity is constructed, and also to scrutinize the role that visual representation plays in the process. I am drawn to the idea of the artist as an explorer or researcher of unfamiliar terrain, and I borrow methods of representation from anthropological and ethnographic practices. The subsequent image functions as a metaphor for our relationship to both physical geographies and other more intangible structures of knowledge and language.
The work I present here is part of a larger project that charts the inhabitants and artefacts of an imaginary future. Influenced by science fiction genres, the series envisions an environment in the midst of a great shift – a world in the process of disintegrating. Through this body of work I aim to explore human relationship to geography, creating an illustration of my generation caught up in the instability of our time and place. If there was a total annihilation of all familiar structures, what possibilities could arise from the rubble?"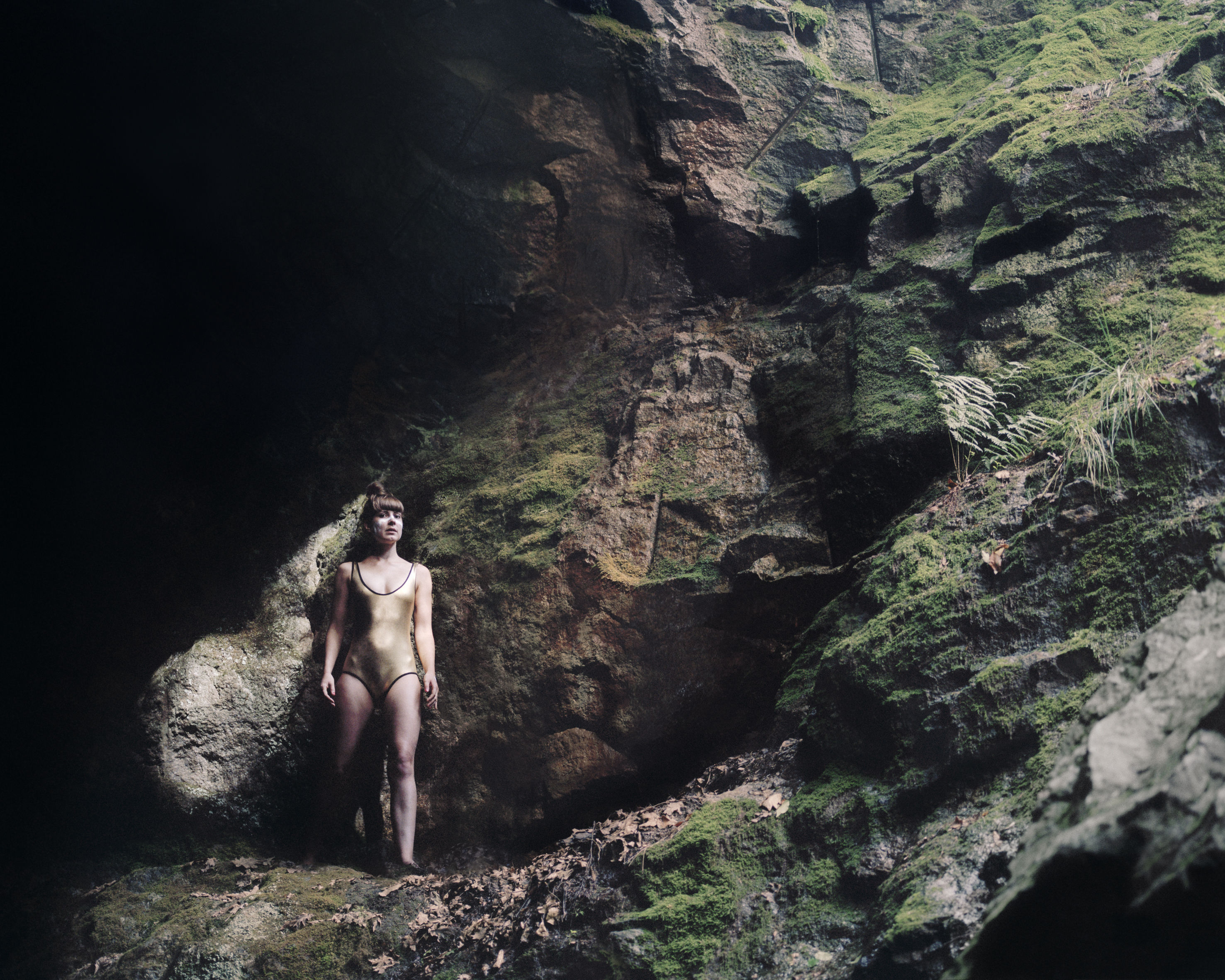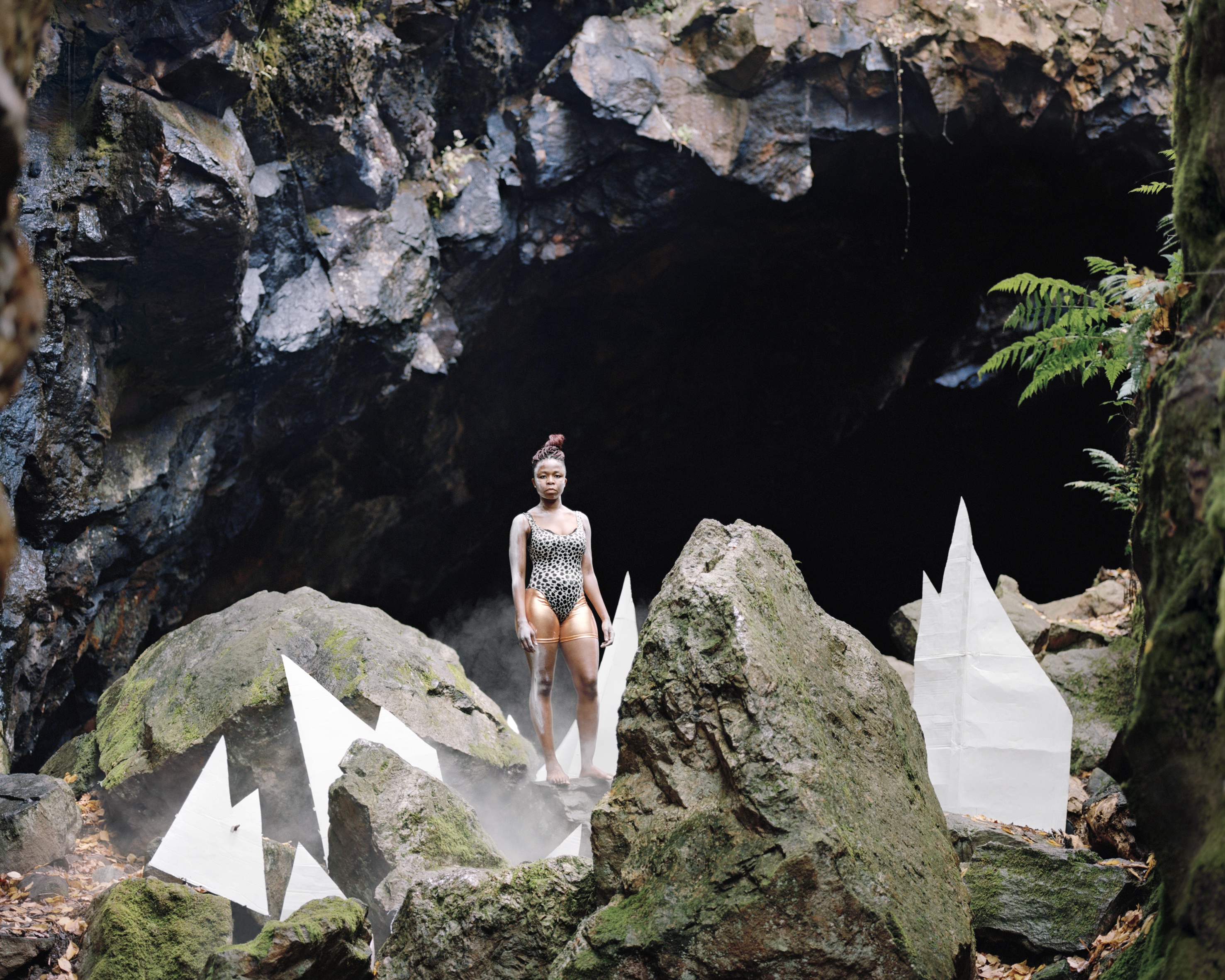 Please contact David Krut Projects if you would like a digital catalogue of the exhibition:   [email protected] or [email protected]