7 November 2014
Artist, photographer and curator Susan Horowitz and her husband, former TV executive Rick Feldman, took some time away from Feldman's DISCOP Africa conference in Sandton to visit the David Krut Print Workshop (DKW) at Arts on Main. They met with DK artist Lorenzo Nassimbeni, a trained architect, to discuss some mutual points of interest and artistic curiosity.  Horowitz and Feldman had met David Krut the previous week in New York City, where David Krut Projects is exhibiting at the Editions/Artists' Books Fair.
Horowitz worked in television and film for many years before dedicating her talents full-time to artistic endeavours some 15 years ago. She has long had a fascination with the architecture of Los Angeles (L.A.), and she and her husband split their time between there and New York City.  Horowitz has worked on several projects developing towards a visual, literary and historical understanding of the modern urban terrain of L.A. She has recently launched an e-book and short film (with upcoming exhibitions), Some Shulman Architecture, a culmination of over 2 years work.
Some Shulman Architecture
"The Ben-Ami Shulman project emerged from research related to a 2011-2012 international project PERSPECTIVES/THE WHITE CITY, a photographic examination of the White City of Tel Aviv with collaborator/artist Carol Bishop.  Ironically the research for this project led to the discovery that one of the noted White City architects Ben-Ami Shulman, had emigrated to L.A.  The international project about rediscovered, significant modernist architecture and architects directed me back to an L.A. project.  It was my expectation that the project might be a key to further understanding of the architectural diversity of L.A.  This project is an exploration of Shulman, while working in obscurity and avidly following current California architecture, may have adapted his modernist style to L.A.  The results represent an unusual facet to the history of L.A. architecture." (www.someshulmanarchitecture.com).
Horowitz notes that in the images of Tel Aviv in the 1930s, the architecture is very prominent in the bare landscape. As the city was built at a rapid pace, there were many architects working at the same time influenced by the modernist Bauhaus style, leading to the harmony of style depicted in The White City. Horowitz expected Shulman's L.A. architecture to resemble his documented Tel Aviv work, but they surprisingly represented a range of L.A. vernacular styles of the '60's and '70's.
Using Ed Ruscha's 1965 photographic publication Some Los Angeles Apartments as her point of reference and comparison for Shulman's L.A. buildings, Horowitz then compared Ruscha's images with her images of Shulman's L.A. work, which she was able to document with the assistance of the Shulman Archive. In Ruscha's book, the building's architects are anonymous, giving only the locations as captions to the photographs (and Horowitz suspects that even these might be incorrect).  Some Shulman Architecture explores Horowitz's hypothesis that Shulman's diverse work resembled the collection of LA apartment buildings featured by Ruscha. In Horowitz's words: "The question of who designs the everyday or vernacular architecture is rarely raised. In the case of Shulman in L.A., it is an ironic discovery that a collection of these buildings are by a significant 1930's modernist."
Some Shulman Architecture (just over 8 minutes in length) compliments the exhibitions and e-book that accompany this project. The film shows footage of Los Angeles architecture, intercut with historical footage and information from the 1930s.  This is the first film project of Horowitz's, a professional photographer.  For this reason she employed a cinematographer to do the actual shooting, which involved a 'GoPro' camera mounted on the roof of Horowitz's car, which she drove herself during the two-day shoot around Los Angeles.
Unfortunately Horowitz missed the premier of Some Shulman Architecture at the New Urbanism Film Festival in Los Angeles this weekend, as she had committed to her South African and Tanzanian travels before her film was accepted.
A Meeting of Minds
Susan Horowitz and Lorenzo Nassimbeni had several points of mutual interest, most overwhelmingly the connection and overlap between art and architecture.  Both Horowitz and Nassimbeni noted similarities between the architecture of Johannesburg and that of Los Angeles, particularly in the suburban environment.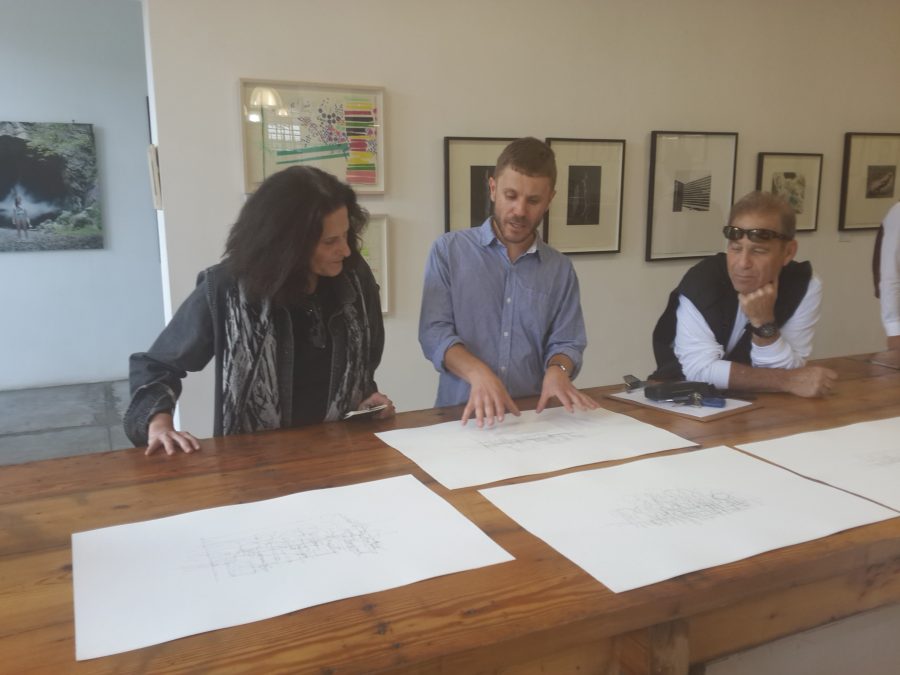 While Horowitz told Nassimbeni about her recent project, Nassimbeni shared with Horowitz his journey from architect to artist, and how he has used his architectural training as the basis for his artistic pursuits.  Nassimbeni's private commissions (often murals) use the architecture of and environment around the buildings as the foundation for his drawings. While he continues with architecture as a theme and inspiration, his latest works focus on the subterranean world of Johannesburg.  Horowitz and Nassimbeni also intersect in their love of film representations of architecture, with an emphasis on 1930s modernism.
And although Nassimbeni's principal artistic method is drawing, while Horowitz's is photography, Nassimbeni sees photography as an important starting point in his work and sometimes uses photographs to do transfer prints.  Furthermore, in 2013 Nassimbeni collaborated on a series of talks with Croatian visual artist Tanja Deman (who works primarily with photography), focusing on the intersection between art and architecture. Nassimbeni described his art as building with line, and Deman's as building with light.
Nassimbeni ended the meeting by showing Horowitz and Feldman his Maboneng studio, which he shares with architect and urban designer Thireshen Govender, and design consultant, Brendan Copestake.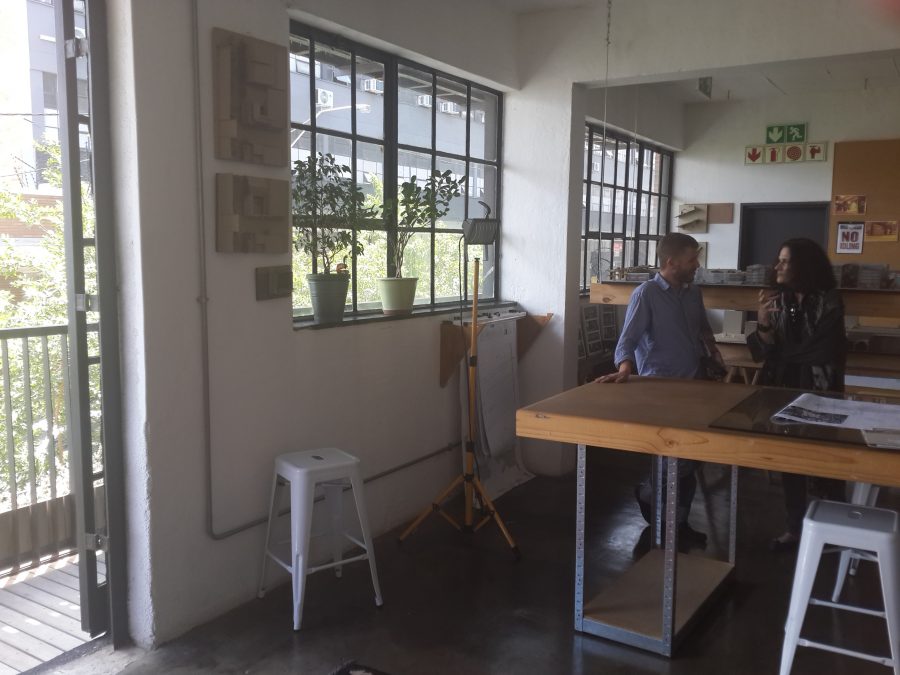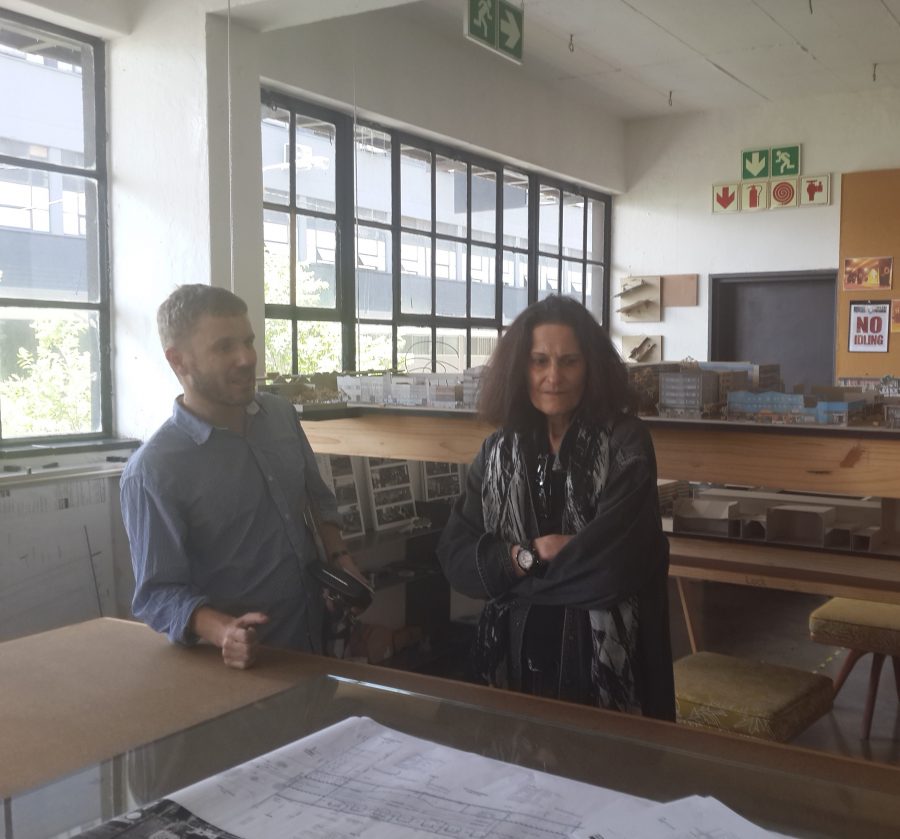 Website links: